In the last issue of Adventure Bike Rider we rode and reported on the South and South East coast of the UK. In issue 35 of Adventure Bike Rider we continued our circumnavigation by riding up the East Coast from Orfordness to Staiths.
Travelling to Ipswich on the night before your intended ride is a preferable plan of attack, as the two days herein require long days in the saddle, the first of which being an epic 280-mile ride along the east coast of England, starting in Orford Ness and finally coming to rest in Hull. We have plotted a slightly shorter journey of 250-miles (on faster roads) for those who are slim on time.
Our second day is quite a bit shorter, but the northerly finishing point means that those living in the south will have a long ride home. So, we leave Hull after catching some Zs and spend the day riding the dramatic and bleak coastline and scenery of the North Yorkshire Moors, rolling through Scarborough and Whitby (where you must stop for fish and chips), before coming to an end in Staithes, the picturesque hometown of the infamous Captain Cook.
>>> See the full East Coast write up here
The ride is doable over a weekend, and there are plenty of accommodation options at the start, mid-way point (we used Hull), and finish. The coast of Norfolk isn't an area that springs to mind when you think of motorcycling destinations, but the road from Cromer to King's Lynn is great, and there are so many interesting things to see and explore along the way.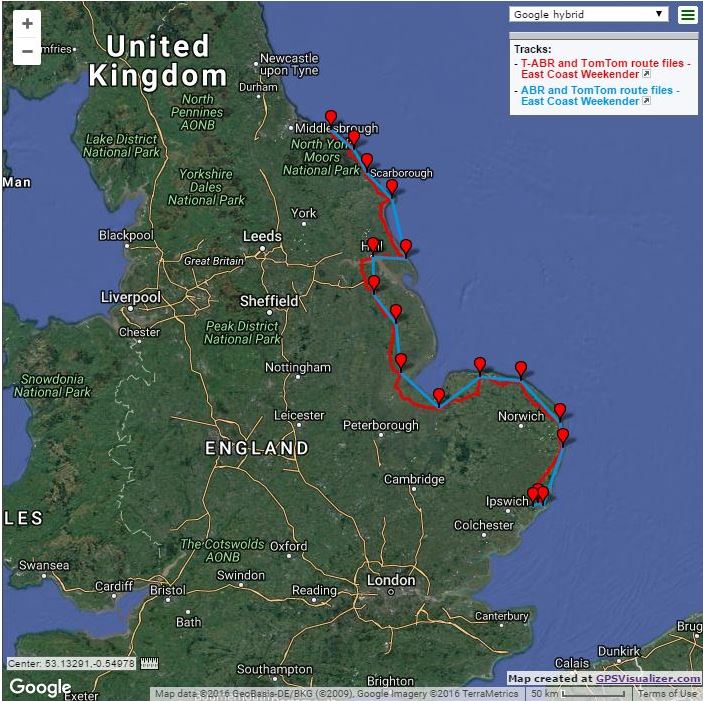 We've plotted the route out so that you can download it, stick it in your SatNav and ride it. You can find the gpx file by clicking here, and it will take you as near as damnit to the route we rode, but feel free to venture off at your leisure. Essentially, keep the sea on your right and you're heading in the right direction. There are two files available, one for those starting in the north and one starting in the south. Happy riding!