Green laning is a popular hobby among the motorcycle community and as many who are involved will know, it is a pastime that often comes under threat from those who wish to close certain right of ways to motorised traffic.
Of course, this is not what we want to see as the countryside is there to be enjoyed by all. So when an opportunity comes up to help protect our right to practise green laning, it's important to make the most of it.
One such opportunity has recently emerged in the form of a survey by the Campaign for National Parks charity. The survey, brought to our attention by members of the ABR forum, asks a series of questions about how you use national parks, what you like, what you don't like and what improvements you would like to see.
The survey, and some of the questions it contains, has given many forum members cause for concern about how biased and leading some of the questions were.
Original poster Richard Simpson said, "One of the questions specifically highlights 'off-roading (driving on tracks)' as an activity that some might want to ban (along with motor boating and zipwires). I'd urge everyone, particularly those who ride regularly in the Parks, to take part in the survey."
The survery drew various comments from the forum with people commenting on just how biased and leading some of the questions were. The question under the most fire (pictured below) was, "Do you think any of the below should be prevented in National Parks?"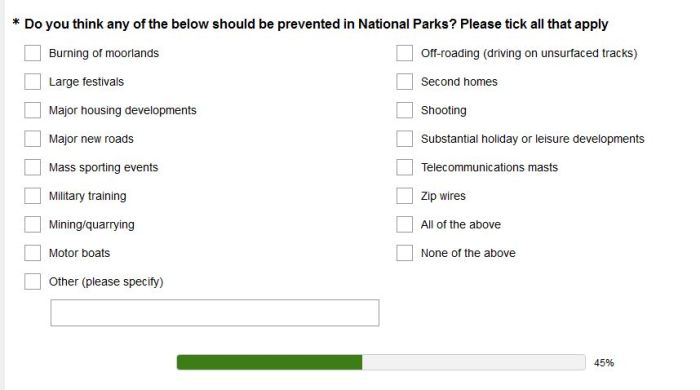 We encourage all who enjoy green laning to take part in the survey to help the preservation of our right to enjoy the countryside as we should, via the legal use of all legal byways.
The survey only takes a few minutes to complete and can be accessed via this link.