If you enjoy straying away from tarmac or fancy giving a bit of off-roading a go for the first time, the UK's vast network of legal green lanes may be just the answer. There are a huge number of green lanes around that vary in difficulty, so there truly is something for everyone if you're looking for motorcycle green laning.
Some green lanes are big-bike friendly and are more than suitable enough for the large capacity adventure motorcycles many of us have. But taking on the varied terrain on a smaller capacity trail bike will open up a whole new world of fun.
So, if you're new to the pastime, or even if you've been dabbling for a while, we teamed up with off-road experts Freestyle to create a checklist highlighting the main items you will need as you start out.
Download the ABR Guide to Greenlaning in Britain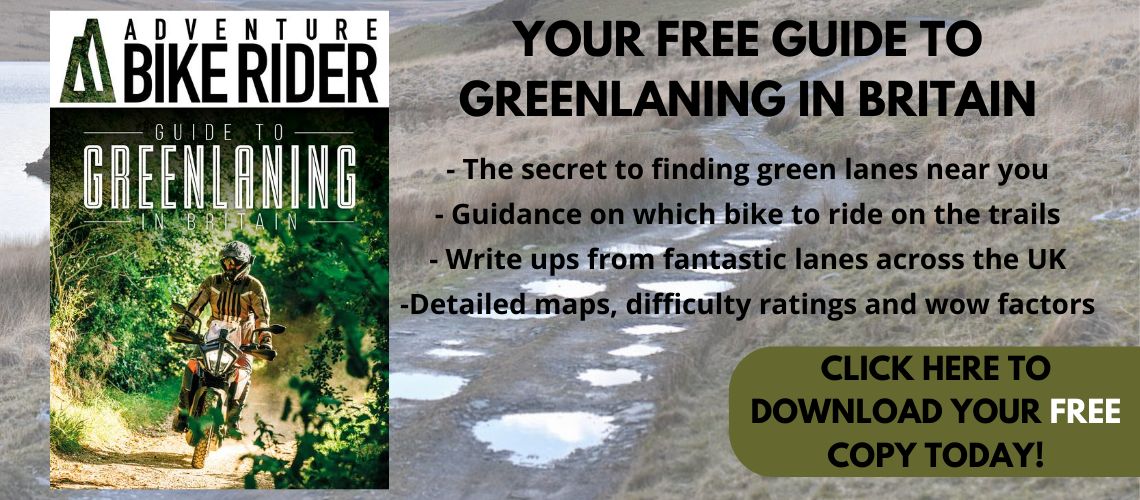 Helmet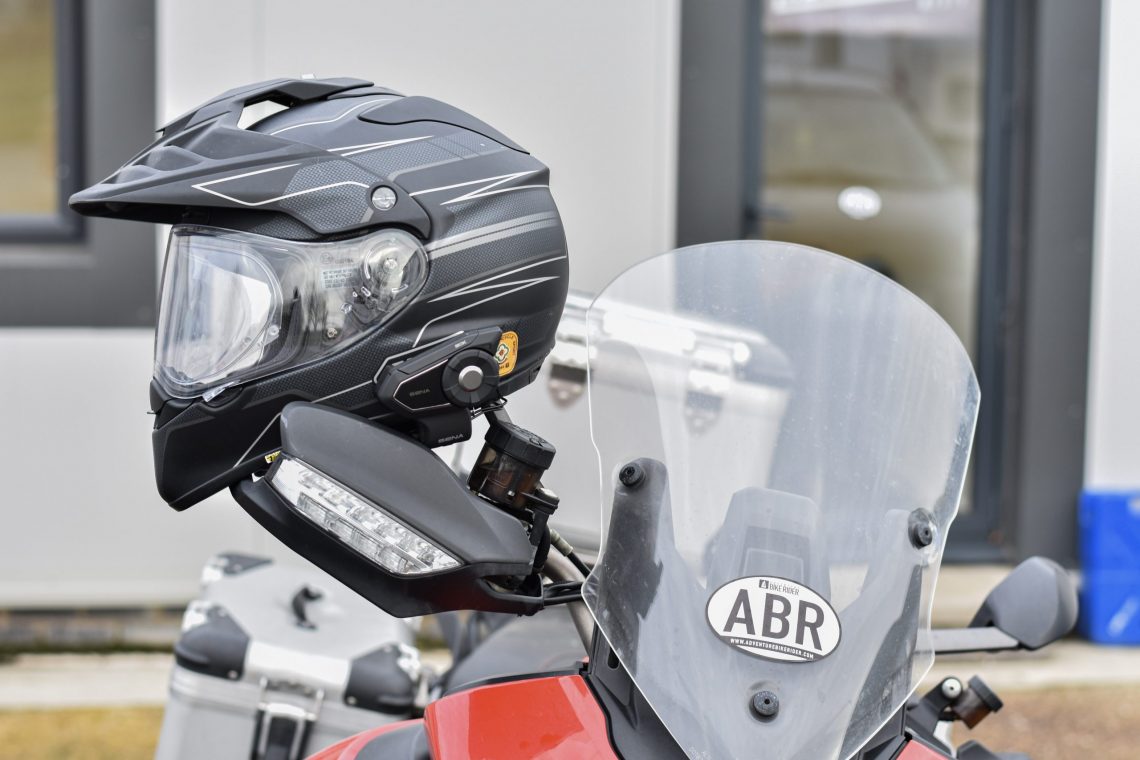 This one is quite a 'no brainer' (no pun intended). There are a couple of options for you here. You can either opt for an adventure-styled helmet (the likes of which we've reviewed previously, you can check out our top six helmets here), or you can opt for a motocross style helmet.
The former are versatile enough to be used touring on the black top as well as taking on the rough stuff. They are characterised by features such as a peak, extended chin bar and plenty of ventilation, while they will also come with a visor.
Alternatively, motocross helmets will offer higher levels of ventilation and a wider field of vision, ideal for when the going really gets tough. These are normally characterised by a more aggressive chin bar and peak, while a visor will also be absent meaning a pair of goggles will be necessary.
While they may perform better in off-road situations, they offer less versatility and may not be best suited to long road riding stints. Fortunately, there is a huge array of adventure-styled and motocross helmets out there at various price points meaning there is something to suit every budget.
Boots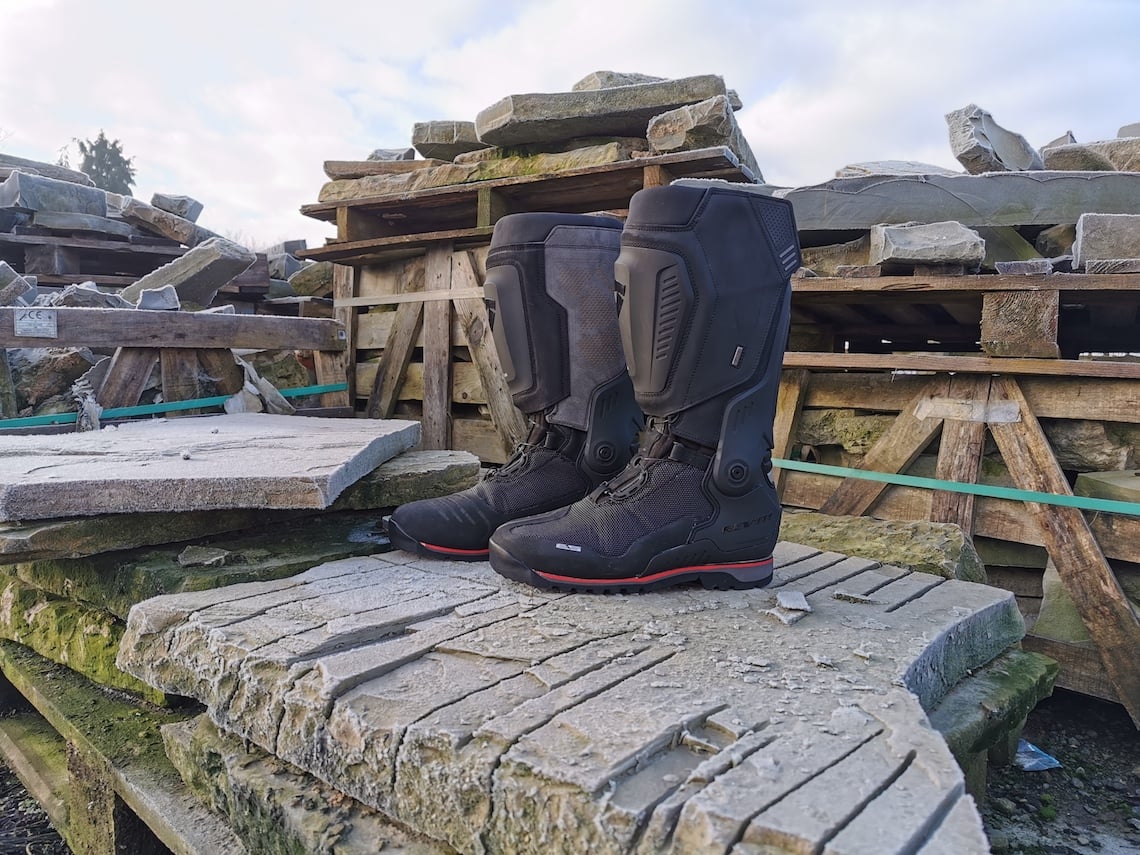 After the helmet, boots are probably the most essential piece of kit you'll need for green laning. You'll be off-road, riding through ruts and past low branches and tree roots, so you definitely need proper protection.
There are plenty of motocross and adventure boots (more versatile) out there to choose from and you'll want to make sure you find ones with aggressive tread pattern suited for muddy surfaces, a stiff, supportive sole and plenty of ankle support and toe protection.
Above all though, make sure they are comfortable. There's nothing worse than spending up to £400 on a pair of boots only to find that they are painful to wear for long periods of time. Check out our best performing adventure boots of 2020 here.
Adventure Bike Rider magazine digital subscription

A regular feature in Adventure Bike Rider magazine, each issue we detail two stunning green lanes that you can go and ride. Over the years we've written about 94 (yes, 94!) green lanes, and you can read them all online by signing up to the digital library, which gives you access to the latest issue of ABR, as well as a decade's worth of back issues.
At the moment you can save 50% off your subscription with the code SUMMERSAVE50 at checkout, so sign up here soon to take advantage of this great saving. Safe riding!
OS Maps
Essential kit for seeking out the green lanes in your area. The green lanes you will be looking to ride are Byways Open to All Traffic (BOATs) and they are marked on OS maps with alternating dashes and crosses which appear in red on 1:50,000 scale maps and green on 1:25,000.
You'll need to make sure there are no restrictions on the lanes that you intend to ride and you can do so by checking with the Highway Authority or the Trail Riders Fellowship. You can also find out what byways you can legally ride and how to find them with our handy guide online which you can access by clicking here.
Body armour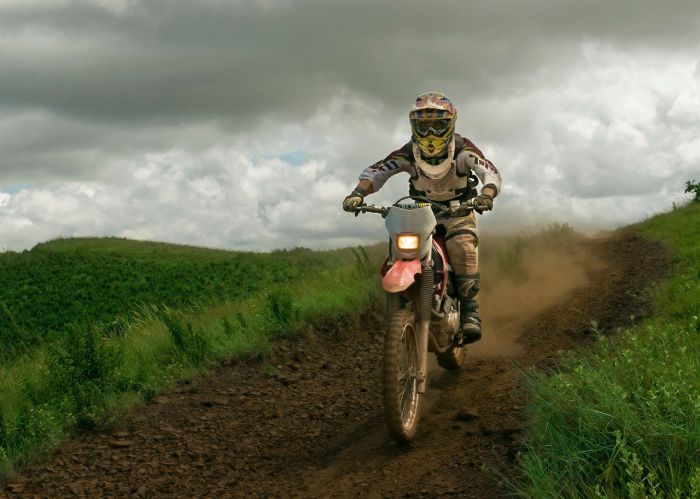 Many people will not wear body armour purely for the fact they find it uncomfortable, or they don't feel they need it, but it's worth giving it a chance.
Brands like Leatt offer skin-like long sleeve tops with in-built foam padding on the back, chest and arms that has the latest technology in protection. The padding is soft and comfortable while you ride making you completely forget you are wearing it, however on impact goes rock hard.
Wearing body armour also means you can wear a lighter layer over the top, as abrasion resistance is less important in a spill off-road. This will prevent you from over-heating as you work up a sweat on the trails.
Waterproofs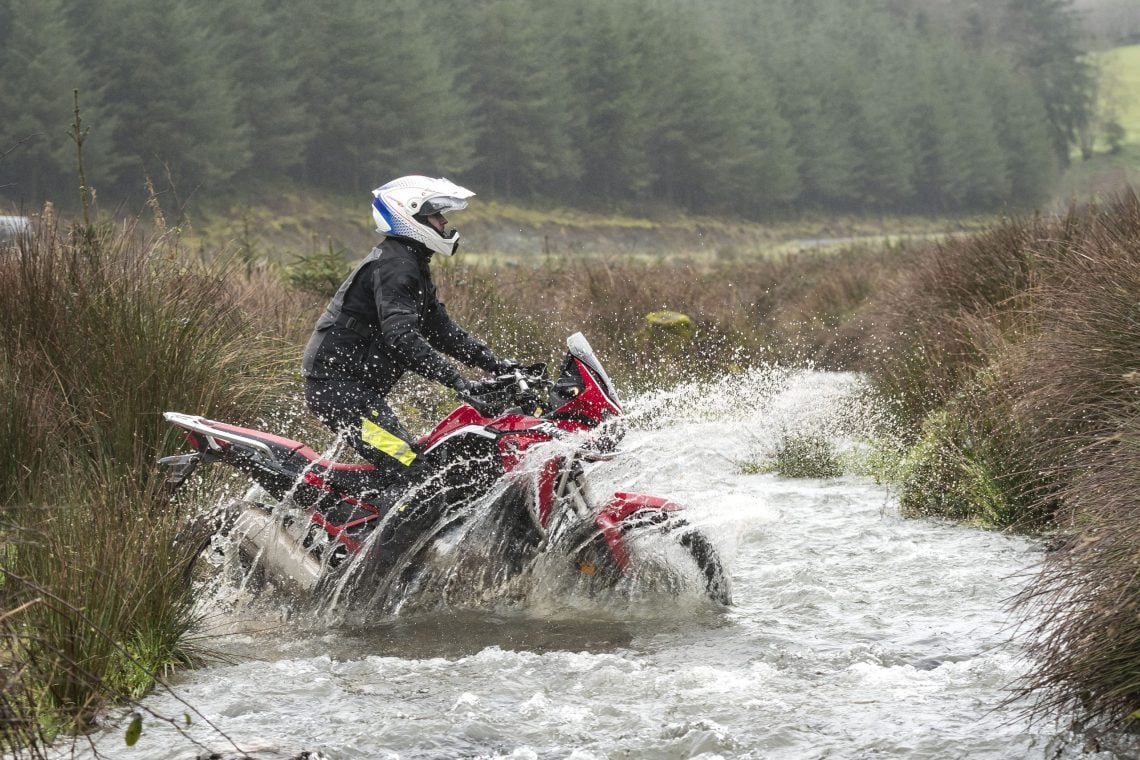 Whether riding in this country or abroad, odds are you are going to get wet at some point, so you need to make sure you are prepared. Generally speaking, you have two options here. You can either opt for a full motorcycle jacket complete with waterproof membrane, or you can wear body armour with a waterproof overjacket providing the protection from the elements.
This is pretty much down to personal opinion and one of the main things you'll want to consider is how hot you are likely to get while out riding. The waterproof and body armour option will offer the lightest and most ventilated option to help prevent you from overheating, while a decent adventure-styled, fully featured jacket will provide you with greater versatility.
The best thing to do here is consider when you are most likely to be riding, where you are most likely to be riding (and if you'll be crossing fords) and in what conditions.
Mousses
Forget worrying about getting a puncture and carrying around extra tubes and tools for changing them… Get your bike fitted with a pair of mousses and never have that trouble again.
They're a bit of an investment, but for peace of mind and guaranteeing your day will be enjoyable and not spending more time changing tyres than actually riding, it's well worth it.
The lifetime of a mousse will depend on the type of riding you take on, but one thing's for certain, you will not get a puncture.
Bum bag/backpack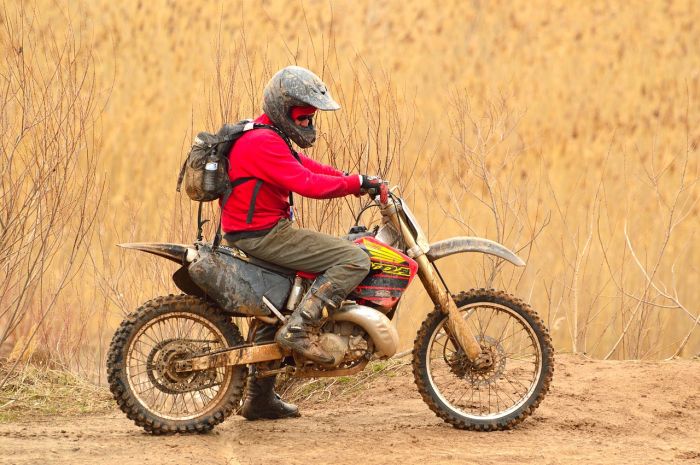 For green lane riders, adventurers, or even just leisure riders, a bum bag or backpack of some kind is a valuable addition to the kit list. When going green laning, you're not going to want to be riding with panniers, so storage is going to limited.
That's why extra storage is essential and you'll need more space to carry extra levers, tools, spark plugs, fuses, chain links, chain lube and other little bits to ensure you aren't caught short! Oh and something to eat and drink. If they are hydration pack compatible, even better!
Rad-braces
These are useful as they protect your radiator in the event of a crash or the, unfortunately likely, event that the bike is dropped for whatever reason. This braces the radiator to prevent it from being damaged or cracked.
It is a lot more expensive to repair! Most bike brands offer specific rad braces for the make and model of your bike, which we would usually recommend as it guarantees a good fit.
Best trails for motorcycle green laning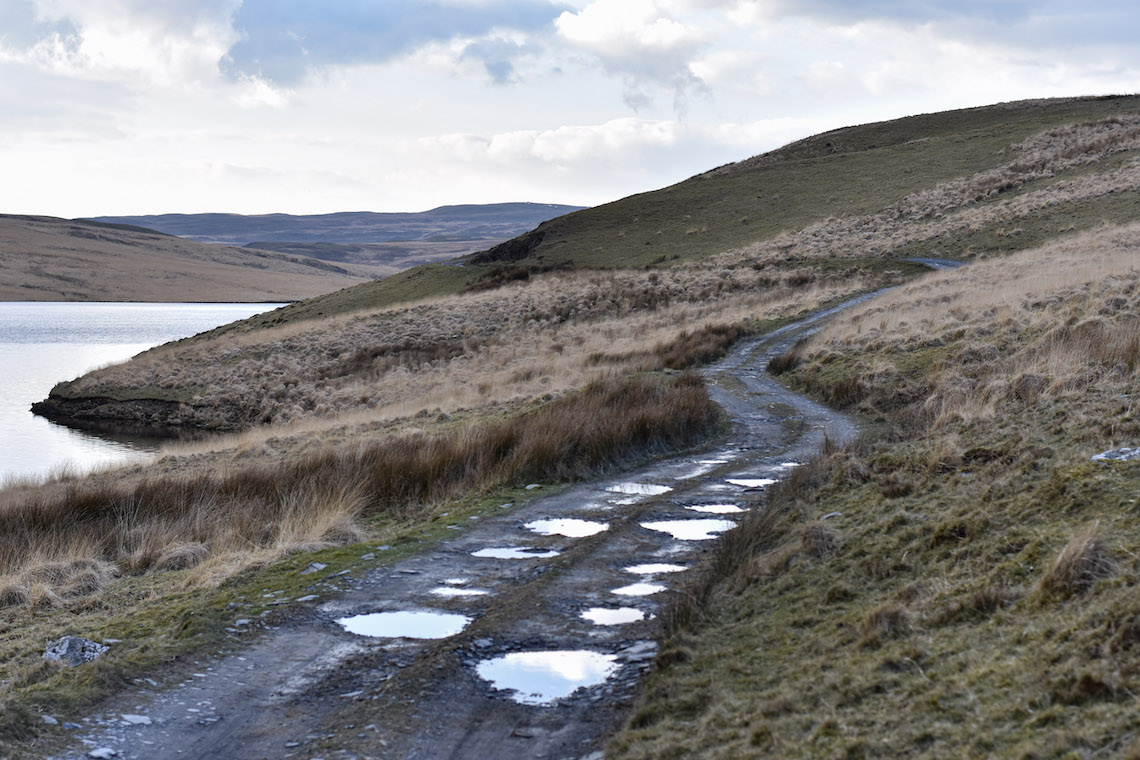 So you're all kitted out and ready to tackle the lanes. But, if you're unsure where to start off, we've put together five of our favourite green lanes across the UK for you to tackle. The above photo is from the lane around the Claerwen Reservoir, a beautiful trail through the isolated Welsh countryside that is easy to tackle on a large-capacity adventure bike.
So, get kitted up and ready to head out into the mud. Safe riding!
Freestyle is a motorcycle, accessory and gear retailer that specialises in the off-road industry. The firm sells all of the kit mentioned above, plus much, much more and you can see the full range by heading to the company's website or by stopping by one of their stores in Mark Cross, Chichester and Newtown.