Has Honda awoken a sleeping giant? Fly-by-wire throttle, new engine modes, sharper looks, and a small increase in power all feature on the updated NC750X for 2021, turning a previously solid, yet unspectacular, motorcycle into a very attractive proposition indeed.
While previous incarnations of the NC750X sold well, even the most die-hard of owners must admit it never fired the imagination in quite the same way as the superstar in Honda's adventure bike line-up, the globe-busting Africa Twin.
However, the NC750X may be about to get its moment in the spotlight with a slew of upgrades for 2021 that make it, on paper at least, a very capable mid-capacity road touring bike.
But has the Japanese manufacturer really done enough to elevate the Honda NC750X from a reliable commuter to an object of desire, while retaining what many see as its key selling point – penny-pinching frugal fuel economy? Let's take a look…
The headlines
A power increase to 57.8bhp, up 4bhp
An extra 600rpm to the redline
The parallel-twin engine is now EURO5 compliant
A slipper clutch
Throttle by wire, which supports the introduction of four rider modes
Three-level traction control
214kg wet weight, a 6kg reduction from the previous model
Reduced seat height of 800mm, down 30mm
Redesigned fairings and a new windscreen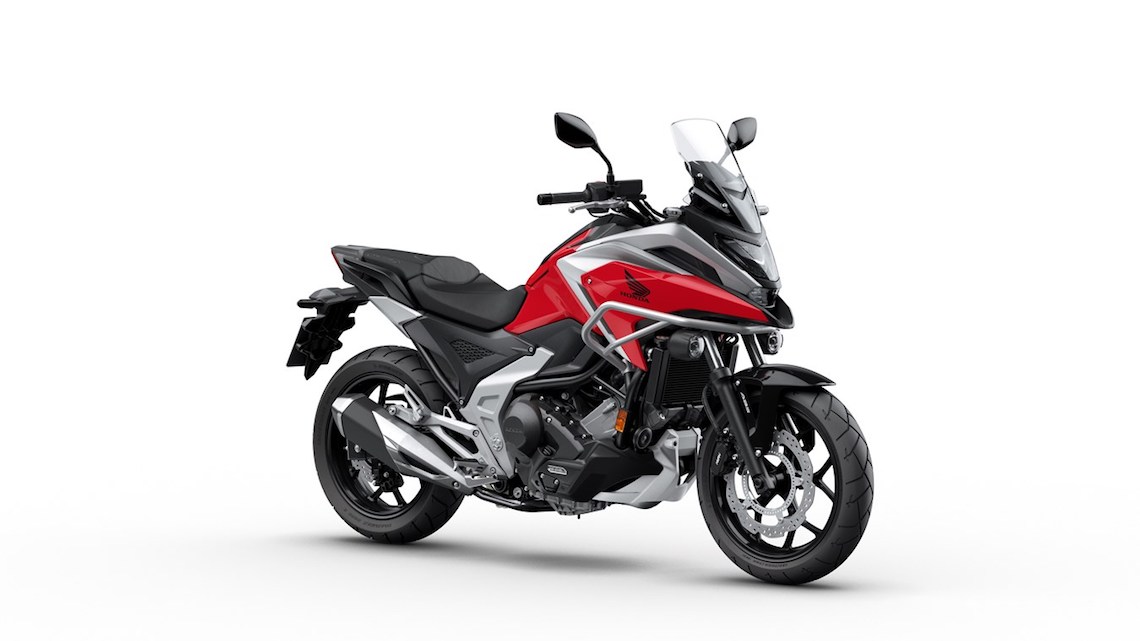 Increased power
For 2021, the parallel-twin engine found in the Honda NC750X now produces 57.8bhp, an increase of 4bhp over the 2019 bike. Torque is increased by 1Nm to 69Nm @ 4,750rpm, and the engine is also now EURO5 compliant.
The redline is now at 7,000rpm, an increase of 600rpm from the previous model. It's a small injection of power to an engine which previously prioritised low-end grunt and efficiency over outright sportiness.
Alongside these changes, Honda has introduced throttle by wire, a slipper clutch, and undisclosed improvements to the exhaust, which they claim further improve the overall performance of the bike.
These changes have impacted fuel consumption, which is down slightly, from 80.8mpg on the previous model to a still frugal 79.9mpg. However, the 14.1l under-seat fuel tank remains, meaning you'll still cover nearly 250 miles between fill ups.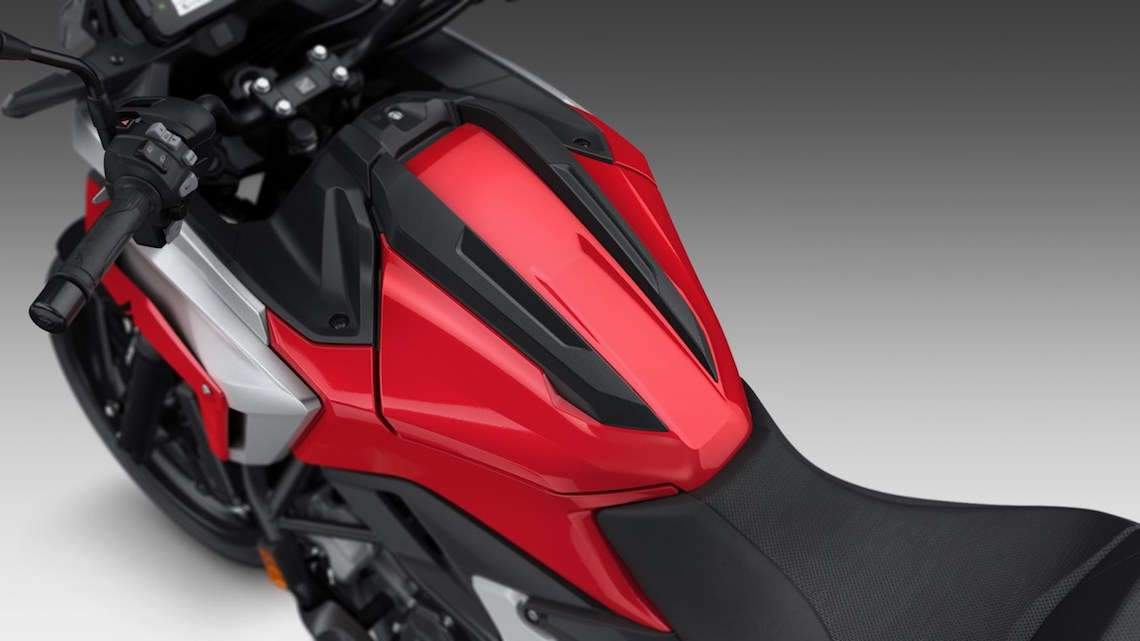 Electronics upgrade
The introduction of throttle by wire supports the inclusion of four new riding modes on the Honda NC750X, a feature not seen previously.
A sport mode provides more power delivery and sharper engine braking, while a rain mode tones down both for improved control and to give the rider more confidence on slippery surfaces. A standard mode offers a middle-ground between the two.
Finally, a fully-customisable user mode allows riders to tailor the engine power, braking, and the three-level traction control to suit their own riding style.
Honda's dual clutch transmission (DCT) gearbox has also received an update, with shifting patterns now matching the new rider modes, although you can also buy a manual version of the bike.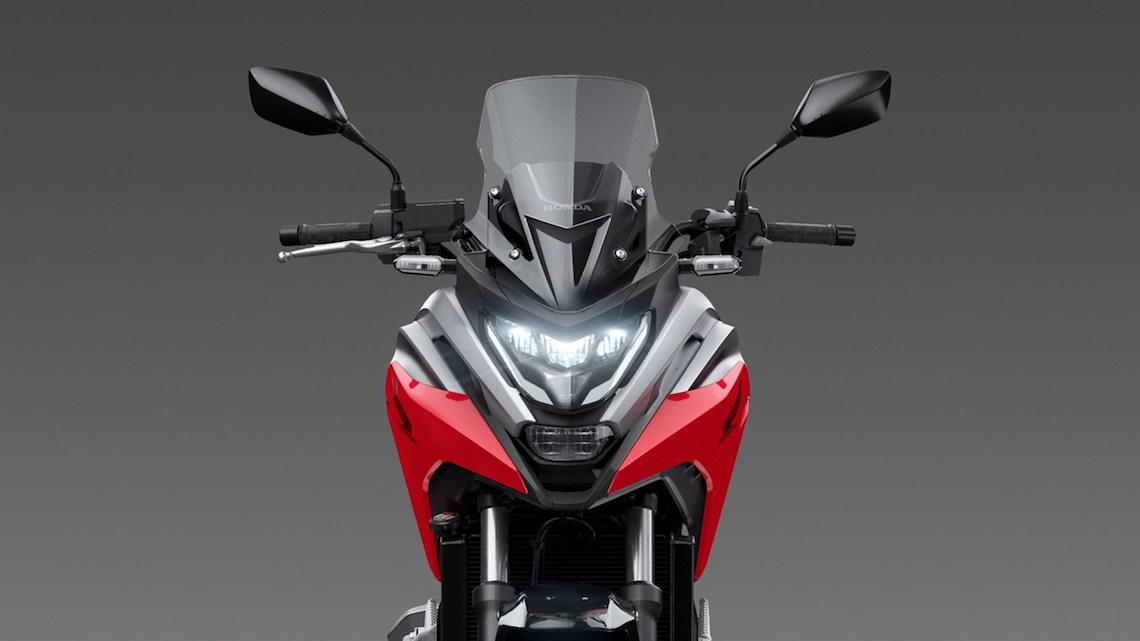 Sharper look
The look of the NC750X has been updated and, although subtle, the changes have paid off and make it a very attractive adventure-styled bike.
The sharpened lines and slimmer rear emphasise the meaty front end, which looks even better when kitted out with upper engine bars and fog lights. The new LED headlight, taillight and indicators also give the bike a much more sleek look. Finally, there's a new windscreen to improve wind protection in the saddle.
Away from the updated looks, one of the NC750X's most unique features, the storage area where you'd expect the fuel tank to sit, has been increased in volume to 23l and can now fit a peaked adventure helmet. There's also now an option to mount a USB-C socket inside to charge you devices on the road.
Finally, the dash has received an update. However, it's disappointing to see that Honda has stuck with a full-colour LCD, rather than fitting a modern TFT screen, as they did on the 2021 X-ADV adventure scooter.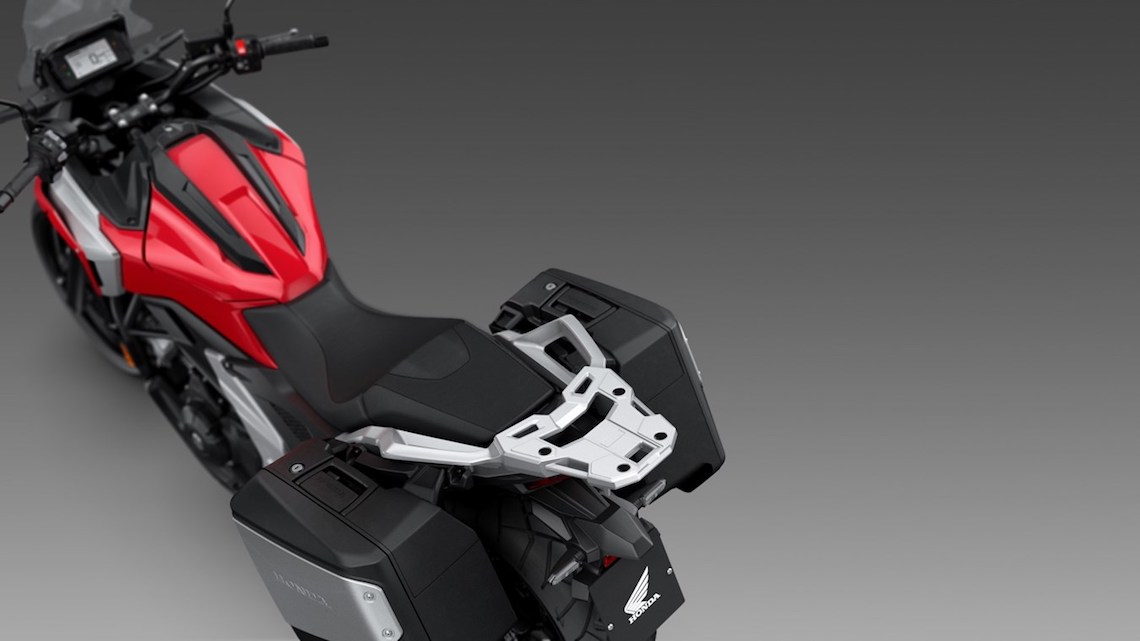 Not just a facelift
Beneath the new-look fairings, the NC750X's chassis has undergone a comprehensive redesign.
A revised tubular steel diamond frame not only saves weight (1.8kg over the previous model's frame), but also allowed Honda to relocate the battery and redesign the airbox.
In total the NC750X is now 6kg lighter than the previous model, weighing 214kg wet (224kg for the DCT model).
These changes also allowed the seat height to be lowered 30mm to 800mm. This will help shorter riders reach the ground, but it should also keep the centre of gravity lower, for improved low-speed control and balance.
This has come at the cost of suspension travel, which is also down 30mm from the previous model, to 120mm front and rear. While we doubt many riders took their NC750X off-road too often, it's a firm indication from the Japanese manufacturer that the bike is designed for a life on the blacktop.
Bringing the whole package to a stop is a single 320mm disc and two-piston calliper at the front, and a single 240mm disc and single-piston calliper at the rear. Both of these are backed up by two-channel ABS.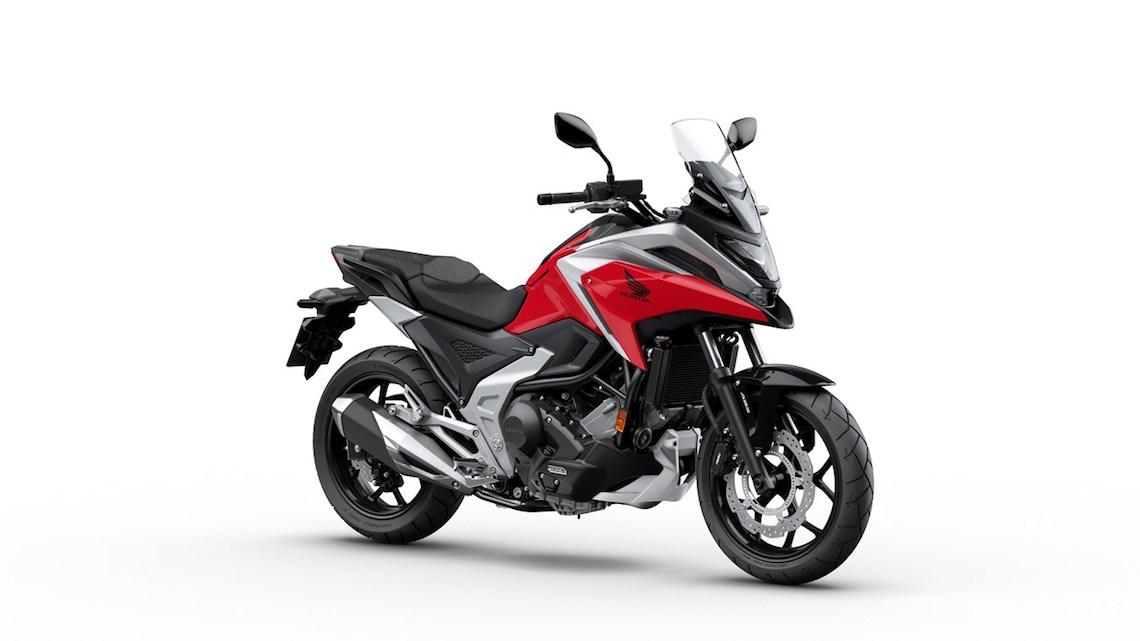 Honda NC750X
Despite harbouring no illusions about its off-road prowess, the updated Honda NC750X is an attractive adventure-styled all rounder, with plenty of features that should continue to make it a very good touring bike indeed.
Ample storage, an impressive fuel range, and an increase in power all add up to an attractive bike that will likely be as at home carving through bends on an Alpine mountain pass as it would be slicing through busy city traffic.
So, has Honda done enough to revitalise a bike that was showing its age? On paper, the answer seems to be yes. But we'll need to spend some time in the saddle to discover if the 2021 updates are enough to elevate a bike with a reputation as a solid, yet less-than-exciting commuter, to a desirable weekend tourer or continental cruiser.
Honda is yet to confirm when the NC750X will be hitting showrooms near you, or how much it will set you back, but we'll bring you the news as soon as we find out.
Want to test ride the latest adventure and touring bikes in one venue?
Looking to buy a new bike? You can test ride the latest and greatest adventure and touring bikes from the world's leading motorcycle manufacturers at the 2021 Adventure Bike Rider Festival (25-27 June 2021).
Pick up your discounted tickets and save £10 by clicking HERE. Previous years have always sold out, and 2021 will be no different, so book today to avoid disappointment.