The Honda X-ADV sent a wave of eyebrows shooting to the skies across the motorcycle world when it was first released back in 2016. Not quite a scooter, not quite an adventure-bike, the quirky adventure-scooter was the first of its kind. And now it's back, with a comprehensive update for 2021.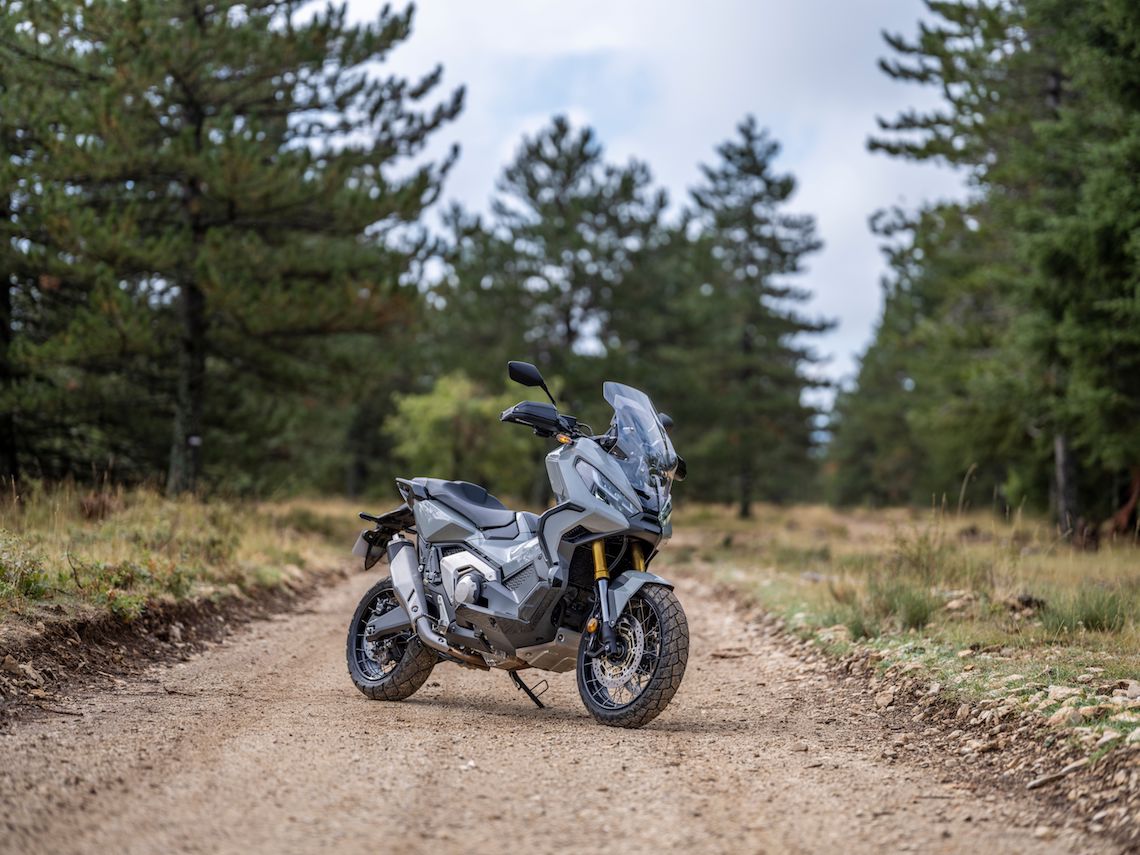 More power
The 745cc parallel twin engine remains from 2016's model. However, Honda has set to work squeezing a little more power out of it. The updated engine produces 57.7bhp, up 4bhp from the 2016 model, and 69Nm of torque at 4,750rpm, up from 68Nm.
Alongside these upgrades there are also improvements to the exhaust, the introduction of throttle by wire, and an increased redline to 7,000rpm (up 600rpm from the previous model). All of these are designed to add a little extra power and excitement into an engine that has earned itself a rather vanilla reputation, prioritising ease of use and fuel consumption above power and excitement.
Honda says it has also improved the gear ratios, with a shorter first to third providing a sportier feel, and a longer fourth to sixth gear for improved economy during high-speed cruising. Despite these improvements, Honda managed to found 1.4kg to shave from the weight of the power plant.
Finally, with a fuel capacity of 13.2 litres (marginally up 0.1l from the previous model) and a claimed consumption of around 78mpg, Honda says the X-ADV will be able to cover about 230 miles on a full tank which should make it touring-friendly.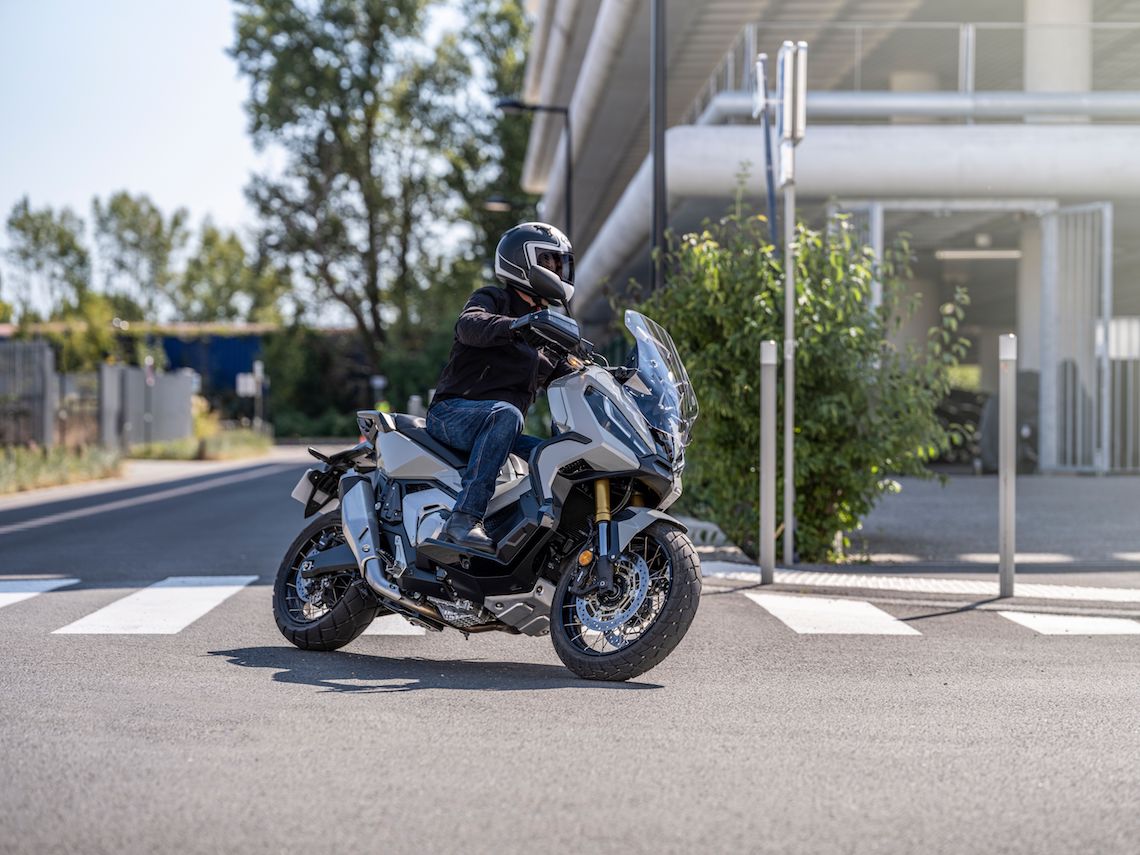 Updated electronics
With the introduction of throttle by wire, the Honda X-ADV now features five new riding modes to choose from: Standard, Sport, Rain Gravel, and a customisable User mode.
These each deliver differing levels of engine power, engine braking, traction control, and ABS, to suit a variety of riding conditions. Honda's efforts represent an electronic upgrade which will bring the X-ADV into line with Honda's other motorcycles, and beyond the level that other scooters and trails currently occupy.
As with the 2016 model, the X-ADV will only come with Honda's Dual Clutch Transmission (DCT) gearbox. Working in tandem with the set riding modes, the DCT system features four separate shifting schedules that Honda says will deliver sedate and smooth shifts to maximise efficiency, or sporty and aggressive shifting for sportier performance.
There's also an off-road friendly shifting pattern to allow for rear-end slides on the trails and greater traction on slippery ground.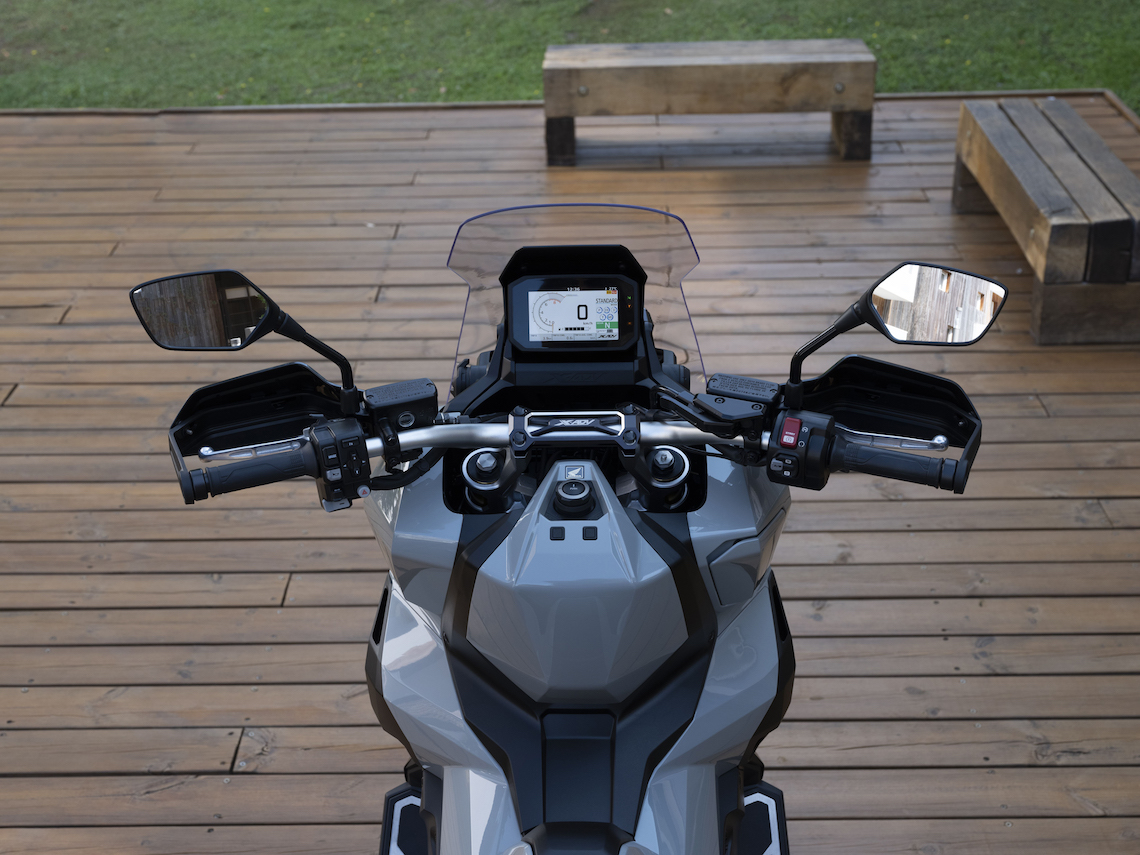 Chassis changes
A new tubular steel diamond frame saves 1kg of weight from the previous model, while also freeing up more space for storage compartments. Overall weight is reduced by 3kg to 236kg on the new model.
Bringing this all to a stop are dual 296mm discs and four-piston callipers at the front and a 240mm single disc with a single-piston calliper at the rear.
Honda says the chassis change allows the X-ADV to be more manoeuvrable in city traffic, while the upside down forks offer 120mm suspension travel up front and 120mm at the rear. Coupled with a ground clearance of 165mm, this set up will help the X-ADV cope with light trail riding and gravel roads. Both the 17-inch front and 15-inch rear tyres are spoked to aid off-road performance further.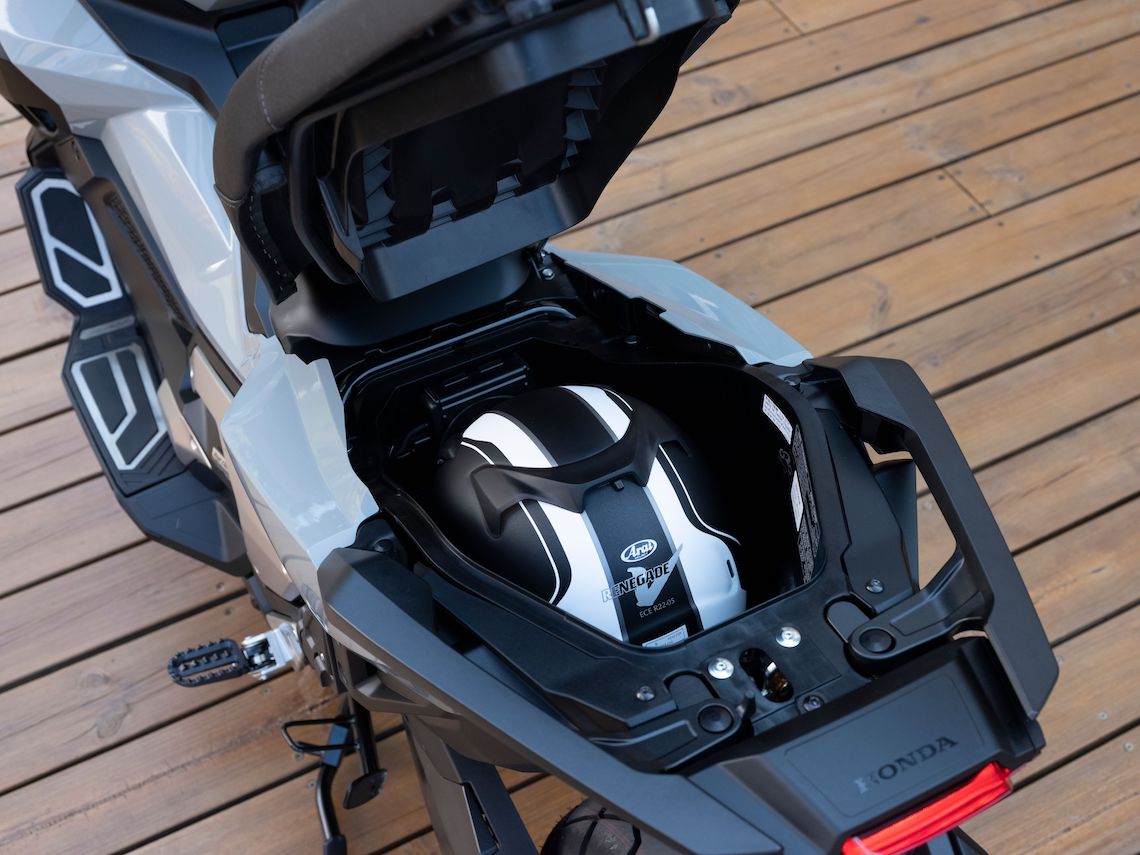 A new look
The unique X-ADV has always been a head-turner, but for 2021, Honda has given it a sharper, slimmed-down look which, and I'll say this quietly, actually looks pretty damn good. Sure, there'll still be a healthy number of quizzical stares if you head out on a Sunday blast on it, but there'll be plenty of admiring ones too.
The redesigned bodywork also hides plenty of neat little touches, including a 22l storage area (up 1l from the previous model) which can fit a full-faced helmet and features a USB charging socket. The parking brake, previously located on the front right fairing, has been relocated to the right handlebar and frees up space for a small glove compartment located in the fairing.
There's also a centre stand fitted as a standard, a premium touch considering a centre stand isn't included on the Honda Africa Twin, and benefits from keyless ignition, fuel cap, and seat opening.
The Honda X-ADV
Overall, the Japanese manufacturer has doubled down on their quirky, trail-blazing adventure scooter with this update for the Honda X-ADV. While it may be different from the larger adventure bikes we see here in the ABR offices, we're looking forward to getting our hands on one and trying it out in the new year.
There's no word yet from Honda on a price or when it will reach showroom floors, so keep an eye on the ABR website for further news in the coming weeks.
Want to test ride the latest adventure and touring bikes in one venue?
Looking to buy a new bike? You can test ride the latest and greatest adventure and touring bikes from the world's leading motorcycle manufacturers at the 2021 Adventure Bike Rider Festival (25-27 June 2021).
Pick up your discounted tickets and save £10 by clicking HERE. Previous years have always sold out, and 2021 will be no different, so book today to avoid disappointment.