If riding a big, soul-stirring cruiser down a sun-dappled highway with your panniers full is your idea of an adventure (I mean, who'd say no to that?), then the BMW R 18 Classic may well be the touring bike for you.
The first time I saw one in the flesh was at the ABR Festival back in June. The glinting chrome and stripped-back styling stood out amid the rugged, trail-ready adventure bikes either side of it, but the small crowd gathered around suggested I wasn't the only rider who fancied swinging their leg over that inviting saddle.
And why wouldn't you? Here at ABR we've long held the view that there's no set definition of adventure. Instead, it starts and ends in the grey matter between your ears, and as such, we're always keen to check out touring bikes that can take you on a two-wheeled adventure, whether on the road or off it. The BMW R 18 Classic certainly can do this, with spades of style and character.

So, what is there to know about this tour-ready cruiser?
BMW's largest boxer engine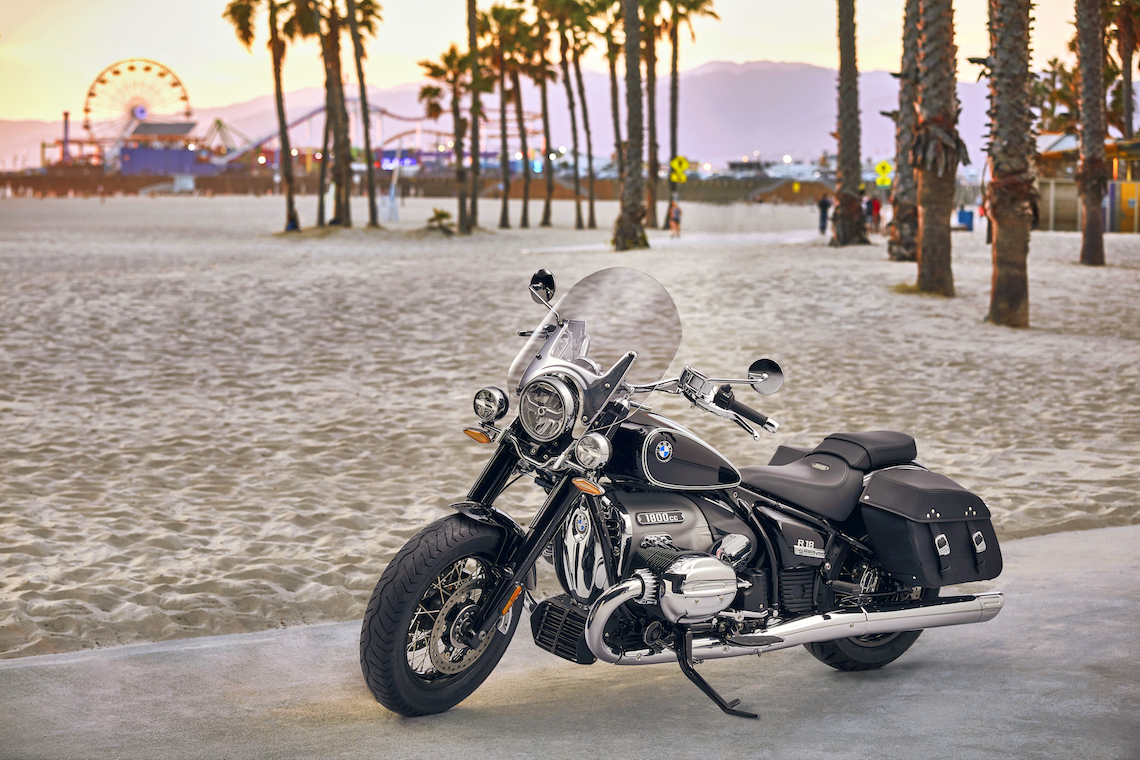 Powering the R 18 Classic is BMW's largest boxer engine to date, boasting a massive 1,802cc. Relaxed cruising is the name of the game here, with the chrome-clad engine producing a whopping 158Nm of torque at 3,000rpm and 91bhp, plenty of grunt to pull you, a pillion, and your camping gear up alpine passes in the summer.
Away from its beating heart, the obvious appeal of the Classic are those looks. The removable touring screen, detachable 15.5l panniers, and pillion seat, all give the BMW a classic tour-ready appeal that looks ready to take on a long stretch of sun-baked American highway.
The chunky 16-inch front wheel, faux-hardtail frame (there's a hidden rear suspension unit in there to provide a plush ride on the tarmac), and shiny chrome trim further add to a look that's guaranteed to turn heads and pull in onlookers wherever you park up.
Despite the styling, the R 18 Classic is also well-equipped with modern electronic rider aids. As standard you'll get traction control, ABS, engine brake control, cruise control, and three riding modes to rein in the throttle response (Rock, Roll, and Rain), while an electric reverse gear and hill-hold control are available as optional extras.
Of course, BMW hasn't gone too OTT on the electronics, instead focussing its efforts on crafting a premium cruiser that can certainly be classed as soul-stirring.
Prices start from £18,990 and there's even a 0% APR offer on the bike at the moment, putting it amongst its competitors from Indian, Moto Guzzi, and Harley-Davidson. You can find out more about the R 18 Classic over on BMW's website today.
And, if the R 18 Classic isn't quite to your taste, BMW has recently announced two new models, the R 18 Transcontinental and the R 18 B, that look pretty darn cool too. Keep an eye on the ABR website over the next couple of weeks for a look at each of them.
Check out more photos of the R 18 Classic below