Back in April it was confirmed by BMW's UK director, Phil Horton, that the company was looking at a "G310R GS-style derivative", and it seems that he wasn't telling porkies as the G310GS has been spied by strategically placed Motorrad photographers in Germany.
The bike, which uses the G310R as its platform, looks to have been given fashion advice from its father figure, the R1200GS, with classic adventure styling seen throughout, most notably with the inclusion of the all-important adventure-style beak.
Judging by the pictures, the G310GS is powered by the same fuel injected, liquid cooled, 313cc single cylinder engine as the G310R and, if things are kept the same as they are in BMW's small capacity roadster, it'll pump out 34bhp and 20.6lb/ft of torque.
With this in mind, the G310GS will be A2 compliant, allowing new riders under 24-years old a bike on which they can enter the adventure scene. Of course, it's not just those new, young riders that BMW will be targeting with the introduction of a smaller, lighter GS, but also those crying out for an adventure bike that doesn't weigh the same as an articulated lorry, or cost as much as a small mortgage.
While the G310GS is certainly likely to be heavier than the standard G310R, there surely can't be too much in it, and with the R weighing in at a lightweight 158kg it looks like the mini GS will satisfy the cravings of those who believe most modern adventure bikes are simply too heavy.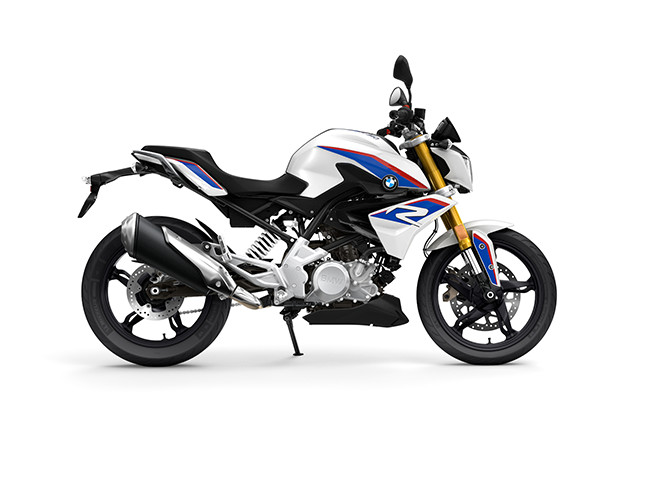 While more information is limited, and we're just going by what the image tells us, it appears that the G310GS will also feature higher bars to offer that oh-so-popular adventure riding stance, a luggage rack, a beefed up bash plate, a screen, centre stand and dual sport tyres.
It's pure speculation at the moment, but with the bike clearly being in the late stages of development, there's a strong chance that BMW will be debuiting it at Eicma in Milan next month, which kicks off on 10 November.
Edit (01/08/2017): As we predicted, BMW did indeed reveal the 310GS at Eicma, and you can read the full details here.