In the motorcycling world, outselling your closest competitor by three to one isn't just a sign of success, it's a sign of dominance. That's exactly what Yamaha achieved in the sports touring market with the Tracer 900 in 2019.
However, the Japanese manufacturer isn't resting on its laurels for 2021, as this week it revealed a new for 2021 Yamaha Tracer 9 alongside a Tracer 9 GT, designed to further tighten its grip on the sector.
With an aggressive new look, a lighter weight, a more powerful engine, and a host of advanced electronics, the Tracer 9 is likely to build on the success of its predecessor and prove the ideal package for bikers looking to cover miles of blacktop in style and comfort.
Here are the headlines:
Euro 5 compliant, 890cc triple-cylinder engine
Power output of 117bhp
93Nm torque produced at 7,000rpm
7% increase in load carrying capacity
Yamaha's 6-axis IMU features for the first time in its sport touring range
IMU supports three-mode traction control, slide control, and wheelie control
Four switchable riding modes
Cruise control
9% increase in fuel economy
New split-screen TFT display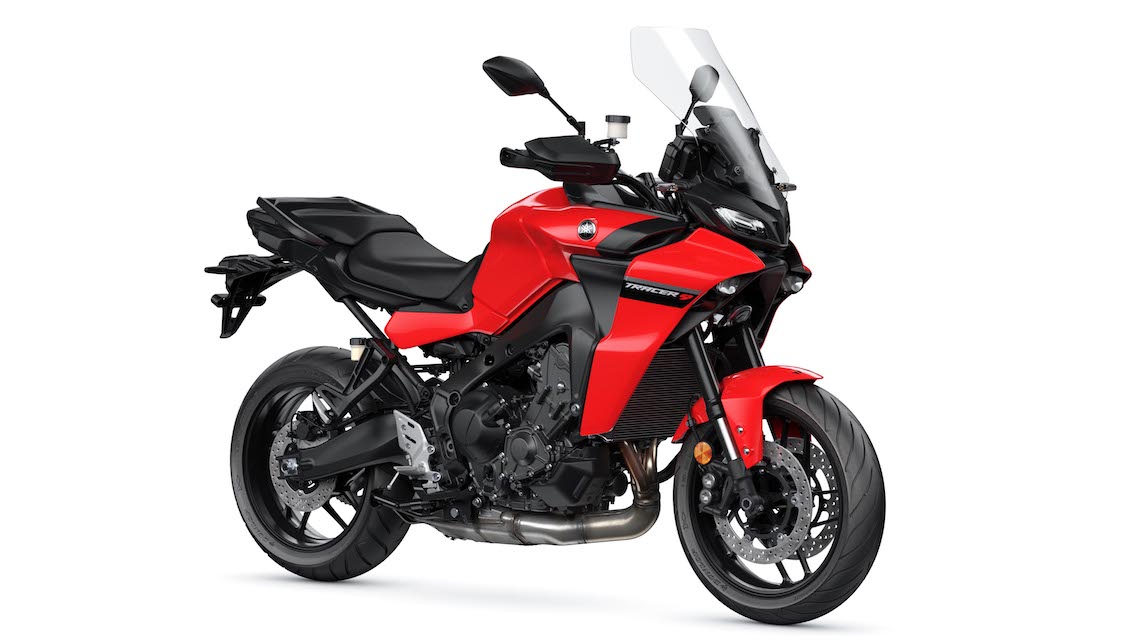 Engine updates
A noticeable trend this year has seen motorcycle manufacturers preparing their engines for Euro5 emission standard compliance, which kicks in with full effect from January 2021, and the Tracer 9 is no different.
Yamaha has upped the triple-cylinder engine's capacity from 847cc to 890cc, which brings with it a 4bhp increase in power (up to 117bhp). While that's a relatively small power increase, the updated torque stats are more impressive and should represent a larger change to the character of the engine.
It now produces 93Nm torque at 7,000rpm. Not only is this a 5.5Nm increase, but it's also produced at 1,500rpm lower than the previous model. It's therefore more likely to be noticeable to the rider, with power available sooner after twisting the throttle, although we'll have to wait until to put it to the test ourselves as the new model isn't scheduled to arrive in the UK until the new year.
Alongside these changes, Yamaha also claims these tweaks have reduced the overall weight of the engine, which has contributed to the bike's overall reduction in wet weight to 213kg, down 2kg.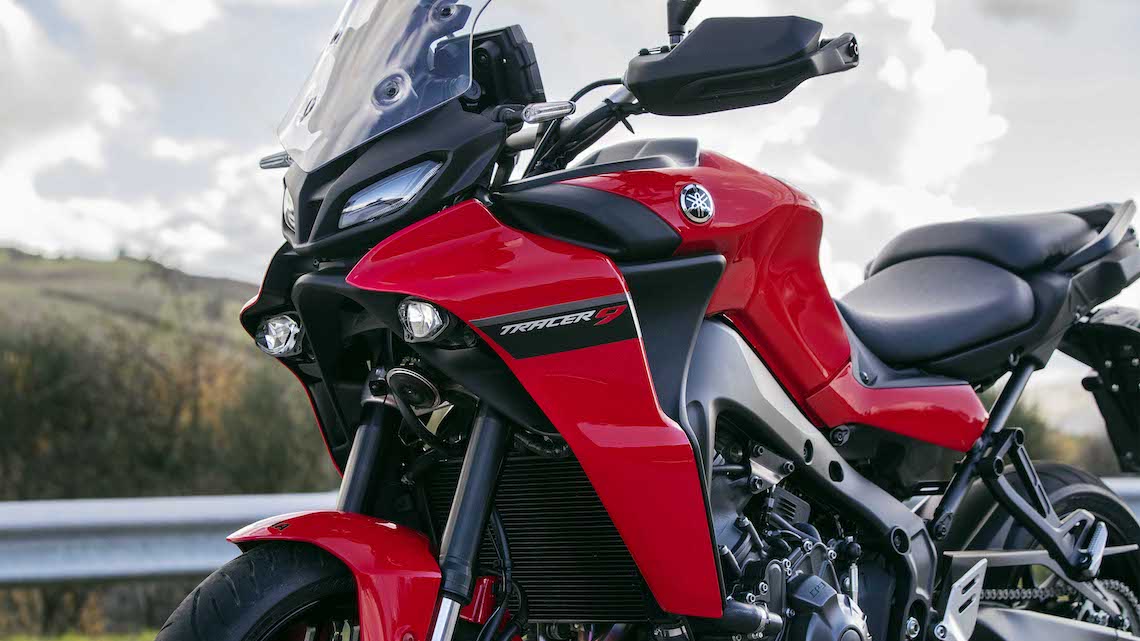 Chassis changes
Alongside the new power plant, Yamaha has fitted the Tracer 9 with an all-new chassis, which brings with it a number of changes.
While the new frame is slightly lighter, the change has enabled the engine to be mounted in a more upright position, which Yamaha says improves the overall balance of the bike, giving the rider more front end feel and traction in corners.
The frame has also been strengthened to support a 7% increase in load carrying capacity, which enables the Tracer 9 to carry a total load of 193kg. For solo riders this may seem insignificant, but I imagine plenty of two-up tourers will be licking their lips at the prospect of adding a few more goodies to their next packing list.
Electronics
With the Yamaha Tracer 9, the Japanese manufacturer has hauled it's sports touring range into modernity with the inclusion of a host of electronics.
The most notable addition is that of Yamaha's 6-axis IMU, taken from the manufacturer's R1 sports bike. It's the first time an IMU has been featured on one of Yamaha's sport touring bikes.
This new unit supports the inclusion of traction control, slide control, and wheelie control, all of which feature three levels of adjustable interference, while two-level cornering ABS is also present.
Ride-by-wire throttle has been lifted from Yamaha's sports range, while the D-Mode offers the rider four riding modes, from a sports mode to a wet riding mode. There's also an all-new split TFT screen, an upgrade from the LCD unit that was fitted on the previous model, which will allow riders to keep track of the new rider modes and settings.
It's a unique twist on the TFT we've seen on other bikes, with the left side covering the standard riding information such as a gear indicator, tachometer, and speedometer. Meanwhile, the right side can be customisable to include other information, including a trip meter and a fuel and temperature gauge.
The Tracer 9 also comes with cruise control as standard. It's a nice touch for those looking to cover big miles on their bikes, as many competitors only offer this feature as an optional extra.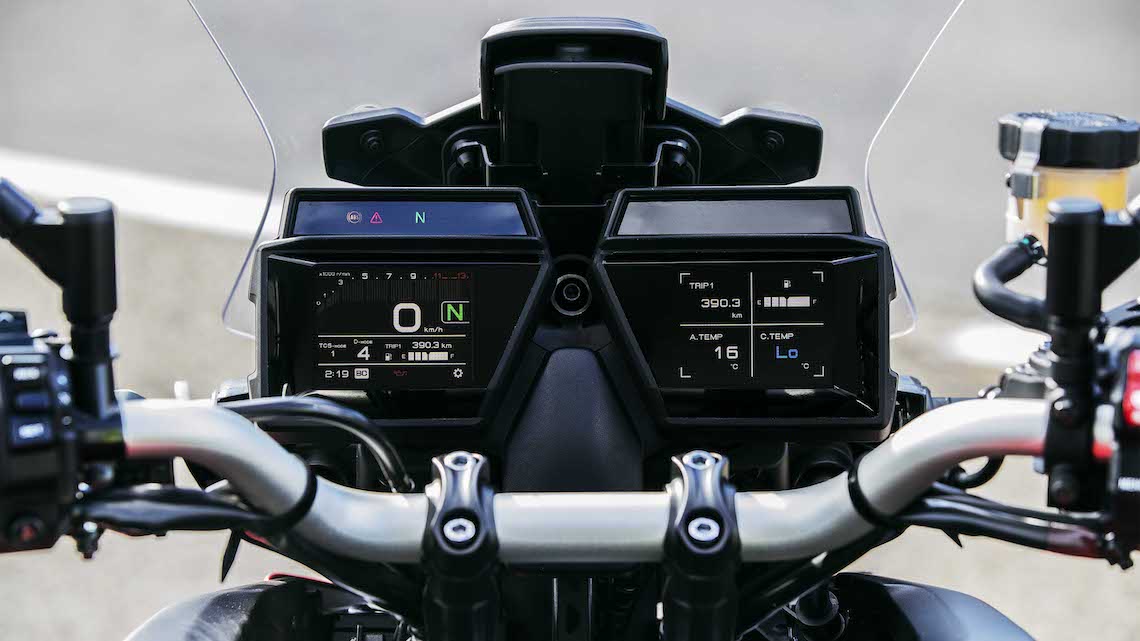 Touring friendly features
Alongside the inclusion of cruise control, there are a number of other features which look set to aid the touring credentials of last year's most popular sports tourer.
A new, larger windscreen, which can be adjusted with one hand through a whopping 10 different settings, offers weather protection in the saddle. The seat height has also been lowered overall by 15mm, with a low and high setting of 810mm and 825mm respectively.
The fuel tank remains the same size has the previous model, at 18 litres, but Yamaha says that it has achieved a 9% increase in fuel economy, meaning the Tracer 9 will be able to cover around 220 miles on a single fill-up.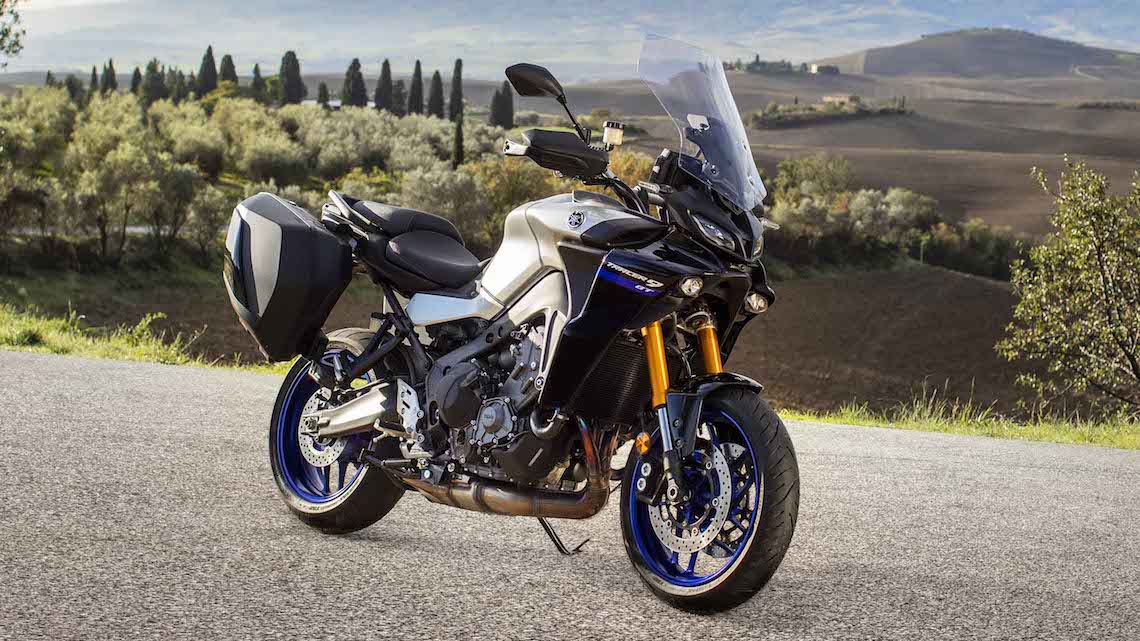 Yamaha Tracer 9 GT
While the Yamaha Tracer 9 looks, on paper at least, to be a very good touring bike, Yamaha has taken it one step further with the specced-up Tracer 9 GT.
The model features a KYB electronically-controlled semi-active suspension setup, which works alongside the new IMU to calculate the best suspension settings for riding situations and total load.
There's also a quickshifter, LED cornering lights, heated grips, a comfort seat, and side cases, all fitted as standard. Finally, there's an exclusive livery (pictured above) which complements the already-stunning looks.
When can I see them in showrooms?
With mean new looks, an updated engine and chassis, and a host of new features that should result in mile-munching comfort, the Yamaha Tracer 9 will be a seriously tempting bike for riders who have no inclination to stray off-road.
Who knows, it could even tempt riders who usually opt for the versatility of out-and-out adventure bikes. Let us know if you're tempted by the Yamaha Tracer 9 in the comments below.
The new bikes are set to hit dealerships from March 2021, while pricing is yet to be confirmed.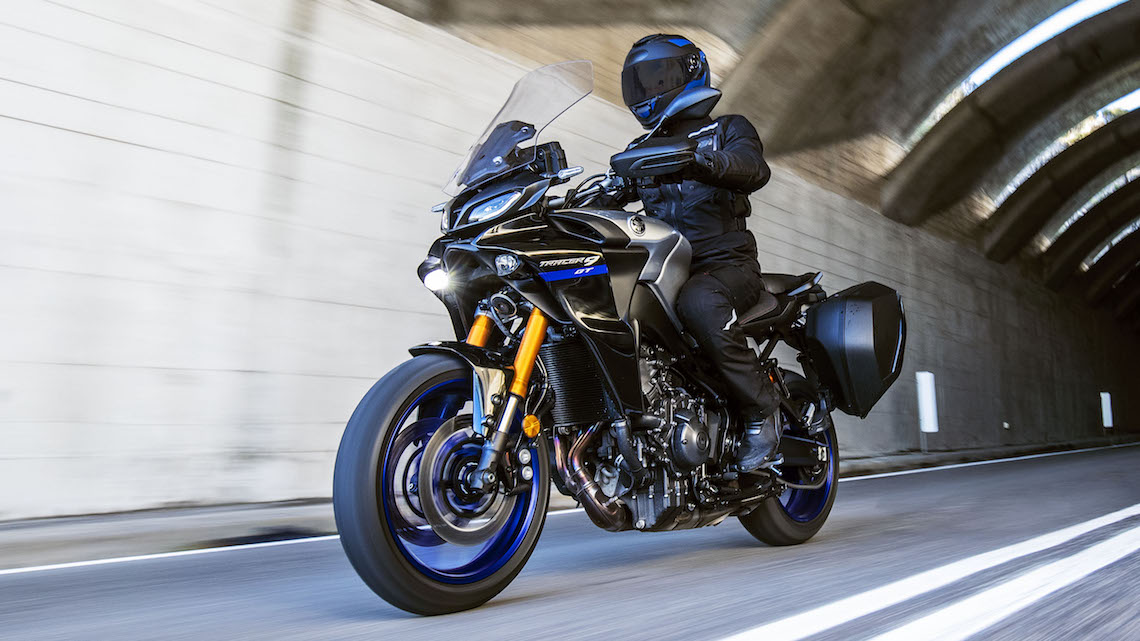 Want to test ride the latest adventure and touring bikes in one venue?
Looking to buy a new bike? You can test ride the latest and greatest adventure and touring bikes from the world's leading motorcycle manufacturers at the 2021 Adventure Bike Rider Festival (25-27 June 2021).
Pick up your discounted tickets and save £10 by clicking HERE. Previous years have always sold out, and 2021 will be no different, so book today to avoid disappointment.