The new, long-distance ready Ténéré 700 World Raid is on its way. Almost three years on from the release of the base spec Ténéré, Yamaha has revealed a specced-up new model that looks set to take on a ride around the world, and emerge victorious.
With changes to the fuel tanks, suspension, dash, and protection, Yamaha has given the new model much more than just a lick of paint too.
Here are the headlines and a five minute video of what we know so far, but keep on scrolling for more photos and a full written rundown.
23-litre dual side-mounted fuel tanks
890mm high two-piece seat
5″ TFT screen with mobile connectivity
3-mode switchable ABS front and rear
43mm KYB front forks with 230mm travel
Rear shock with 220mm travel
Öhlins adjustable steering damper
Updated windscreen and side deflectors.
New engine protection
Yamaha Ténéré 700 World Raid – What you need to know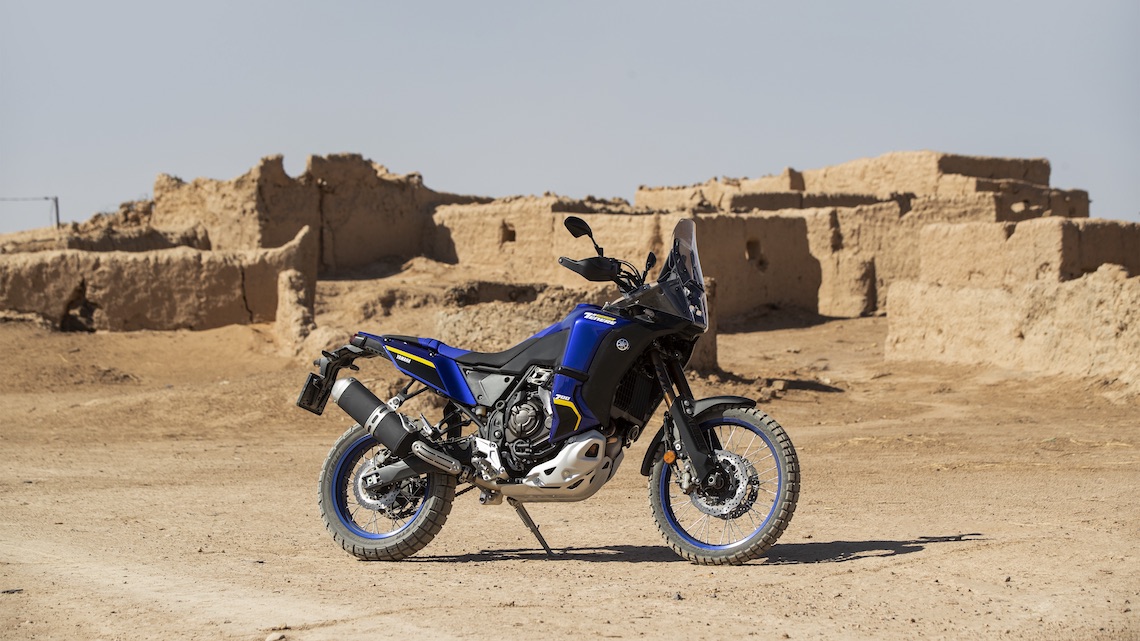 The biggest change from the base spec Ténéré 700 is the introduction of brand new, dual side-mounted fuel tanks, giving the World Raid a total capacity of 23l, up from 16l on the standard model. That should give the World Raid an impressive range of over 300 miles between fill up.
Yamaha says the new side-mounted tanks ensure the centre of gravity is kept low, while also avoiding noticeable movement of fuel during cornering. We'll have to wait until our first ride to see how they work in practice, but we're always a fan of larger tanks and it's great to see Yamaha improve what was a slight drawback of the base spec model.
Elsewhere, there's a new 890mm tall two-piece seat and three-mode ABS. Mode 1 activates ABS on both wheels, mode 2 turns it off at the rear, and mode 3 turns it fully off at the front and rear, to give experienced off-roaders full control over braking.
There's a new specced-up suspension set-up, with new 43mm KYB front forks providing 230mm of travel, 20mm more than the base spec Ténéré, and a new rear shock providing 220mm of wheel travel. That's also raised the ground clearance to a whopping 250mm, perfect for those log jumps.
Yamaha hasn't stopped there either. It's fitted a new Öhlins steering damper, designed to aid controllability on and off-road, which can be adjusted through 18 different damping settings.
New tech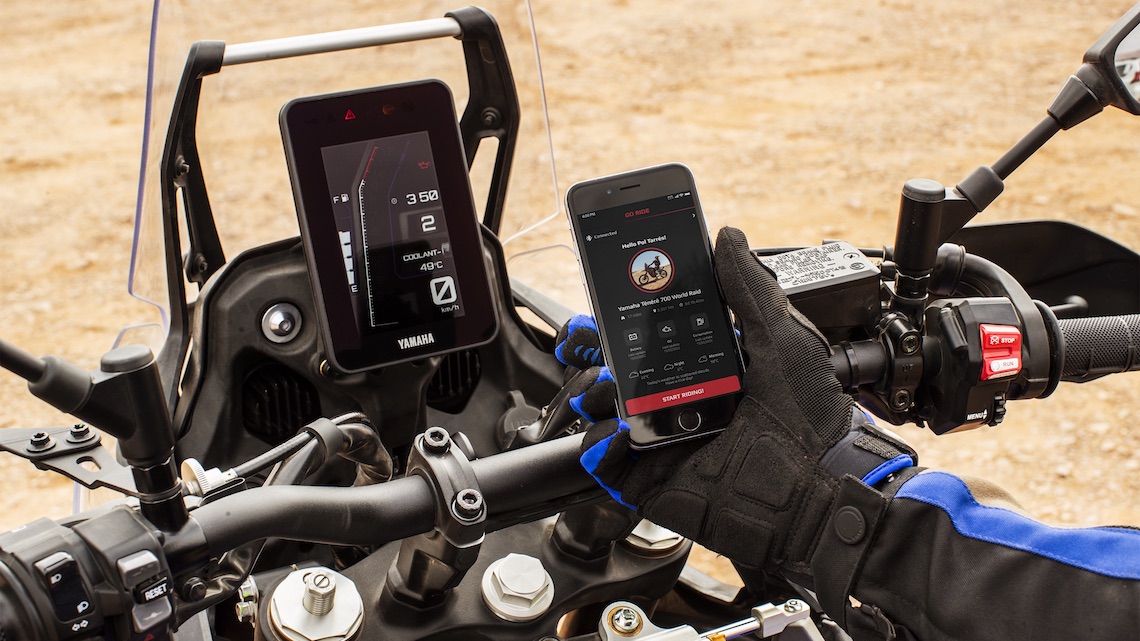 We're particularly impressed to see a brand-new 5″ colour TFT screen sitting in the re-designed dash. The new screen looks awesome and comes with three different layouts, Explorer, Street, and Raid.
It's a welcome improvement on the old LCD unit on the base spec model, while there's also mobile connectivity, which connects with Yamaha's MyRide app and can show incoming text messages and call notifications. There's even a USB socket to charge your SatNav or phone.
A shiny new screen isn't all that's new in the cockpit either. The windscreen is 15mm taller than before, with side deflectors included as standard to help riders shelter from the elements.
Finally, there's a new set of crash protection, including an aluminium bash plate and fairing protectors for those fuel tanks.
When is the Yamaha Ténéré 700 World Raid available, and how much will it cost?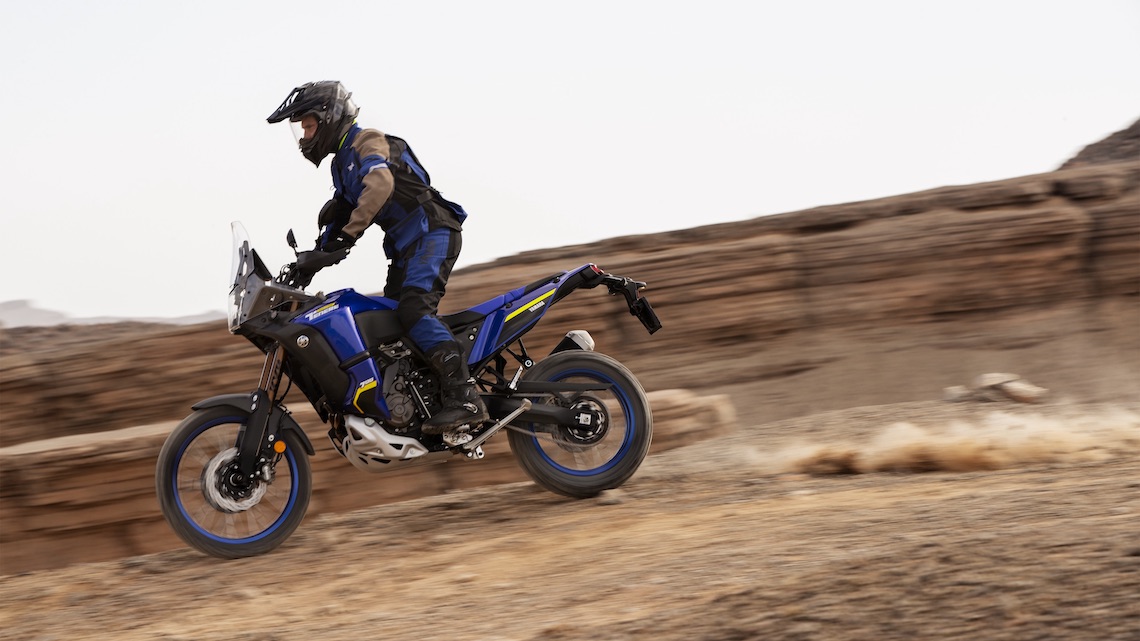 So, that's the Yamaha Ténéré 700 World Raid, a specced-up adventure tourer that looks set for hardcore RTW adventures. The World Raid will be available in blue and black colour schemes and will hit Yamaha dealers from May 2022.
Yamaha will also be bringing a fleet of Ténéré 700 World Raids to the 2022 Adventure Bike Rider Festival at Ragley Hall on the 24-26 June. Find out more about the event here.
Pricing wise, the new bike will set you back £11,600 OTR. Find out more over on Yamaha's website.