Tired of the rat race? Does the thought of your daily commute make you wince a little bit as you realise the monotony of a standard 9-5 job? Yeah, us too. That's why we've teamed up with Bennetts, the motorcycle insurance provider, to bring you Green Lane to Work Week! The premise is dead simple, ditch four wheels for two, and on your way to work seek out a green lane to inject a bit of adventure into your daily life!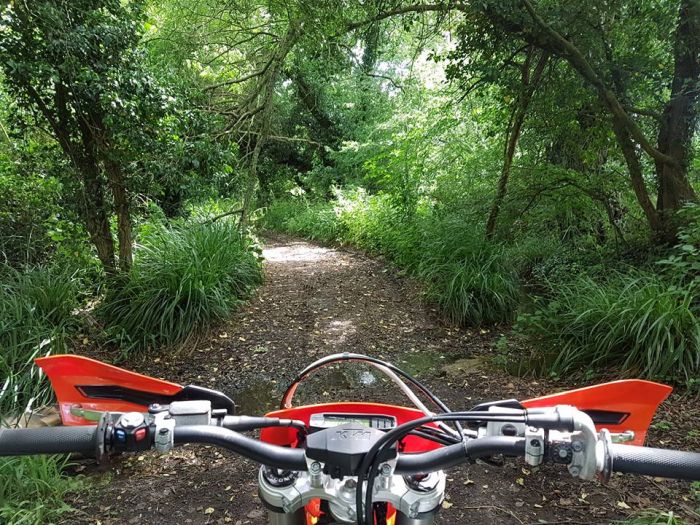 You might be aware that it's Ride To Work Week next week (19 – 25 June), and that's fantastic, but we thought we'd spice things up a bit. So, for the next five days, 12 – 17 June, we're going to be commuting to work on two wheels, but making sure we ride a green lane on the way in.
Now, if you can't find a green lane that's on your way to work, either leave a bit earlier and take a bit of a diversion, or try and do something a bit different – like a ford (just make sure you're wearing waterproof kit as you don't want to be sat at your desk dripping wet!).
So, today marked the first day of Green Lane to Work Week, and we took a bit of a diversion from our usual commute and headed to Great Alne in Warwickshire to ride a lovely little trail from Spernal Lane that takes you into the village. It's not the longest at about a mile long, and it's not very gnarly, but it was the perfect way to start the day.
This lane in particular is big bike-friendly and is easily accessed by a turning straight off Spernal Lane, as you can see in the image below. Keep in mind, it's always worth checking to see if the trails you plan to ride are open and don't have a TRO on them, and you can check this by using the brilliant website TrailWise.
Today's lane:
The lane we did today is dead simple to access. As you head out of Great Alne and down Spernal Lane towards Studley, you'll find the lane about 500m on the right, straight after a driveway.
The below screenshot was taken from the TrailWise website, and it details specifically where the lane runs. There's also a trail directly opposite it on Spernal Lane, taking you to Coughton Fields Lane – feel free to add this on!
Tuesday heralds in another day of work, but also another green lane, and we've spotted a great track just up the road from this one, and we'll have more on that tomorrow!
Want to get involved with Green Lane to Work Week? Then what are you waiting for?! Grab your helmet, throw your leg over the saddle and join us by uploading your photos to social media and tagging it with #ItsWhatWeDo.