Bennetts is now offering discounted insurance* prices to riders who have protected their motorcycle with R&G Crash Protection – as well as rewarding the company's policy holders with a discount on R&G's range of products.
R&G is a Hampshire-based company that has worked with motorcycle insurance specialist Bennetts to provide reduced premiums for motorcyclists who have fitted R&G crash protection to their eligible machines. The offer was recently launched at Motorcycle Live 2017, at the NEC in Birmingham, and means new customers may enjoy the lower premiums immediately, while existing policy holders may be eligible to receive them upon renewal.
Alongside enjoying cheaper premiums, Bennetts customers will also be able to make use of the partnership between the two companies by enjoying an exclusive discount on R&G products as part of the 'Bennetts Rewards' programme. Existing policy holders can sign up at www.bennettsrewards.co.uk.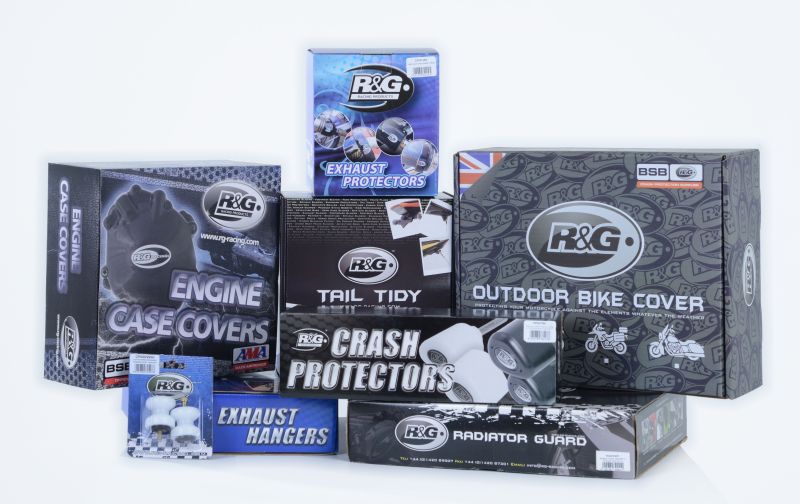 R&G offers a wide range of crash protection products to help protect your two-wheeled friend, including; engine case covers, engine case sliders, adventure/engine bars, exhaust protectors, cotton reels, fork protectors, swingarm protectors and carbon fibre tank and tail sliders.
R&G's Managing Director Simon Hughes commented, "We're very excited to be partnering with Bennetts. We're proud of the effectiveness of our products, and now customers can not only protect their motorcycle from severe damage with R&G, but also save money when it comes to insuring their pride and joy. This gives yet another reason for dealers to come on board and suggest our products to their valued clients."
Bennetts Head of Commercial, Brady Hoines, said "R&G have been able to demonstrate the difference that fitting quality crash protection makes to motorcycles when they need it most. We're all for encouraging riders to protect their bikes and are proud to able to offer an additional incentive to our customers.
For more information on the full range of R&G products, feel free to contact the company on 01420 89007 or at [email protected] For information on the Bennetts reward programme or to obtain a quote call 0330 018 7990.
*Bennetts insurance is provided by a panel of UK insurers. Quotes are subject to satisfying underwriting terms. Not all insurers on the insurance panel may offer a discount.