Located at the heart of the remarkably scenic Snowdonia National Park, Llanberis Pass (otherwise known as the A4086) is an 18-mile stretch of tarmac that takes you from the village of Capel Curig to the Royal Town of Caernarfon.
The route takes you past the Glyderau mountain group, the beautiful lakes of Llynnau Mymbyr and of course, Snowdon itself. As you can imagine, the road is an incredible one as it cuts through the Welsh countryside. Expect plenty of greenery and stunning mountain views in abundance.
As for the road itself, in the early stages you'll be able to lap up subtle gradient changes and flowing turns in a stretch that doesn't demand too much from the rider. As you come onto Llanberis Pass itself you'll need to concentrate though, with a much narrower section with steep climbs and drops. Before long you reach the summit and are heading downhill again with swift turns taking you down until you run parallel with a stream.
This isn't so much a road for those who want to fly along at breakneck speeds. Instead, it's a road that you'll appreciate for the Welsh beauty that surrounds it. Be aware that the road can get fairly busy due to its close proximity to Snowdon, so be sure to go outside of the summer months to make the most of it.
How to do it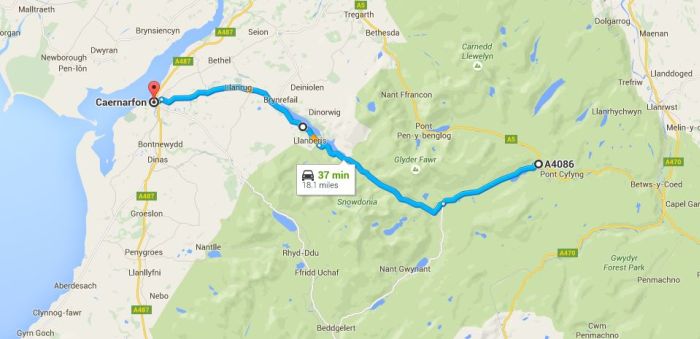 You can start the pass from either side but we recommend starting at Capel Curig at the easternmost point. There is plenty of accommodation around including campsites, hostels and hotels so if you are making a weekend of it (and we suggest you do) then there are a lot of options.
To reach it from the south of England or the midlands you'll be wanting to head for Shrewsbury which is easily reachable from the M5, M6, and M54. From Shrewsbury you'll need to pick up the A5 which will take you all the way into Snowdonia National Park to the start of the pass (A4086) at Capel Curig.
If you're coming from the north, you're most likely to be routed via the M56/A494. From here you'll want to take the A55 and then the A470 southbound when you near Llandudno. This is actually a very scenic road in itself and it will take you all the way to the A5 which you then need to follow east for a short stretch before reaching the start of the A4086.
Want to make sure you are kept up to date with all the latest adventure bike features and reviews? Click here to find out how you can get your hands on all new issues and the complete back catalogue of Adventure Bike Rider magazine.