We love big adventures here at ABR. There's nothing better in our book than packing up a bike and exploring this beautiful planet we call home, whether that's for a week or two on a summer tour, or for months or even years during the journey of a lifetime. 
But while dreaming of big adventures is a habit we'll never kick, the reality is that, for most of us, our adventure riding is squeezed into a few hours here, or a couple of days there in between work and family commitments. Sometimes, we only have time for a quickie. If that sounds familiar, then this UK route is perfect for you.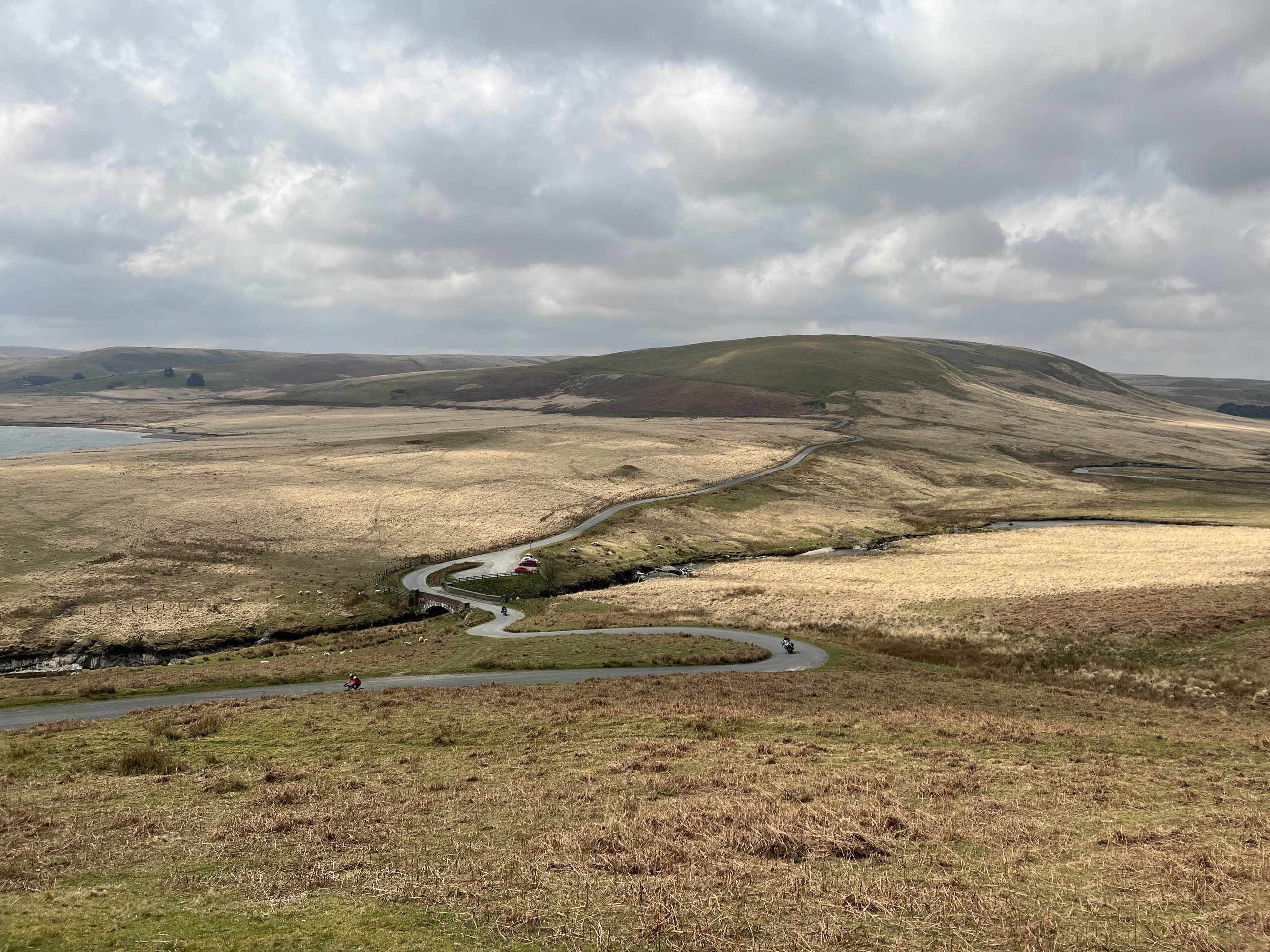 The aim is to provide a ride for busy adventure bikers that can be completed in a day but packs a massive punch when it comes to thrills, rugged landscapes, remote roads, and fascinating sights to explore along the way. I also wanted the start and finish point to be as accessible to as many people as possible, whether you're coming from the north, south, east, or west of the UK. 
So, let me present this ABR Quickie Mid Wales Loop, a stunning 140-mile ride that's perfect for the time-pressed biker in search of a quick hit of adventure, whether you've got a cheeky day off work or you're heading out on a Sunday ride. 
If you were to ride the route in one hit, it'll take you about four hours, but I'd recommend factoring in at least another couple of hours for coffee and bacon sandwich stops, exploring sights along the way, and simply pulling over to admire some of the most picturesque views you'll ever see.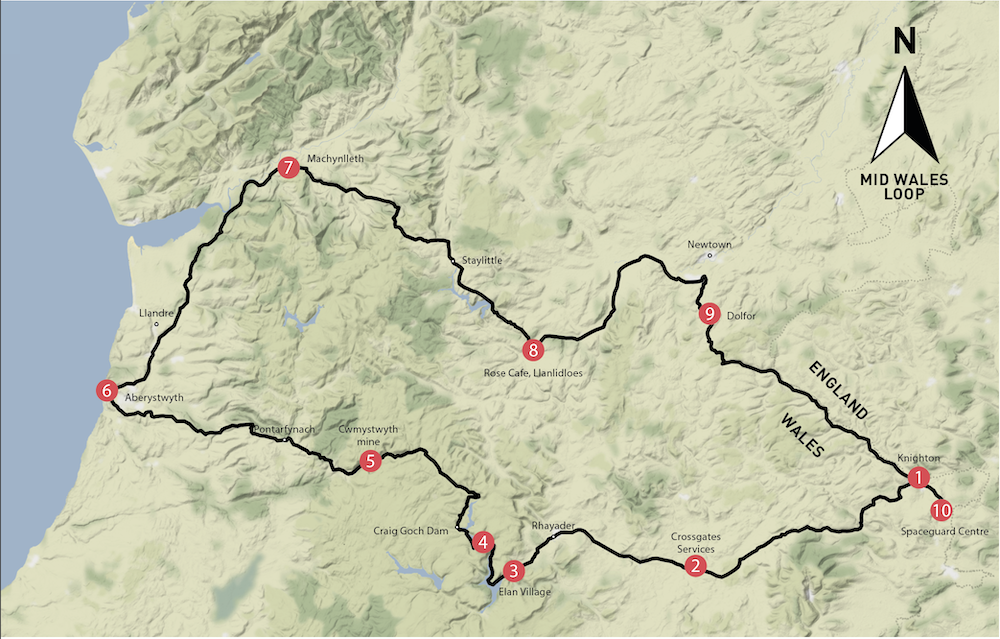 Offa's Dyke
Myself, Alun, and Bryn from the ABR team began our ride in the town of Knighton, located on the Welsh border. It's also known as 'The Town on the Dyke' because it lies on the line of Offa's Dyke, an earthwork that roughly follows the border between England and Wales. 
It was built by Offa, ruler of the ancient kingdom of Mercia, in the latter half of the eighth century as a defensive wall to quell the 'unruly Welsh'. You can find out more at the Offa's Dyke Centre in West Street, Knighton (LD7 1EN) but be sure you check its website for opening times beforehand (www.offasdyke.org.uk).
From Knighton, we travelled west through rolling green countryside to Rhayader, stopping along the way at Crossgates Service Station on the A44 for coffee and a bacon sandwich at Café Express, a popular spot for local bikers.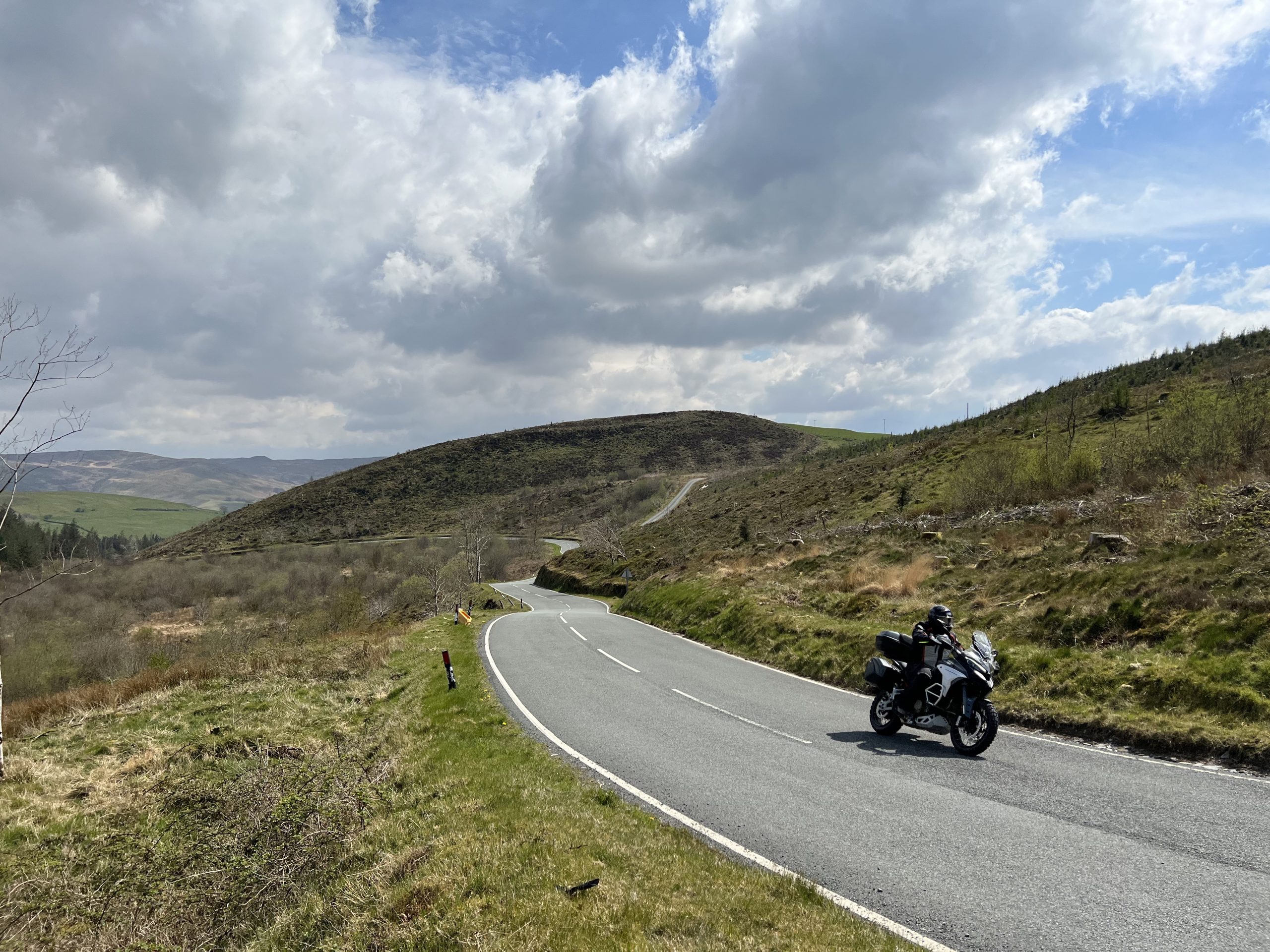 Past Rhayader, we travelled through the stunning Elan Valley, skirting the shores of the Garreg-ddu Reservoir, and passing the impressive Pen y Garreg and Craig Goch dams. From here, we travelled along sweeping roads that wound their way through a landscape that rivals anywhere in the UK for sheer rugged beauty.
We also crossed the path of the Monks Trod, an ancient green lane that stretches for five miles across the Cambrian Mountains, although on this occasion we didn't divert onto the rough stuff and instead stuck to the paved road instead.
We then twisted our way through steep valleys scarred by the remnants of the mining industry before making our way to the west coast of Wales at the seaside town of Aberystwyth. Along the way, we stopped at a peculiarly placed arch in what seemed like the middle of nowhere which was built to commemorate the Jubilee of King George III back in 1810.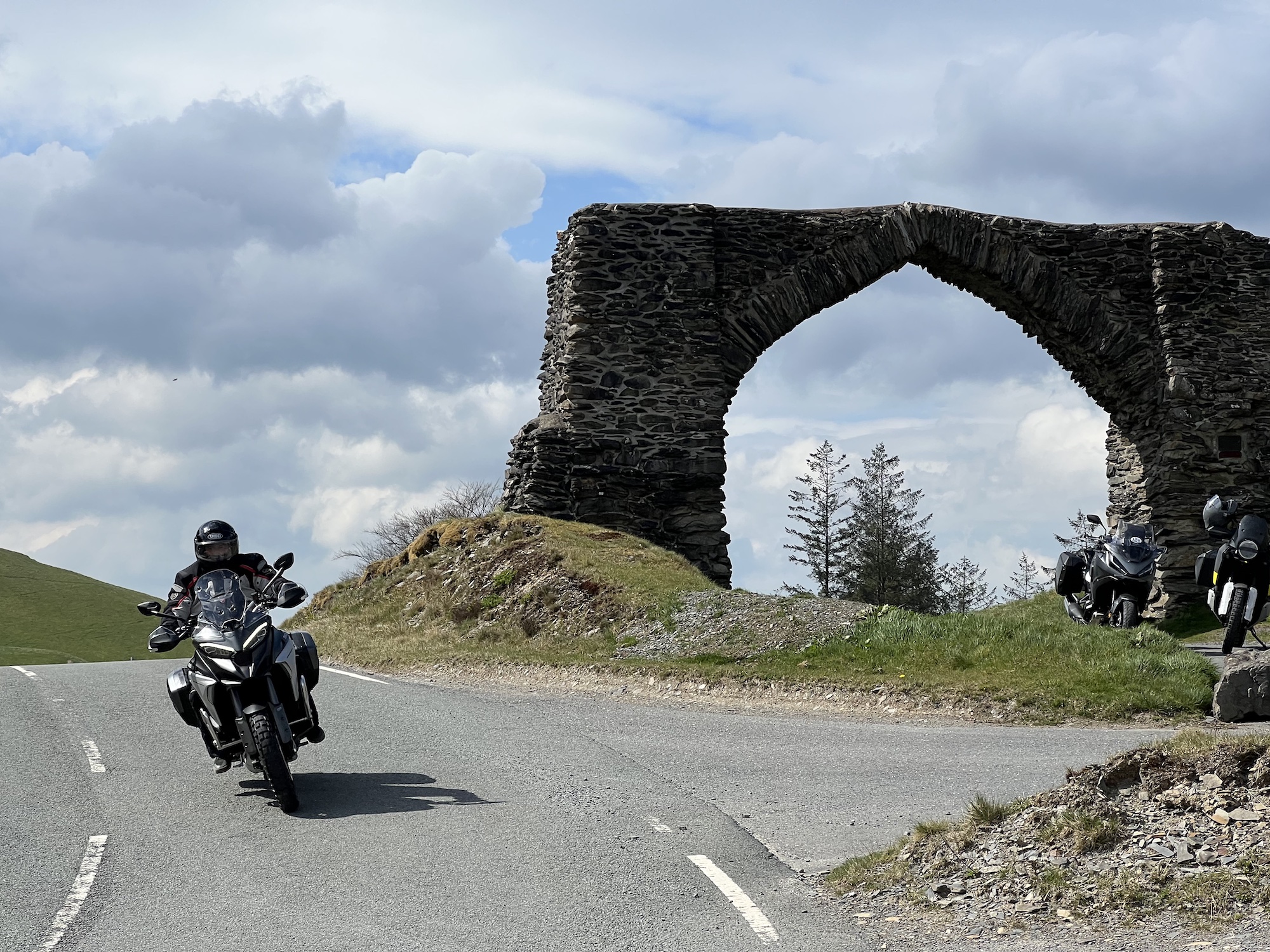 And a few miles before we hit the coast we passed Devil's Bridge which spans a deep gorge beneath. On closer inspection you'll discover that this is in fact three stone bridges built on top of each other. The smallest and lowest dates back to 1075 and legend says it was built by the Devil himself in order to claim the first soul that crossed it. 
Lumpy bumpy
Thankfully, we arrived in Aberystwyth with our souls intact and enjoyed an excellent fish and chip lunch on the seafront from Chip Box 4, before heading north out of town along yet more sweeping roads and rolling countryside to the picturesque town of Machynlleth. Here we turned east for the first time on our route and travelled 20 miles of twists and turns along the Mountain Road to the small town of Llanidloes. 
It was here I got my first taste of a Lumpy Bumpy cake. This decadent slice of chocolaty, gooey goodness came courtesy of Café Rosa in Great Oak Street, where we relaxed outside with a coffee and I watched the lumps and bumps of my belly get a little bigger.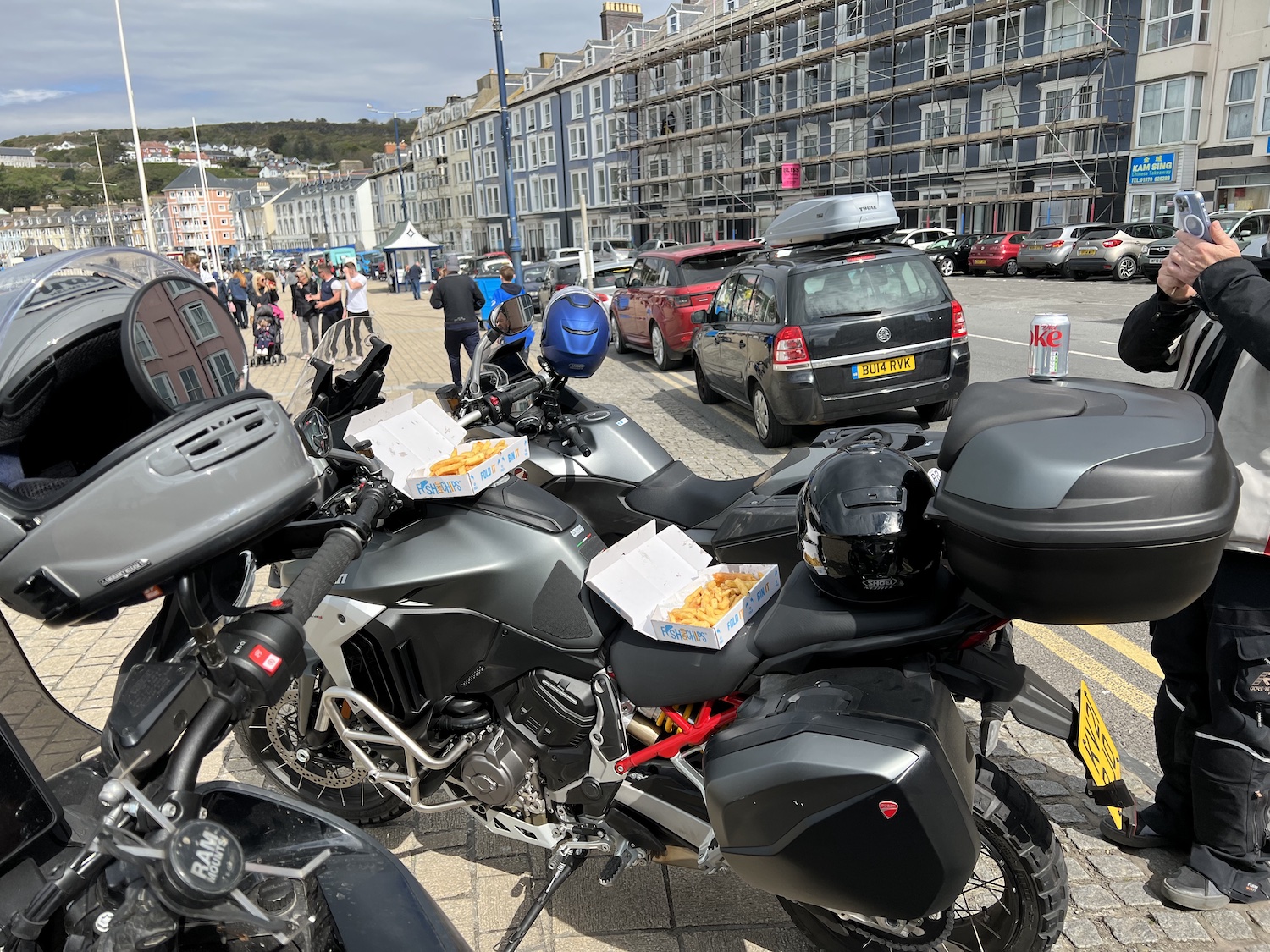 Feeling refreshed, we mounted up and rode to Newtown where we turned south to Dolfor and joined yet another sensational road, the B4355 which provided sweeping views of the Welsh countryside. We then skirted the border with England back to our starting point at Knighton, and a final stop to check out a facility dedicated to saving mankind from a collision with a comet or asteroid.
It marked the end of a stunning ride that really was out of this world, and one I'd highly recommend the next time you have a day to spare and you want to explore somewhere special on your bike. Here are just some of the highlights…
See: Craig Goch Dam
The most impressive of the Elan Valley dams, Craig Goch is a treat for us bikers because we can ride across the top of it flanked by a reservoir on one side and a plunging valley on the other. 
Work started on the impressive structure in 1897 and it is testament to Victorian engineering that it still plays a vital role in providing water to the Midlands. Now, you may think if you've seen one dam, you've seen them all but there's an architectural beauty to Craig Goch with its elegantly curved wall, series of arches, and domed tower.
It looks all the more impressive when water is allowed to flow through the dam and cascade to the valley floor below. I'd highly recommend riding across the narrow road on top and parking up to soak up this marvel of Victorian engineering. You will need to turn around and retrace your steps though, as the other side of the dam is a dead end. 
See: Cwmystwyth Mine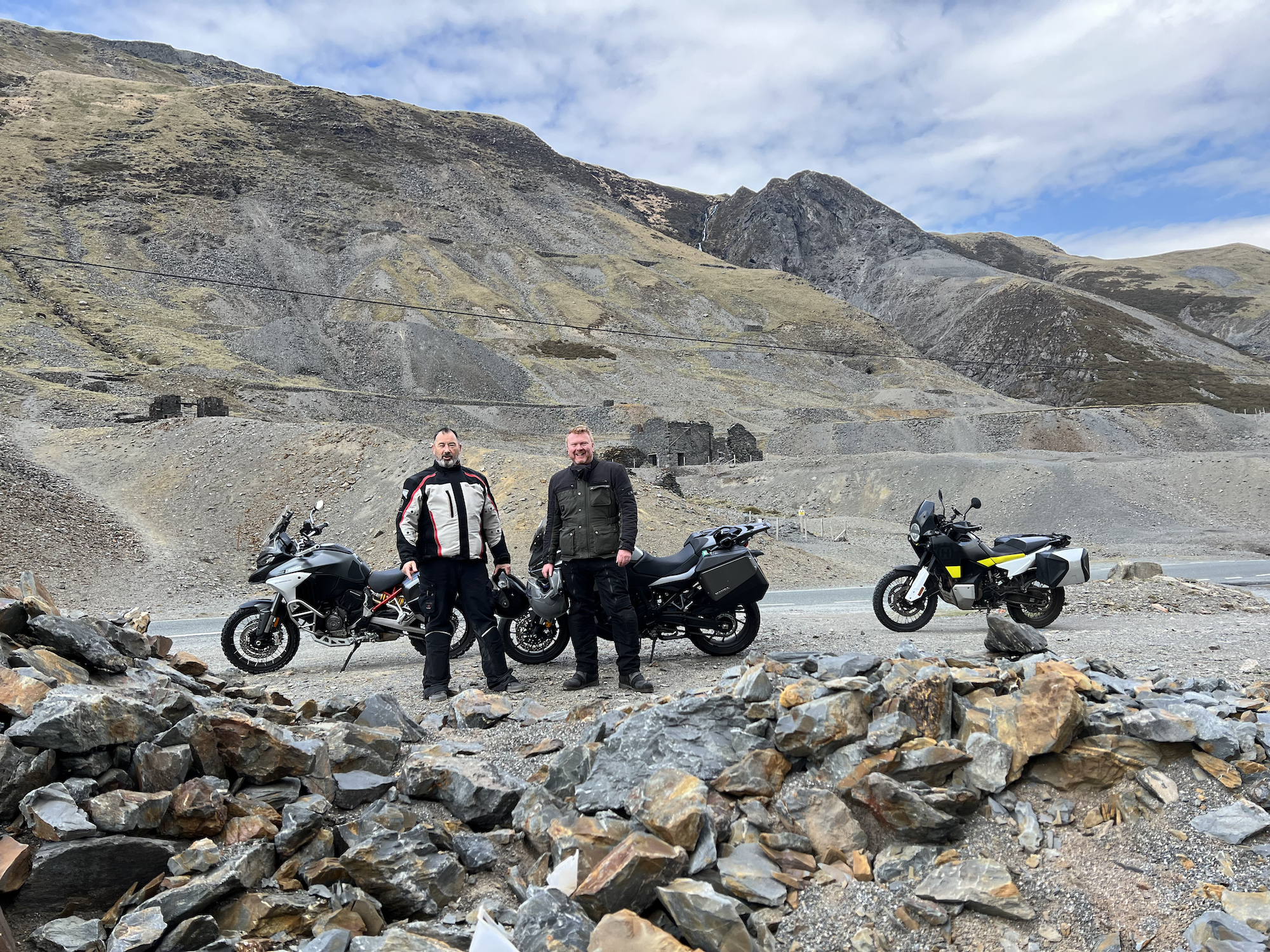 As you ride through the Elan Valley, you'll see evidence of its mining past, including Cwmystwyth works. Mining took place on the site as early as the Bronze Age. This continued during Roman times, through the medieval period, and as late 1950 when the site was finally abandoned. 
You'll pass the mine as you ride along what is marked as National Cycle Route 81 on Google Maps. It's certainly worth pulling over to take a look and explore the impact the search for lead, zinc, and silver has had on the landscape. 
Cwmystwyth Waterfall also towers above the mine and is well worth a photograph if you've got your zoom lens with you. At this point, you're also about as close as any road gets to the geographic centre of Wales. So, take a few moments to soak up your surroundings and imagine the thousands of years of human history that has unfolded on the site. 
Discover: Spaceguard Centre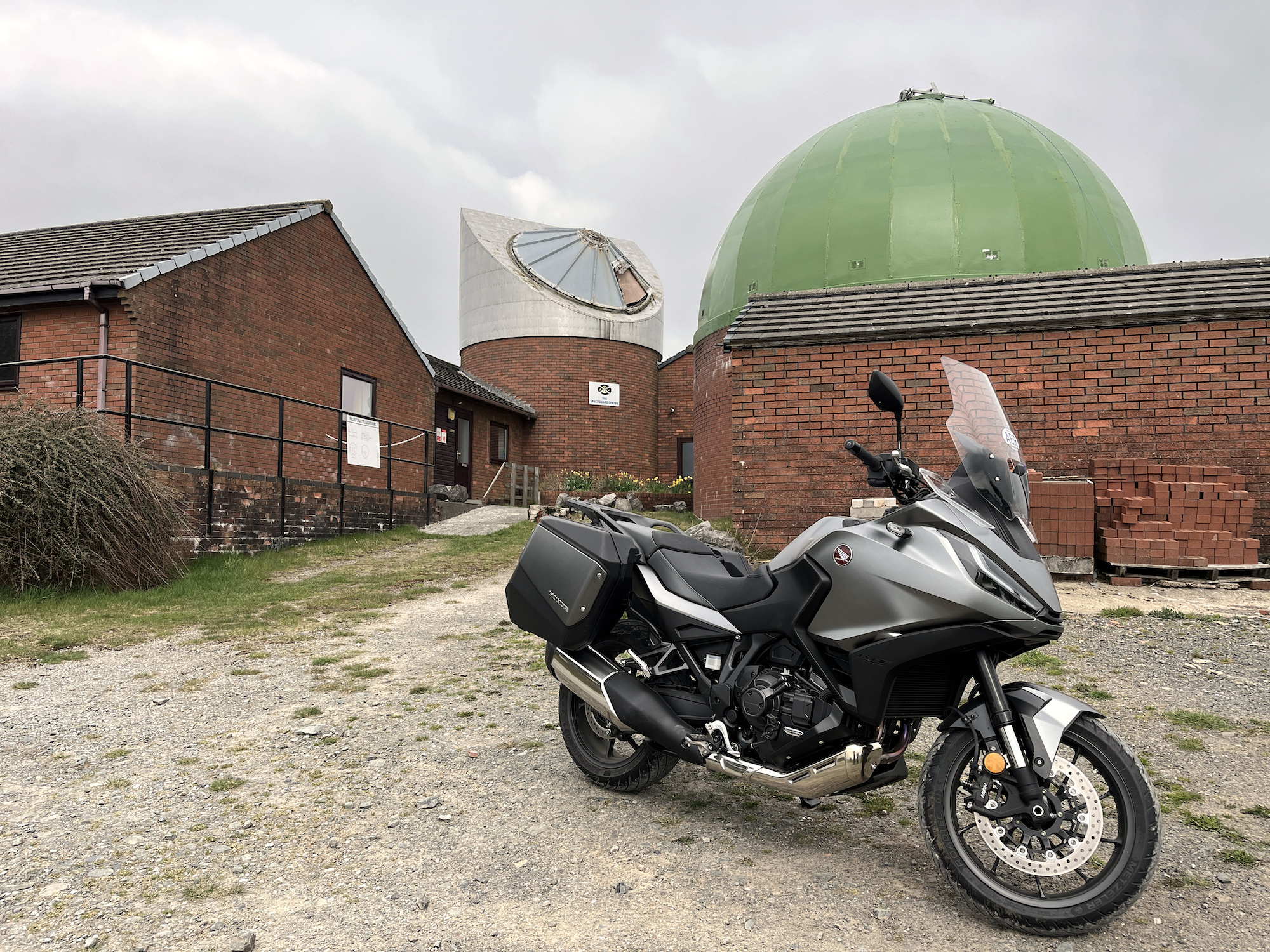 What happens if a comet or asteroid strikes Earth? Well, there's a team of astronomers in Wales dedicated to preventing it from happening. That's right, the folks at the Spaceguard Centre are our first line of defence against near earth objects and the potentially devasting consequences they could have if they were to hit the planet.
You'll find the facility, also known as the National Near Earth Objects Information Centre (NNEOIC), nestled on a remote hillside near Knighton. Inside, it's team of experts peer out at the night sky to provide an early warning system against asteroids and comets, predicting their trajectories.
You can take a guided afternoon tour of the site to find out more. When we visited, tours were only taking place during the afternoon so make sure you check out www.spaceguardcentre.com for opening times and to book in advance. 
Discover: Devil's Bridge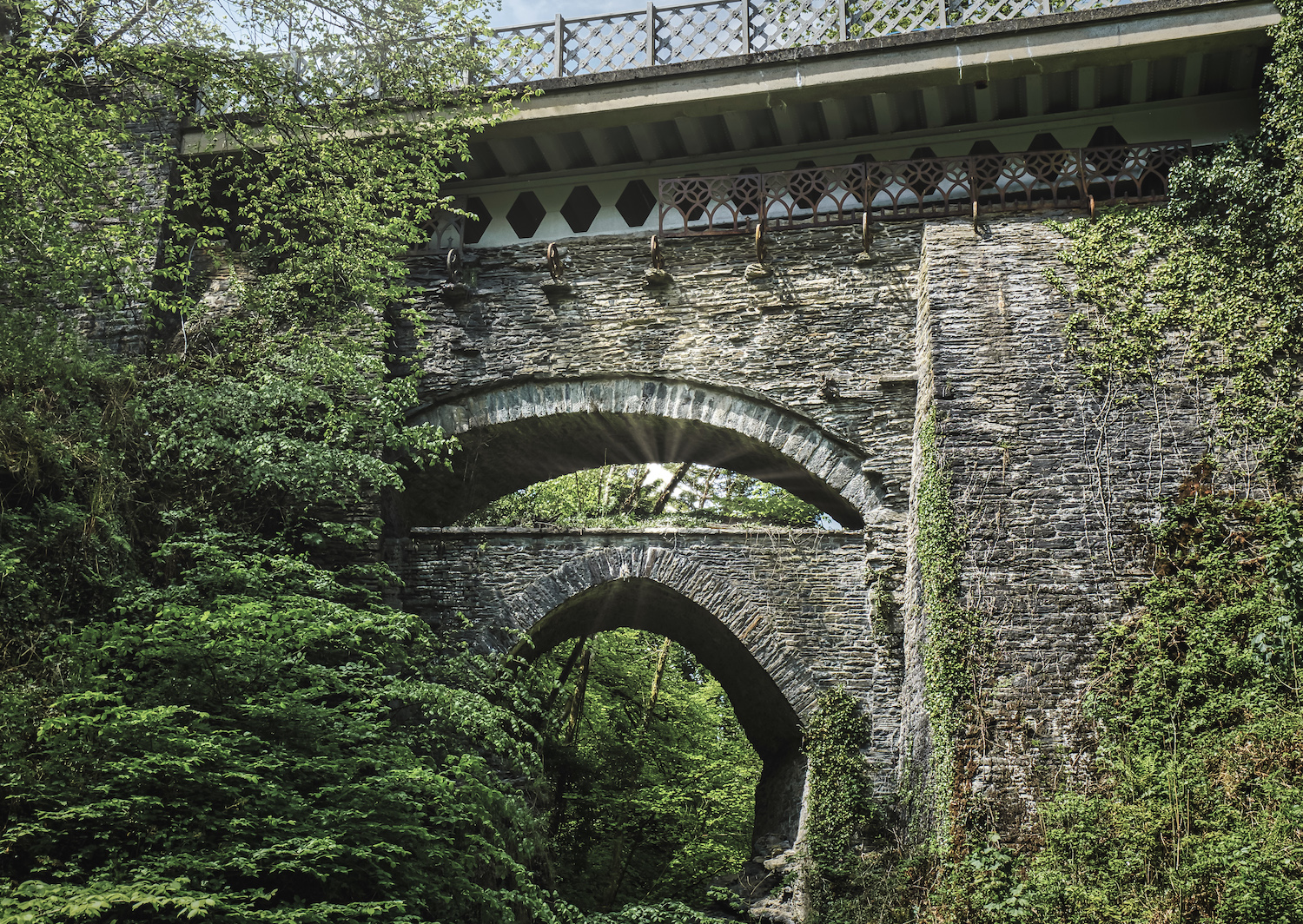 If you value your soul, you may want to skip this section which is said to have been built by Satan himself. From the road, Devil's Bridge looks like an innocuous structure spanning a deep gorge below, but a closer look reveals there are actually three bridges built one on top of the other.
The one you'll ride over dates back to 1901, while the second was built in 1753. But it is the earliest of the bridges, built around 1075, that legend says was built when a woman lost a cow and spotted it grazing on the opposite side of the gorge.
The Devil appeared and said he'd build a bridge in exchange for the soul of the first living thing to cross it, hoping it would be hers. A deal was struck, but after the bridge was built, she tricked the Devil by throwing a piece of bread and letting her dog chase it, dooming her pet to an eternity in Hell. These days you'll get a great view of the bridges and gorge by walking down Jacob's Ladder footpath next to it.
Ride: Elan Valley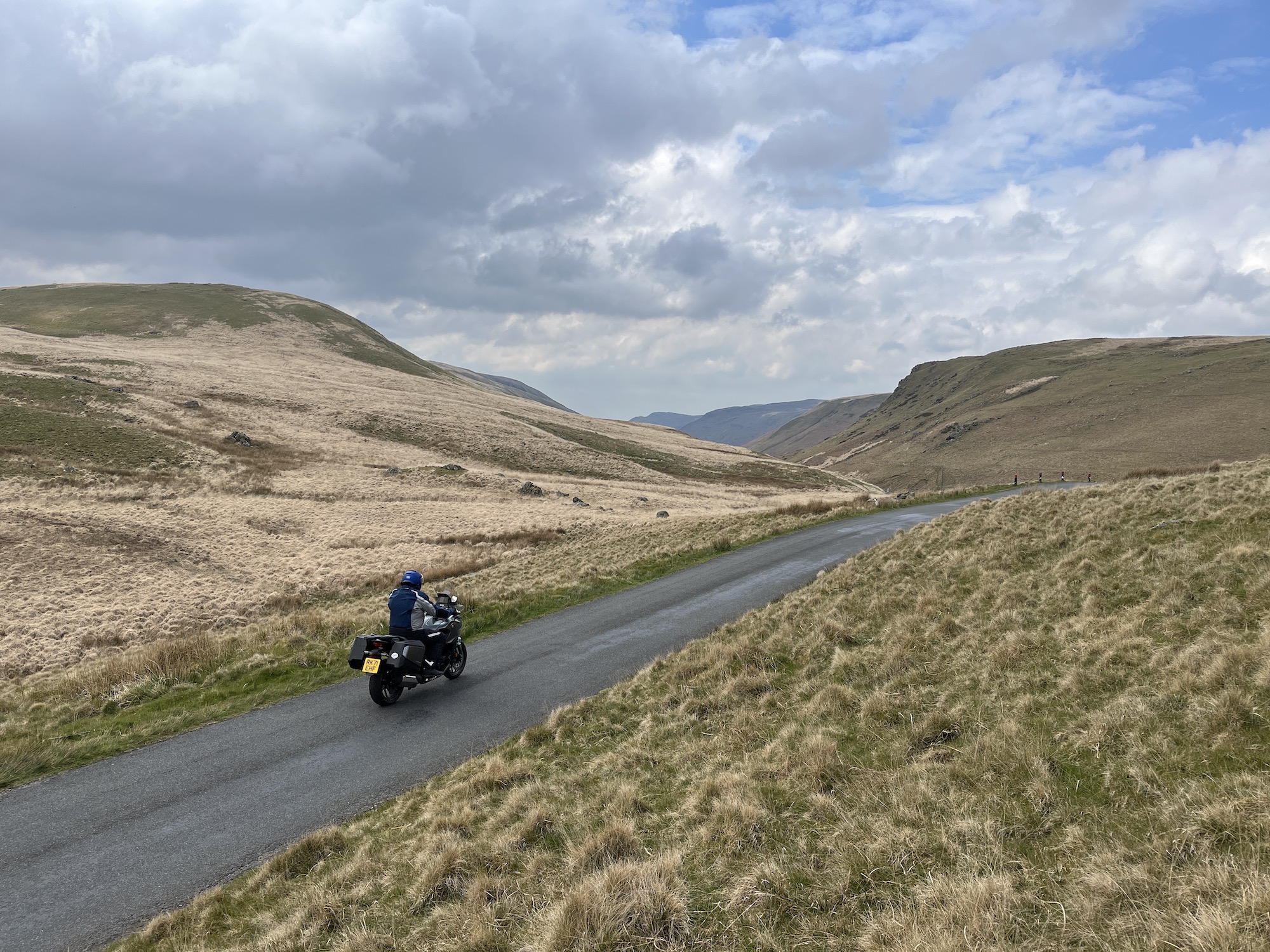 Majestic, rugged, remote, the Elan Valley is an adventure biker's paradise. In fact, it's a playground for those of us who enjoy exploring stunning landscapes on glorious roads where the sheep far outnumber the vehicles you'll see. 
We joined the Elan Valley a few miles southeast of Rhayader where a narrow road hugs the shores of three reservoirs, providing spectacular views throughout. But it's the section from Craig Goch Dam up to Pont Ar Elan Bridge, and then along National Cycle Route 81, where this glorious area of Mid-Wales really shines.
This unspoilt and remote section of the Cambrian Mountains is filled with moorland and forest and can't help but make you feel like you're on a proper adventure. The snaking roads we took through it are also a joy to ride, and it's incredible to think this beautiful area is less than a three-hour ride from the centre of Birmingham. 
Ride: Mountain Road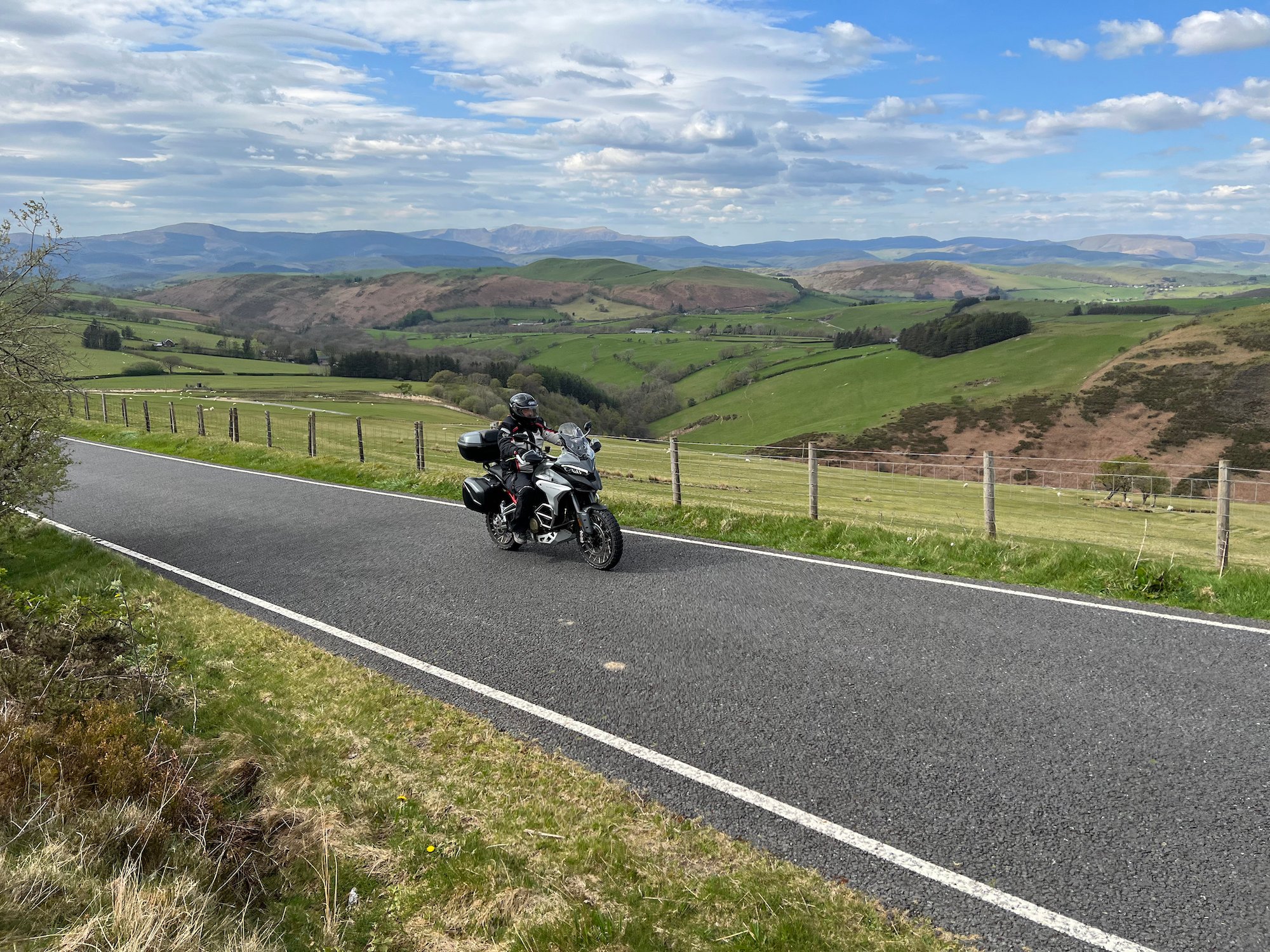 This route packs in a lot of sensational biking roads into a short space of time. However, the highlight has got to be the Mountain Road which runs from Machynlleth down to Llanidloes. This ribbon of blacktop unfurls its way across the landscape for 20 miles and rightfully is a favourite with local bikers. 
It's the sort of road that lets you build a rhythm as you flow between sweeping turns, nudging your bars into bend after glorious bend. The road is usually narrow, often without road markings, but the surface is generally good and the views are sensational, whether you're riding through valleys or across expanses of moorland. 
There's plenty of wildlife along the route too, mostly sheep, so take care. But then riding the Mountain Road isn't about going fast. Instead, it's best enjoyed at a steady pace as you soak up the spectacular views that Mid Wales provides. 
SatNav waypoints:
Knighton (clock tower), LD7 1BS
Crossgate Service Station, LD1 6RE
Elan Village LD6 5HP
Pen y Garreg Dam, LD6 5HE
Cwmystwyth Lead Mine Workings, Cwmystwyth, SY23 4AG
Royal Pier, Marine Terrace, Aberystwyth, SY23 2AZ
Machynlleth
Rose Cafe, Great Oak St, Llanidloes, SY18 6BN (home of the Lumpy Bumpy)
Dolfor
Spaceguard Centre, Llanshay Lane, Knighton, LD7 1LW