So the name might make it sound like a spot for boy racers ‒ and granted, there may be a few around ‒ but this is really a great route for a weekend ride. The Evo Triangle, named so by Evo magazine because of their admiration for the route, is a 20-mile ride through rugged Welsh countryside and rolling moorland.
Starting in the village of Cerrigydrudion this enthralling route heads west along the A5 before turning off onto the A543. From here it heads north all the way to a right-hand turn that flows south along the B4501.
With a stirring straight along the start of the A5, you'll be flying off the line with not much around at all, but be aware as there are a few curves to keep you honest.
Upon reaching Pentrefoelas you'll need to turn right onto the A543, a road that cuts through trees as it ascends higher and higher. Before long you'll have the sky stretching out ahead of you with the vast moorland flanking both sides.
This road truly is a thrill to ride with various quick straights, long turns, swoops, climbs and great visibility. Just watch out for the odd sheep loitering in the middle of the road!
After turning onto the B4501 you'll find yourself in much greener surroundings with some amazing scenery.  Expect more of the same as you cut through your surroundings with each corner and each straight leaving you with a grin on your face.
How to do it
We'll be honest, for anyone other than those who live in Wales this ride can be a pain in the arse to reach. The best place to start is the village of Cerrigydrudion. Those travelling from the south will want to route via the M5, then M54 and finally along the A5.
From the Midlands or South East England you will be looking at a journey along the M40, M42 and M6 before jumping onto the M54. As above, this will then take you onto the A5 which runs all the way to the start point of the route.
Those coming from the north of England will need to head along the M6/M56 before heading south on the A494 until it branches off onto the B5105. This will take you all the way to the start point at Cerrigydrudion.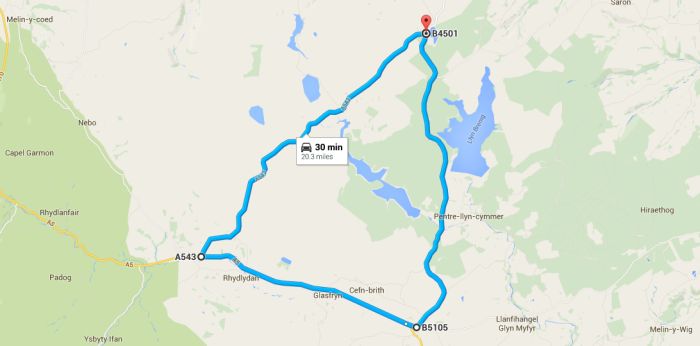 Want to make sure you are kept up to date with all the latest adventure bike features and reviews? Click here to find out how you can get your hands on all new issues and the complete back catalogue of Adventure Bike Rider magazine.