Located in the heart of the Lake District, the Hardknott Pass is one of the more taxing rides which is both down to the road and the amount of traffic you may find on the pass as you ride it.
Originally built by the Romans, it is one of the steepest roads in Britain with an average gradient of 12% and a maximum of 33% which is found on several challenging hairpin bends. As if the gradient wasn't enough to keep you busy, there are many hairpin bends along the route as it gains 290m.
Those who decide to go for it will be rewarded with awesome views at the summit and a sense of pride at completing the challenge. You'll have to watch out for cyclists and other vehicles though as this one can get pretty popular.
Be sure to check out the old Roman Fort if you like your history or if you want a cuppa' head to the Hardknott Bar and Cafe.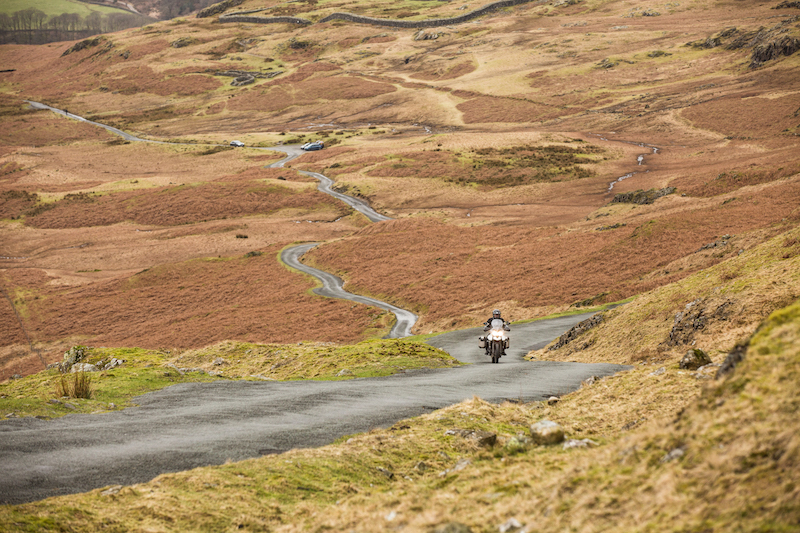 How to ride Hardknott Pass
The Hardknott Pass runs between Eskdale and the Duddon Valley and eventually carries onto Ambleside courtesy of the Wrynose Pass which is also worth checking out. Due to the popularity of the pass, it is worth trying to avoid peak times to make the most of it.
Ambleside is the largest and closest town to the east which is accessed via the A591. The M6 is the main access point for both southbound and northbound travellers. Those coming down from Carlisle along the M6 should exit at junction 40 and take the A66.
Those travelling north should exit at junction 36 of the M6 before taking the A590 and then the A591. For sat nav use postcode LA20 6EQ.

Discover the best motorcycling in Britain with this free guide
Looking to explore the best riding the UK has to offer? Look no further than the TomTom Guide to Motorcycling in Britain, which is completely free to download.
Over 96 pages we'll detail some of the best routes you can ride over the course of one, two, or even three days, as well as the highest passes and most spectacular roads. Download your free guide HERE, and get planning. Ride safe.