Throughout the next year we're going to be showcasing some of the greatest riding routes throughout Europe. We've teamed up with TomTom to showcase the very best that our continent has to offer, and better still, you can get all of these fantastic routes pre-loaded onto your SatNav when you purchase the TomTom Rider 410 Great Rides Edition. Last time we looked at Scandinavia and Great Britain, and so this time we're looking south to the motorcycling havens of France and Switzerland.
In these two countries there's no shortage of incredible roads that just beg to be ridden on two-wheels, and so picking and choosing which ones to ride when you've only got a week to spare can be tough work. And so, with that in mind, we've picked out 10 of the best rides in each country to give you a head start when planning this summer's tour, and we'll be looking at the Route des Grandes Alpes and a stunning five-pass ride through central Switzerland in more detail to get you raring to go.
The Route des Grandes Alpes, France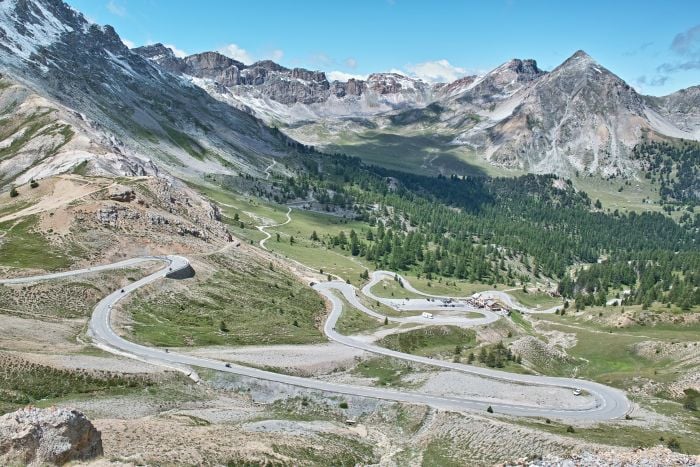 There's no denying that the roads of the Alps offer some of the best riding in the world. Awe-inspiring natural beauty surrounds you as you follow roads that carve their way through deep valleys and enchanting forests, and over some of the most formidable peaks around. The sheer scale of the mountains here will leave you stunned as you struggle to keep your eye on the road. If you thought Snowdonia was epic, you'll be bowled over by the Alps.
Until the 1900s, navigating through the Alps was a very difficult task. Poor infrastructure in the area meant that valleys were connected by small cart and mule tracks, and it wasn't until 1909 that the idea to create a paved route over the mountain range was proposed. The French Touring Club had a dream which was to build a road across the mountains that would allow tourism in the area to flourish, while providing improved access to the small towns and villages that were nestled in the valleys.
>>> 10 of Scandinavia's best motorcycling routes
>>> 10 of the UK and Ireland's best motorcycling routes
Fortunately, the touring club's vision became reality, and the Route des Grandes Alpes was opened. Starting in Geneva, the route whisks you in a southerly direction, taking you over France's highest and most beautiful mountain passes, before depositing you on the shores of the Mediterranean, some 425 miles away.
While the distance is doable in a couple of days, it's highly recommended that you set aside three to four, or maybe even five, days to really have the pleasure of discovering everything that this amazing journey has to offer. From exciting and challenging roads, to fascinating historical sites along the France/Italy border, there's plenty to see.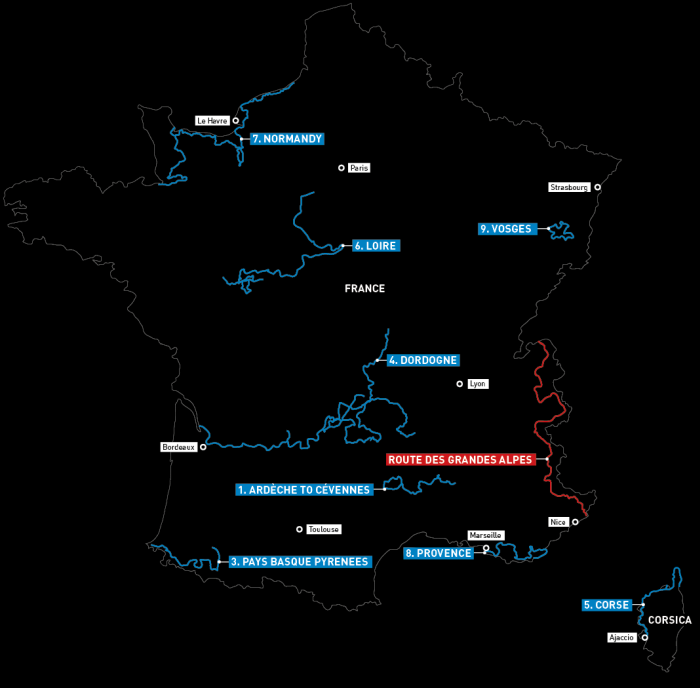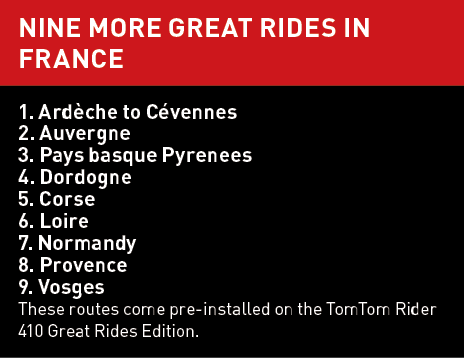 Central Switzerland
If it's idyllic scenery and perfectly laid tarmac that you're searching for, Switzerland is the country for you. Home to possibly my two favourite mountains in Europe, the formidable Eiger and the iconic Matterhorn, the Alpine cantons of Switzerland provide a riding landscape that's bound to inspire you. Roughly 65% of this magnificent country's territory is covered by the Alps, and amongst those peaks are some of the most picturesque, and fun to ride, roads in Europe, and when it came to choosing just 10 routes it was a difficult task. Even more difficult was to narrow that down to one featured route, and, after careful deliberation, I've chosen this beautiful, exciting and rewarding 240-mile circuit through central Switzerland to be featured in this issue.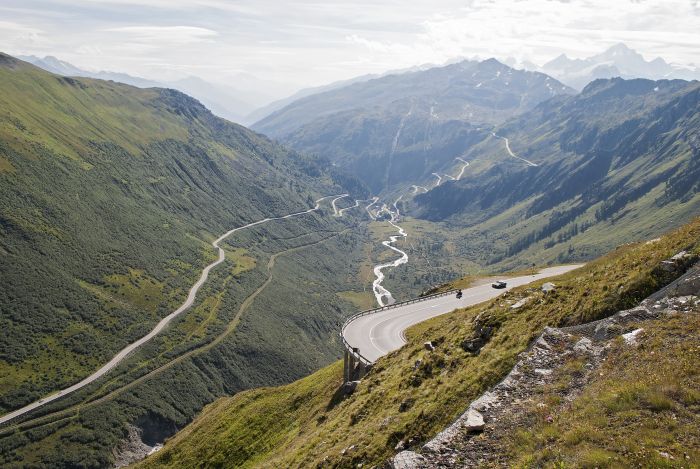 Nestled in the heart of Switzerland is a trio of mountain passes that, wen strung together, create a route to rival all others. That trio consists of the Furka Pass, the Grimsel Pass and the Susten Pass, and this grand circuit through central Switzerland guides you over all three, plus two more epic mountain roads, in a journey that starts and ends in Bad Ragaz, on the border with Liechtenstein.
After a short ride south to the outskirts of the mountain town of Chur, our route swings us in a westerly direction, along the spectacular Route 19. The road will take you over your first pass of the ride, the Oberalp Pass, a high mountain pass that connects the cantons of GraubÜnden and Uri. The riding here sets the tone for the rest of the route as you navigate switchbacks and steep inclines to wrestle your bike to the top and past the Alpine lake, the Oberalpsee. From here the riding is nothing short of brilliant, and it's not long before we are tackling the three epic mountain passes, Furka, Grimsel, and Susten. This is one of those rare occasions where everything seems to come together perfectly, and you can only thank the Swiss for building such a beautiful set of mountain passes.
Onwards from the Susten Pass and we follow the spectacular route 17, which takes you through the heart of the high Swiss Alps, before eventually dropping you back off where you started, in Bad Ragaz.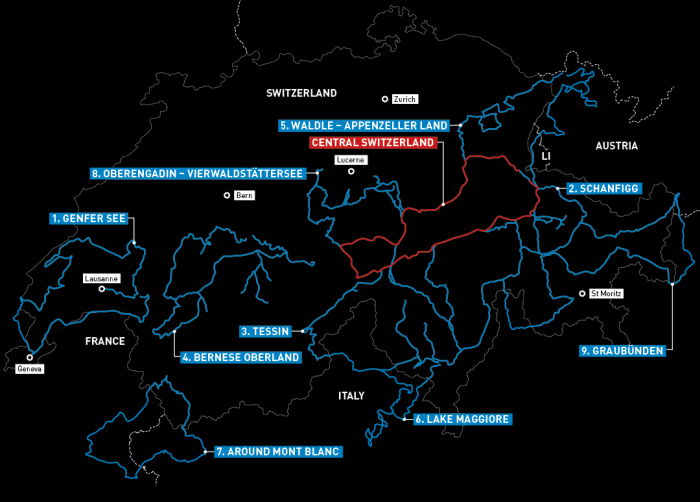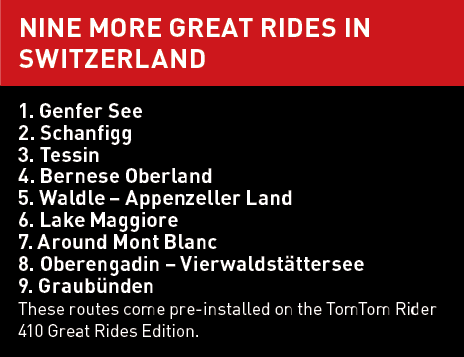 NB: These routes come pre-installed on the TomTom Rider 410 Great Rides edition (SRP £349.99), TomTom's newest incarnation of the popular TomTom Rider SatNav. Pre loaded with 100 of Europe's Greatest Rides, the Rider 410 also offers lifetime TomTom services, full world mapping and real-time TomTom Traffic and speed camera updates. For more information, click here.
Don't forget – we're offering our readers the chance to get their routes featured in ABR magazine, as well as a FREE TomTom Rider 410 Great Rides edition SatNav, simply tell us what your favourite European Route is, and why. Send entries to bryn@adventurebikerider.com.