Yamaha has revealed a newly updated version of its unique Niken motorcycle, the Niken GT. It is designed to be better equipped than the standard model for touring, and looks set to hit dealerships in 2019.
With the three-wheeled Niken making an impact in the motorcycling world after its launch in 2018 (many praised how confidence inspiring the machine was), Yamaha is back with an updated model. The Niken GT will come with a whole host of features exclusive to the bike that will look to make long-distance riding a smoother, more pleasurable experience. These include: a higher, more protective windscreen, a new seat designed for better comfort, heated grips as standard, 25-litre panniers, a second 12-volt DC outlet, a rear carrier base with passenger grip, and a centre stand.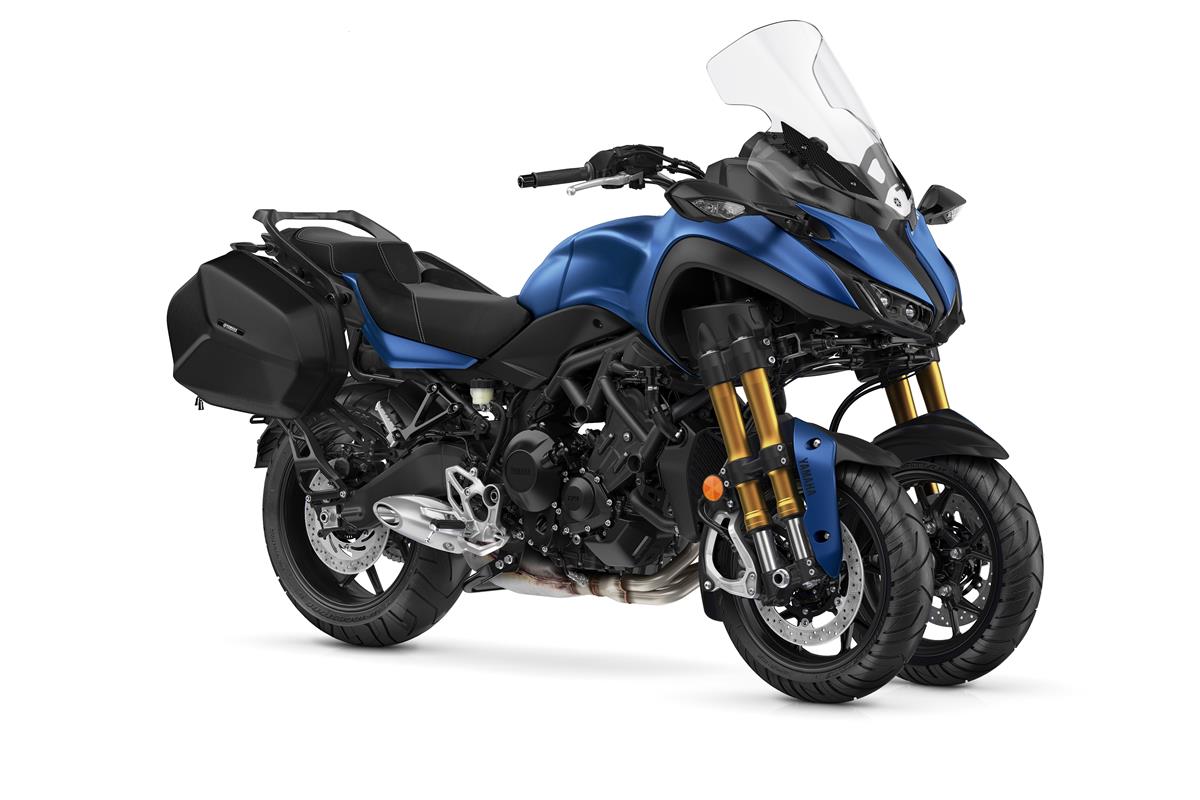 Niken GT – Phantom Blue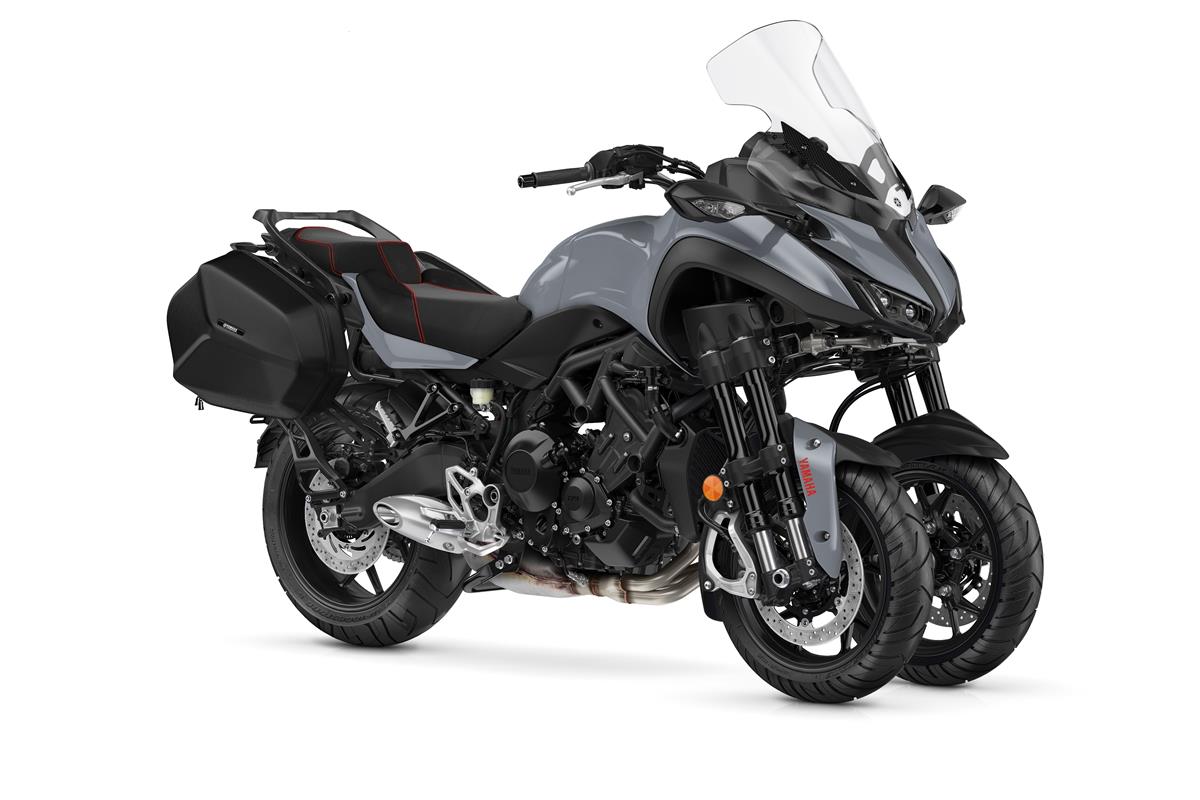 Niken GT – Nimbus Grey
The original 2018 Niken made its first appearance at EICMA last year, with journalists and fans of motoring both intrigued and bemused by its unique design (and questioning whether you can really call something with three wheels a motorcycle?). ABR's own Alun Davies got his hands on the machine back in the Spring of this year, commenting that 'the Yamaha Niken is a serious motorcycle and most definitely no gimmick. The engine is the same sweet, excellent unit as found in the Tracer while the brakes are powerful and offer great feel and control.'
With such sweet praise, it's great to hear that all specifications will carry over from the previous 2018 model, including: the three-cylinder engine (which is capable of 847cc), fuel capacity of 16 litres, dry weight of 263kg, and 113bhp at 10,000 rpm. The latest specification can be read on Yamaha's official website.
Analysing what's been added to the package shows Yamaha has taken into consideration how it could make the Niken more touring friendly and perhaps introduce more riders to the bike's charms. The increased windscreen size, heated grips, and 'comfort seat' are all smart additions, while an extra power outlet is also handy when on the road, so you can power heated clothing and the like.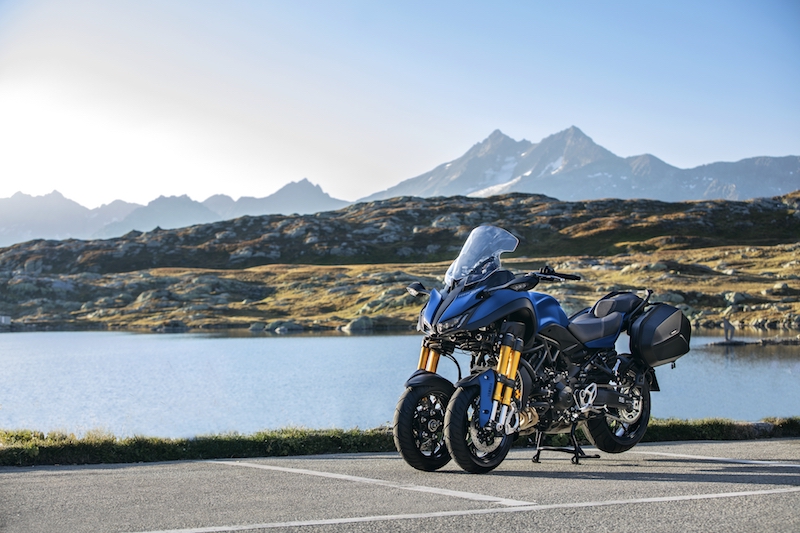 As with a lot of motorcycle updates, new colour schemes have been introduced; Nimbus Grey with black front forks, and Phantom Blue with gold front forks.
The three-wheeled motorcycle is expected to hit European Yamaha-only dealerships from January 2019, as well as US showrooms from March 2019. The price point is yet to to be announced, however the original Niken came in at £13,499 and we expect the GT to cost more than that.
In an adventure-style promotional video released for the new Yamaha Niken GT, we can see a determined man leaving his modern home out in the charming wilderness, while classic music plays emphatically in the backdrop. After what looks like a fun ride over stunning mountain roads and beautiful bridges, the motorcyclist arrives at his destination before revealing his profession in a humorous manner. See for yourself below:
Yamaha Niken GT Specs
Engine: Three-cylinder, four-stroke, liquid cooled, DOHC, four-valves
Displacement: 847cc
Power: 84.6kw (113bhp)
Suspension travel (front): 110mm
Suspension travel (rear): 125mm
Front brake disc diameter: 298mm
Rear brake disc diameter: 282mm
Seat height: 820mm
Ground clearance: 150mm
Dry weight: 263kg
Fuel capacity: 18L