So you fancy bagging yourself a new adventure bike but you don't want to blow too much cash. Or maybe you're just getting into the adventure motorcycling scene and you don't want to go too full on right away. Well, luckily for you we've devised a list of five trusty steeds available for bargain prices.
Some are proper go-anywhere machines capable of handling the rough stuff, while others may be more suited to touring Europe and the British Isles in harmonious comfort. What all of these motorcycles have in common is that they can be pinched at affordable prices while offering the fun and thrills that adventure motorcycling brings with it. Without further ado, here are five adventure bikes for under £3,000.
Honda XRV750 Africa Twin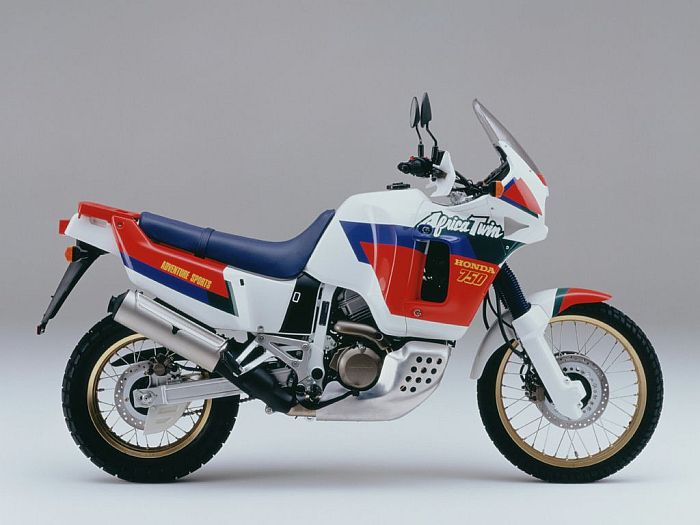 The classic adventure bike, the Honda XRV750 Africa Twin tends to have a place in many motorcyclists hearts after leading the way in the adventure biking industry back in the '90s. They were iconic, looked great and had the hallmark reliability and finishing of Japanese manufacturer Honda.
In fact, they were so well regarded that you're likely to still find people to this day who stand by the notion that the Africa Twin is the best adventure motorcycle on the market, so it's fair to say they have stood the test of time.
>>> Interested in the Africa Twin? Check out our buying guide by clicking here
Understandably, the machines have held their value rather well and as they become more and more collectable, prices look as if they will only rise further. Having said that, with enough searching around it is possible to find a decent example for between £2,000 and £3,000.
As ever, the most important thing is to give the motorcycle a thorough check before investing. A comprehensive service history is a must and it's also worth asking where the bike has been kept. Corrosion is a problem all motorcycles can suffer and the Africa Twin is no exception.
Quick specs:
Year: 1992 – 2003
Engine: 742cc, liquid-cooled, V-twin
Power: 60bhp
Weight: 210kg
Top speed: 120mph
Fuel capacity: 23L
BMW F650GS Dakar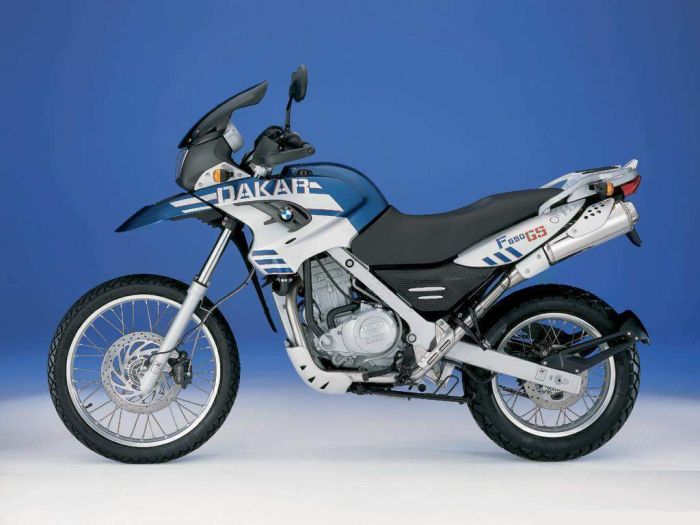 Buoyed by the success of the Long Way series', BMW has become the number one adventure bike seller and it's easy to see why. The bikes look good, are built well and are generally great to ride too.
Unfortunately, being manufactured by BMW also means that it hits the pocket harder and as such, an F650GS is about the only model you're likely to find for under £3,000. And while it may prove more difficult, we recommend searching around for the Dakar version for better adventure credentials.
It may lack the power of other machines but rideability and off-road capabilities are all there making it a great option for new riders or those who will be spending less time on the motorways.
Quick specs:
Year: 2000 – 2007
Engine: 652cc, liquid-cooled, single cylinder
Power: 50bhp
Weight: 176kg
Top speed: 107mph
Fuel capacity: 17L
Suzuki DL1000 V-Strom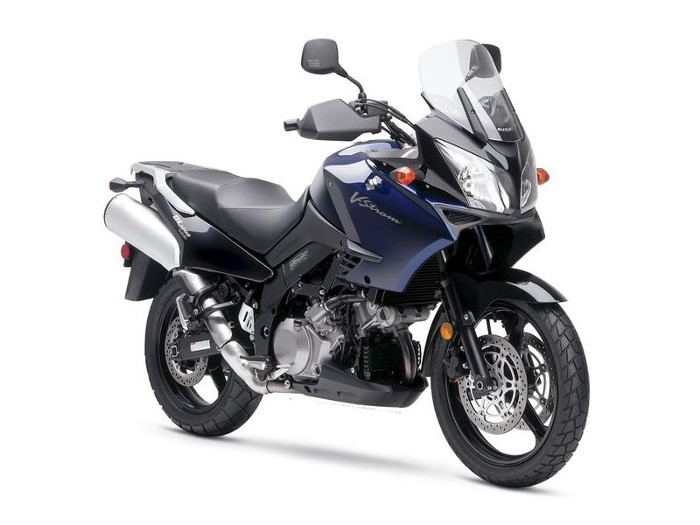 While it may not have the good looks of the BMW or the Africa Twin, it certainly makes up for it in reliability and value. For the fraction of the price of a similarly aged, comparably specced GS you get a lot of bike for your money.
The V-twin engine hails from the TL series and on balance it performs brilliantly with plenty of zip for motorway jaunts and excursions on twisty alpine roads. Great reliability and a fantastic chassis make it a pleasure to ride and own.
Unlike some of the other motorbikes in this list, it shouldn't be too hard to find a good example of the V-Strom for under £3,000 and we've even seen some on sale at the £1,500 mark. As ever be sure to give it a thorough look over or get it checked by a mechanic.
Also keep an eye out for any bikes that come with extras such as hard luggage as these can make a great bargain.
Quick specs:
Year: 2002 – 2008
Engine: 996cc
Power: 105bhp
Weight: 207kg
Top speed: 130mph
Fuel capacity: 22L
Yamaha XT660Z Tenere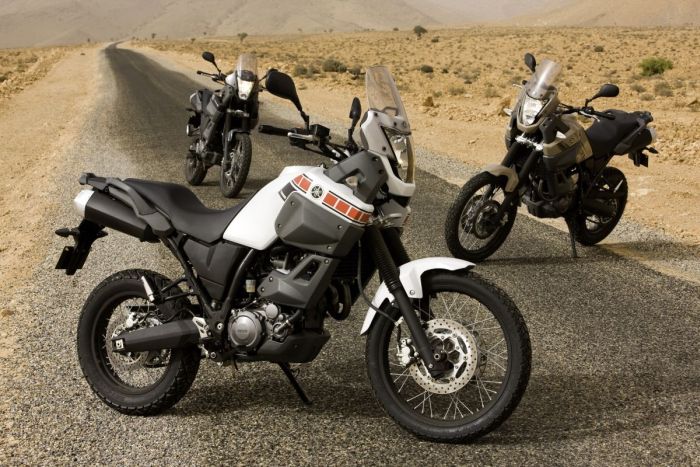 Right, so this one may split a few opinions. It's quite strange to look at and unfortunately, we don't really see that as a good thing. Having said that, there may be those of you who find it endearing.
The Tenere represents possibly the most capable off-road contender in this list as it can handle pretty much all but the most extreme of conditions. It can go anywhere and handle pretty much anything.
As a consequence of its off-road abilities, many people do find the forks dive harshly under breaking and the single-cylinder engine can also be quite vibey. So if you're going to be keeping to the tarmac for most of the time this may not be the ideal machine for you.
If however you wish to use it for some green laning and for expeditions against varied terrain, this may just be a great option for you. It may not be the easiest bike to find for under £3,000 but there are options out there if you look hard enough, especially if you are prepared to barter with a couple of owners who advertise at the £3,250 mark.
Quick specs:
Year: 2008 – present
Engine: 660cc, liquid-cooled, single-cylinder
Power: 46bhp
Weight: 183kg
Top speed: 120mph
Fuel: 22L
Kawasaki Versys 650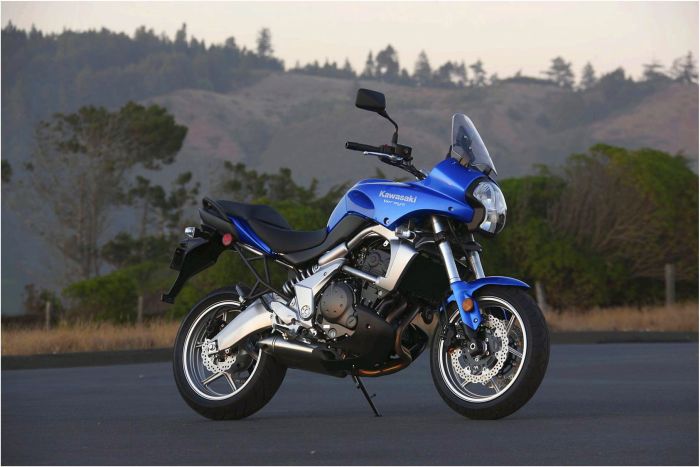 Hailed for its versatility, the Versys 650 seems to be one of those machines that is well revered but never truly amazes. That's not to say it's not a great bike, because it is, it just doesn't make you go 'wow'.
Visually it is a peculiar one and while it looks great from some angles, sometimes you'll catch a glimpse of it and be slightly taken aback because of its oddness.
Perhaps the greatest thing about the Versys is the value for money it offers. Even from new you got a whole lot of bike for not that much. It's nippy, with sprightly handling and is more than adequate on A and B roads. It's only when you get a move on along a motorway that things start to become bothersome.
Reliability is often admirable though you wouldn't want to test out its capabilities on the rough stuff too much. This is one which is best kept on the road. It's a great option for new or returning riders and there are plenty around for under £3,000 plus spare change.
Quick specs:
Year: 2006 – 2009
Engine: 649cc, liquid-cooled, parallel twin
Power: 60bhp
Weight: 181kg
Top speed: 128mph
Fuel: 19L
Want to make sure you are kept up to date with all the latest adventure bike features and reviews? Click here to find out how you can get your hands on all new issues and the complete back catalogue of Adventure Bike Rider magazine.