After years of teasing, a few tidbits of information, a delayed launch, and plenty of excitement, Harley-Davidson has revealed the full details about its first adventure bike, the Pan America 1250. And boy, we can't wait to get our hands on one.
And, as if the release of a new adventure bike isn't exciting enough, Harley enlisted the help of movie star Jason Momoa to sprinkle some Hollywood glamour on the virtual launch. But, first things first, here are the new bike headlines:
Two models are to be released, the standard Pan America 1250 and a Pan America 1250 Special
Both are powered by a 1,252cc V-Twin, which produces 150bhp
The Pan America weighs in at 245kg wet, while the Special tips the scales at 258kg
Each has a touring-friendly 21.2l fuel capacity
There's a 6.8-inch TFT screen, which can tilt to make it suitable for both on and off-road riding
A full range of electronic rider aids is included as standard, including multiple rider modes
The Pan America Special model will also feature semi-active front and rear suspension, and the innovative Adaptive Ride Height (ARH) as an optional extra
Prices start from £14,000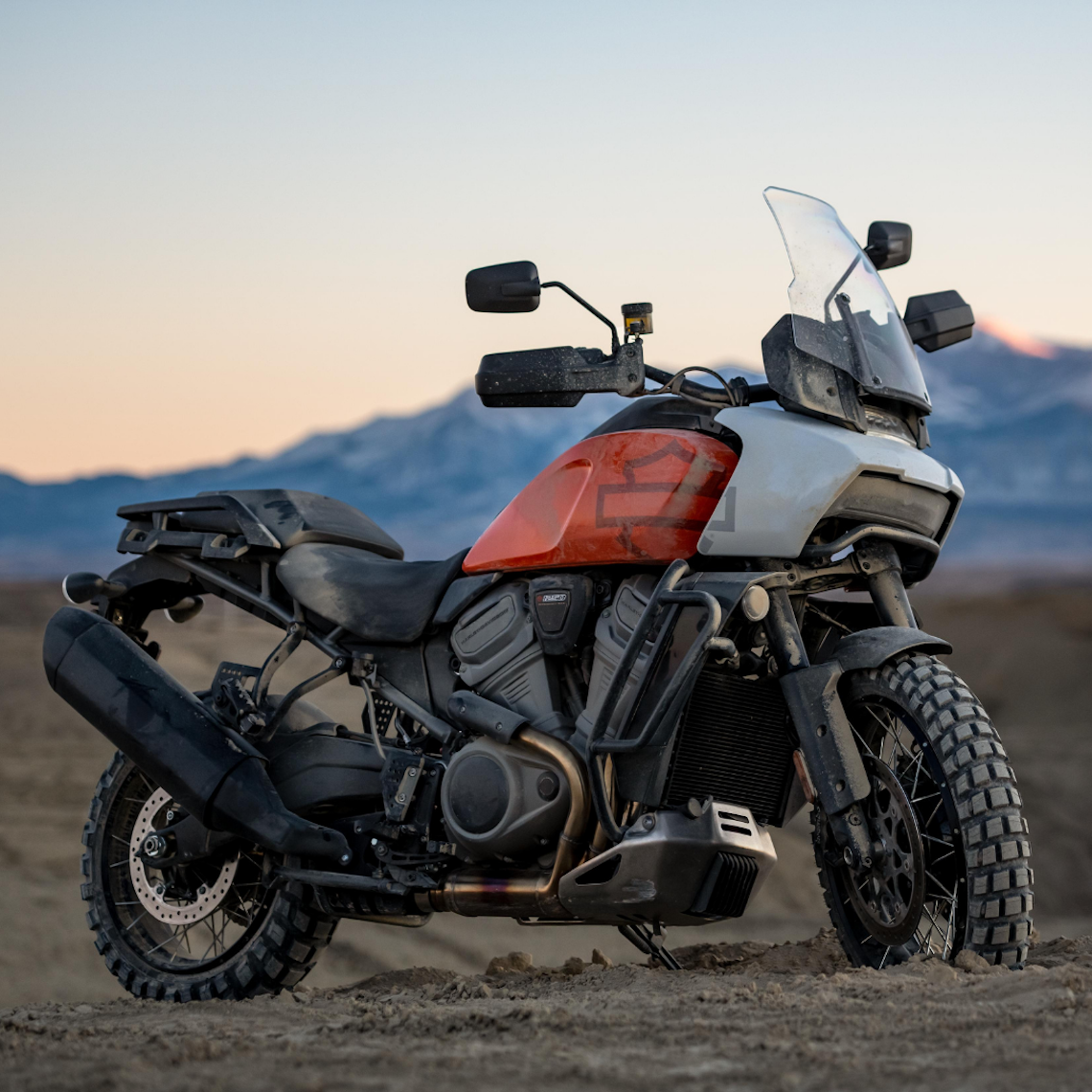 Everything you need to know: Harley-Davidson Pan America
The Harley-Davidson Pan America will be powered by a liquid-cooled, 1,252cc V-Twin engine, which produces 150bhp and 128Nm of torque 6,750rpm. The engine also features variable valve timing, something that we've seen recently on BMW's R 1250 GS. Harley claims this will broaden the powerband, providing more usable power all the way through the Pan America's rev range.
Fuel capacity is 21.2l which, on paper at least, gives a range of over 200 miles between fill ups, with the stated 51mpg fuel economy taken into account. This will help make the Pan America an attractive adventure touring bike, while the large, four-position windscreen, which can be adjusted with one hand, should also aid long-distance comfort.
Both models will come with cast aluminium wheels, 19-inch at the front and 17-inch at the rear, while tubeless spoked wheels are available as an optional extra. Hauling everything to a stop are Brembo brakes, with dual 320mm discs at the front and a single 280mm disc at the rear, with all discs fitted with four-piston 30mm callipers.
Suspension is provided by Showa, with 47mm inverted forks at the front and a single rear shock, both providing 190mm of suspension travel. Both units are adjustable for preload and compression/rebound damping.
The seat comes with a high and low position, with a low height of 869mm rising to 890mm. The entire ensemble will weigh in at 245kg wet, a figure that is pretty par for the course when looking at the Pan America's competition.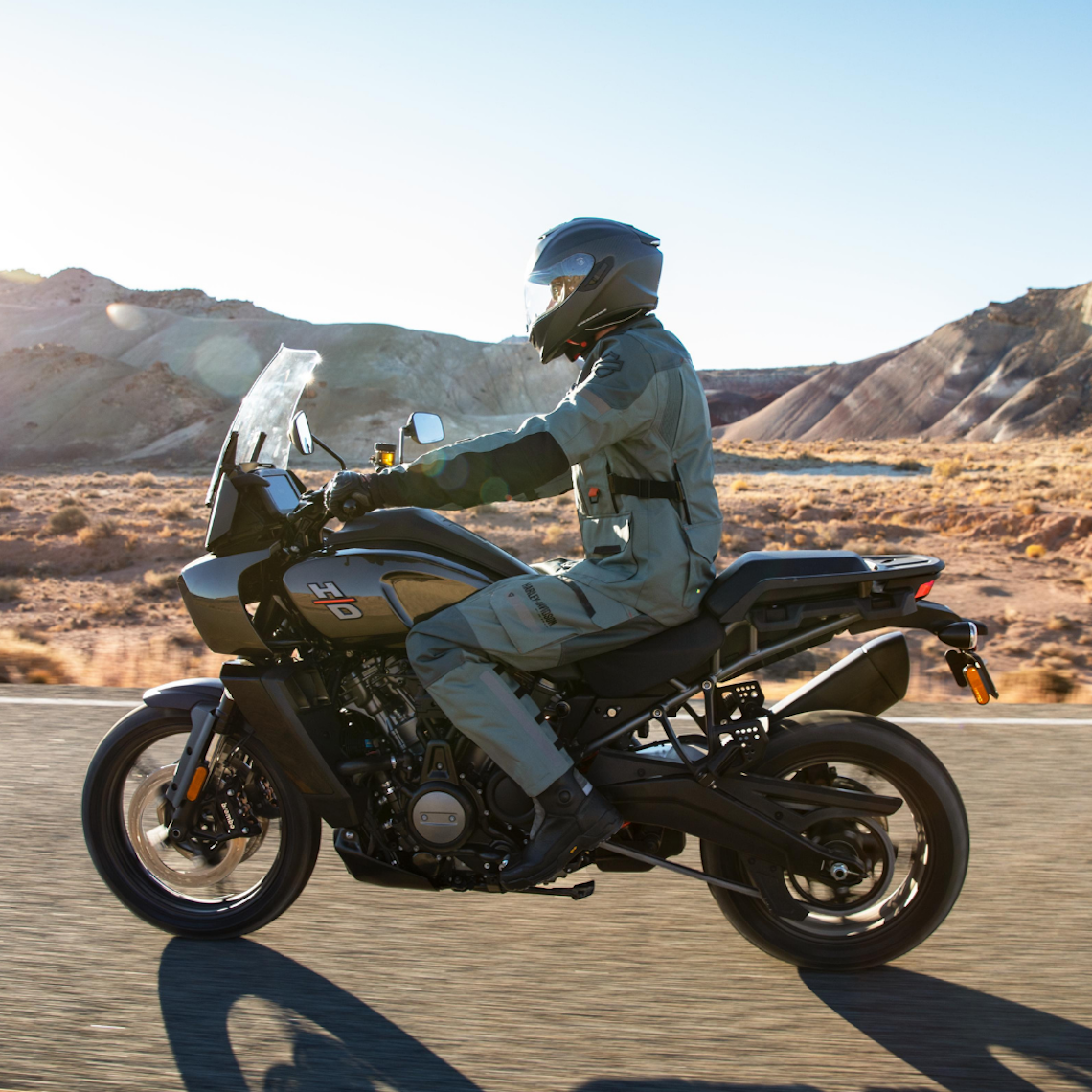 A Harley with technology!
The standard Pan America comes fitted with a full range of electronic rider aids, including a suite of what Harley calls Cornering Rider Safety Enhancements.
Using an inertial measurement unit (IMU) to determine the bike's lean angle, the bike features lean-angle sensitive ABS, cornering traction control, and cornering linked braking which should help keep things in check in the twisties, while hill hold control should also help during tricky hill starts when touring. Cruise control also comes as standard.
The Pan America also comes with five rider modes as standard; Road, Sport, Rain, Off-Road, and a programmable Off-Road Plus. These modes can be changed on the fly and will tweak power delivery, engine braking, cornering ABS and cornering traction control. There's also a 6.8-inch touchscreen TFT, which can be tilted to allow for rider adjustment when sat down or standing up on the pegs.
Want weekly updates on the latest adventure bike releases?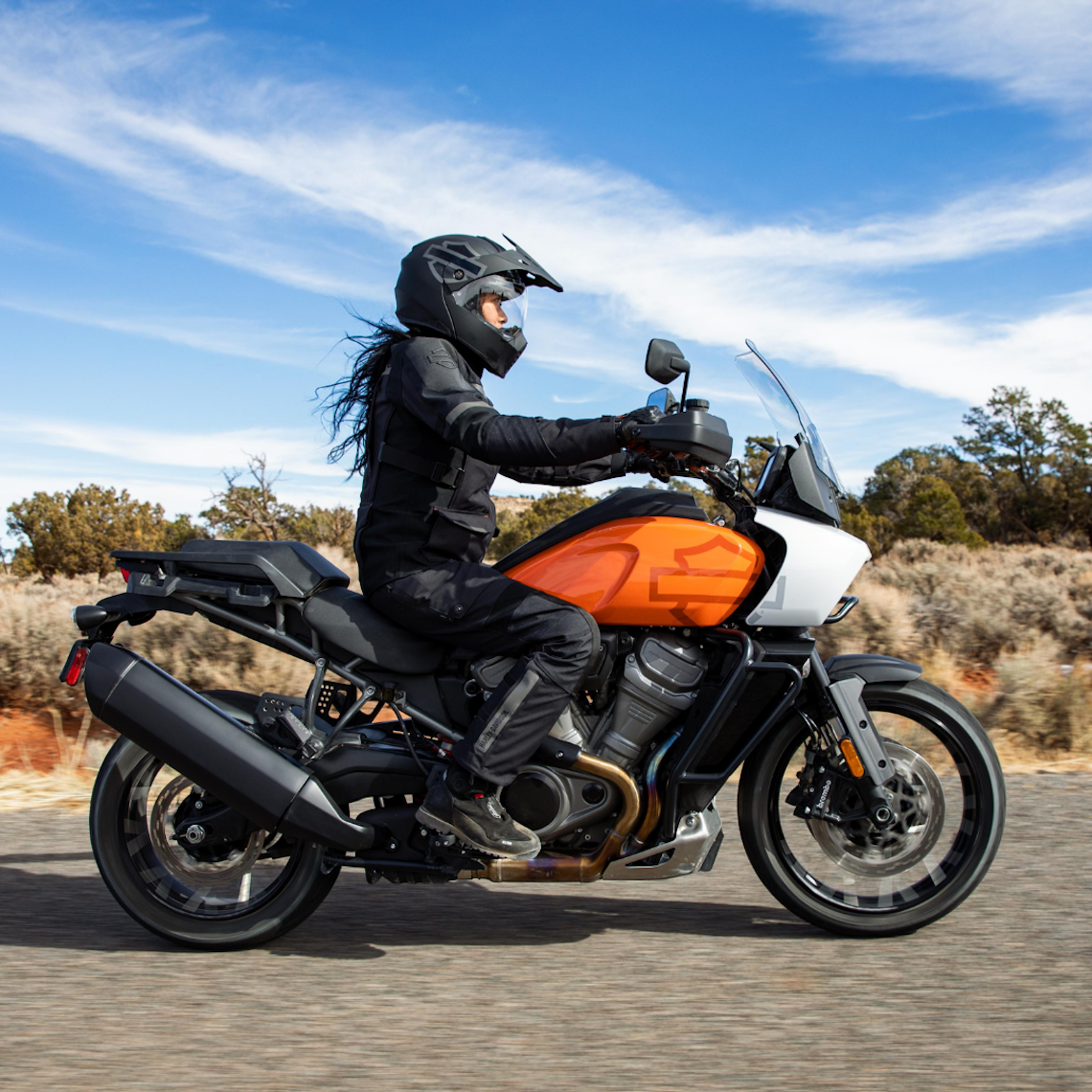 Harley Davidson Pan America 1250 Special
Alongside the standard Pan America, Harley has revealed a specced-up edition of the adventure bike, the Pan America 1250 Special. Weighing in slightly more at 258kg wet, and with a 890mm seat height, it's a premium version of H-D's adventure bike.
It comes equipped with even more technological rider aids, including semi-active suspension with vehicle load control, which Harley says will automatically adjust rear preload based on the weight of the rider, passenger, and luggage.
There's also the inclusion of two more fully adjustable rider modes (on top of the five featured on the standard model), a tyre pressure monitoring system, heated grips, and a steering damper to improve handling during aggressive off-road riding. Other features include a centre stand and a multi-position rear brake pedal to improve brake control when riders are up on the pegs off-road, as well as protection in the form of engine bars and a skid plate.
The Special can also be equipped with Harley's innovative adaptive ride height as an optional extra. A first for the motorcycle industry, Harley says that adaptive ride height will bring the Pan America Special's seat height down to 855mm when stopped, before rising to full height of 890mm when the wheels are in motion, without compromising on suspension travel, lean angle, or ground clearance while riding.
It's an interesting feature that could well be a blessing to those who on the shorter side, or those who prefer to flat foot at traffic lights when riding a large-capacity adventure bike. I admit, I'm intrigued to see how it works in practise.
Watch the Pan America in action:
The Pan America will be available in two colour schemes, Vivid Black and River Rock Grey, with prices starting at £14,000. The Pan America Special is slightly more expensive, with prices starting at £15,500.
Fancy watching the new bike in action? You can watch its official release video below, directed by Hollywood star Jason Momoa.