Suzuki has just announced the V-Strom 800DE, a brand-new middleweight addition to their adventure bike line-up.
Taking design cues from its larger sibling, the 1050DE, the 800DE is built to tackle off-road surfaces while still delivering on-road performance.
Since the V-Strom 1000 appeared on the market in 2002, the V-Strom range has made a name for itself for its all-round capabilities, reliability, and excellent value.
With its heritage in Suzuki's extremely capable DR-Big and DR-Z machines, the V-Strom has always been exceptionally good at just getting things done. It's never been the sexiest or most coveted of adventure bikes, but it's built up somewhat of a cult following of loyal fans who appreciate the bike's reliable, can-do attitude.
The latest entry into the V-Strom range looks to bolster the touring and off-roading credentials of the name. So, here's all the features of Suzuki's new adventure bike.
Powered by a brand new engine
At the heart of the V-Strom 800DE is a new parallel twin engine. The 776cc twin  powerplant produces 83kW at 8,500rpm and 78Nm of peak torque at 6,800rpm, which should make the V-Strom 800DE fairly capable off-road and give it enough go on the blacktop,
It also introduces the Suzuki Cross Balancer, a new balancing mechanism for suppressing vibration from the engine while keeping the powerplant light and compact.
The long-stroke motor has been designed to produce smooth but potent torque throughout the low rpm, before going on to deliver free-revving performance higher in the range.
Impressively, Suzuki claims the engine will return 64mpg which theoretically gives you about 280 miles from a fill up of the 800DE's 20l tank. In reality, I'd expect that to be between 200 and 250 miles depending on how hard you ride.
Suspension and clearance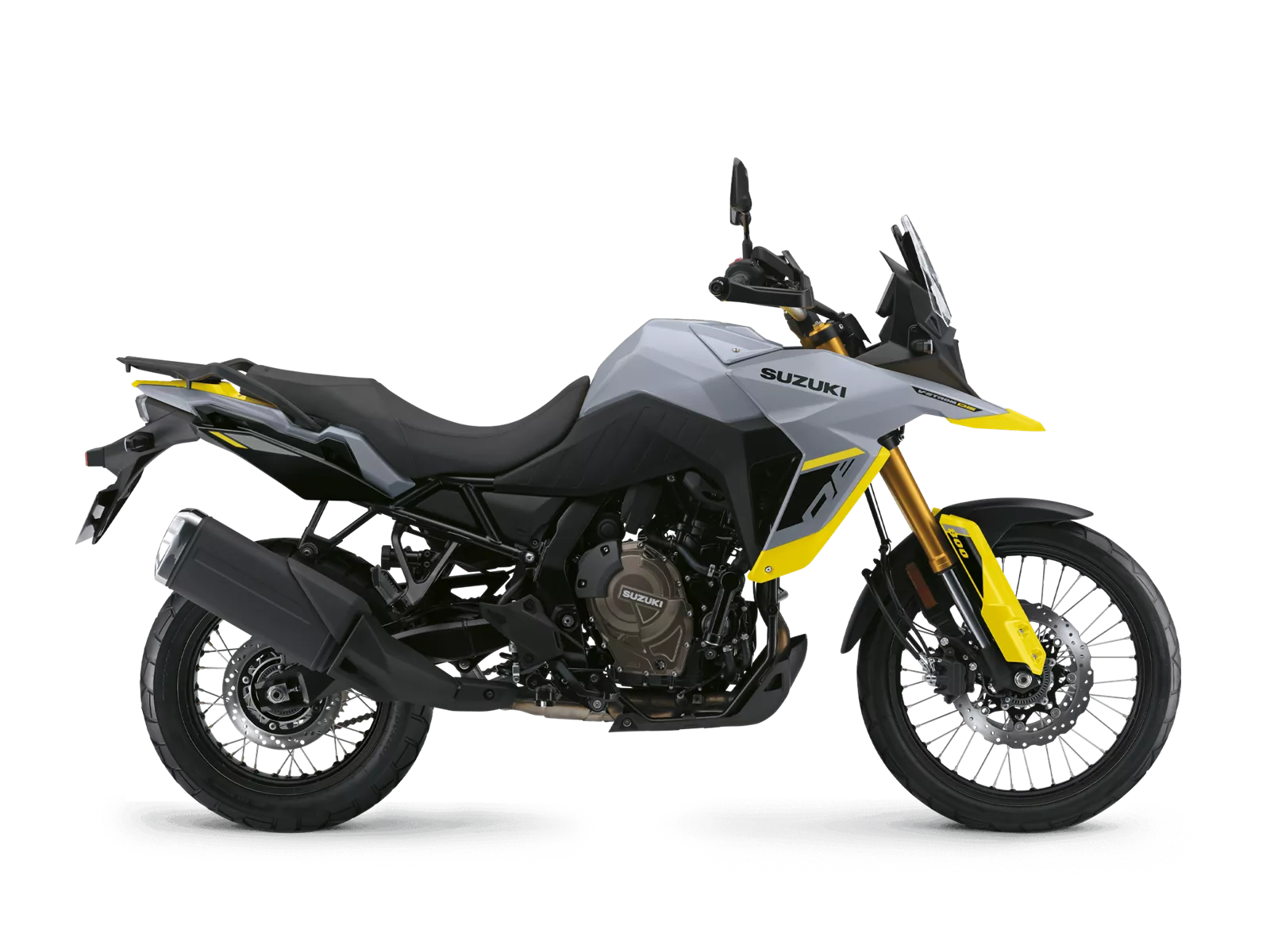 Suzuki has made it obvious that they've designed the 800DE to be taken off-road, and the suspension proves it. At the front, an inverted Showa fork delivers 220mm of travel, with adjustable (by hand) spring preload, compression, and rebound damping.
At the rear there's an adjustable Showa mono-shock, again with 220mm of travel.
The bike itself boasts 220mm of ground clearance, so the 800DE should be more than capable of tackling tough trails, although the fairly low-slung exhaust might worry some.
Rugged chassis, at a cost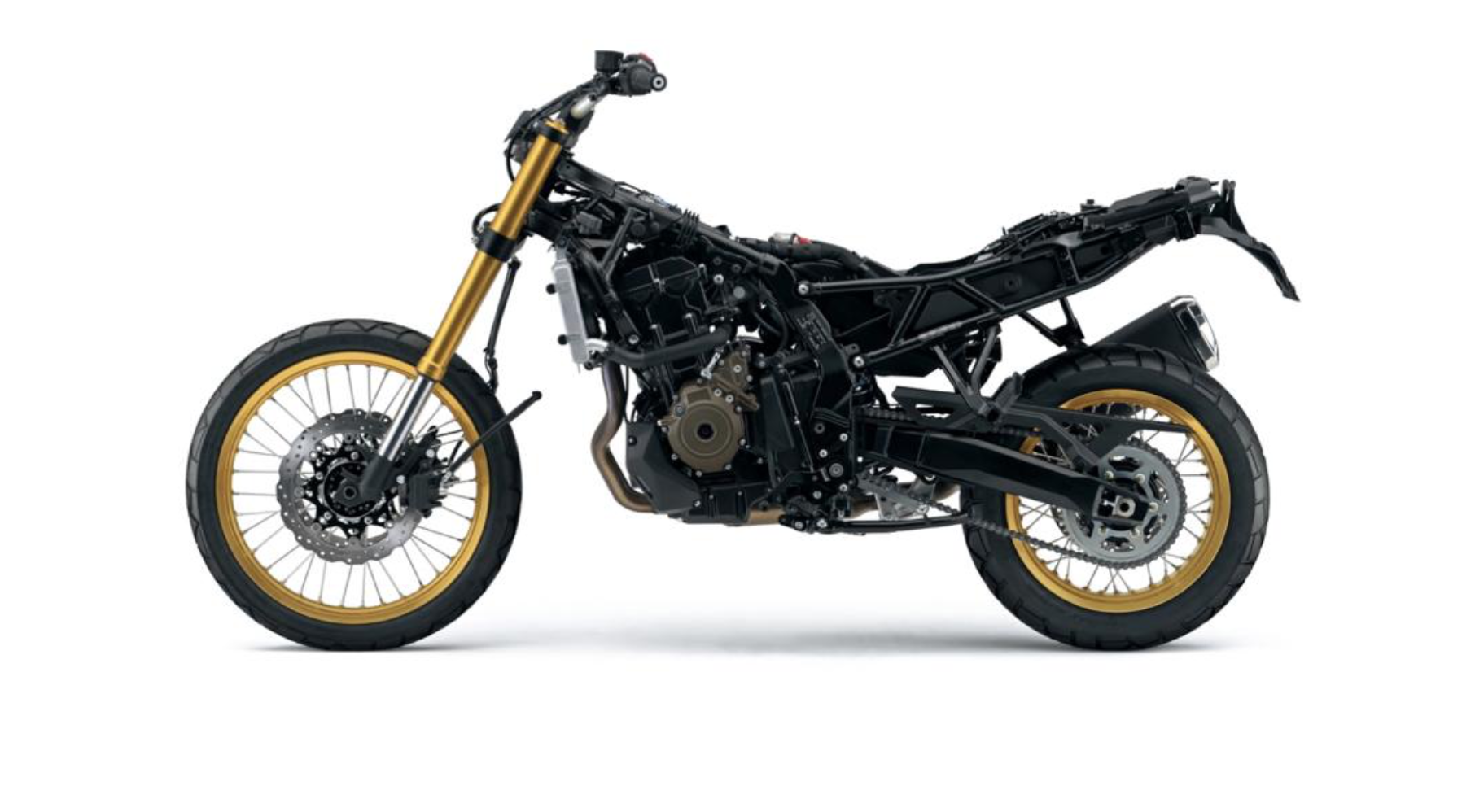 The 800DE has spoked wheels with a 21-inch front and 17-inch rear. It'll come wearing Dunlop Trailmax Mixtour tyres, which will provide good all-weather road traction while being able to handle light trails, but to take full advantage of the Suzuki's off-road capabilities, you'll want to switch them out.
The bike clocks in at 230kg wet, which is a bit on the heavy side, especially for a mid-weight bike that is geared towards off-roading. Considering that competitors like the Yamaha Ténéré 700 and the Aprilia Tuareg both weigh in at 204kg, the 800DE's bulk might put some off.
Suzuki has built a rugged, narrow steel frame that is engineered to be agile and controllable, and the bolt-on subframe and aluminium subframe should hold up to taking knocks.
Electronics
The 800DE comes equipped with a host of handy electronic riding assists, but as expected, these are mostly to assist in off-road handling. The traction control system features three on-road modes, A, B, or C: Active, Basic, or Comfort, which can be thought of Sport, Tour, and Rain.
There's also a G mode, or Gravel, which loosens the traction control to continue to deliver power to the rear wheel through wheel spin. Traction control is also able to be completely disengaged for those who want direct control over the bike.
There's two ABS settings, providing greater or lesser intervention, and the rear wheel ABS is also able to be switched off. The new V-Strom also includes Suzuki's low rpm assist which raises the idle speed to reduce the chance of stalling at low speeds or when pulling away.
A bi-directional quick-shifter is included, as is ride-by-wire throttle, so it should be an easy, responsive bike to control. All these features are accessed by a 5″ TFT display and managed by a rocker switch on the left handlebar.
Aggressive, retro styling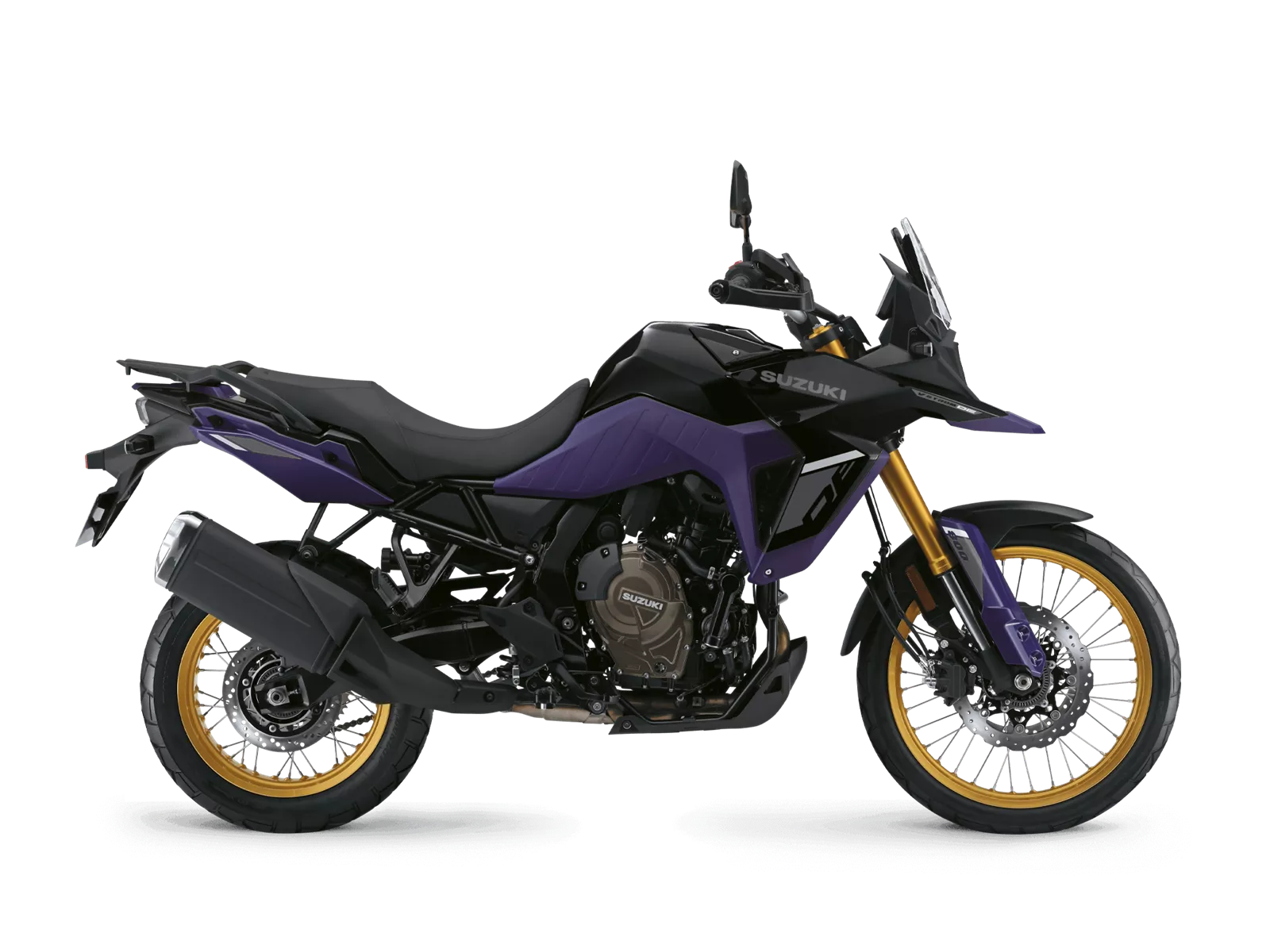 The V-Strom range has never sold off the back of sex appeal, and while the new 800DE isn't conventionally attractive, the angular style is certainly distinctive. Taking inspiration from Suzuki's monster thumper, the DR Big, the new 800DE riffs off '80s and '90s adv and rally stylings while also carrying the aesthetics forward in time.
The high, piercing beak, the sharp lines of the body work, the vertically stacked headlights, and the bold accents all combine to create a bike that looks like it should be adorned with cigarette sponsors and raced across the desert.
The 800DE will be available in three colours: Champion Yellow, Matt Mechanical Grey, and Glass Sparkle Black, which looks a lot tougher than it sounds.
Will it perform?
The V-Strom range has always been renowned for its value for money and ease of use, and the 800DE should be set to continue that theme. But it arrives in a hotly contested market segment, with competitors such as the BMW F 850 GS, the Yamaha Ténéré 700, and the KTM 890 Adventure all jostling for a share in the market, with Triumph, Aprilia, and others also in the mix at either end.
So who is it for and who will want one? That depends on just how capable the Suzuki proves off-road while still being comfortable and practical for on-road touring. If it can handle the rough stuff well, and tackle long distance touring too, then it should prove popular for those wanting an accessible and willing machine for their adventures.
The Suzuki V-Strom 800DE is slated to arrive in Spring 2023. Price is TBC, but should come in somewhere between the V-Strom 650XT (£8,799) and the V-Strom 1050DE (£13,699).