New adventure bikes are expensive. There's no getting around it. And if you want to ride out of the showroom on an all-singing, all-dancing, globe-trotting machine, you'll need to fork out for it… Or will you?
While some big adventure bikes can set you back over £20,000, the Suzuki V-Strom 1050XT is a fully-featured large capacity adventure bike that offers plenty of thrills and touring ability at a very reasonable price. And we think it may well be the best value big adventure bike around.
In fact, when we rode the bike on its launch, we wrote: "While the Suzuki may not posses the prestige of owning a more exotic or expensive machine, there's no denying that it's a desirable motorcycle and one that deserves to be on the shopping list of anyone in the market for a new adventure bike". And we'll happily stand by that having spent a lot more time on the machine since those few days in the mountains.
Right now, you can become the proud owner of the highly-rated V-Strom 1050XT for just £12,399.
But what makes it such a brilliant offering? Well, here are five reasons why the Suzuki V-Strom 1050XT may well be the best value big adventure bike around right now…
The price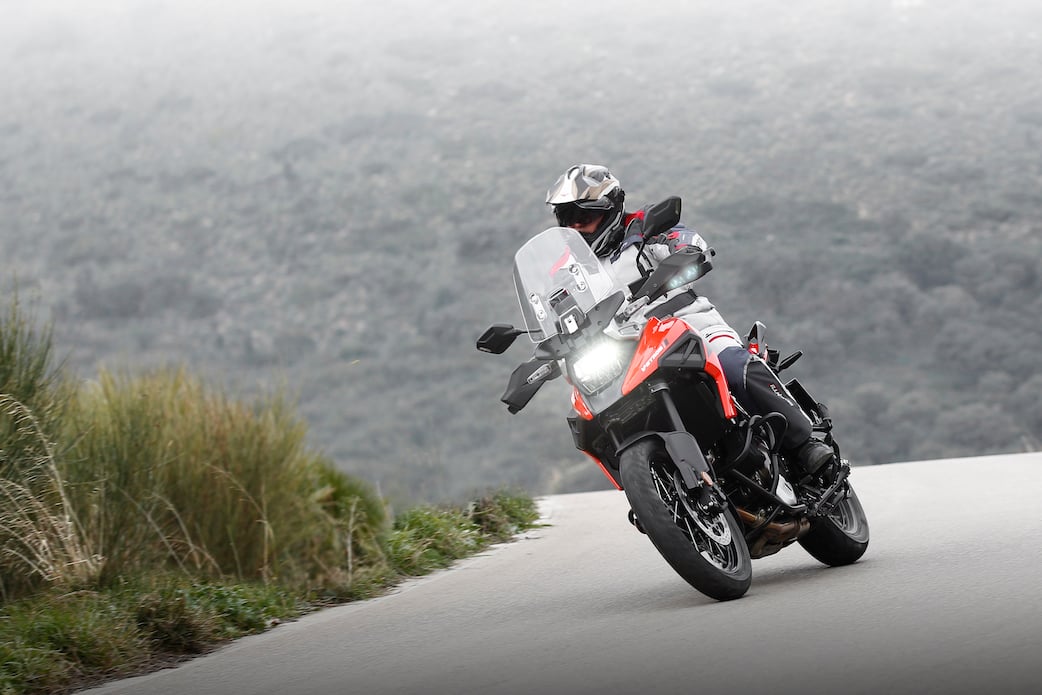 Let's get the most obvious reason out of the way first, the price. Suzuki has a long-held reputation for producing competitively-priced yet quality bikes, and the V-Strom 1050XT stays true to form.
The bike's available for just shy over £12,000 from new, a relative bargain for what is the premium offering in the V-Strom range. It's even more of a bargain when you look sideways at some of the Strom's competitors in the market (think Honda Africa Twin Adventure Sports (from £14,749) or BMW R 1250 GS Adventure (from £15,650).
For your money, you get spoked wheels, a complete range of electronic rider aids, crash bars, hand guards, an adjustable screen and seat, and a centre stand all as standard.
But what else do you get for your hard-earned cash?
On-road performance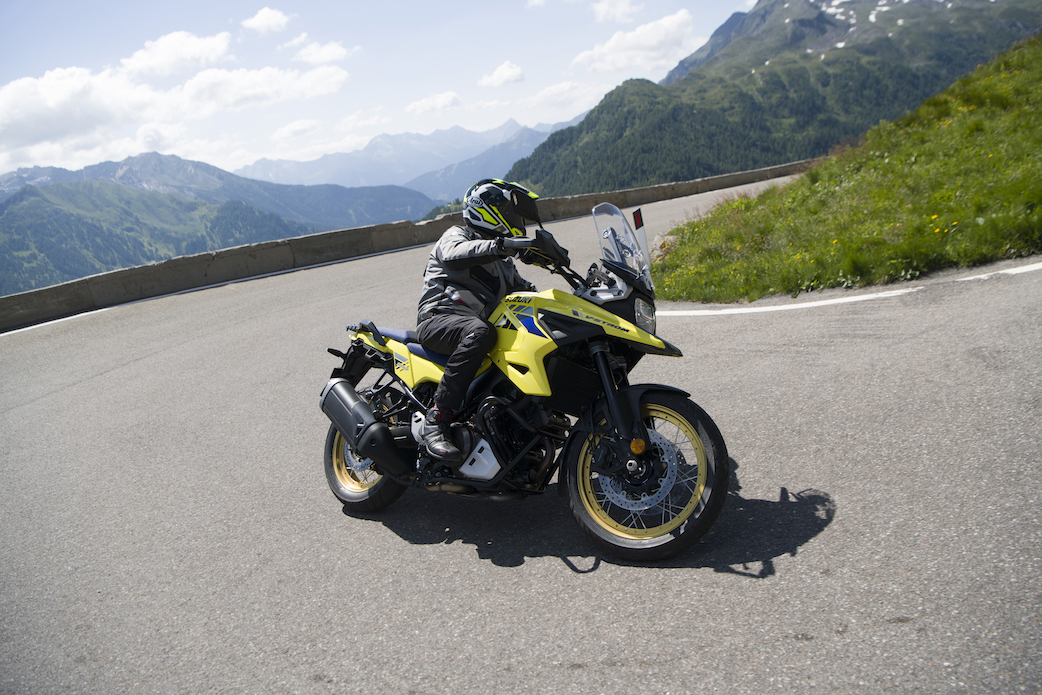 A low price tag doesn't necessarily mean poor performance, and V-Strom 1050XT delivers plenty of thrills and excitement from the saddle.
The 1,037cc V-twin engine produces 105bhp, which is more than enough for cruising along and overtaking effortlessly at motorway speeds. And it's a ball when it comes to twisting mountain passes and B roads, too. Here, the V-Strom is nippy and exciting through the bends, allowing you to experience biking nirvana with ease.
It's also torquey across the rev range, capable of pulling you, a pillion, and your luggage up a steep mountain pass with ease.
But power isn't everything, and one of the stand-out qualities of the V-Strom 1050 is just how well it handles on the tarmac. It feels nimble, nippy and agile, and the general consensus at ABR HQ from all of us who have ridden it is that the 1050XT feels lighter than the 247kg wet weight would suggest.
V-Strom 1050XT: Ready for adventure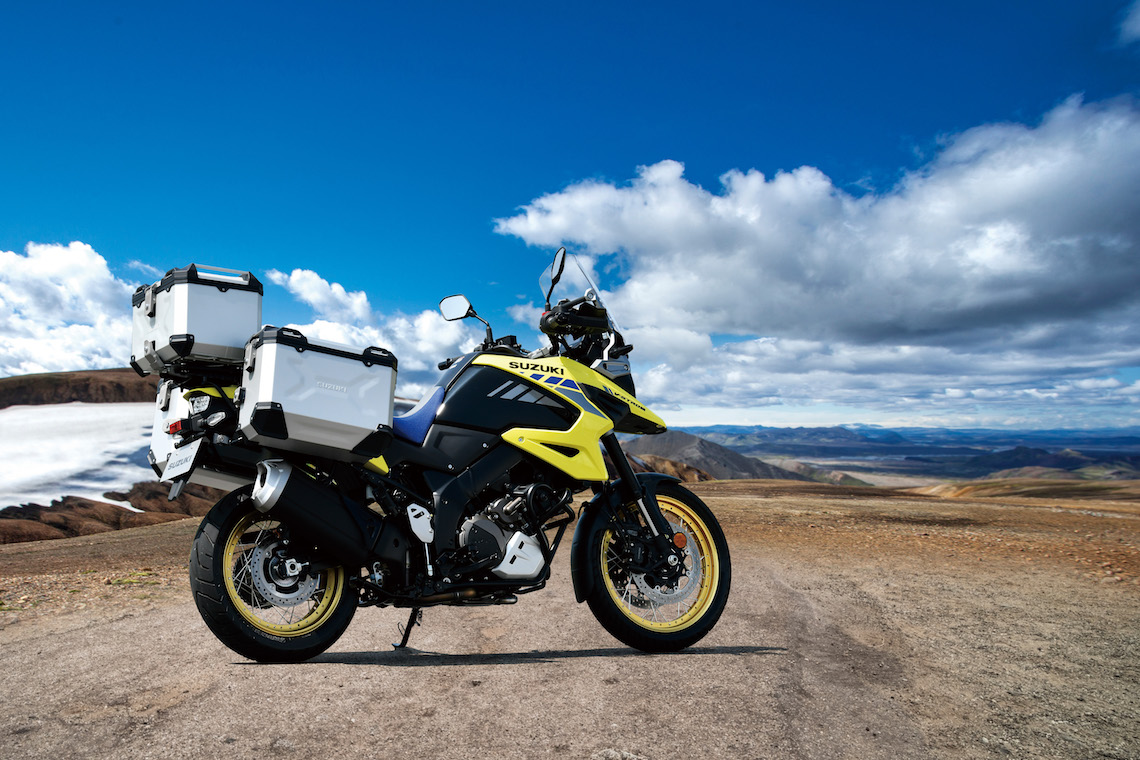 If you're buying an adventure bike, it's a safe bet to assume that you like to travel on two wheels. Luckily, the V-Strom 1050XT is a more than capable partner during a weekend in Wales, a fortnight in the Alps, or even a RTW trip (check out Lavi and Ollie who are currently travelling round the world on theirs).
Travelling long distances on the V-Strom is a comfortable affair. The well-padded saddle and adjustable windscreen make it a pleasure to ride all day, the 20l fuel tank will keep you going for over 200 miles between fill ups, and cruise control, which comes included as standard, means long stints on French toll roads are a little easier on the wrists.
There's also plenty of room for a pillion, with wide grab rails and a soft perch for them should you tour two-up.
Tech galore

Good rider aids can improve life in the saddle and provide a safety net if things go south on the road, and the V-Strom 1050XT offers an impressive amount of tech without breaking the bank.
There's cruise control, hill-hold control, downhill slope control to stop rear wheel lift, adjustable traction control, rider modes to reign in the throttle response, lean-sensitive ABS, and more, all powered by an inertial measurement unit (IMU) that is constantly feeding back information to each aid about the pitch, roll, and yaw of the bike.
Many of these useful additions are optional extras on competitors' bikes, or even missing altogether, so top marks Suzuki for giving V-Strom 1050XT owners all these features as standard and at a reasonable price.
Classic adv looks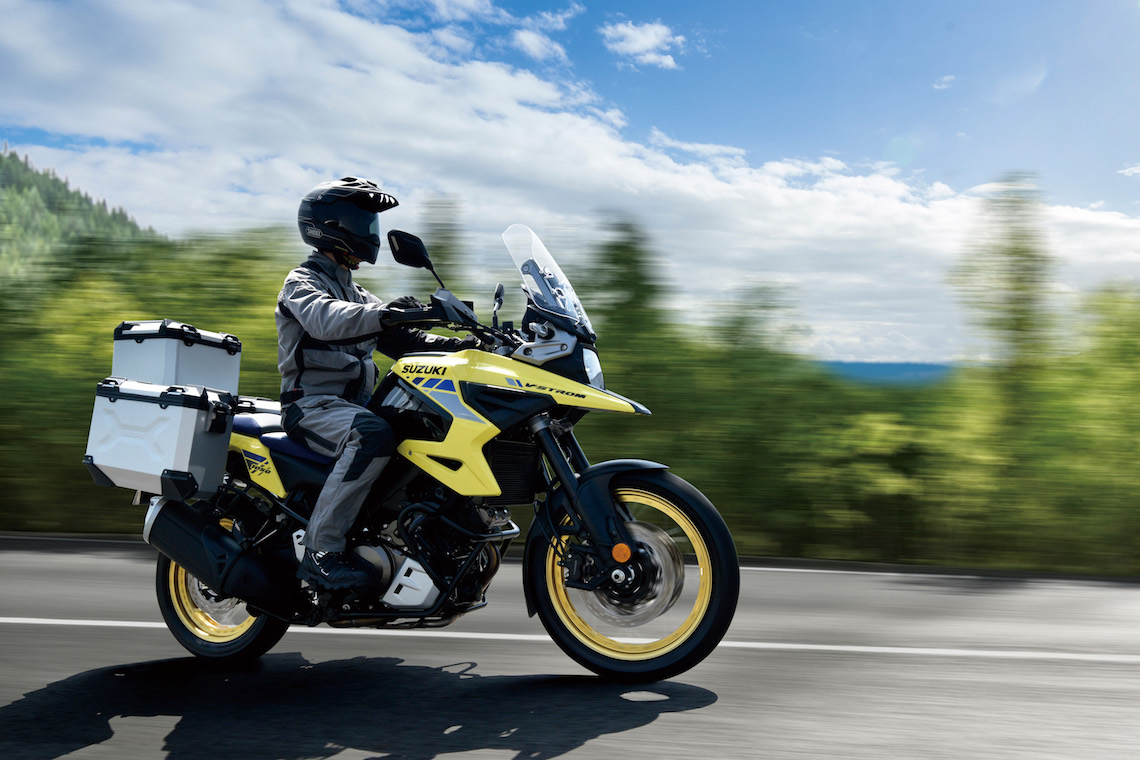 Of course, beauty is subjective, but there's something especially cool about the retro looks of the V-Strom 1050XT, which has been designed to hark back to Suzuki's famous DR-Big. It's bold, it's brash, and it'll get your pulse going.
The Champion Yellow colour way is a particular head turner, but there are more subtle options available if you're after something a bit more low-key.
Is the V-Strom 1050XT the best value big adventure bike around?
So, there you go. Five reasons why we reckon the Suzuki V-Strom 1050XT is the big adventure bike that gives you the most bang for your buck right now.
If you're keen to find out more about the V-Strom, the best thing you can do right now is get yourself booked on for a test ride.
To do that, head on over to Suzuki's website for the full lowdown.