What do you get when you mix roughly 3,000 bikers, heaps of snow and barrels of beer together? Right, the annual Elephant Rally (usually called the Elefantentreffen) in Germany.
Daunting to a lot, loved by thousands and enthralling to the whole motorcycle community. Why would anyone on earth have the desire to ride hundreds of miles in subzero temperatures to reach a frozen campsite?
This was something that we wanted to find out in 2015 and we loved the enchantment so much that we went back this year, skipping the edition in '16 because there wasn't much snow.
For our first Elephant Rally experience, Bart and I decided to play safe and go in our sidecar. At the time, we had read as much information as we could about camping in the snow and, more importantly, how to keep ourselves warm. We heard stories about bikes that got stuck in winter storms on the way to the rally and someone losing toes due to frost bite.
>>> Related: How to avoid the life threatening dangers of riding in the cold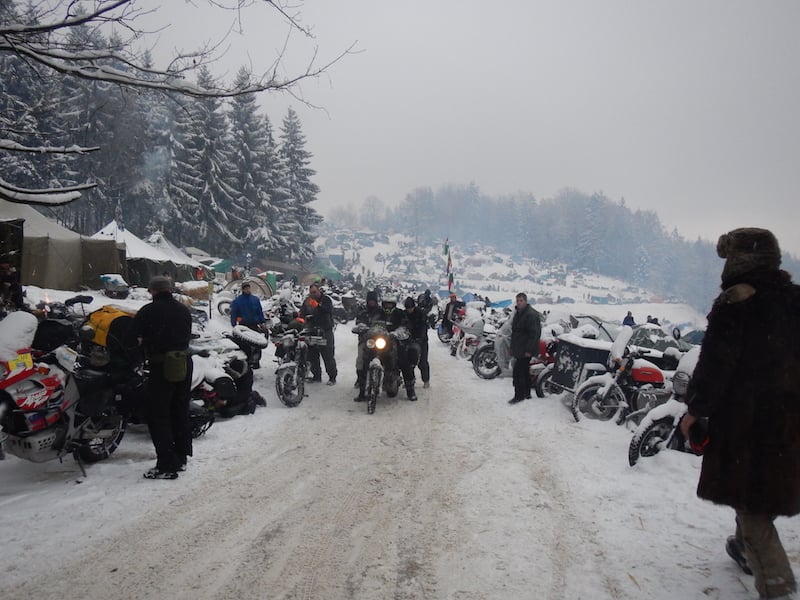 Quickly we learned that these things are wildly exaggerated like the guy that lost his toe, not toes. He passed out drunk in the snow in front of his tent in the middle of the night, in the dark, and got frost bite.
What we did experience were snow free lanes on the motorways and the streets towards the rally, and on top of that an unseen hospitality by all participating bikers. Upon arrival, you can't walk past a tent without being invited for a drink alongside strangers next to the campfire to warm yourself up.
>>> Related: How to keep your bike in top condition during the winter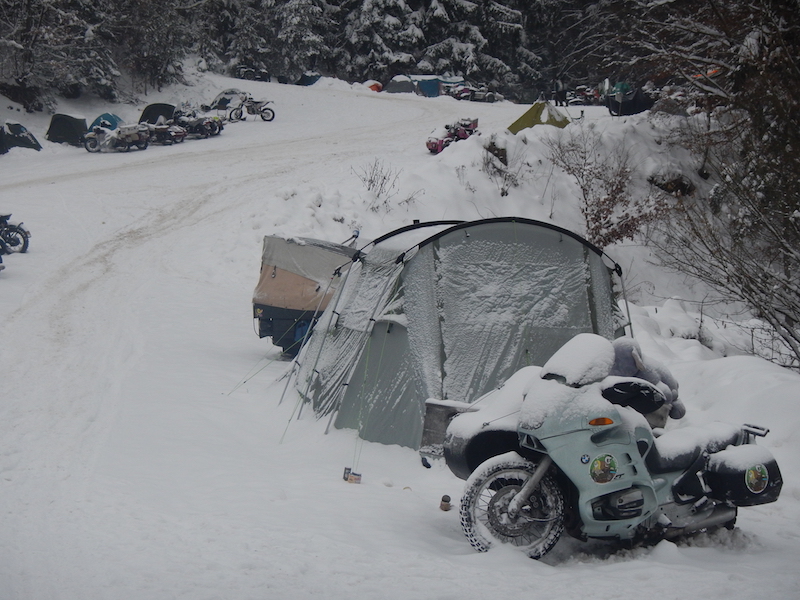 Our self-made RT-sidecar got us safely into the Witch Cauldron, this is the name of the valley where the rally is held. Over the next few days, we noticed that we had actually heavily over packed for this event.
Yes, it was cold but no it wasn't 'we need two suits and hot water bottles to keep us from freezing' cold. We learned a lot, and when riding back home we decided that we would return in the future armed with another setup.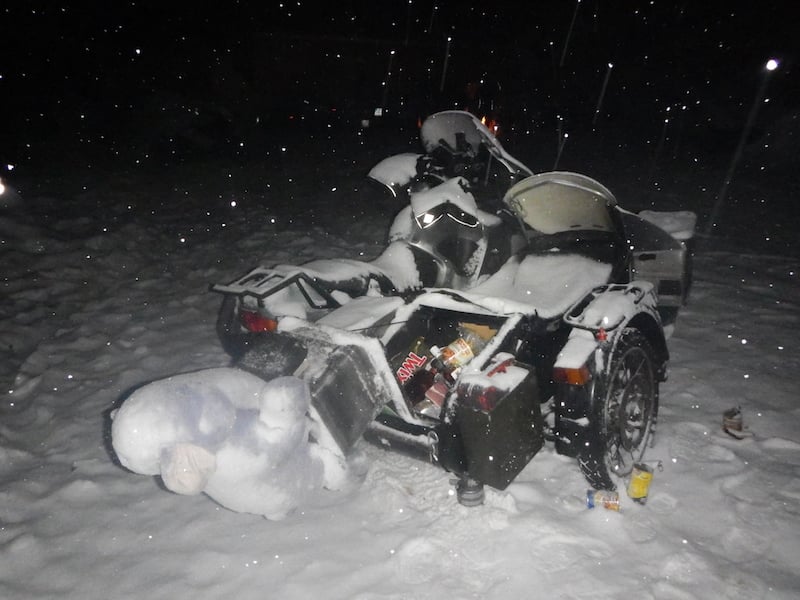 Last January, Bart had the brilliant idea of going to the rally without a tent. We're preparing ourselves for an RTW-trip, and we wanted to discover know our limits before doing so.
With mild enthusiasm, I followed in his plan, going with our motorcycles and a tarp to make a proper shelter. In contradiction to our last visit, temperatures remained subzero throughout the whole ride and duration of the event till we got home.
We brought skis so that we could slide down the Witch Cauldron with ease without having to use snow chains. It was already dark when we arrived to make a shelter and there was no more hay available to buy, so we just waited till our Czechoslovakian were drunk enough and politely bargained for some of theirs.
>>> Related: Why you need to try wild camping on your next motorcycle trip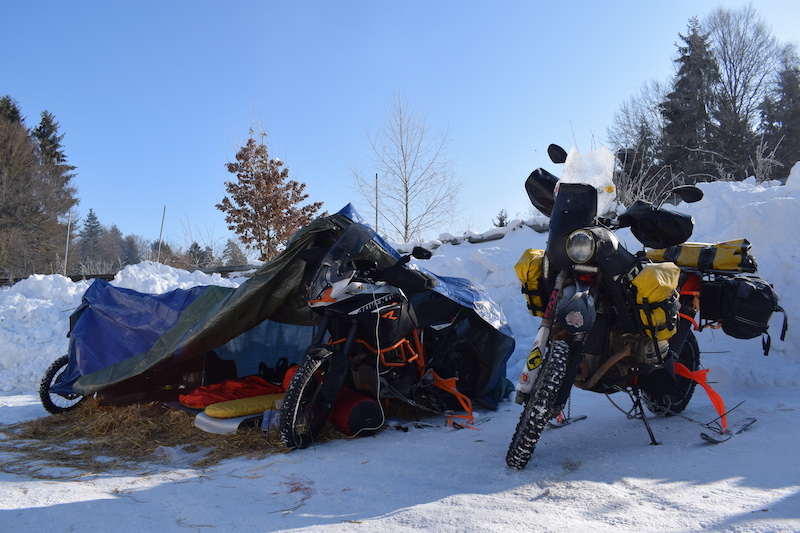 During the night, temperatures dropped to -17°C and our equipment did not fail us. I can recommend our combination of a bivy sack, synthetic sleeping bag and decent thermal clothing to everyone willing to visit the event.
This year there were 3,117 bikers representing dozens of European countries, aiming to attend the Elephant Rally, where they'll be sharing their motorcycle stories in numerous languages alongside the campfires, with the cold only adding to the unique aura of the event.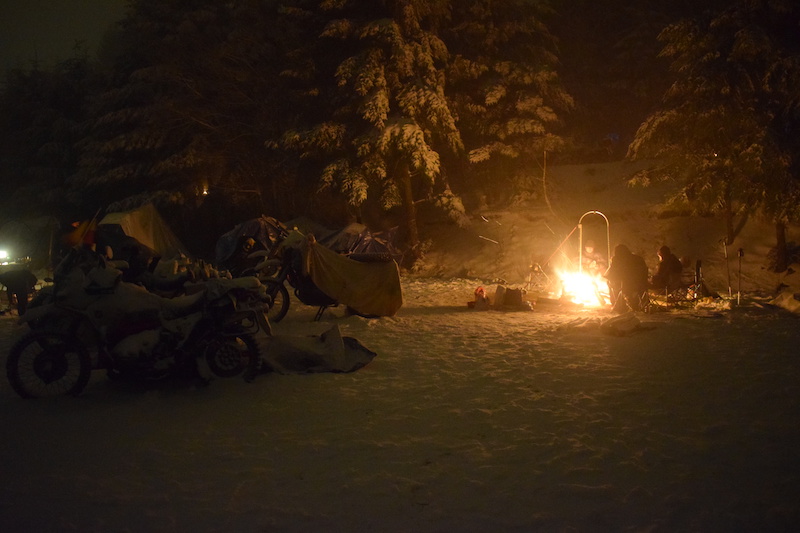 Comparing sidecar versus a standard bike, I can only say each has its own charm. A sidecar offers more opportunity to take loads of gear, wood and ice-cold beverages. Going by motorcycle surely is more exciting because of the riding conditions but you have to make decisions in choosing your gear.
Either way, the Elephant Rally is a must do for all those wanting to challenge the cold and experience a winter rally how they should be, back to basics in every way possible.
When is the Elephant Rally in 2020?
The next event is from 31 January – 2 February 2020 in Solla, Germany. Maybe we'll see you there!