Every year, Germany hosts their annual sub-zero motorcycle event – the Elephant Rally, otherwise known as the Elefantentreffen. Well known amongst the motorcycling community, the event is somewhat rugged, and well, is basically a mix of thousands of bikers, heaps of snow and sh*t loads of beer. Sounds great, doesn't it?
Motorcyclists must battle a brutal journey across Europe in freezing cold temperatures to get to the rally, which  is set in a small valley in Solla, in the Bavarian Forest National Park, Germany. It's here that bikers gather to camp and join in with festivities together after suffering the same fate to get there, in temperatures that can drop to a butt-clenching minus 20C.
Publisher of ABR, Alun Davies, took part in the rally back in 2012 and described it as "brutally delicious". When riding through Europe in sub-zero conditions to get there, he found himself having to stop at every other service station to take off his boots and socks, desperately trying to revive the circulation in his feet. After his treacherous journey, Alun pitched his tent on top of a flattened hay bale and then proceeded to have one of those heart drop moments.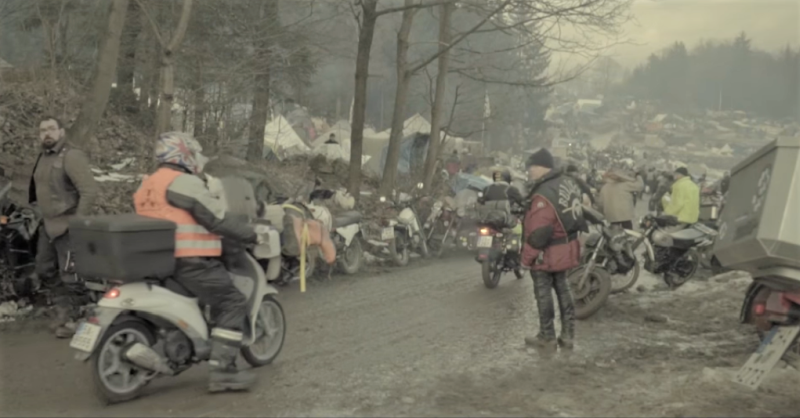 He'd only gone and forgotten his darn sleeping bag. Yep, surrounded by snow and ice, in temperatures so cold that your gonads end up in your stomach, Alun spent the nights at the rally sleeping in his motorcycle gear and using his boots as a pillow. Though he had a slight set back, Alun said he had the most incredible time and would love to go back again one day.
Anyway, back on to the video of this year's event. Shot by 'La Nueve Productions' (in association with Cronicas Geograficas), this documentary-style footage gives those of us who haven't gone an incredible taste of what it's really like to take part in Elefantentrffen. We hear the stories of some of the riders, who they are and where they come from. We see the nitty gritty shots of the real rally and, well, it's only fuelled our desire to go there even more.
We particularly love the following quote from the narration of the video; "Elefantentreffen is a meeting for the toughest of the tough. An honest, zero bullsh*t experience where aesthetics and trends mean nothing. Age means nothing, your nationality means nothing, the size of your wallet means nothing, even motorcycle makes and models stop having any meaning. For the only truth here is the one dictated by snow, mud and camaraderie." Take a look at the video for yourself…
Elephant Rally (Elefantentreffen) video
Have you ever been to the Elephant Rally? If so, we'd love to hear your stories. Post your experiences in the comments section below. Also, be sure to check out Crónicas Geográficas's YouTube channel and website for more incredible content.