Just over a month ago, we posted a photo of Steve McQueen to our Facebook page with his Triumph TR6 Trophy from The Great Escape, arguably one of the best war films the big screen has ever seen.
Alongside the photo we used the caption, "The man, the legend, Steve McQueen… Who was your motorcycle inspiration?" And with that we were inundated with thousands of likes and hundreds of comments from bikers sharing their motorcycling inspiration with us.
The comments varied from those that were heartwarming and fascinating to those that were utterly bizarre (David Beckham!?). We thoroughly enjoyed reading through them all, so much so that we've decided to share a selection of our favourite comments here.
Understandably, there was a lot of love for the man himself, Steve McQueen. He is clearly an icon to many, with his roles in both On Any Sunday and The Great Escape cementing his place in the minds and hearts of many bikers. Especially after THAT scene…
https://www.youtube.com/watch?v=6zwW7iWinrk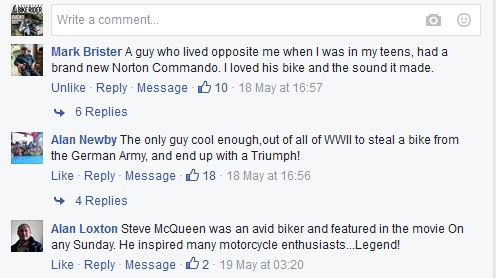 Steve McQueen certainly got a lot of love, but another name who continued to pop up was Evel Knievel, as David M Viens and Darren Laurie confess. The latter explaining how, when growing up in the '70s, he took a lot of inspiration from the man himself and put it into practice.


Other popular choices included Barry Sheen and Malcom Smith, both of whom seemed to come up rather frequently for their exploits. In amongst these, there were also those who had been influenced in a big way by the likes of Guy Martin, Lawrence of Arabia and Che Guevara. All of whom are notable and fascinating motorcyclists.
There also appeared to be plenty of inspiration emerging from the adventure motorcycling sector. As you would imagine, Ewan McGregor and Charley Boorman's names came up rather frequently, as did the likes of Ted Simon, Austin Vince and Nick Sanders. We're certainly not going to argue with those suggestions…


In the end, none of the aforementioned motorcyclists came close to the most common of motorcycle inspirations though. As suggested with Matt Carter's mention of his Grandpa (above), our main inspiration tends to be our family members and close friends who we grew up with. Our fathers, mothers, grandparents, brothers and friends.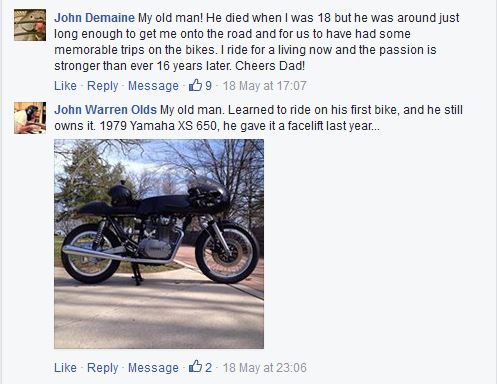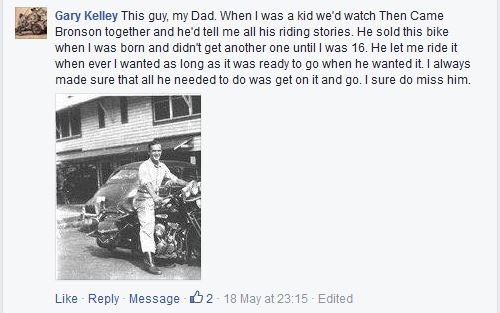 Who has been your motorcycling inspiration? Let us know on Facebook, Twitter or in the comments.