There are few better places in the world to explore on two wheels than Norway. I know, that's a bold statement to make, but hear me out…
It offers that perfect combination of outrageously wiggly tarmac roads, otherworldly views, and vast stretches of uninhabited wilderness, ideal ingredients for an adventure biking tour. In fact, riding in Norway is so enjoyable that, when I visited on my bike in 2018, I ended up spending four times as long as I'd planned. I simply couldn't drag myself away.
But, there is a hitch. Norway is a big country that stretches deep into the Arctic Circle, and exploring it to its fullest can take months. So, if you're trying to fit a tour into a couple of weeks off from work, you'll want to make the most of your time in this biker's paradise with a clear idea of what you need to ride.
That's why we've teamed up with motorcycle tour provider Mad Hatter Motorcycle Adventures, which runs an annual guided tour of Norway, to put together this list of five genuine must-ride roads. If you like what you see, the tour company is taking bookings for its 2022 adventure now.
From dramatic stretches of tarmac that climb the steep walls of fjords to the thrill of riding Europe's northernmost highway, these five roads offer everything you could want from a tour of Norway. So, let's get started.
FV17 – Norway's wild Atlantic way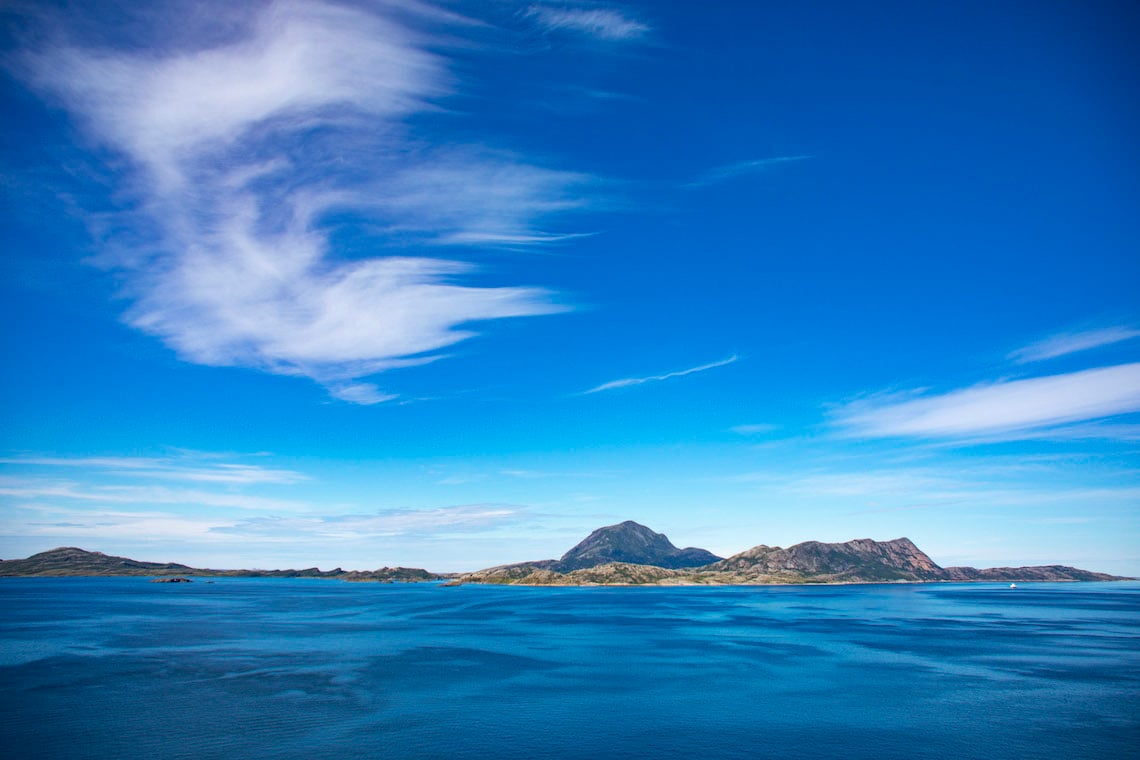 In the middle of Norway, the land narrows slightly, leaving you with a choice of two routes to take if you're heading north. There's the E6 highway, the quickest option which bypasses Norway's rugged west coast and travels inland. Or you have the FV17, which flanks the Atlantic Ocean and is one of the best coastal roads in all of Europe.
Taken at a relaxed pace, it's a two or three-day ride that regularly hops between islands (by ferry or by underground tunnel) that make up this vast, almost-uninhabited landscape. Along the way, you'll officially cross the Arctic Circle, making you and your bike arctic explorers, in name at least, and you'll spend days cruising along billiard table-smooth tarmac through an endless succession of curves and bends in truly stunning scenery.
If you're travelling this road, be sure to pack a tent. Norway's wild camping rules are some of the most relaxed in Europe, and camping out in the wild underneath the Arctic sky is as memorable an experience as riding the road during the day.
Lysevegen Road – Lysebotn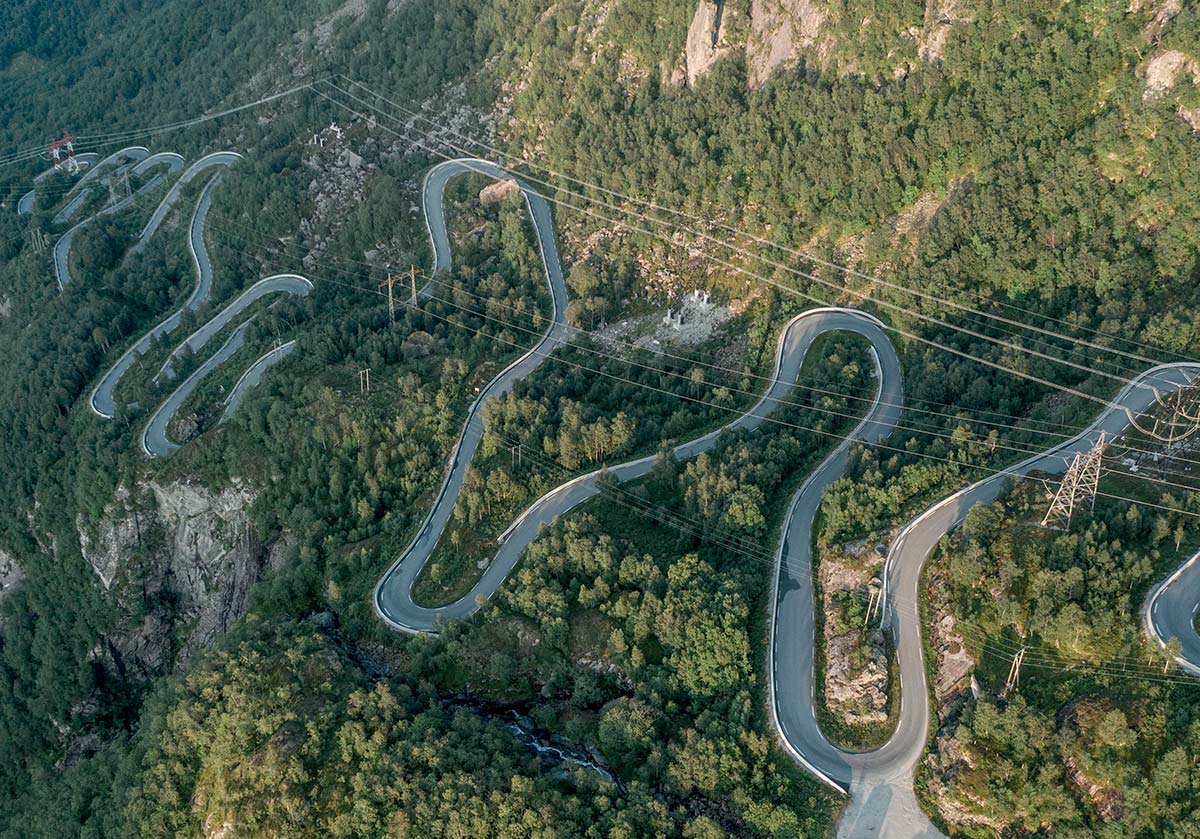 Like a ribbon dropped from the heavens, the Lysevegen Road is a biker's dream.
The 18-mile road carves its way over the mountains above the tiny village of Lysebotn, which is located at the foot of a fjord in southwest Norway. Once you've travelled over the mountains, the road plunges down to the floor of the fjord from a height of around 1,000m in a succession of 27 tight and steep hairpins that are just a joy to ride.
The photo above looks enticing but it's only when you ride the road that you realise how steep those hairpin turns really are. The best part of the Lysevegen Road? It's the only route in and out of Lysebotn, so you'll get to ride it twice.
You can visit this road, as well as many more that explore the jagged fjords of south-western Norway, on Mad Hatter Motorcycle Adventures' two-week tour of Norway's fjords in 2022. Find out more by heading here.
E69 – The road to Nordkapp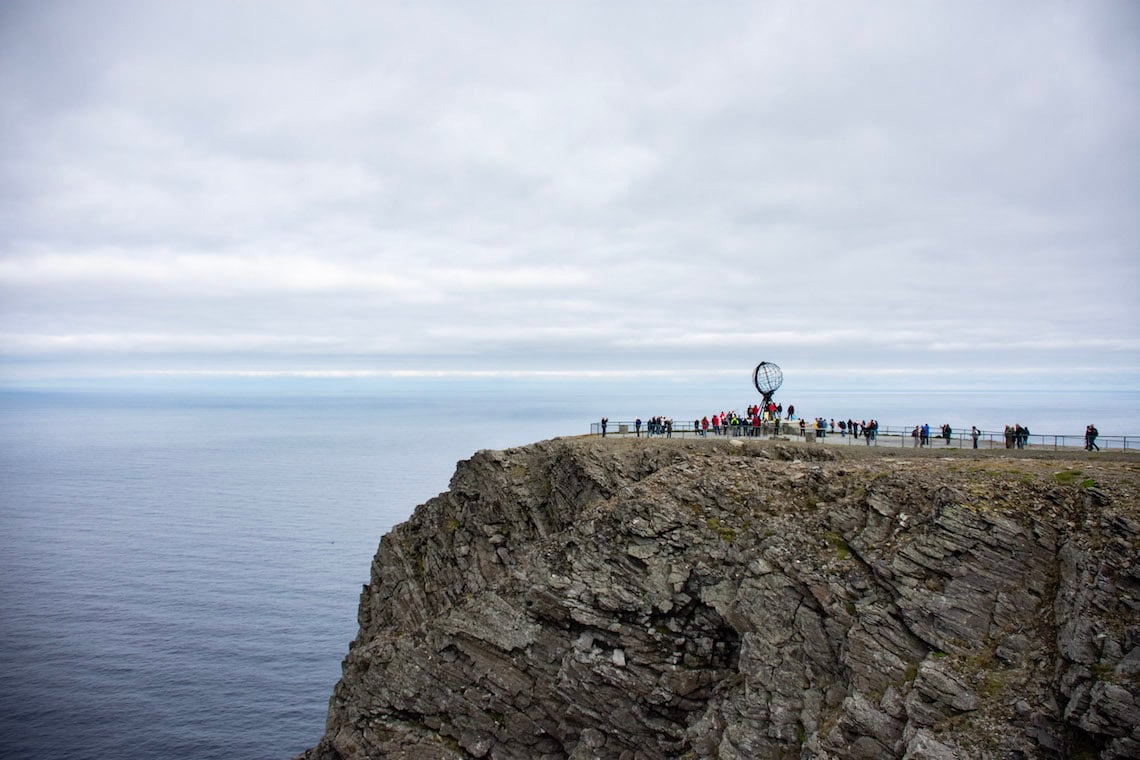 The road leading to mainland Europe's northernmost accessible point, Nordkapp, is typically overshadowed in touring bikers' minds by the elation of reaching that holy grail of European two-wheeled touring. This is a shame, because the E69 is a cracking road to ride in its own right.
The landscape this far north is slightly flatter than the mountainous landscape of southern Norway. But, while the views may suffer at some points, the riding doesn't. The E69 makes the most of the barren land with long, sweeping bends and plenty of glorious straights, which are much-needed on a route that will see you passing plenty of slow-moving tourist coaches.
Of course, the fact that it'll bring you to Nordkapp also makes it a worthy inclusion to this list. Getting as far north as you can possibly go in Europe on two wheels is an impressive feat for any adventure biker, so don't miss out on the chance to snatch a photo in front of that iconic globe located at the tip of the continent. It's bound to make your riding mates at home very jealous indeed.
Trollstigen – Geiranger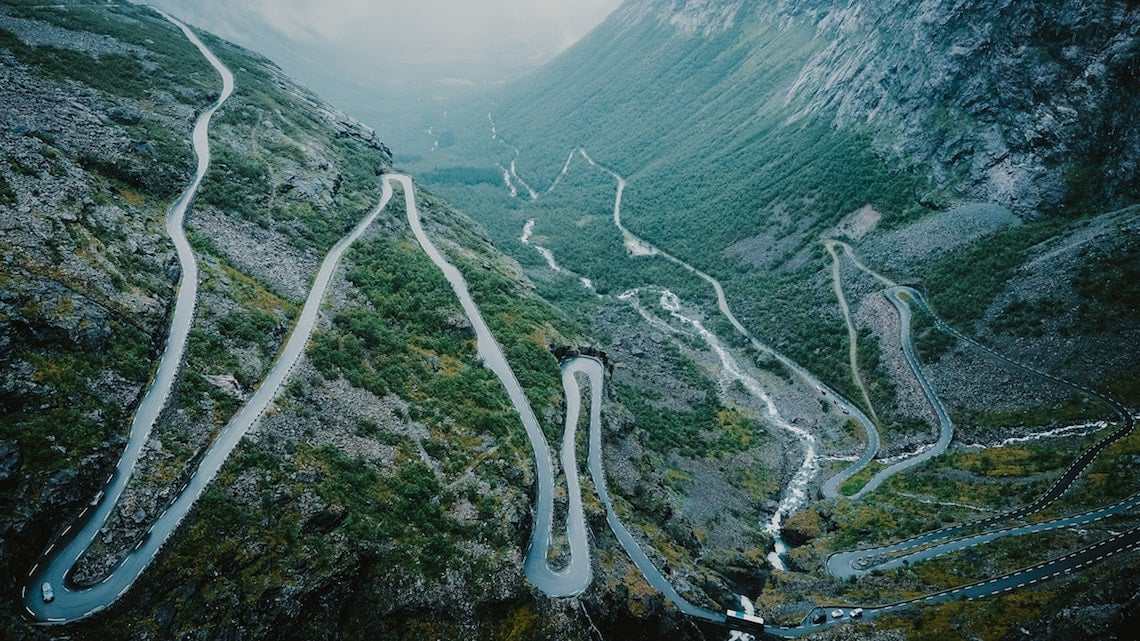 As a writer, I probably shouldn't admit this, but words simply don't do justice to the spectacle that is the Trollstigen. I mean, just look at it pictured above.
Just 11 tight hairpin turns take you from the valley floor to almost 800m above sea level, and it all happens in the shadow of the towering, steep-sided valley walls on either side. It's an awe-inspiring ride. Be sure to stop at the vantage point at the top for photos and those all-important pannier stickers.
A biker once told me he wouldn't travel to Norway on account of the low speed limits and eye-wateringly expensive, speeding fines. While both are true, trust me when I say that you won't worry about travelling over 50mph when you're riding on roads like the Trollstigen.
The Trollstigen is another bucket list road you can ride with Mad Hatters Motorcycle Adventures' tour of Norway in 2022.
The Atlantic Road – Møre og Romsdal County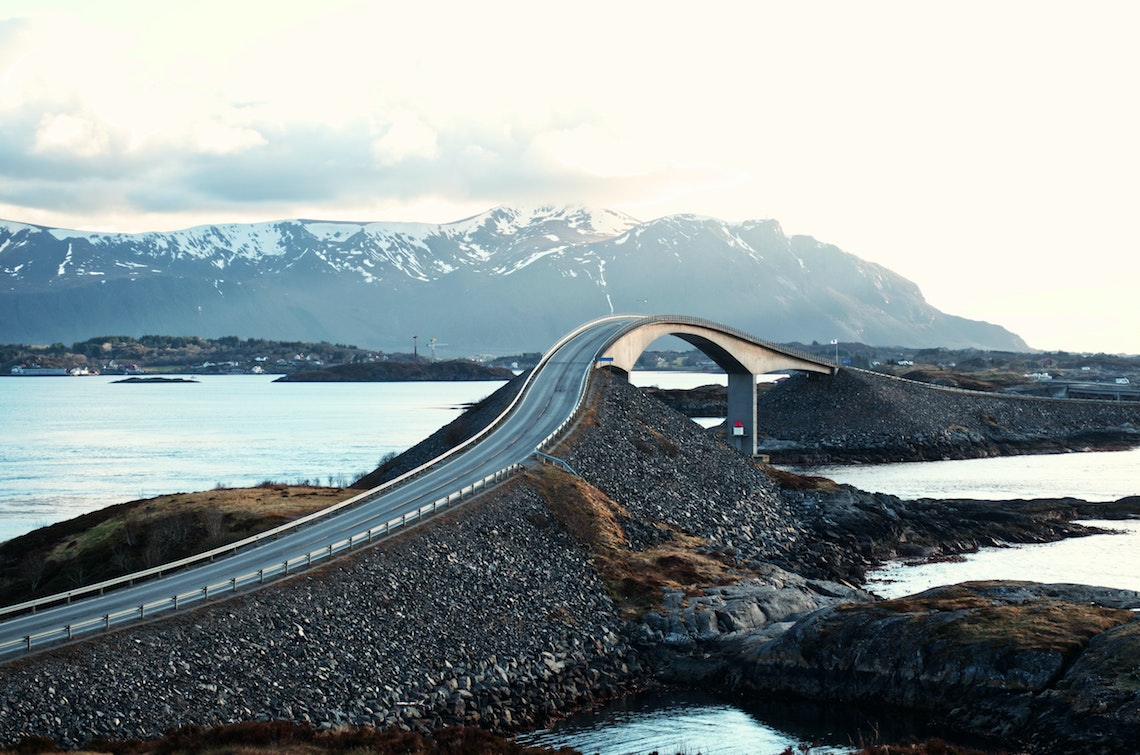 Forged by giant retreating glaciers following a succession of ice ages, the towering fjords puncturing the rugged southwest coast of Norway are a vast and staggering reminder of the sheer power of nature that formed Scandinavia.
Crossing the mouth of one of these fjords is the Atlantic Road, an equally impressive feat of engineering that affords stunning views of this spectacular setting. Seven bridges rise and fall above the crashing waves of the Atlantic Ocean, linking a smattering of islands that are home to a number of picturesque fishing villages where you can stop and explore.
While it may not offer the white knuckle ride that some of the other roads do on this list, it's a journey that any adventure biker in the area will want to tick off their bucket list.
You can ride the Atlantic Road for yourself next summer with Mad Hatter Motorcycle Adventures during its tour of Norway in 2022.
Ride the best roads in Norway
So, there we have it, five incredible roads that you'll want to ride on a tour of Norway. Now all you have to do is get planning.
We've put this list together with the help of Mad Hatter Motorcycle Adventures, a tour operator dedicated to providing bikers with motorcycling memories that last a lifetime, while cutting out the hassle that usually comes with planning a summer tour to a new country. You can find out more about its tour to Norway in 2022 by heading here.