Yesterday marked the opening of the Honda Adventure Centre in South Wales, and we were fortunate enough to get booked onto the two-day riding course to see what it's about. Here's how we got on with day one.
Located on the southern boundary of the stunning Brecon Beacons, the centre has been set up to offer you advanced tuition from Honda instructors, while getting the chance to ride Honda's range of adventure bikes (including the new CRF1000L Africa Twin) in a designated off-road environment.
There are three courses available dependant on your skill level (level one, two and three), though these aren't strictly enforced and are more markers of rider skill levels to ensure that everyone gets the right level of instruction that they need.
The day started off with all riders together, getting changed in the purpose-built facilities and making our way to the briefing room where, in the middle of the otherwise empty room, sat an Africa Twin, the very bike that had drawn 13 men from all over the UK to a small town in the Welsh valleys.
Our first task was to become acquainted with the bike that we'd be riding – a brief, but effective run through of the controls was given by our instructor, Pat, and all riders had the chance to sit in the saddle and stand on the pegs so that pointers could be given before we'd even hit the dirt.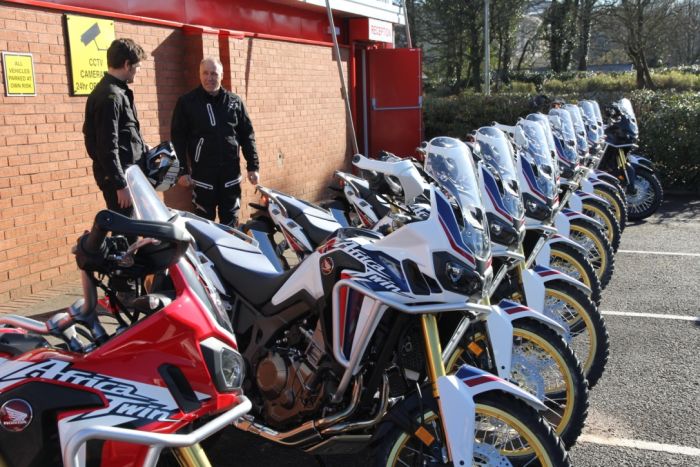 From the briefing room we were assigned numbers and handed keys to our very own Africa Twin. The roar of 13 Africa Twins stirring to life is an amazing sound, and one that you could listen to all day. The ground vibrated as each rider got to grips with the dash lay out, giving the obligatory twist of the throttle to check out how it revs.
It's a fifteen minute ride from the meet & greet point to the off-road area, and this route takes you over a multitude of roundabouts and dual carriageways. It's an effective way to start the day as you can use the time on the tarmac to get comfortable with the machine that you'll be riding, figuring out the dash display and understanding how it handles.
Before any lesson at the Honda Adventure Centre begins, all riders are assessed by completing a series of obstacles designed to demonstrate the rider's clutch and brake control as well as handling.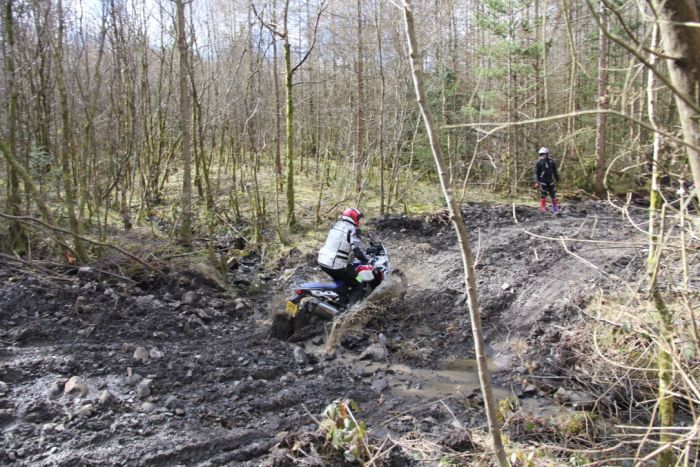 Depending on how competently you tackle these you'll then be sorted into level one or two (there is a group three, though I'm told it's seriously advanced riding). Both groups will eventually end up riding the same routes, though level one riders will spend a bit more time becoming accustomed to the basics of off-roading.
The riding throughout the day was more than enjoyable and physically taxing. There's a variety of terrain on offer at the venue, with rocky hill climbs, boggy single tracks and deep rutted sections all waiting to be mastered.
As you ride around these increasingly difficult trails one thing becomes apparent: for a big bike, the Africa Twin is bloody good off-road. Despite its heavy weight it's nimble, it's agile and it takes the difficult terrain in its stride. Just make sure you're fit enough to pick it up once you drop it!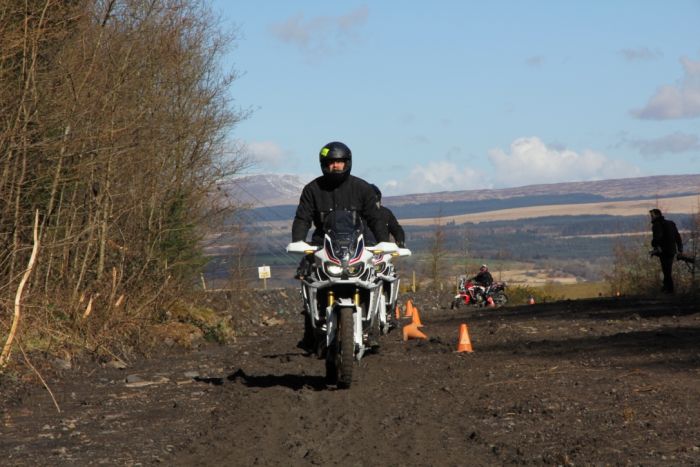 Of course, one of the best things about riding at the Honda Adventure Centre is being able to take a big bike off-road without being worried about the repair costs if you happen to come off. All damage to the bikes is covered in the cost of the course and it's a good job too, as by lunch time over half of the group had eaten dirt at least once.
Day one proved to be an exhausting, but extremely rewarding day of riding. I've done stuff on a big adventure bike that I'd never have thought was possible and day two couldn't come soon enough. There'll be a full write-up of the course in the May/June edition of Adventure Bike Rider, so make sure you pick up a copy.
A two-day course at the Honda Adventure Centre will cost you £499.99, and for that price you get use of a Honda adventure bike, insurance, tuition, refreshments throughout the day, a buffet lunch on both days and an evening meal on your first evening. For more information visit www.hondaadventurecentre.com.