Great views and challenging riding are key to all great roads. Perhaps that's why many of us harbour ambitions toward the mountains when it comes to setting our aims for the year's riding.
Whatever it is, there's no doubting that with an increase in altitude comes extra thrills and stunning scenery. Well, with that in mind, we teamed up with TomTom in issue 29 of ABR magazine in a quest to reveal the three highest passes in England, Wales, Scotland, Northern Ireland and the Republic of Ireland.
Upon completion of our task, we realised that we had probably created the ultimate British road trip. As a result, we thought we had better share it with the great motorcycling public.
While sections on England, Wales and Scotland have already been published, below you will find our guide to the highest roads in Northern Ireland.
1. Spelga Dam, Mourne Mountains, County Down, 365m
Most visitors to Ireland think that the water supply falls out of the sky, but we have to collect it somewhere in case the Guinness runs out, and in 1894 the burghers of Belfast had the idea of building Spelga Dam to supply the capital with water. Builders being what they are, it was finally started in 1953, and today the result is a serene and lonely lake which is home to wild trout.
The lake and the dam are also the end point of a choice of lovely rides up from the coast road, which in itself is a great run south from Belfast through the seaside resort of Newcastle, with its grand Victorian era Slieve Donard Hotel with its excellent spa if you fancy a treat. If you're feeling peckish, stay on the coast road to Annalong, where The Galley does among the best fish and chips in Northern Ireland.
>>> Like this? Be sure to check out the ABR guide to the highest passes in Scotland too by clicking here
If you don't then just double back a couple of miles to the Quarter Road and turn inland as suggested.  After that you're on an upsy-downsy B-road past little white cottages with signs outside offering the giddy delights of duck eggs for sale, and sheep grazing in pocket handkerchief fields bounded by dry stone walls, then past the Silent Valley, another reservoir which is a lovely spot for a picnic.

Alternatively, for more sweeping and faster A-roads through the mountains from the coast road, just past Dundrum follow the signs for Bryansford, with a potential two-mile side trip to Castlewellan, which has excellent gardens and a maze. Either way, when you get to the dam and the lake formed by it, downhill from the main road you'll see the old road which ran through the now drowned valley, spookily ending at the water's edge.
And behind the dam you'll find the Magic Hill, where a bike or car left in neutral will appear to run uphill. Scientists will tell you that this is an optical illusion caused by the lie of the land, but locals know the truth. It's the fairies. Either way, it's a great way to save fuel.
After you leave, you can then take one of the roads back to the coast or continue on to Hilltown and Newry down a well-surfaced road with nice twisties, especially if you're heading south via Dublin to the Sally Gap, the highest pass in the Republic of Ireland.
Start and finish point: Starting in Newcastle, ride south on the A2 coast road, and after seven miles turn left on the Quarter Road just before Annalong and follow the signs for Silent Valley and Spelga Dam.
Height: 365m
Incline: From sea level, but fairly gentle
Length: 12 miles from A2 coast road
2. Glenshane Pass, County Derry, 288m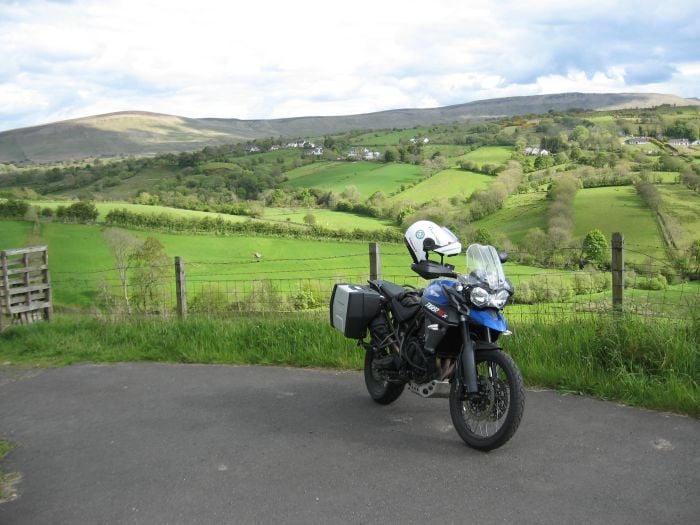 If you're looking for twisties, look elsewhere: the Glenshane Pass has just one sweeping corner, but it makes up for that with great views to the west of ancient white farmhouses, emerald meadows, shadowy woods and grazing sheep, and to the east the glittering expanse of Lough Neagh and the Sperrin Mountains beyond.
It's named after Shane Crossagh Ó Maoláin, a notorious highwayman, who roamed there in the late 17th Century. However, these days, it's a peaceful scene, and best of all, at the top of it you'll find the Ponderosa, at 947ft above sea level the highest pub and restaurant in Ireland.
There's been a pub here since 1858, but its current name comes from the Seventies TV series Bonanza. Best of all, it's been recently gutted and refurbished by new owner Karl McErlean, a keen biker, local boy made good.  Based in China he is president of the huge GIII Apparel Group, whose 237 factories, among other things, make Man Utd's replica kit.
Apart from the Ponderosa, if you're heading on to Derry, stay in the beautifully restored and friendly Saddler's House or Merchant's House and treat yourself to dinner in the brilliant Brown's.
Start and finish point: Maghera and Dungiven
Height: 288m
Incline: Gentle
Length: 13 miles
3. Skerry West Road, County Antrim, 278m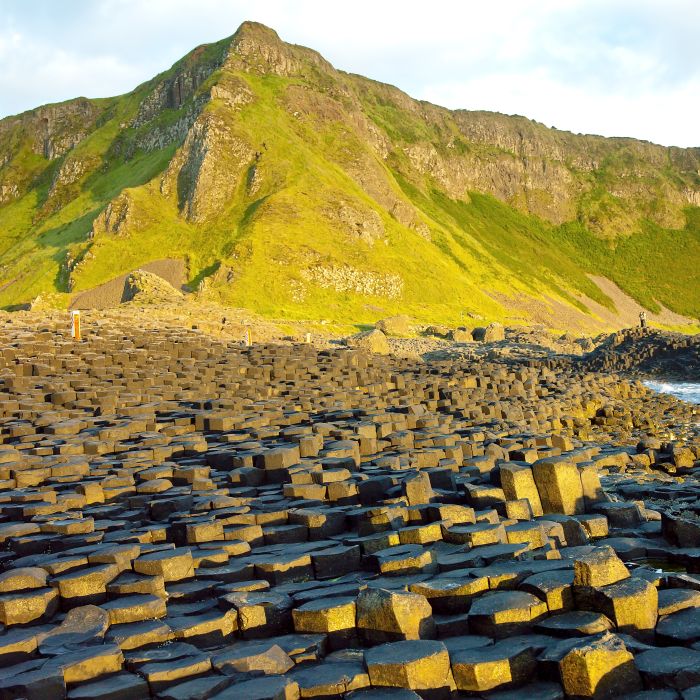 An inland diversion from the fabulous Causeway Coastal Route between Belfast and the Giant's Causeway this takes you up through Glenariff, the so-called Queen of the nine glens of Antrim, through lovely Glenariff Forest Park.
Once you're there, you can continue on gravel road to almost 1,200ft, but either way, the coastal views are glorious. After six miles, stop at Glenariff Forest Park and take the scenic Waterfall Walk through forest glades and past splashing falls.
Start and finish point: Start at Waterfoot, take the A43 inland. After 10 miles, turn right on Crommelin Hill then Omerbane Road.
Height: 278m
Incline: Gentle, from sea level at Waterfoot
Length: 11 miles from Waterfoot on the A2 Causeway Coastal Route
If you want more like this you should check out issue 29 of ABR magazine which features our full guide to Britain's highest passes. Click here to find out how you can get your hands on all new issues and the complete back catalogue of Adventure Bike Rider.