SWM's much-anticipated 600cc adventure bike may just be the machine many riders are calling for, a middleweight option with a respectable price point.
Well, with the SuperDual now expected to hit UK dealers by August, we won't have to wait long to find out.
"We've been assured of a late July date for shipping the bikes, but with all new models there are inevitable delays, so I'm saying August to our dealers," SWM Sales Manager Craig Whitney tells us.
"There's so much interest in this model, if it translates into sales our dealers should be swamped! We've already taken dozens of advanced orders from dealerships, so when the factory starts production, we should have a good supply in the UK to meet demand."
It's a prospect that will have looked unlikely many years ago with the Italian manufacturer facing liquidation in 1984.
Fortunately, this well respected motorcycle brand has been given a new lease of life since being resurrected by former Husqvarna engineer Ampelio Macchi with the help of funding from Chinese motorcycle manufacturer Shineray.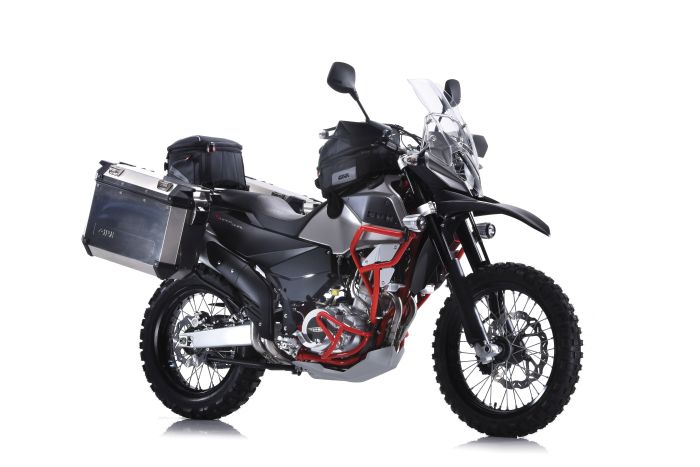 With assembly taking place in the former Husqvarna factory in Biandronno, Italy, and a full range of motorcycles in production, it looks like SWM are well and truly back in business.
The company's new SuperDual adventure bike is based on the same platform as the RS650R and draws many of its mechanics from the Husqvarna TE630.
You can expect a 600cc liquid cooled, fuel injected, single-cylinder engine (the same as is being used in the new AJP PR7) pumping out around 50bhp.
The SuperDual will be touting a 19" wheel at the front and 17" at the rear which may come as a surprise to some. But the idea here is that the smaller wheel size on the SuperDual will help the bike's road manners, while those who want true off-road performance will be able to opt for the more enduro-based RS650R.
Suspension comes in the form of Marzochi front forks and Sachs rear shock which provides 210mm of travel at the front and 270mm at the rear.
In an effort to boost the SuperDual's touring capabilities, the metal tank has a fuel capacity of 19L while the seat height comes in at a reasonable 890mm.
Additional features include a sump guard, crash bars, centre stand and rear rack while a cush-drive is now set to feature at the rear as a result of observations and questions coming directly from the ABR forum.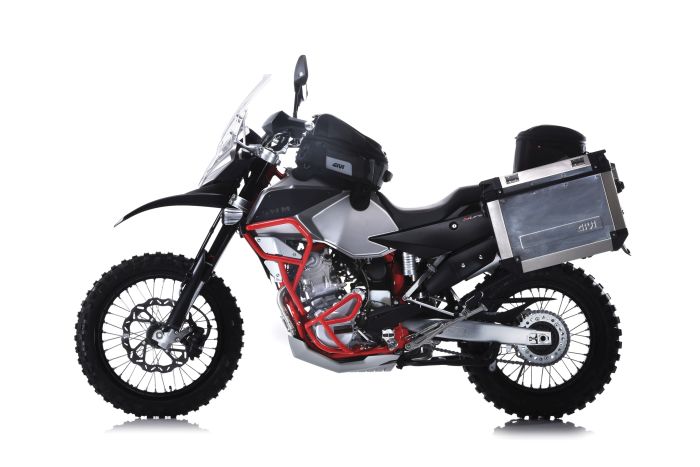 Those who have taken an interest will also be glad to hear that a fully-loaded SuperDual has a projected RRP of under £7,000 making it a very competitively priced middleweight adventure bike.
The Italian manufacturer is also in talks with Givi about the provision of hard luggage and tank bags and Switzerland-based Enduristan about soft luggage.
As the SuperDual carries many similarities to the Husqvarna 630TE it is also worth considering that many of the Touratech parts designed for the latter are likely to bolt onto the new machine without too much trouble.
And while these parts are currently on back order, it is a situation that Whitney believes may change as demand for the SuperDual increases.
"We're assured by the factory that many, if not most of the accessories fitted as standard to the SuperDual (i.e. screen, spotlights, crash bars etc.) will fit straight on to the RS650R," Whitney added, great news for those who fancy the more off-road capable option.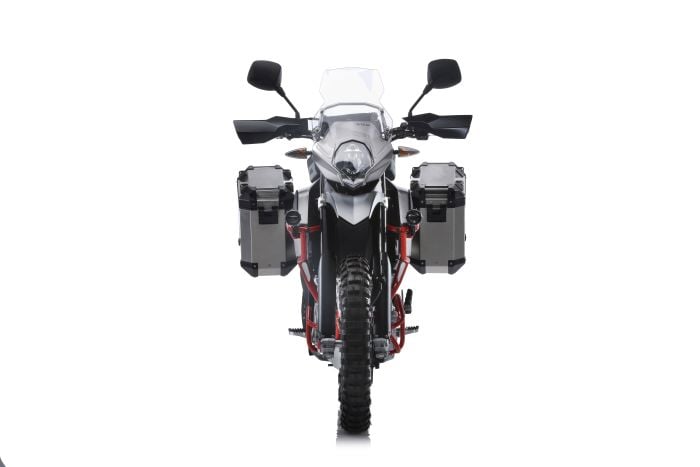 He continued, "In the meantime, I'm working with Gabriel at Zen Overland on a rear rack (an option for those who eschew hard luggage) and sump guard for the RS650R (the SuperDual features re-routed exhaust headers so the guard won't fit)  so we have at least some luggage capacity and protection for what is a great old thumper."
With many people calling for more options in the middleweight segment of the adventure bike sector, the SuperDual certainly presents an interesting option at an attractive price point.
As ever, we'll bring you more information and first impressions as soon as we get our hands on the SuperDual.