UK-based Rally Raid Products is set to debut its latest version of the Honda CB500X Adventure this weekend at the Overland and Adventure Travel Bike Day at the Ace Café in London.
The new model (pictured here with the optional 'Heritage' graphics and gold rim wheels) will be on show alongside a range of Rally Raid CB500 Adventure products, accessories and luggage options this Sunday (20 March) from 9am-5pm.
Rally Raid's conversion of the CB500X sees the introduction of high-quality suspension and spoked wheel components in an effort to turn the machine into a more capable and well-rounded all-terrain option.
Developed in conjunction with European suspension specialists TracTive Suspension, fully adjustable rear shock and unique internal fork components are said to transform the quality of the ride and also offer an increase in travel to 170mm front and rear.
The longer travel suspension also provides an increase in ground clearance while the modest seat height (860mm) is said to help the bike feel nimble and manageable on all terrain.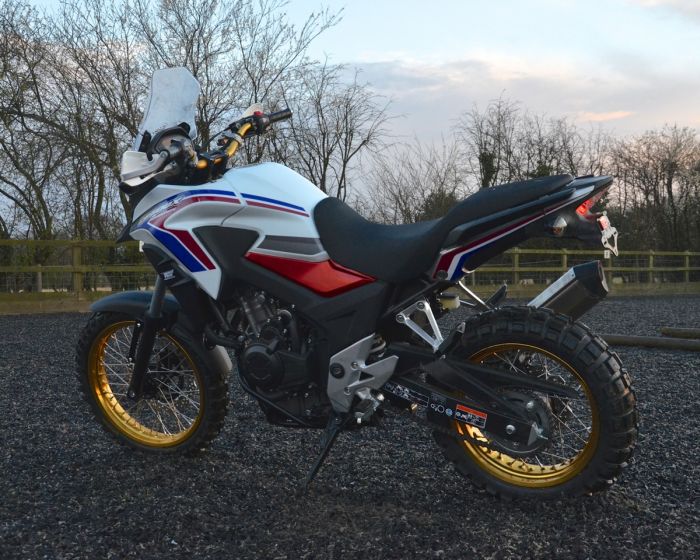 Heavy-duty spoked wheels (19" front rim) are introduced in place of the original cast aluminium 17" front and rear wheels to add to the bike's multi-terrain capabilities.
Alterations aside, the CB500X Adventure retains the 471cc parallel twin cylinder engine which is said to offer a refined ride and a standard fuel range in excess of 250 miles.
The model will be on show at the Overland and Adventure Travel Bike Day at the Ace Café in London on Sunday 20 March from 9am-5pm. For more information click here. To find out more about the Rally Raid modified CB500X click here.