The fight for dominance in the lightweight adventure and trail bike market has been hotting up recently.
After rivals such as BMW and, most recently KTM, released their own small capacity adventure bikes, Honda has responded with the updated CRF300L and CRF300 Rally for 2021.
First released in 2012, the CRF250L  immediately proved popular with trail riders due to it's off-road prowess and ability to hold it's own on the road when travelling between trails. Building on this initial success, the Japanese manufacturer followed it up with a travel-focussed variant, the Honda CRF250 Rally, in 2017.
The Rally also proved a popular choice among overland travellers, positioning itself on the fine line between mini-adventure bike and trail bike. Owners were happy to sacrifice speed and power for a lightweight machine and easy-going with genuine off-road ability.
The new models come with a number of changes that make them, on paper at least, lighter, more powerful, and better off-road than these previous variants, and their competition.
Here are the headline changes for both models:
Euro 5 compliant engine with an increased capacity of 286cc
27bhp power output, an increase of 10%
26.6Nm torque, an increase of 18%
Wet weight reduced by 4kg
Revised gearing
Introduction of an assist/slipper clutch
New LCD instrument display
Ground clearance increased on both models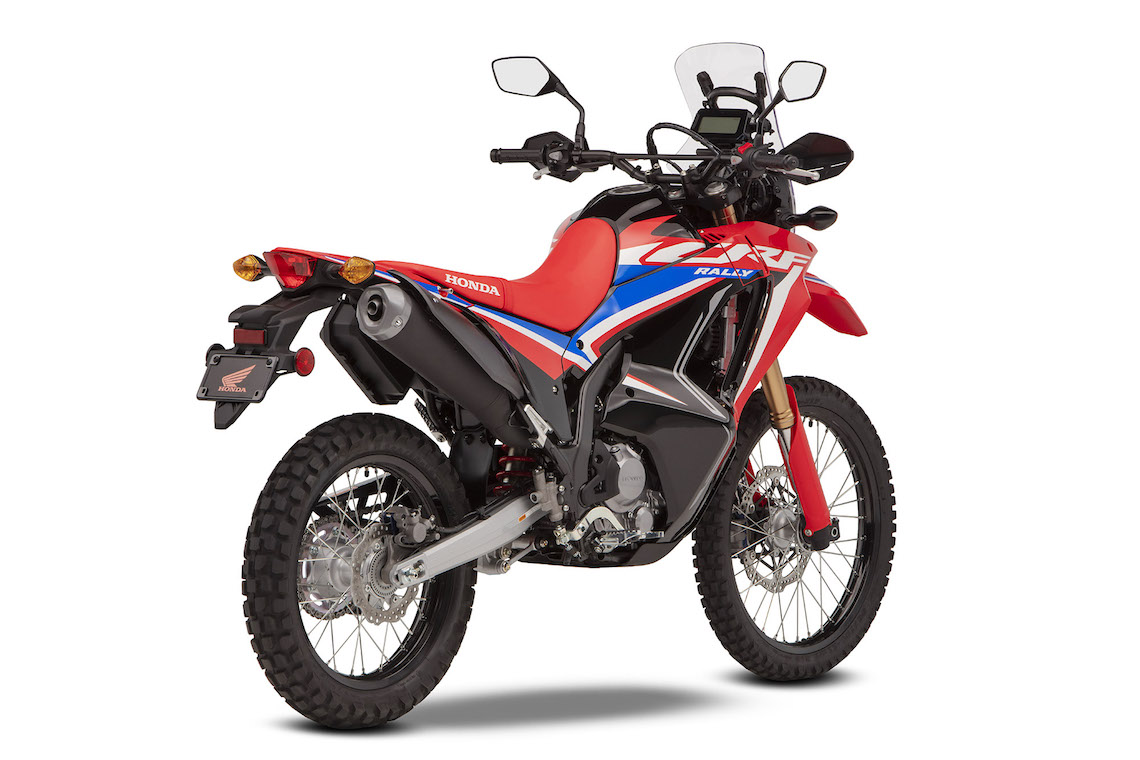 Engine changes
The first major change for both models is evident in the that they share engine, with an increased 286cc capacity, up from 250cc previously.
This increase makes both Euro5 compliant. It has also helped Honda squeeze out a little more power from the single-cylinder engine. The updated power plant now produces 27bhp and 26.6Nm torque at 6,500rpm, up 3bhp and 4Nm from the previous model.
Alongside this, the gear ratios have been changed. Gears one to five have been made shorter to improve acceleration, while sixth gear is taller to allow for more relaxed high-speed cruising. These changes result in a small increase in top speed, with Honda claiming the CRF300 Rally will now reach 84mph, up from 80mph, while the 300L will reach 82mph.
Honda also says the introduction of an assist/slipper clutch will make operating the lever easier, while also managing rear wheel slipping during hard down shifts.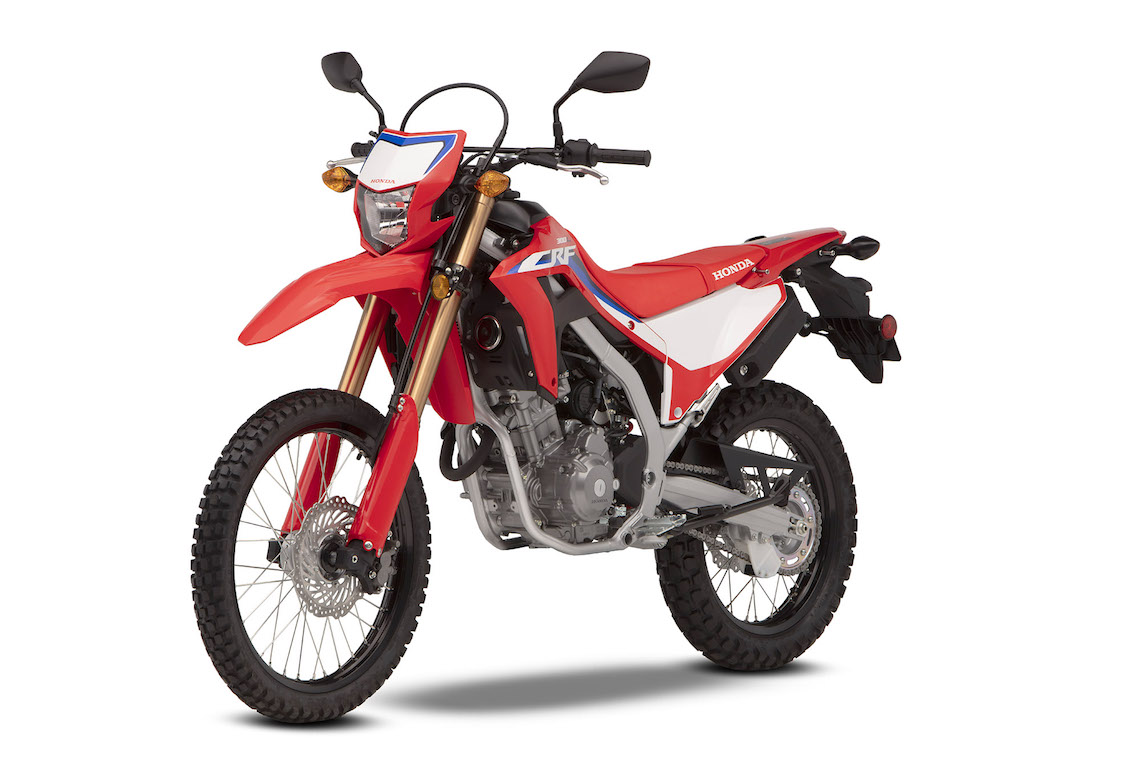 Chassis changes
Away from changes to the bike's power delivery, Honda has given both a redesigned steel frame and aluminium swing arm, which it says will aid feedback and feel off-road. The revised chassis is also the major reason behind the 4kg drop in weight for both models, with CRF300 Rally weighing 153kg wet, and the 300L weighing 142kg wet.
The slight reduction in weight will be welcomed by trail riders, as will some other changes Honda has made.
Ground clearance has been slightly increased by 5mm to 275mm for the Rally, while the 300L gets a larger 40mm increase to 285mm.
Suspension travel has also increased. On both models the 43mm Showa inverted forks at the front gain 10mm of travel to 260mm, while at the rear the Pro Link suspension gains 20mm of travel to 260mm.
Bringing the bikes to a stop is a 296mm disc at the front of the Rally, and a 256mm disc on the 300L. Both are gripped by a two-piston calliper. The two bikes also feature a 220mm disc and single-piston calliper at the rear. Two-channel ABS comes as standard.
The new brake discs also feature a wave design, lifted from Honda's off-road competition machines, which has what it calls 'exceptional self-cleaning abilities in adverse conditions'.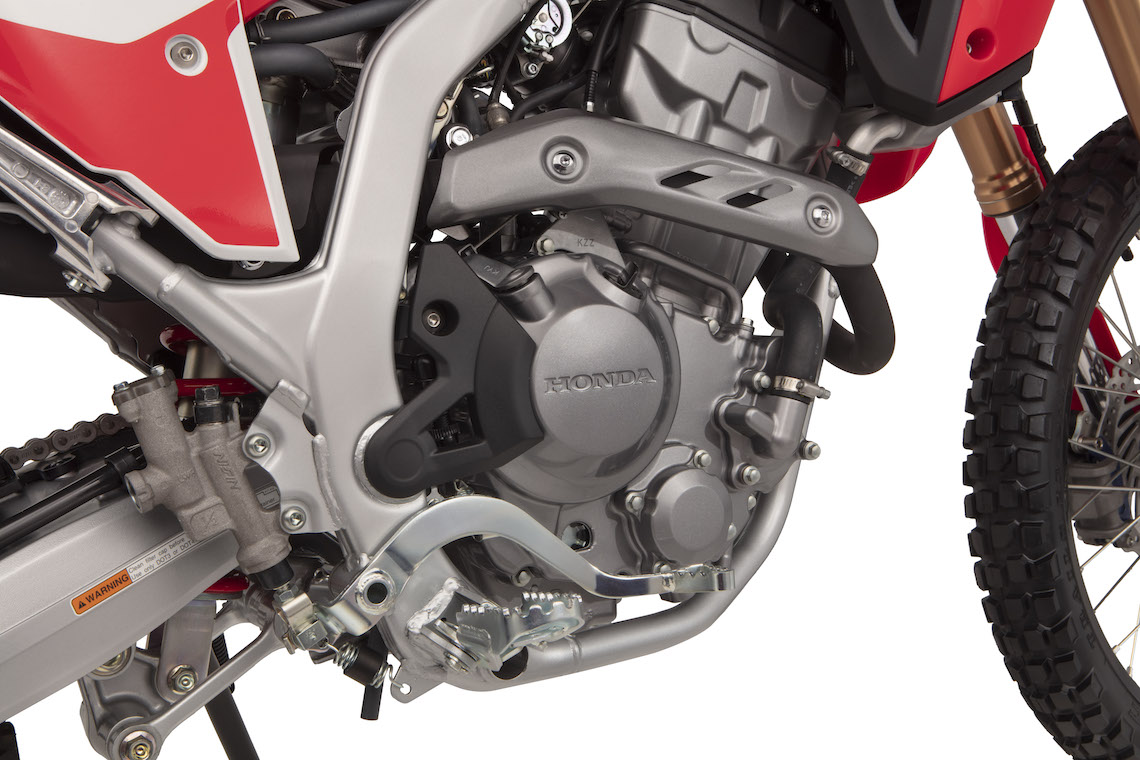 Updated styling
Both bikes come with a refreshed, slightly slimmed-down look for 2021, which Honda says has been inspired by it's off-road focussed racing line-up.
Fuel capacity on the CRF300 Rally has increased to 12.8l, up from 10.1l, while the tank is lighter and slimmer to ensure it doesn't get in the way when a rider stands up off-road. Honda claims this will give the CRF300 Rally a range of over 250 miles.
Capacity remains the same (7.8L) on the 300L, but the tank has undergone the same redesign to make it slimmer and lighter.
On both models the handlebars have also been pulled back slightly and the foot rests lowered to create a more comfortable standing position. The Honda CRF300L has had its seat height increased by 5mm, to 880mm, while on the Rally variant it has been lowered by 10mm to 885mm. It's a move that should make the bike a little more manageable for those with shorter legs.
Finally, the Japanese manufacturer has fitted a redesigned LCD display to both bikes, which it says is easier to read. The Rally also gets LED headlights, tail lights, and indicators, adding a touch of modernity to what is an otherwise stripped-back bike.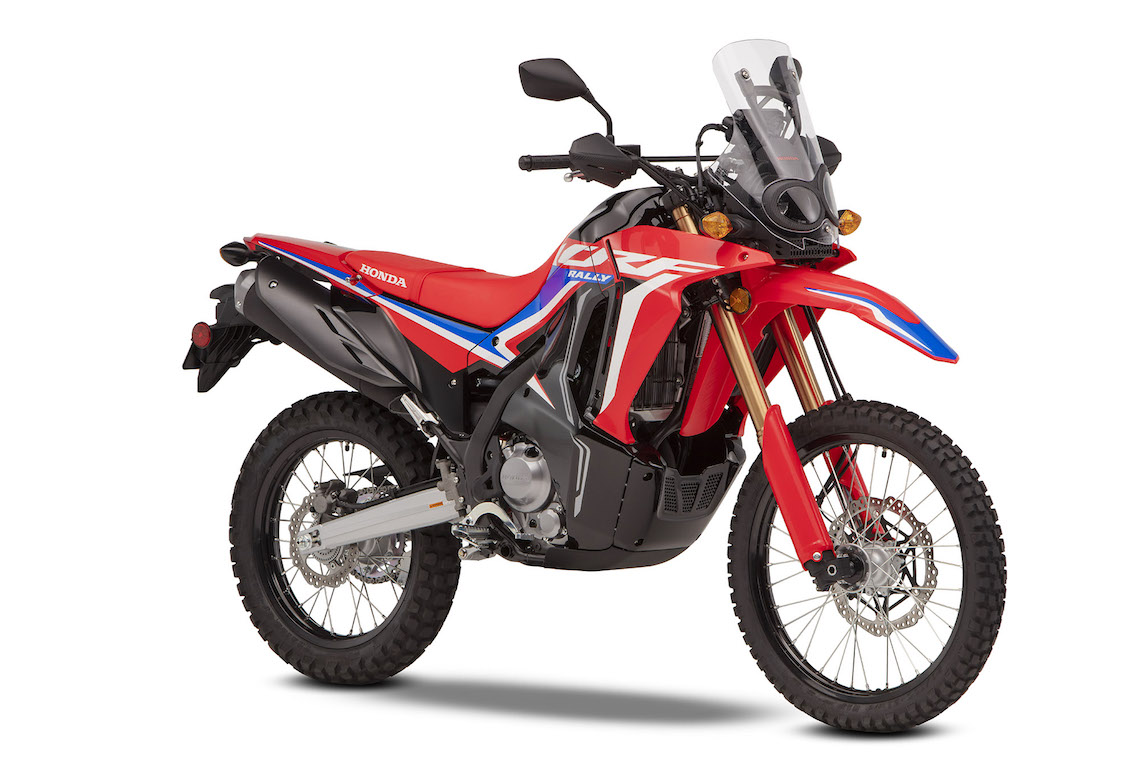 Is the Honda CRF300 Rally the ideal overlanding bike?
While both models have undergone an update, it's the CRF300 Rally that has caught our attention in the ABR office.
Unlike rival small-capacity adventure bikes, like the KTM 390 Adventure and the BMW G 310 GS, which are predominantly road focused machines with some off-road capability, the CRF300 Rally is basically a trail bike sporting a few additional features to make it a more pleasant ride over long distances and on the tarmac.
While the relatively low-powered single-cylinder engine won't appeal to people set on riding big-mile tours across continents, the Rally should appeal to those who are happy to travel at a more sedate pace whose adventures take them on and off road.
The previous model, CRF250 Rally, was a fun and relaxed bike to ride in the dirt, a formula which proved popular with buyers. Let's hope the 2021 bike lives up to that success.
The Honda CRF300 Rally will be available in the new year for £6,100, while the CRF300L will set you back £4,999. Keep an eye on our website as we'll be testing one out in the new year. But, for now, what do you think of the new bikes? Let us know in the comments.
Want to test ride the latest adventure and touring bikes in one venue?
Looking to buy a new bike? You can test ride the latest and greatest adventure and touring bikes from the world's leading motorcycle manufacturers at the 2021 Adventure Bike Rider Festival (25-27 June 2021).
Pick up your discounted tickets and save £10 by clicking HERE. Previous years have always sold out, and 2021 will be no different, so book today to avoid disappointment.