Italian-based accessory firm GIVI has revealed a new range of soft luggage for motorcycles with pieces said to be suitable for all sorts of motorcyclists.
The 13-strong range includes tank bags, tail bags and saddle bags to name but a few of its variants and all of the pieces are made from 600D polyester in an effort to offer substantial durability and sturdiness.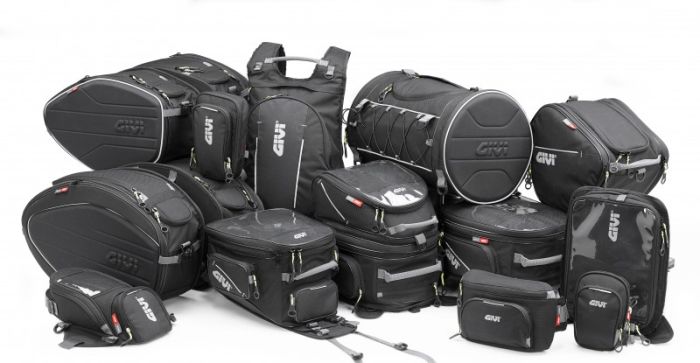 The Easy-T range
Named the Easy-T range, the products were built with simplicity in mind and the items of most interest to ABRs will be the tank bags. Especially the 25-litre one which has a specific base for adventure bikes such as the BMW R1200GS, F800GS, Suzuki DL 650/1000 V-Strom and the Yamaha XT1200Z Super Tenéré to name but a few.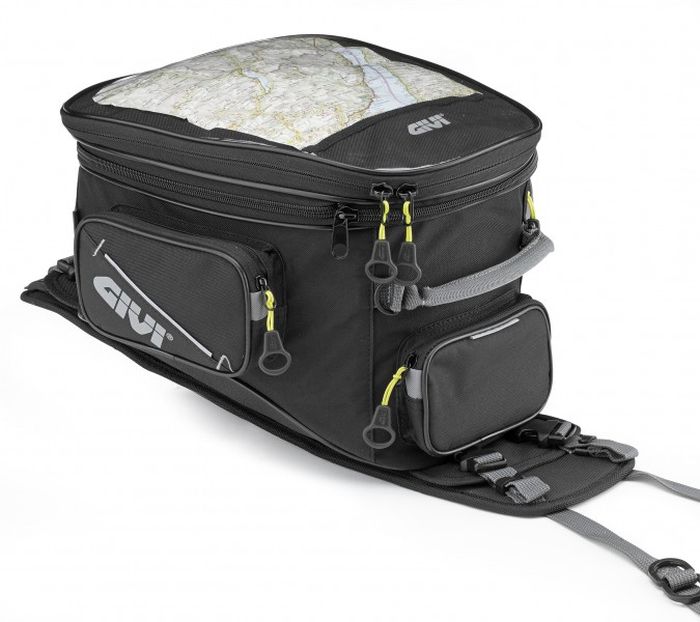 GIVI's trail-specific tank bag (EA110)
Beyond those machines, the bag can also be attached to all other adventure bikes with a similar tank, using the three adjustable straps provided. This specific tank bag (EA110) also benefits from a rain cover, map holder and reflective detailing.
The range also sees the inclusion of further tank bags offering features such as phone holders, tablet holders and a modular design offering expanded storage.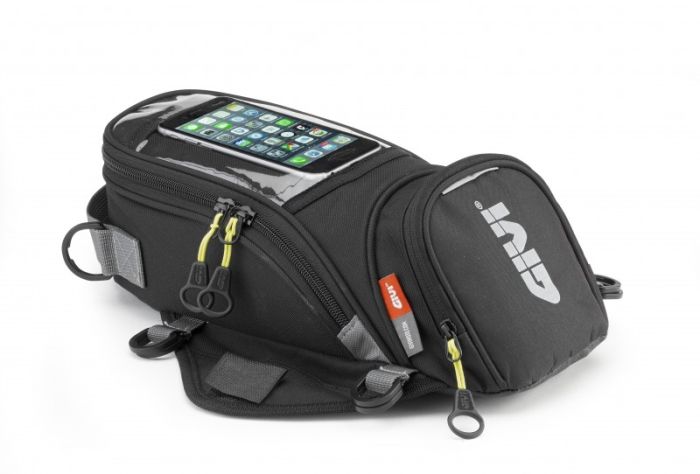 GIVI's EA106B tank bag
Further options in the Easy-T range include 30/40-litre expandable saddle bags, rucksacks and a 35-litre tail bag, plus five "Urban" colour variations. Below you will find the full range of products and their corresponding prices:
40-litre expandable saddle bags (EA100B) – £111.64
30-litre expandable saddle bags (EA101B) – £101.94
25-litre tank bag (EA102B) – £69.9
25 + 15-litre modular tank bag with magnets (EA103B) – £102.91
22-litre expandable rucksack with helmet holder (EA104B) – £53.44
15-litre tunnel bag for scooter (EA105B) – £59.22
6-litre tank bag with magnets (EA106B) – £37.32
35-litre tail bag (EA107B) – £77.18
Waist bag (EA108B) – £18.44
Leg bag (EA109B) – £19.40
25-litre tank bag with specific base for trail motorcycles (EA110) – £78.80
Tablet holder with removable magnets for the tank (EA112B) – £38.94
XL leg bag (EA113B) – £29.34
To see the full range and find out more information, click here.