Italian gear manufacturer Givi has revealed a new set of soft luggage, called the Canyon range, aimed at adventure bikers, and it looks ace.
The new gear has caught our eye at ABR HQ for a couple of reasons. Firstly, we're always on the lookout for new innovations in the world of adventure biking, and new soft luggage that promises features that will compete with the hard plastic and metal offerings around is well worth a look in our eyes.
And secondly, we've long been fans of the offerings from Givi. From the iconic aluminium Trekker panniers to a range of cavernous top boxes, they've kept our luggage dry and safe on adventures across Europe, and the new kit looks set to continue that trend.
So, here's a round-up of the most eye-catching soft luggage available for adventure bikers in the Canyon range.
GRT709 Canyon 35L soft panniers

First up are the Canyon soft panniers. With 35L of storage on offer, as well as a roll top design for easy packing and a mechanism for quick mounting and dismounting, Givi's soft panniers look like an attractive alternative to heavy aluminium panniers, particularly if you're planning to tackle some trails while away on tour.
The outer is made from a robust waterproof polyester, designed to endure plenty of abuse when riding off-piste, while the inside is lined with a waterproof inner bag to keep your undies dry during water crossings and sudden downpours.
It's also good to see that the backplate of each pannier comes equipped with Givi's Monokey fitting system, a popular feature on the brand's hard luggage. This means that they can be fixed to metal racks and are easily put on and taken off on the road, unlike other soft pannier systems where you'll need to faff around with straps. 
Some of the nifty features include a document pocket inside the inner bag for passports, ferry tickets, and other important documents. There's also a handy outer pocket shaped to take a large thermos flask or water bottle, ideal for a mid-morning tea break on tour.
There are also MOLLE attachment straps on the front and bottom of the panniers, and 10 fasteners are included with the panniers to help you secure those little extras, like tool rolls and fuel carriers, within easy reach.
Mixing the convenience of hard luggage with the light weight of soft offerings, Givi may well have done enough to tempt a few to make the switch from hard to soft luggage.
GRT715 20L waterproof tank bag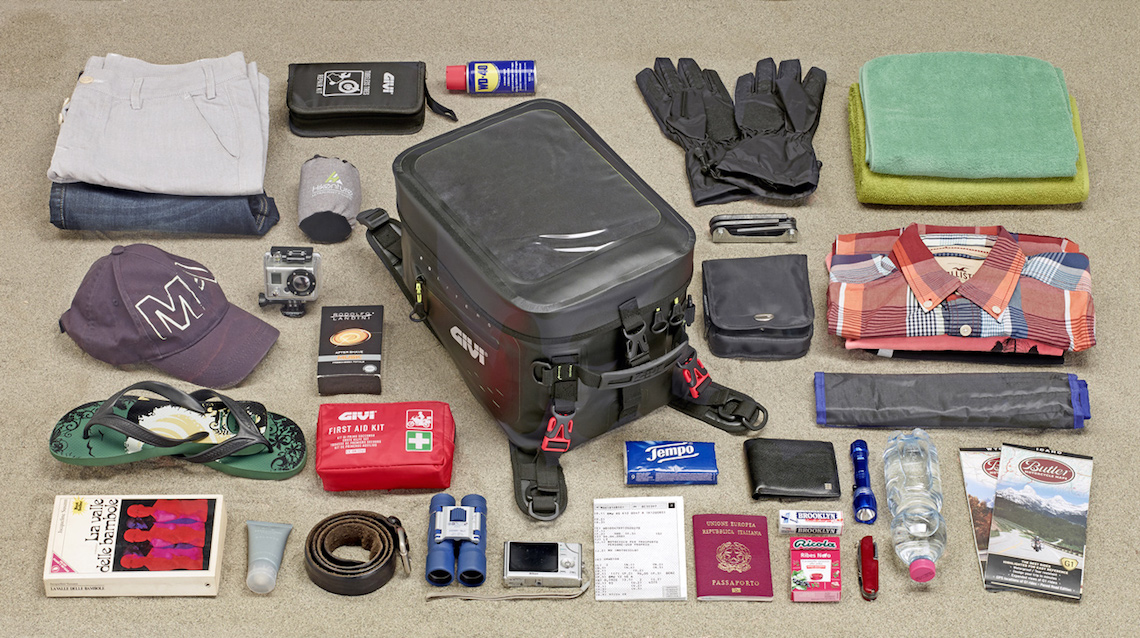 Next in the range is the GRT715 waterproof tank bag. I've always been a firm favourite of taking a tank bag away on tour because of the convenience they offer when it comes to storing valuables and carrying them away from my bike during brief stops, and the GRT715 looks perfect for the job.
With a massive 20L of storage, a fixed mount to allow you to quickly remove and re-attach the bag on the road, and a shoulder strap to help you carry it off the bike, it's a simple way to keep all of your valuables, such as my DSLR and spare bike keys, safe and in one place during a tour.
When you're in the saddle, there's also a map/tablet pocket with a transparent top, which allows you to view your map, phone, or tablet while you're riding along.
GRT722 mini 8L water-resistant rollbag

Finally, I'm a particular fan of the mini 8L rollbag, designed to provide an extra bit of stash space when attached to other pieces of soft luggage, or even when strapped on to your crashbars.
Much like the other luggage in the range, the GRT722 is made from a robust waterproof outer shell, while a roll-top stops water from getting in when the bag is sealed up.
The bag is secured with a set of sturdy straps to ensure it's held in place, no matter how much punishment you take on the trails. Perfect for storing tools, spare tubes, or other bits of kit that you don't want to bury away in your other luggage.
Check out the full Givi Canyon range
Above I've checked out just three of the Givi Canyon soft luggage options for adventure bikers from the Italian brand, and there's plenty more on offer.
To find out more, and to view Givi's full range, head HERE.