So, you're planning on heading off-road and you're wondering if your regular go to road helmet is up to the job.
In terms of protection for your head, obviously a flip-front or full-face touring lid will do the job, but there are other factors you will want to consider if you are venturing off the black top.
Concerns like noise reduction and wind protection which are big factors on the motorway, give way to issues like ventilation and visibility for the different type of riding you'll be doing on the trails.
To help you navigate your way to your first off-road lid we have teamed up with our friends at Givi to walk you through the process.
Do I need a peak?
If you want the quintessential adventure biker look, there is only one way to go stylistically and that is a peaked helmet. Take a look at what is adorning the Ewan McGregor's A-list noggin in the Long Way Up and you will note the peak protruding from the front.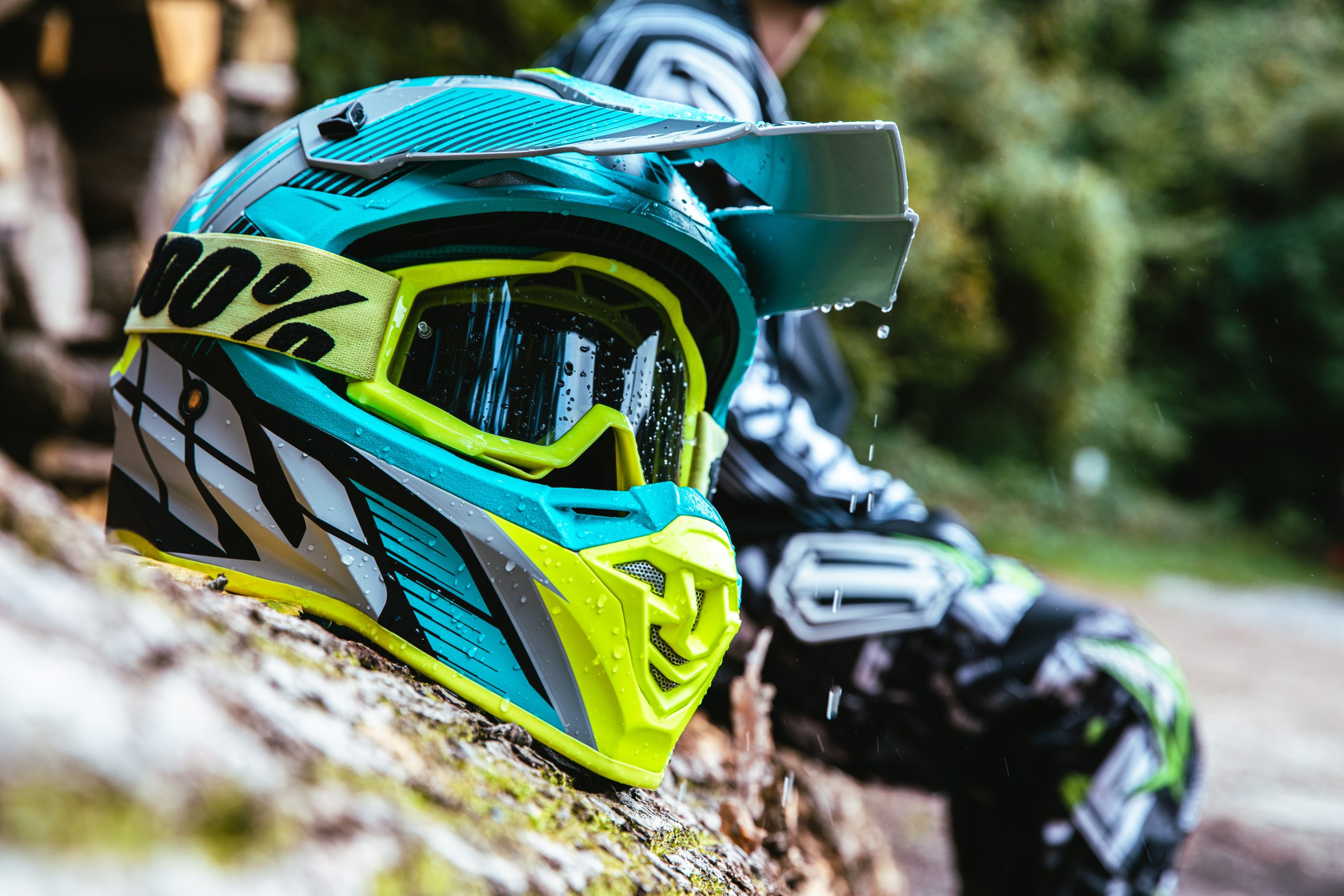 The reasons for the peak aren't simply because they look cool, they also keep the sun and rain out of your face, as well as helping push branches and foliage out of your face if you venture into overgrown wooded areas.
This is great as it allows you forgo a visor for weather protection when you're on a greenlane, a blessing if you are riding slowly in hot weather.
Which brings me on to my next point.
A visor or goggles?
If your riding involves hours tanking down the motorway then I would always advise you opt for a visor. They are quieter and leave no part of your handsome visage exposed to the elements.
Riding off-road, however, is a whole different ball game so we have different things to consider. For example, you are unlikely to be hitting 70mph on a green lane.
Therefore, wind protection becomes much less of a concern and getting hot, panting like a labrador on a treadmill, and fogging up your eyewear rises up your list of potential problems.
For this reason, you may wish to consider goggles instead of a visor. As anyone who has ever skied will know, a decent set of these are unlikely to fog up because they leave your nose exposed while still retaining a good field of vision. Additionally they sit snugger to your face preventing any dirt that may be thrown up through the chin bar gap from getting in your eyes.
They also have a retro feel, so you can channel your inner Steve McQueen while you're out on the trails.
Your chinny-chin-chin
Another thing to look out for when buying an off-road helmet is an extended chin bar. This provides you with better ventilation at low speeds.
This is why helmets like the Givi 60.1 are great for adventure bikers who enjoy venturing off the blacktop.
They have a chin bar that comes much further out than your standard road helmet. This helps improve ventilation making it easier to breathe, which you will be most grateful of when you are muscling your ride over difficult ground.
Talkin' bout my ventilation
Another important aspect of keeping your head cool is the ventilation on a lid. Front inlets to allow air in and rear exhausts to let it out are what you need to stop you ending up a sweaty mess in the summer months.
You'll wan't to check any new off-road helmet you buy has all these features.
Again the 60.1 is great in this respect, featuring front, upper and chin guard air intakes, along with a rear extractor.
Sound and vision
When tackling a green lane or a trail, having a good field of vision is just as vital as when you are on the road.
The last thing you want is a bump or obstacle on the trail sneaking up on you and making you drop your pride and joy.
That's why when you are looking for an off-road lid you want to make sure it has as broad a field of vision as possible. You want to be able to see as much as you can out on the trails, and a motocross style helmet, such as the 60.1 is great for that as it has a large and wide opening for the face. However you still retain that added protection of the chin bar, which is comforting particularly in an off-road setting.
Another benefit of large face apertures is that you can hear more, which may be useful in a group off-road on a greenlane but could become annoying at motorway speeds. As with many aspects of motorcycle gear, it's a trade off you have to decide whether or not you want to make.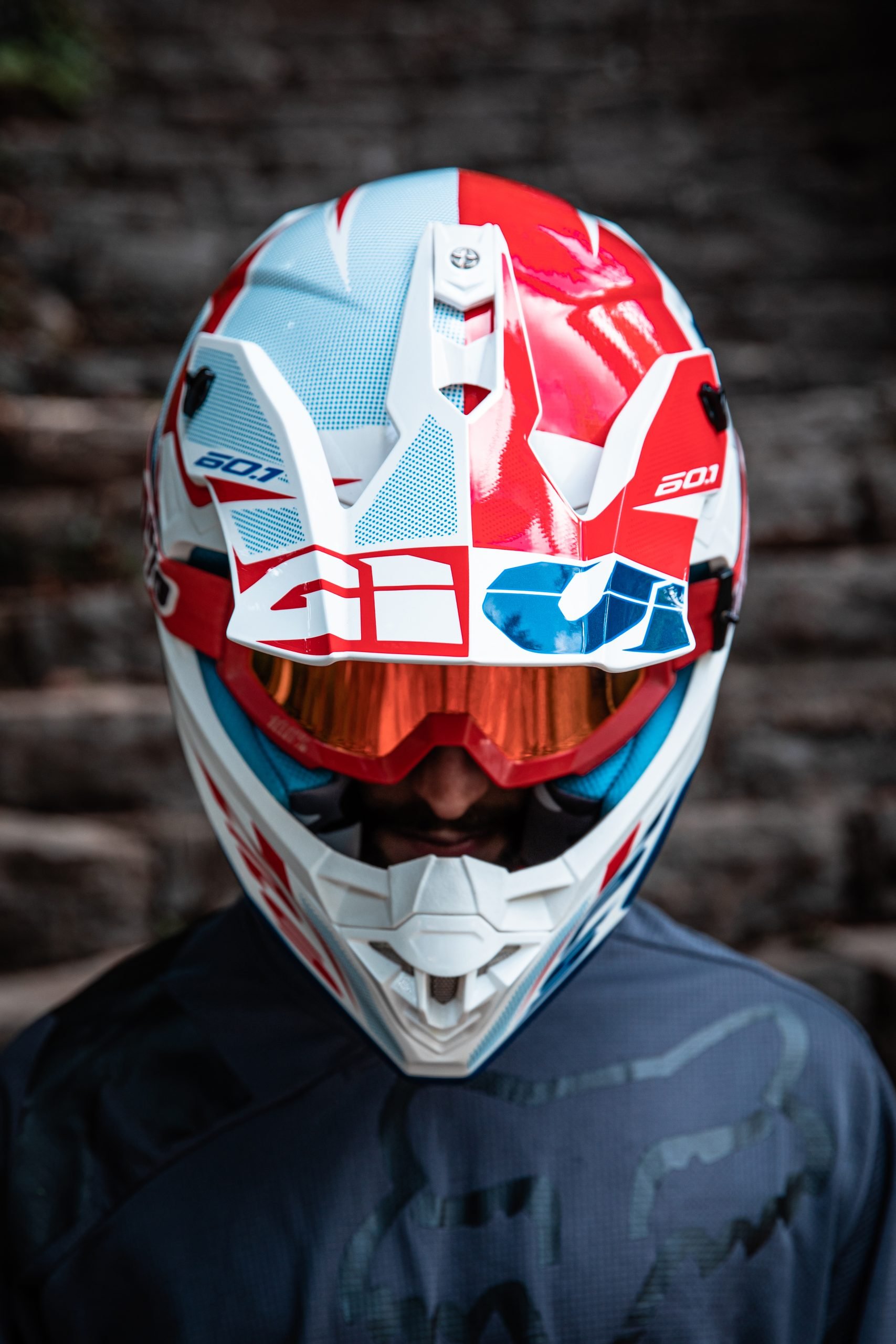 Hi-ho helmet lining
All the ventilation in the world won't stop your lid eventually becoming a touch filthy.
On the shell, this isn't a big deal as 90% of the time you can just wipe it off. However, on the inside, sweat, condensation, and various other fluids can all lead to it getting a little mucky in there.
That's why you really want a removable lining that you can chuck in the washing machine to make sure the inside of your lid remains a pleasant place to be.
Helmets such as the Givi 60.1 which comes with an interior made of hypoallergenic, removable, and washable fabric are great for this kind of thing, and just make the process of keeping your lid spick and span much less arduous.
And most importantly…
Above all else, safety is what we are after when we're buying a helmet. Your gear is replaceable, as are most of the parts on your bike, however you're stuck with the bonce you were born with for life, so you had better look after it.
This is why it is important to check the rating on a lid when you are buying it to make sure it has the best ECE rating possible for your needs.
For example, the Givi 60.1 has been developed with the latest technology in line with the new ECE 22.06 European homologation that came into effect in July this year.
This means that the tests it passed – including impact tests at different speeds, on windscreens, in rotation, on inclined surfaces, or being hit by particles at high speed – were much more demanding than in previous years.
All this results in a lid you know is going to offer great protection giving you peace of mind while you're out on the trails.
On top of all these features it comes in 10 multicoloured variants, so you're certain to be able to find one that goes with your kit, is available in sizes ranging from XS to XXL and costs a very reasonable £139. Visit the Givi website for more information.