Versatility is a key component of adventure biking. We want a motorcycle that can do it all, whether that's mile-munching on motorways, carving up and down mountain passes, or kicking up dust on the trails.
We are equally demanding of our motorcycle clothing. Four-season suits in particular are expected to keep us warm and dry in the depths of winter, while being light and airy enough to wear on a summer tour. It's a tough challenge that plenty don't meet, but REV'IT! seems to have cracked the puzzle.
A few weeks ago we took a look at the road-focused Poseidon 2 GTX four-season jacket, which you can read about here, and now we're looking at its more rugged, off-road orientated brother, the Dominator GTX suit.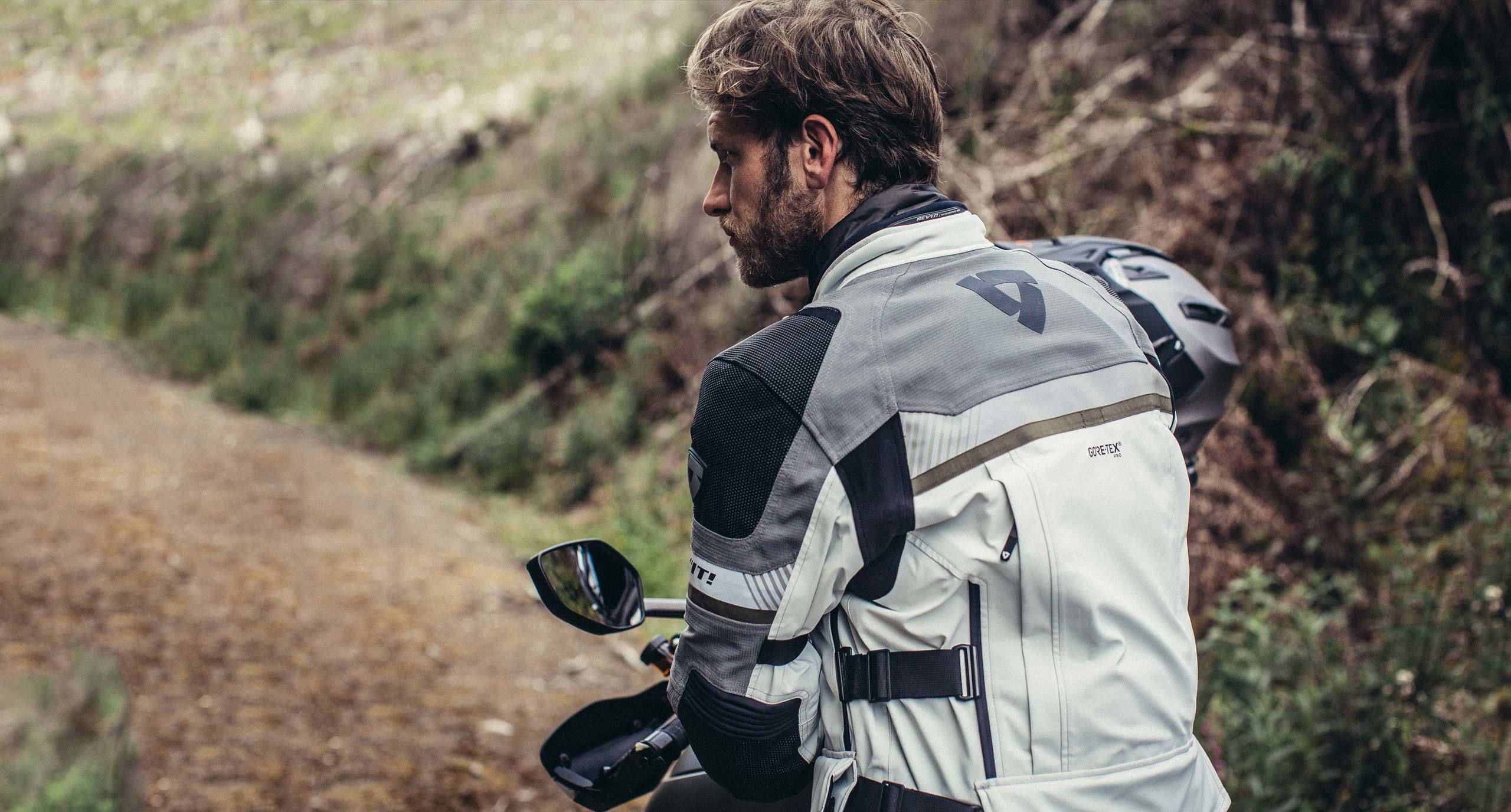 Styling and protection
This is the top of the line adventure suit that REV'IT! want you to wear while tackling a round-the-world trip. And it sure does look the part.
It retains the adventure styling we all know and love, without overdoing it. The suit comes in a black/sand combination or, our personal favourite,  light grey and green.
Impact protection in the jacket comes in the form of a SEESOFT CE-Level 2 back-protector, while in the elbows and shoulders REV'IT! relies on its award-winning SEEFLEX CE Level 2 armour. SEEFLEX is present in current jackets and its a firm favourite in the ABR office, providing comfort while staying supple and offering you full protection.
In the trousers the SEEFLEX armour is present in the knees, while SEESMART CE Level 1 armour protects your hips during an off. The textile is also reinforced with aramid, ceramic and kevlar fibre to provide abrasion protection in event of a slide.
On the trousers straps at the waist and upper calf help to pull in any loose fabric. On the jacket adjustment straps are located on each forearm and bicep, with two more at each side of your torso.
This allows you to tailor the jacket's fit and remove dead space when you first put it on, or when it comes to removing those bulky winter mid-layers when the temperature rises.
Four season protection from the elements
Speaking of mid-layer protection from the cold, the suit does not include a standard thermal liner, instead you're pushed to choose a mid-layer from REV'IT!'s range instead.
Your choice will depend on when you'll be riding, with thicker options to keep you warm in winter, or thinner options for spring and autumn rides. Our advice is often to ditch the thermal liners jackets come with and use one more suited for the weather you'll be riding in anyway, so this method cuts out the waste.
To protect you from the rain, it relies on a Gore-Tex Pro 3 layer laminated outer. This is exactly what we want to see from a premium suit. As we've touched upon before, laminated jackets are our first choice when facing wet, British weather.
In addition REV'IT!'s patented waterproof ventiliation system, the VCS|Aquadefence, consists of a rubber lip around the ventilation flaps. This is designed to stop any rain that does make it past the velcro/zip sealing combination from flooding through the vent, and soaking the rider.
REV'IT! suits have always kept us dry and with neat features such as this, the Dominator GTX looks to be no exception.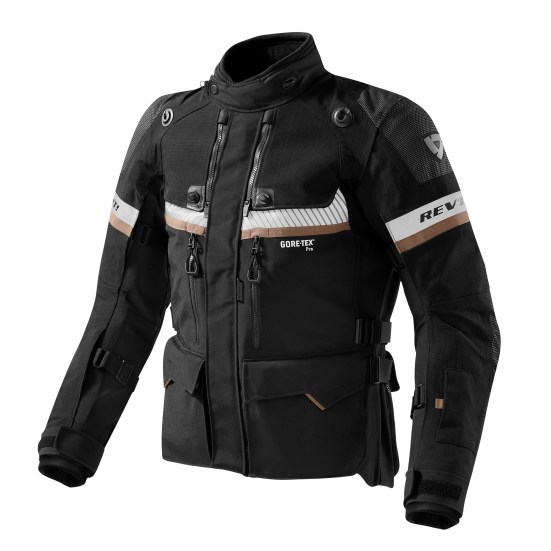 When the temperatures rise
REV'IT!'s confidence in the patented VCS|Aquadefence system has allowed them to pack this suit full of ventilation for when the temperatures rise. The Dutch outfit say they focussed on producing something that would perform as well in summer as it would in winter. From the looks of things, they may well have done just that.
Getting sufficient airflow through a pair of riding trousers has always been a tricky task, REV'IT! have tackled this by putting two large vents above the knee to catch us much air as possible as you ride along.
On the top half with two vents on the arms, a massive four on the front and two exhaust vents on the back, there aren't many other jackets on the market that can offer as much airflow in the heat. In fact, we may have something we would genuinely be happy to keep on all year round.
A suit for the whole year
In theory, we have a suit that will keep us cool when it's hot, hot when it's cold, and dry when it's wet. It may well make the rest of your riding wardrobe redundant.
The suit is priced at £999.99 for the jacket and £649.99 for the trousers. Sure, it's a premium price, but it should be a premium product.
Check out the video below for to take a look at the Dominator GTX in action: