If I could pass on four requests to the manufacturers tasked with creating the perfect adventure jacket, there would be little doubt in my mind of what I'd want to see included.
I'd want a laminated outer shell for its weather protection and quick drying nature. My next request would be ventilation, and plenty of it, to allow cooling air to flow through the jacket as I work up a sweat on the trails. Next up, I'd want adequate protection in the form of armour and abrasion resistant materials. Finally, I'd want a jacket packed full of useful storage spots and features, thought up by designers who clearly ride themselves.
Maybe I'm asking for too much, but it appears that Icon, the Portland, USA-based manufacturer of motorcycle gear, has read my mind. Earlier this year, the new and improved Icon Raiden jacket arrived in the ABR offices, and boy does it tick all of my boxes.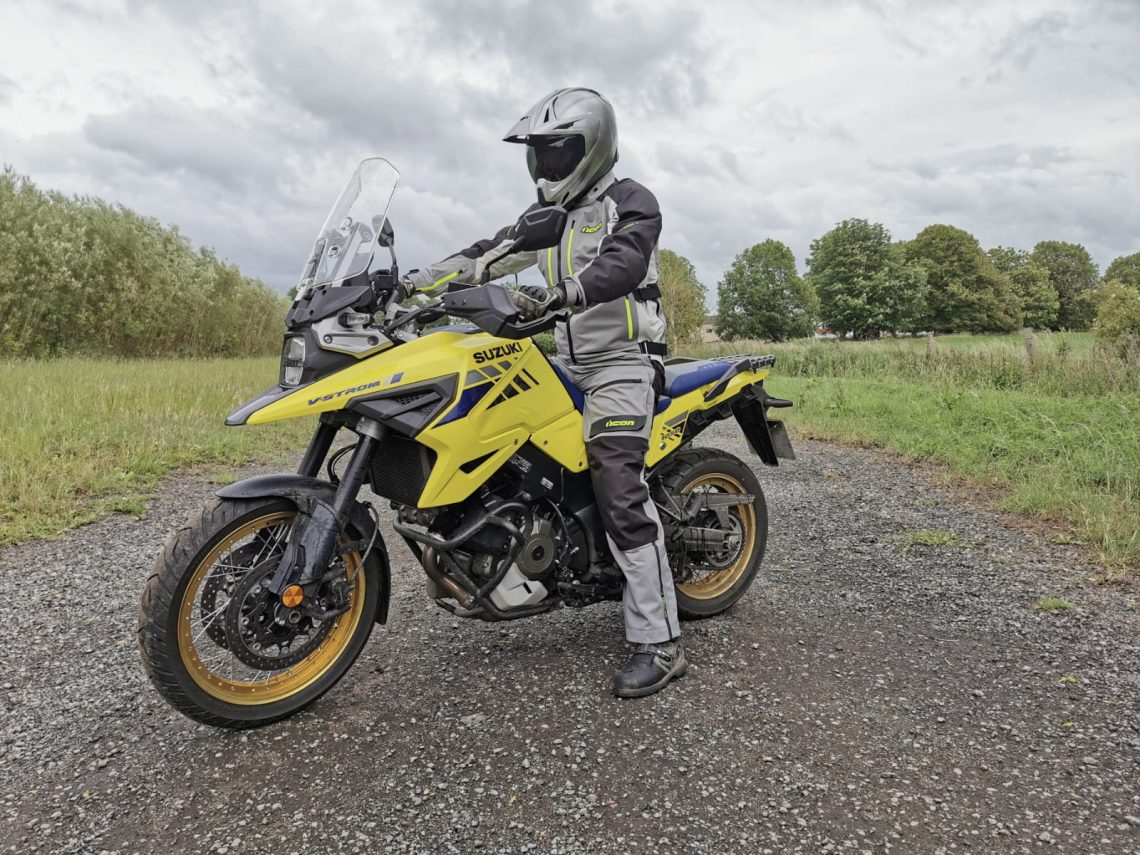 From the off it looks like it's going to follow the same formula as other Icon gear we've tried, including the Variant Pro helmet; Rugged, eye-catching designs which are ready to accompany you on your next adventure, wherever that may be.
Setting you back a reasonable £459.99, the jacket sits at the more affordable end of the laminated motorcycle jacket price range (matching trousers, which complete the Raiden suit, are available for £345.99). However, contrary to this competitive price, there's a distinctly premium feel to the product and I just couldn't wait to slip it on and take it for a ride.
First impressions
As soon as you pick up the jacket, the Raiden feels like a quality offering. The shell features a laminated and waterproof Supplex 3-layer nylon material, which looks and feels like it'd be easy to hose mud off after a day messing around on green lanes.
Alongside this sits a horseshoe-shaped Cordura overlay, which reinforces the jacket in the key impact zones of the forearms, biceps, shoulders and upper back. This works alongside D30 armour in the elbows, shoulders and back providing you with CE rated AA impact protection and abrasion resistance, keeping you protected in a spill whether you're on the tarmac or off it.
The Grey/Hi-Vis colourway I was testing also looks great. The Hi-Vis elements are eye-catching without being garish, and the whole ensemble fits in with the rough and ready looks of the adventure bikes that we love to ride.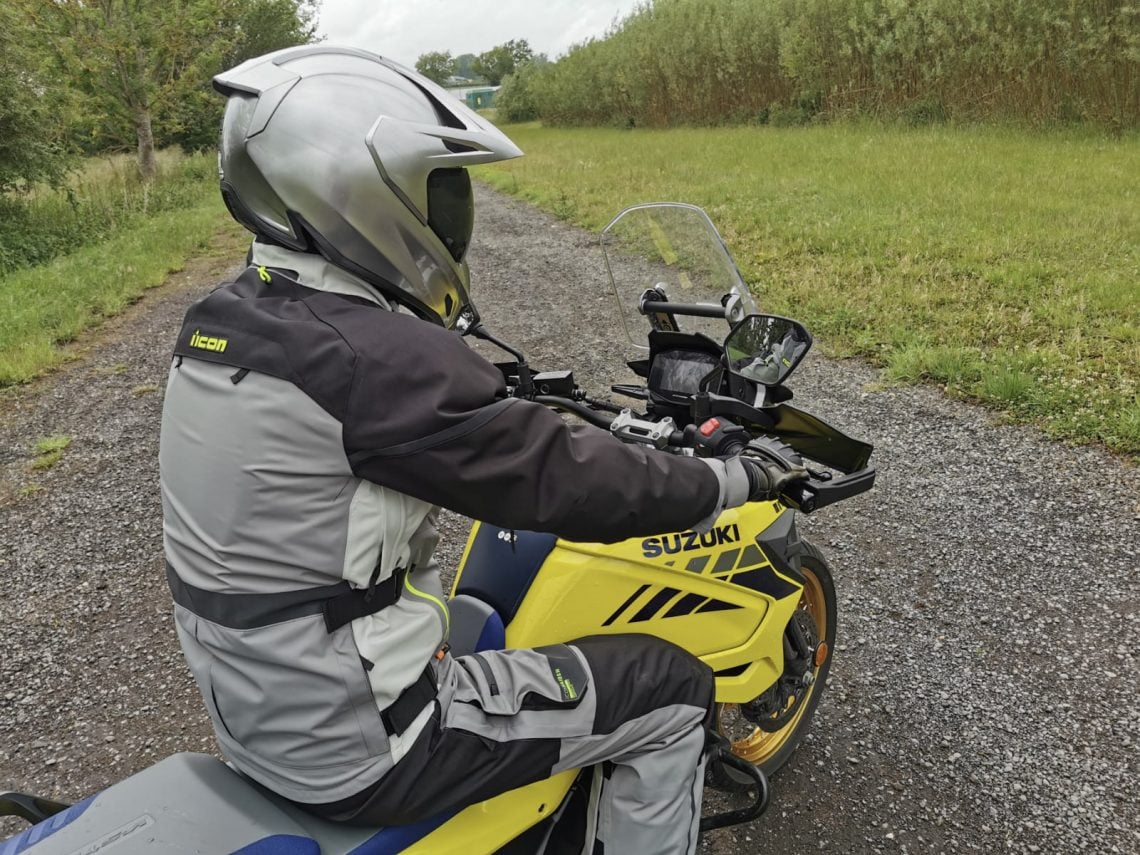 Fit and features
The fit is relaxed, with a long cut to ensure your lower back remains covered when seated. Hook and loop adjustments on the bicep, two velcro straps on each side, a toggle on the collar and velcro straps at the wrists all allow for this relaxed fit to be tailored, which is particularly useful if you're layering up or if you remove the thermal liner.
Sliding the Raiden on for the first time is also a pleasant experience. The removable insulated liner is delightfully soft, and helpfully doubles up as a light jacket when removed, perfect for wearing around a campsite or into your hotel's bar at night.
The jacket is also packed full of storage. Externally there are two front hand-warmer pockets and two rear map pockets, all four are waterproof and protected by AquaGuard zippers. Two internal zip-up pockets give you space to stash your phone and wallet in, while the left pocket also features a small Saint Christopher (the patron saint of travellers) pendant, fixed with a piece of elastic cord. A genuinely nice touch from Icon.
Handling the elements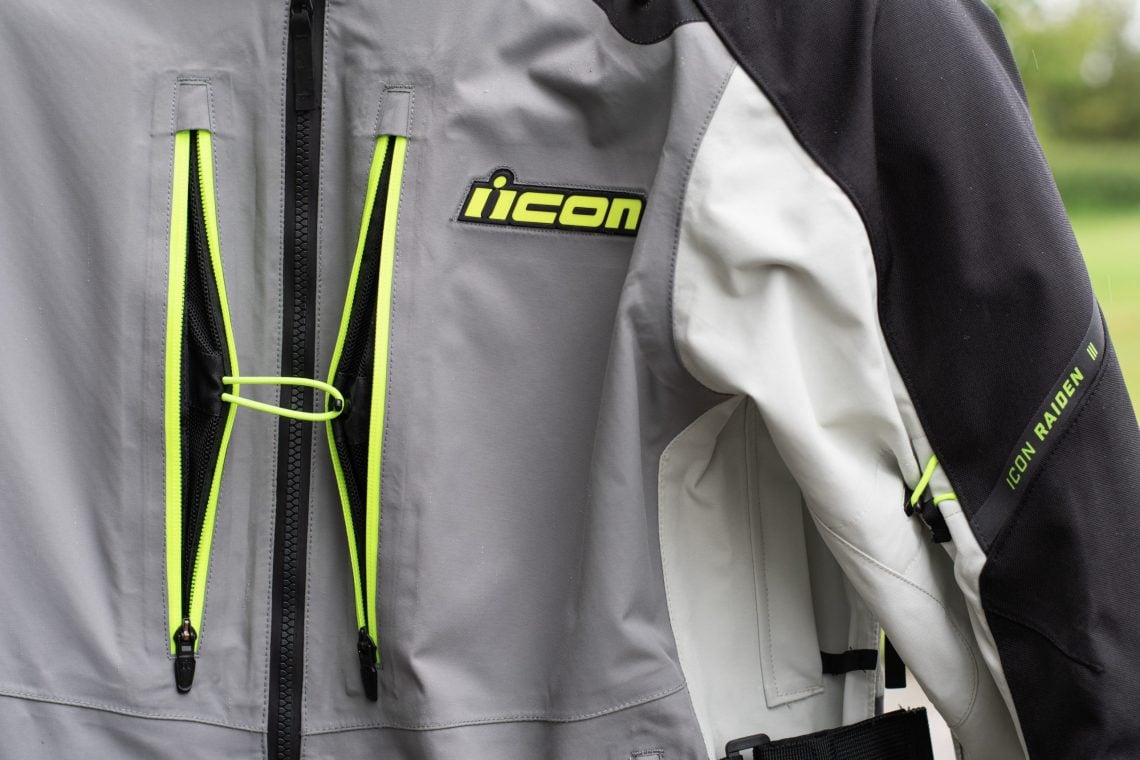 It's no surprise that the Raiden boasts a huge number of options for ventilation, after all this is a jacket that is designed to be worn as you work up a sweat on the trails.
Two wrist vents, a rear exhaust vent and two chest vents help encourage air to flow into the jacket, the latter aided by a hook and loop system that connects the two and pulls them open even further, a clever addition. The collar also features a hook and loop system that allows you to keep it open to encourage further airflow.
But the most impressive feature are two vast pit zips (longer than 30cm) positioned under the arms, helping to stave off soggy armpits as the mercury rises.
Of course, English riders will know that you're never too far away from a downpour. Luckily the Raiden is designed to be as waterproof as can be thanks to its laminated construction. We're big advocates of laminated motorcycle gear. It's quick drying and doesn't get heavy during a deluge in the same way that a two or three-layer jacket does.
When the heavens open simply zip up the vents, equipped with YKK and AquaGuard zippers, and continue riding; there's no need to faff around with waterproof liners here. This makes the Raiden incredibly adaptable, perfect for a tour or a day on the trails where you may be tackling river crossings or unexpected showers.
It's worth noting that the jacket is designed to tackle mild to hot conditions, so you may want to add an extra mid-layer if you're riding in the depths of winter.
Icon Raiden Trouser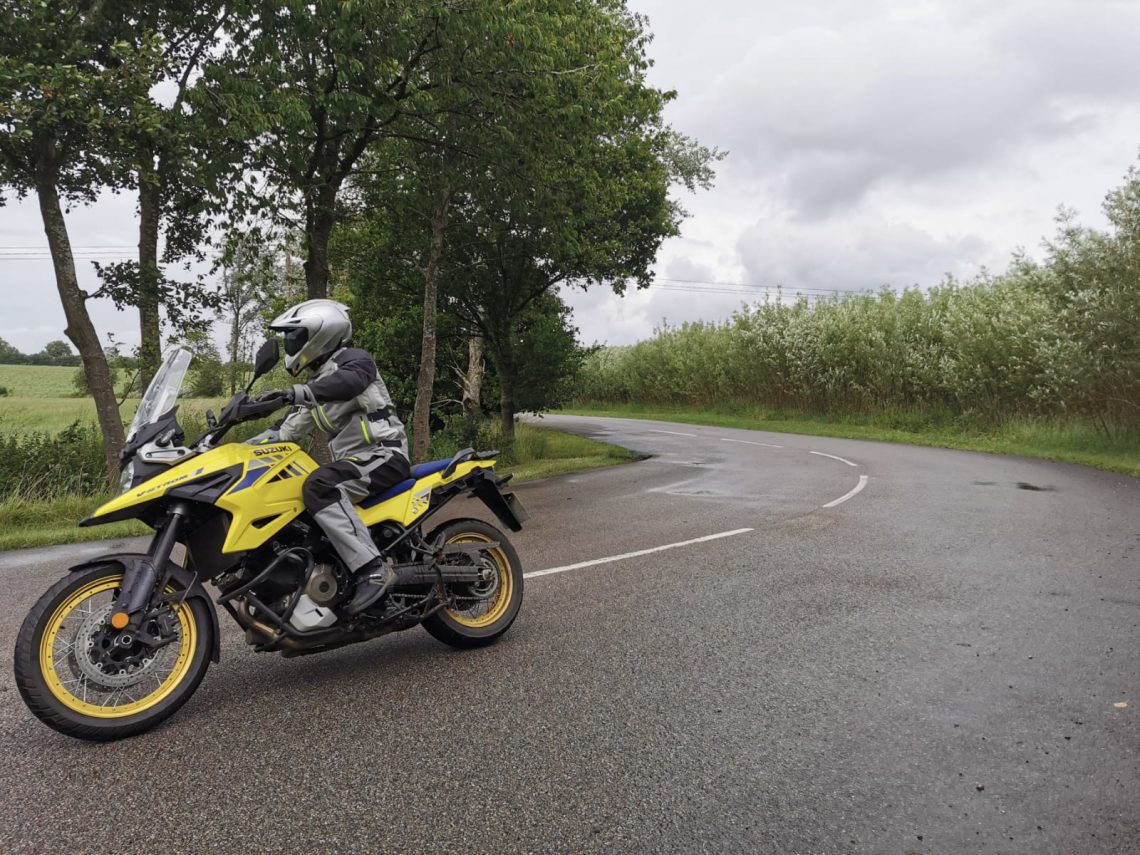 Icon also produce a matching trouser for the jacket, priced at £345.99. Using the same laminated Supplex shell as the jacket, the trousers feature Cordura reinforcement at the seat and the knee to provide that all-important abrasion resistance, while D30 impact protectors at the hips and knees (which can be adjusted across 3 positions to provide the best fit) also give it a CE AA rating.
Two thigh vents provide airflow while the Velcro lower leg adjustment gives you plenty of room to get even chunky adventure boots under the trouser. A set of braces, as well as belt loops and Velcro waist adjusters, ensure you'll achieve that perfect fit.
Icon Raiden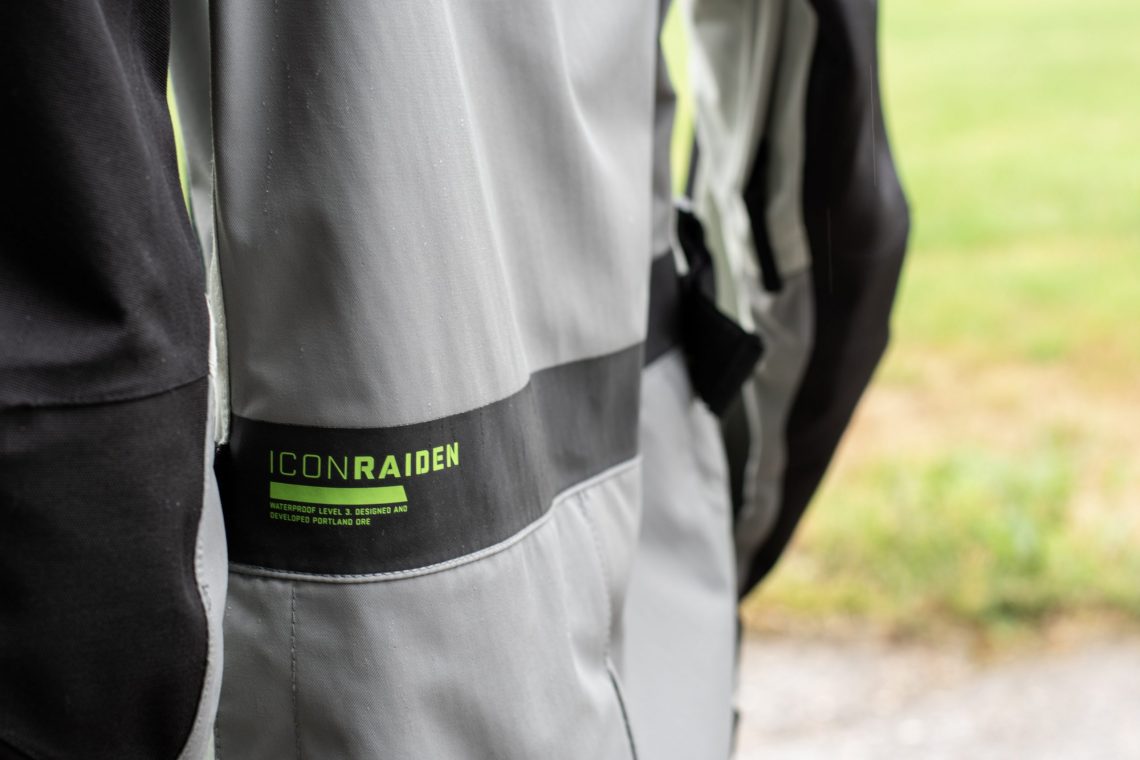 Icon says the jacket is ready to stand up to the punishment of adventure riding, and the robust shell coupled with ample ventilation suggests they're not wrong to think so.
It's not just suited for a day on the trails though. The removable thermal jacket, confidence-inspiring weather protection and hefty amount of storage also make this an ideal partner for your annual tour.
It'd be ideal for carving through the Picos de Europa or over alpine passes, where the conditions can change in an instant. Then, as the sun sets, head over to the bar in that stylish inner-jacket for a cold beer and an evening chatting about the riding you have planned for the next day.
Check out Icon's website to read more about the Raiden adventure suit.