Buying motorcycling jeans specifically designed for riding on the bike, rather than leathers or textile trousers, gives you a more stylish, no-fuss and relaxed look that will take you right through the day. Whether you're commuting to work or meeting friends at the pub, you won't need to change your outfit.
New additions to the jeans-for-bikers market are coming thick and fast as makers refine their designs and dream up new safety enhancements. There's never been a better time to buy biker denim, but with so much choice out there, finding the right pair for you can prove tricky .
There are safety ratings, certificates, and armour to consider, as well as style, comfort, construction and protection. The very best motorcycle jeans provide all of these things, and the holy grail is ending up with your favourite pair of jeans that will also save your skin on the bike.
To help you in your search, we teamed up with Ian Wilson, Director of British motorcycle jeans brand Roadskin, to bring you a complete guide to buying motorcycle jeans.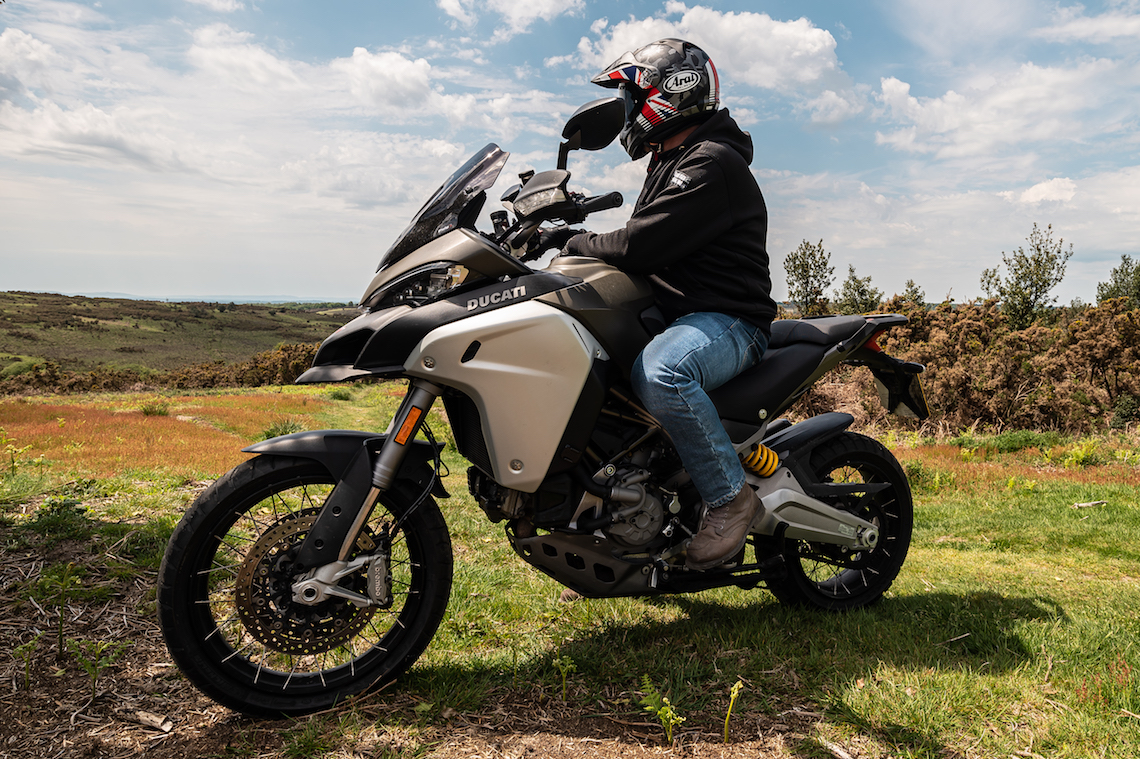 Single, double, or partial-layered construction?
Not all jeans are made the same, and the way riding jeans are constructed can change how comfortable they are to wear and how much protection they offer in the saddle.
Single-layer jeans have one outer layer made from a mix of cotton denim and abrasion-resistant materials, such as Kevlar, to provide abrasion resistance. They're often more lightweight and comfortable in warmer temperatures than double-layer jeans, but the trade-off is often lower levels of slide protection compared to double-layer jeans, which we'll touch on in a moment.
That said, there are some high-spec, high-end jeans out there that perform extremely well in abrasion resistance tests. They won't be cheap, but they're certainly worth it if you're planning on wearing your jeans all day long.
In comparison double-layer jeans tend to feature a conventional outer denim layer with a separate inner lining solely constructed from abrasion-resistant materials. That inner liner can offer impressive abrasion-resistance compared to single-layer jeans, as it doesn't need to be blended with cotton denim, but be mindful that the extra layer can be a little bulky, heavy, or hot in warmer climates.
You can also buy jeans that are part-lined, meaning there'll be a single-layer in most places, except for an additional abrasion-resistant lining in key impact and abrasion zones, such as the knees and upper legs. This focussed approach to protection ensures you're protected where you're statistically most likely to need it in an off, but it still leaves you more vulnerable in unprotected areas and can make jeans look a little lumpy.
What fabric is used?
The best motorcycle jeans are the ones where you can't tell they're motorcycle jeans. Despite their hi-tech fabrics and pockets for slimline armour, they will look just like cool, conventional denim jeans, in all the customary colourways and cuts.
The key differences between a regular pair of jeans you'd pick up on the high street and motorcycle jeans are the safety fibres knitted together with the denim cotton, or in a separate layer, to create abrasion-resistance, and the stitching and seam strength that will hold the jean together in the event of an accident.
One of the best known abrasion-resistant fabrics used for jeans is Kevlar, a heat-resistant, super-strong synthetic fibre. There are all sorts of different fabrics and mixes out there, with some manufacturers developing in-house fibres, but the thing to look out for when it's all put together is a CE certification.
The most abrasion-resistant fabric is only as effective as the stitching holding it all together, so look for double or even triple-stitching at the seams to ensure the jeans won't be pulled apart in an off.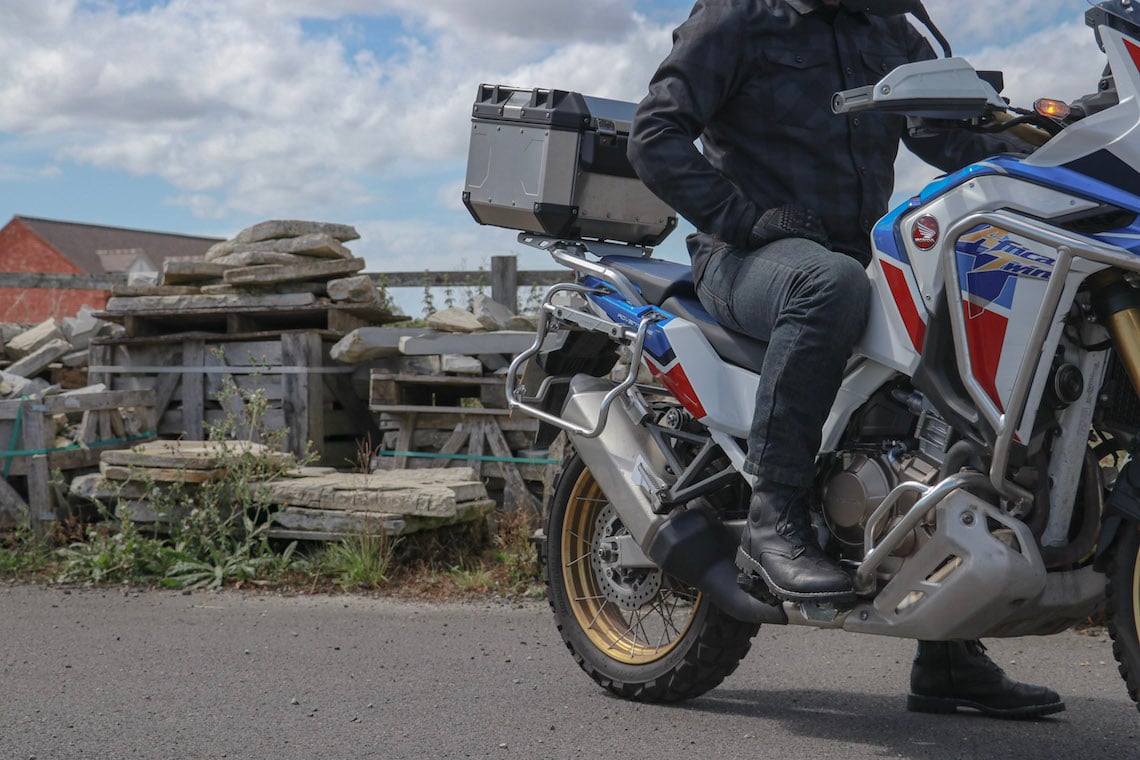 What do the safety ratings of armoured motorcycle jeans mean?
Since 2018, all motorcycle clothing sold has been classed as PPE (personal protective equipment) and must be certified and tested by an independent body.
The CE tests categorise clothing from AAA (highest) down to C. With biking jeans, you are pretty much looking at the top three categories of abrasion-resistance: AAA, AA (suited to touring) and A (suited to urban riding).
All protective motorcycle clothing, including kevlar jeans, is tested using the Advance Abrasion Resistance Tester (AART), also known as a Darmstadt machine, which is designed to replicate the effect of falling from a bike at speeds of 37-62mph on to concrete.
The ARRT takes samples from three key impact zones of the garment, areas expected to bear the brunt of any impact or slide during an off, and spins them at a set speed until they're dropped onto a slab of concrete, where they slow to a stop.  The test determines the impact abrasion resistance, including hole formation, tear, friction and wear-resistance, to determine the final rating of the jeans.
It's absolutely crucial to check out the overall rating of the jeans, rather than the rating of the jeans fabric in isolation, to ensure you are getting the level of protection you need, as they won't necessarily be the same. The overall rating will quite rightly take account of impact protection, seam strength and overall construction.
The importance of armour in bike jeans
The vast majority of riding jeans contain pockets for removable knee and hip armour. It's very important to wear armour with jeans, not just to help protect your bones, but also as an extra layer of abrasion resistance in key zones. These impact protectors are rated either CE Level 1 or 2: Level 2 absorbs the most impact.
Look for sleek, flexible armour that you can move freely in and won't make your jeans look bulky or weird, especially if you're planning to wear them in a casual setting.
Knee armour should also sit securely on the front and top of your knees, so look out for jeans with adjustable armour positions and secure pockets that won't let the armour shift about if you come off the bike.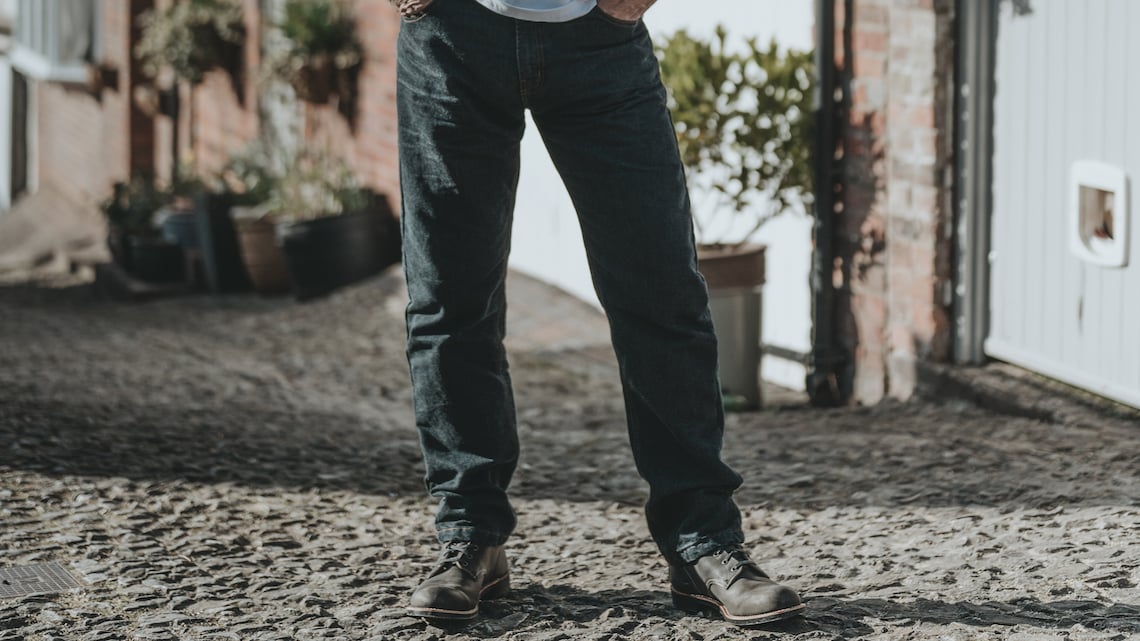 What makes Roadskin bike jeans among the best on the market?
Roadskin is one of the UK's leading brands of protective motorcycle clothing and all of its motorcycle jeans come with armour as standard. Roadskin's bike jeans also come at competitive prices prices by cutting out the middleman and encouraging bikers to buy direct. Here are its bestsellers:
Paranoid AAA motorcycle jeans
The Paranoid is Roadskin's toughest, most protective winter motorcycle jeans. Premium cotton denim forms the outer layer and inside the jeans are fully lined with military-grade 340-350 gsm para-aramid, ensuring Roadskin's highest safety rating for any pair of jeans.
They are suited to riding in colder temperatures due to their thickness and warmth. Despite their seriously impressive AAA CE rating, they look just like normal jeans, with a sharper, narrower fit that reduces movement of the fabric and armour in the event of impact with the road. Roadskin recommends them for all types of riding: urban, countryside, and motorway.
Easyrider AA bike jeans
The Easyrider are single-layer, lightweight jeans constructed entirely from a 60% cotton/40% Kevlar mix, and Roadskin's go-to suggestion for bikers in search of all-day casual motorcycle jeans for British summers and hot climates.
A very light, strong, smooth mesh lines the inside of the jeans and act as a barrier between the skin and the reinforced denim for comfort while riding or while walking around.
City A bike jeans
The City jeans for motorcycles are Roadskin's suggestion for for urban riding and urban life – stretchy, cool and comfortable. These men's and ladies' slim-fit biker jeans come in black and blue.
Protection-wise they feature level 2 armour at hips and knees, plus Roadskin's soft, lightweight mesh liner to keep you cool on hot days.