£134.99 | www.bull-it.com
The Cargo Sahara trousers are Bull-it's submission to this review and they're made from a 12.5 oz twill which gives them the classic cargo look, while large, closable pockets provide cargo functionality. Unlike most of the other jeans in this test the Cargo Sahara makes use of a Covec SR6 fabric with a 60% coverage to provide protection for those unplanned dismounts. Covec, a specially developed technical textile, is claimed to offer a higher abrasion resistance and cut resistance than aramids like Kevlar, while also providing lower friction heat transfer and wear and tear over extended periods of use.
While we can't independently verify those claims, the test results provided by Covec certainly paint a picture of a very hard-wearing and abrasion resistant material, so it's safe to say that the Cargo Sahara pants have the protection side covered, especially when you add in the optional CE approved hip and knee armour from Bull-it.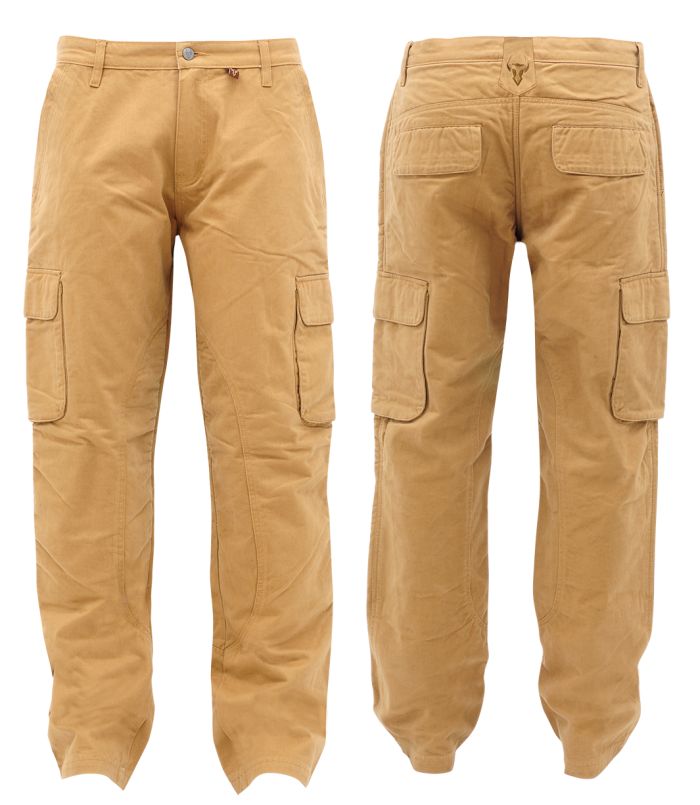 On initial inspection the Cargo's look great and they're the sort of style that suits the adventure bike rider look, making the wearer look more suited for tackling the deserts of Africa than a pair of blue denims. In use it's hard not to notice how bulky they are, while it's a reassuring bulk it's also a mass of material that's going to get quite stuffy in the conditions you're going to want to wear them in most: hot temperatures. The fit is perhaps on the small side, so it's worth trying them on before you buy but if you get the right size then they're very comfortable.

In a line: Great styling and a very nice quality jeans, though a little bulky