I love a free gift. Whether it's a complimentary bottle of water in a hotel room or a bag of prawn crackers with a Chinese takeaway, the little gestures go a long way. It's even better when the thing you get for free is genuinely useful, and extra marks if it goes on to be something you use regularly. Commendations if it's motorcycle related as well.
Something that ticks all of those boxes is rare to come across, but if you turn up to the Adventure Bike Rider Festival on 12-14 July with a pair of Bridgestone tyres fitted to your bike, then you're in for a treat. The kind folks at Bridgestone, the headline sponsors of the ABR Festival, want to look after you, so you'll be able to help yourself to one of two great free gifts: a Bridgestone Helmet Bag, or a Bridgestone Motorcycle Roll Bag.
Bridgestone Roll Bag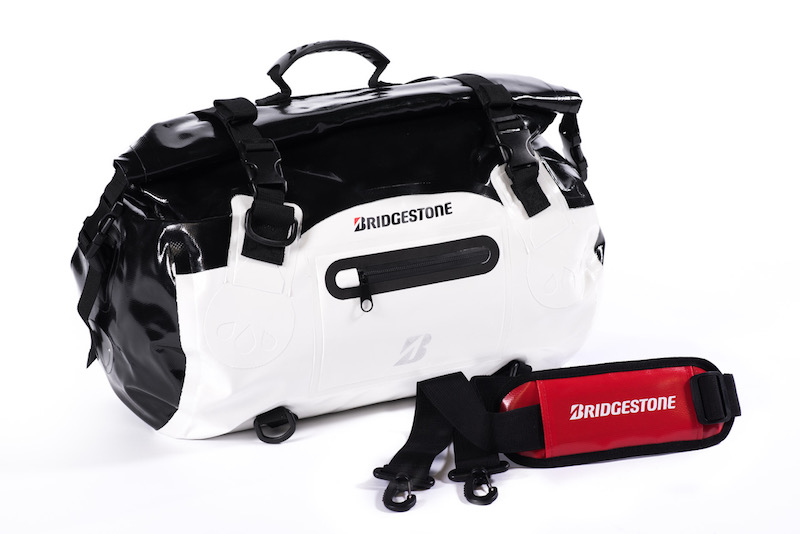 The perfect luggage solution for those trips that don't quite require two panniers' worth of kit, this money-can't-buy Bridgestone-branded roll bag is practical and easy to use. Offering a completely waterproof main compartment, an easy grab handle on the top, and a unique attachment system for motorcycles, your kit will be kept safe and secure while you're riding. Reflective detailing will help make you stand out in poor conditions, while padded shoulder straps will allow you to carry it in comfort. Nice.
Bridgestone Helmet Bag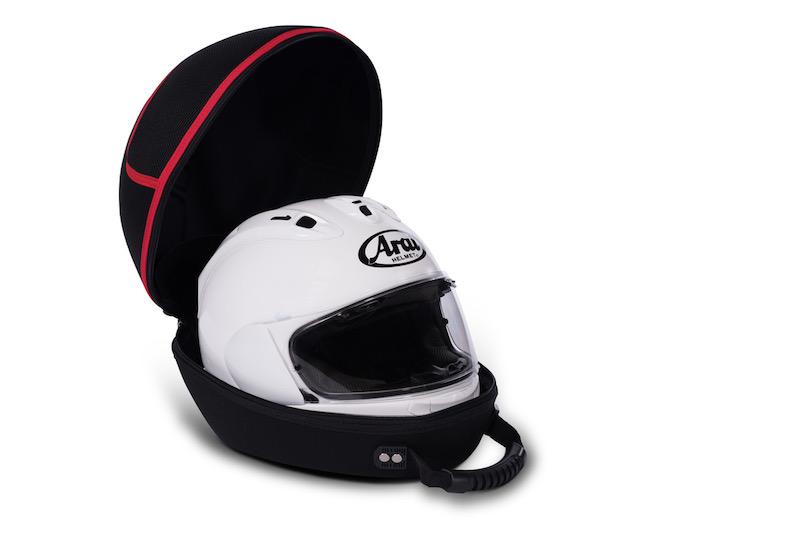 If you travel regularly and get fed up of having nowhere to safely store your helmet, then this is the choice for you. With a mesh sleeve for storage of spare visors, elastic cross straps to keep your helmet secure and a moulded shell design to protect your lid from knocks, this money-can't-buy Bridgestone Helmet Bag is the ideal way to carry your lid.
How to claim your free gift
This is the easy part. Simply arrive at the Adventure Bike Rider Festival on a motorcycle fitted with Bridgestone tyres, and you'll be able to pick which free gift you want.
The right tyres for you
Over the years, we've regularly fitted Bridgestone tyres to our bikes, but most recently we've been using the Battlax Adventure A41 and Battlax Adventurecross AX41 tyres. Whether your riding involve finding new roads to tackle or heading off the beaten track, both of these tyres are worthy of any adventure-seeking motorcyclist.
Bridgestone Battlax Adventurecross AX41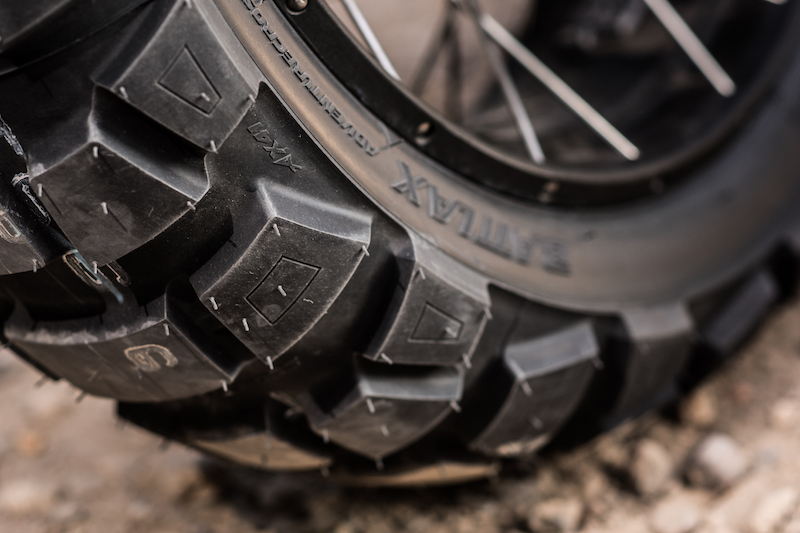 The newest member of the Bridgestone's Battlax family is perhaps the most interesting to the adventure rider. The tyres have been designed to offer a great combination of on and off-road performance, and we've certainly been putting them through their paces, most recently on our Wales Coast to Coast ride.
I was pleasantly surprised by just how well the knobblies performed on the tarmac, offering a reassuring amount of grip in corners and feeling planted and stable at higher speeds (even when riding two-up). Away from the road, they were sure-footed and confidence-inspiring, allowing me to take my BMW R 1250 GS down green lanes safe in the knowledge that my ability as a rider would be the only thing I had to worry about! I've put around 3,000 miles into my set, and there's life in the rubber yet.
Bridgestone Battlax Adventure A41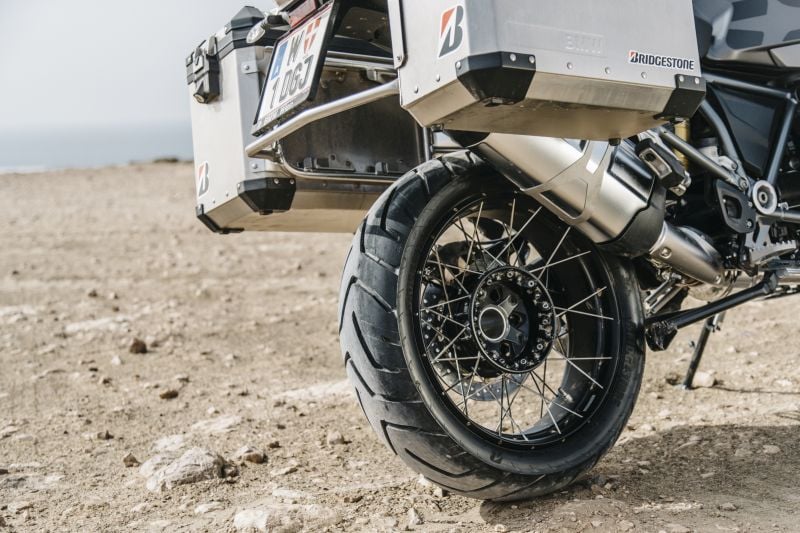 The adventure bike-focused Battlax Adventure A41 was introduced to Bridgestone's range last year to take over from the excellent A40, offering improved grip in all conditions, especially the wet. It also comes with better handling in corners and maintains the long-lasting tradition of the A40.
I fitted a pair of A41s to our long-term V-Strom 1000, which I rode extensively by myself and with a pillion. Plus, other members of the ABR team have attended launches in a rain-soaked Spain and checked them out both on and off-road in dry conditions in Morocco. Collectively, if we could sum up the performance of the A41s in all of the above conditions in one word, it would be 'superb'.
FREE tyre checks at the Adventure Bike Rider Festival
If you're not going to be arriving on Bridgestone tyres, then don't worry, you haven't been forgotten about. Bridgestone will be offering FREE tyre checks for everyone at the Adventure Bike Rider Festival, along with complimentary tyre inflation if you require it. Just pop over to the Bridgestone stand on the day and they'll sort you out.
Get your tickets to the Adventure Bike Rider Festival
If you've not yet got your tickets to the Adventure Bike Rider Festival, what are you waiting for? There's not long left till the gates of Ragley Hall open on the 12-14 July, so head on over to the festival section of the website to book your tickets and discover what else is going on at the event.