Throughout 2019, we've been working with tyre manufacturer Bridgestone to create a series of coast to coast routes through some of the most spectacular landscapes the British and Irish isles have to offer.
It has been hugely satisfying to discover stunning areas we hadn't ridden before, as well as reacquainting ourselves with old hunting grounds, to piece together a collection of motorcycle rides we are genuinely proud of.
Throughout our travels, we've been constantly reminded of the fact you don't need to disappear off to far-flung locations to experience an adventure. There's plenty of superb riding to be had in our own backyard, as long as you know where to look for it.
Exploring the UK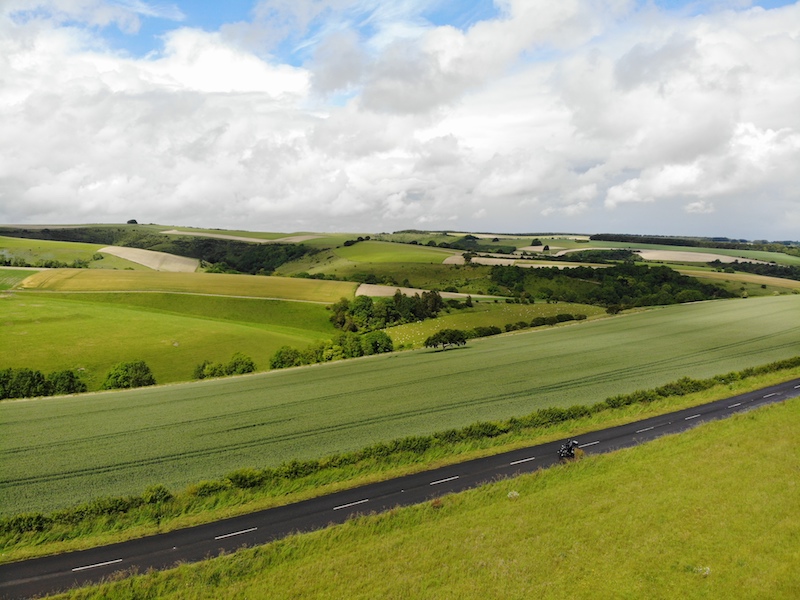 The Bridgestone Coast to Coast series began at the start of the year with a chilly but hugely enjoyable winter ride through Scotland. We journeyed from the North Sea to the North Channel through the sparsely populated and picturesque Southern Uplands.
We then headed over to Ireland for the March/April issue of Adventure Biker Rider magazine and travelled from Dublin in the east, to the wild and beautiful west coast, encountering plenty of snow along the way.
Spring had sprung by the time we plotted the third Bridgestone Coast to Coast route through Wales, which turned out to be one of the finest rides we have ever ridden in the UK.
A motorcycle route in England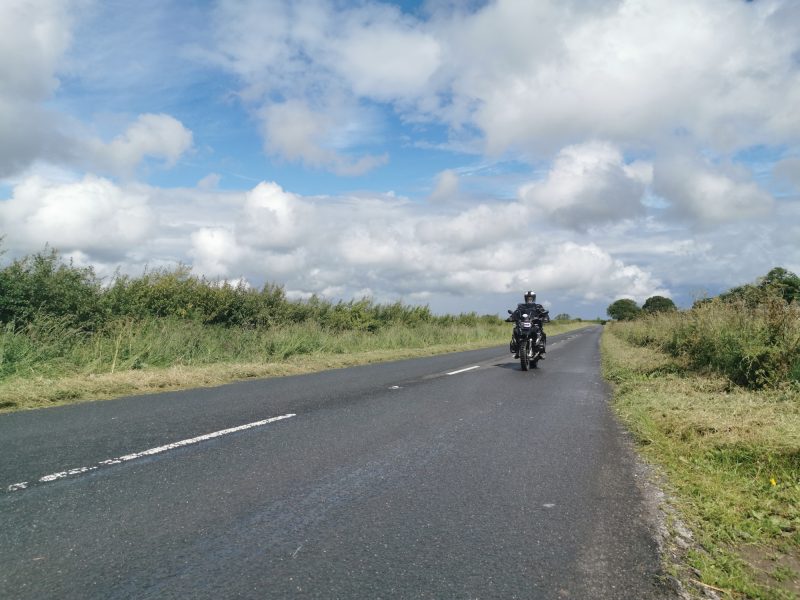 So, we had a lot to live up to when we set about plotting a route through England. The obvious choice would have been to follow famed guidebook author Alfred Wainwright's coast to coast route from St Bees, on the Irish Sea, to Robin Hood's Bay on the east coast of England.
This would have taken us through the Lake District, the Yorkshire Dales and the North York Moors in the north of England. This is a superb ride and one we would highly recommend you doing. However, it's already a popular route with bikers and one we thought many of you would have ridden sections of, or completed in its entirety, already.
So, in keeping with previous Bridgestone Coast to Coast routes, we set about concocting a motorcycle route in England that offered something different, a journey that may not seem the most obvious choice, but which offers sensational riding and plenty of things to see and do along the way.
Starting our coast to coast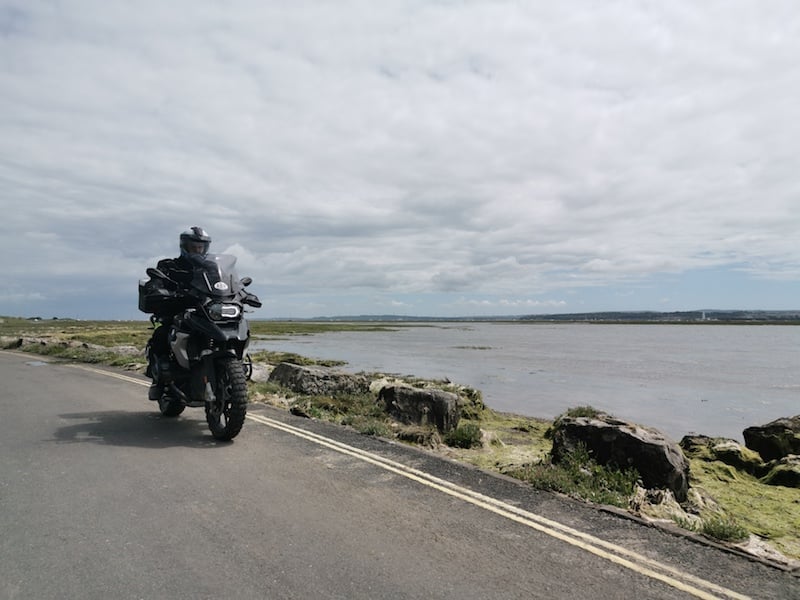 The start of our Bridgestone England Coast to Coast route at Keyhaven
We came up with a route that begins on the shores of the south coast of England, a few miles from the seaside town of Bournemouth. It then winds its way through some of the most picturesque scenery in the south of England, before finishing at Portishead on the Bristol Channel, the start of our Wales Coast to Coast route, Goldcliff, in sight on the other side of the water.
During our journey we met a motorcycling legend, we rode the wiggliest road in England, and we relived one of the most iconic moments in British television history.
The route begins at Hurst Spit near Keyhaven, a shingle bank protruding more than a mile into the Solent offering panoramic views of the coastline. At the tip is Hurst Castle, an artillery fortress built by Henry VIII as part of his network of coastal defences against invasion from French and Spanish forces. For those of you who are wildlife lovers, behind Hurst Spit is an area of salt marsh where you can spot wading birds including oystercatchers and redshanks.
Dropping by a biking legend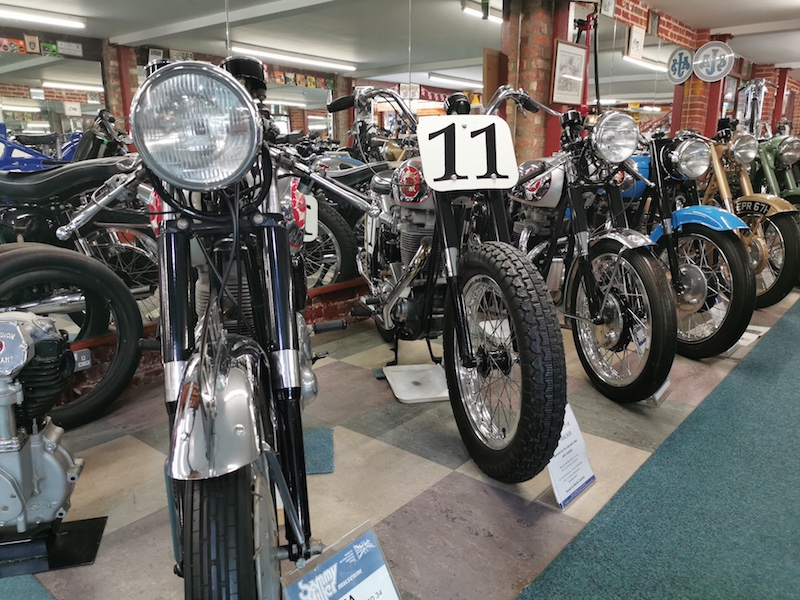 We highly recommend as stop at the Sammy Miller Motorcycle Museum.
From Keyhaven, the route heads inland along the B3058 to the Sammy Miller Motorcycle Museum seven miles down the road. We'd highly recommend making this your breakfast or brunch stop. You can enjoy a coffee and delicious cake amid one of the most impressive collections of classic motorcycles in the world.
During our visit, we were lucky enough to meet Sammy Miller himself, an 11-time British Trials Champion. He showed us around his workshop and we got a close up look at some of the classic bikes he's been working on. Sammy is a true gent and a motorcycling legend.
Leaving the museum behind, we travel north through the sun dappled lanes and heathland of the New Forest, keeping an eye out for the wild New Forest ponies which have been grazing in the area for around 2,000 years. Be sure to remember animals have right of way on the roads and there is a 40 mph speed limit on many of them, so sit back, relax and soak up the beautiful countryside.
Green and pleasant land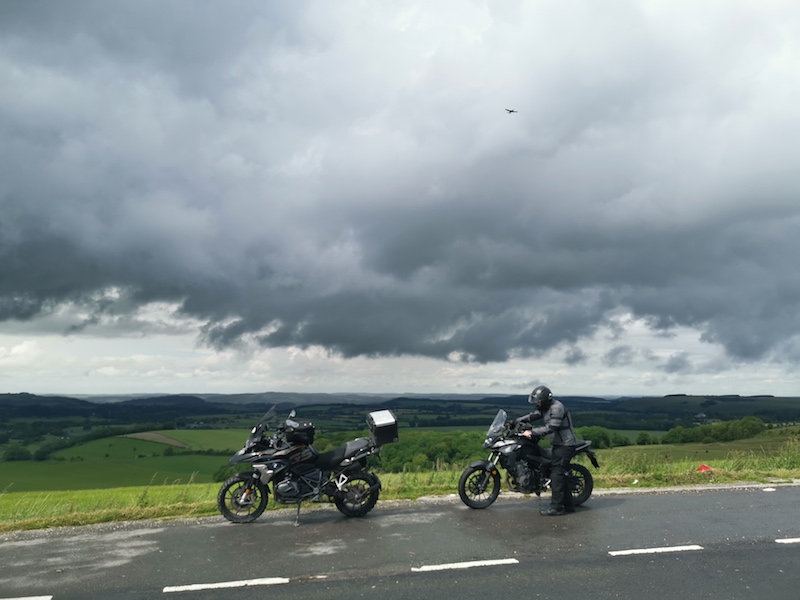 Soon enough, we leave the New Forest behind and cross from Hampshire into Dorset, travelling along miles of meandering B roads that carve their way through rolling hills and lush, green countryside. The poet William Blake coined the term 'England's green and pleasant land' and he could have easily been describing this part of the south of England.
If you fancy another coffee stop, we'd recommend pulling into Compton Abbas Airfield, located in the Cranborne Chase Area of Outstanding Beauty. The airfield has become a popular spot for bikers, particularly at weekends. There's ample parking and a lovely café to get something to eat and drink while you watch light aircraft take off and land on the grass runway.
About four miles further down the road you may think your SatNav has developed a glitch and decided you're in the Alps, not southern England. Don't worry, you've simply reached England's wiggliest road, Zig Zag Hill, or the B3081 as it is officially known. This section of B road is a gloriously twisting but tragically short stretch of tarmac located on the outskirts of Shaftesbury. It features narrow bends and hairpin turns that would be at home on plenty of mountain passes we've ridden, but the tight turns finish within a mile. It's still a lot of fun to ride though.
Pushing a bike up Hovis Hill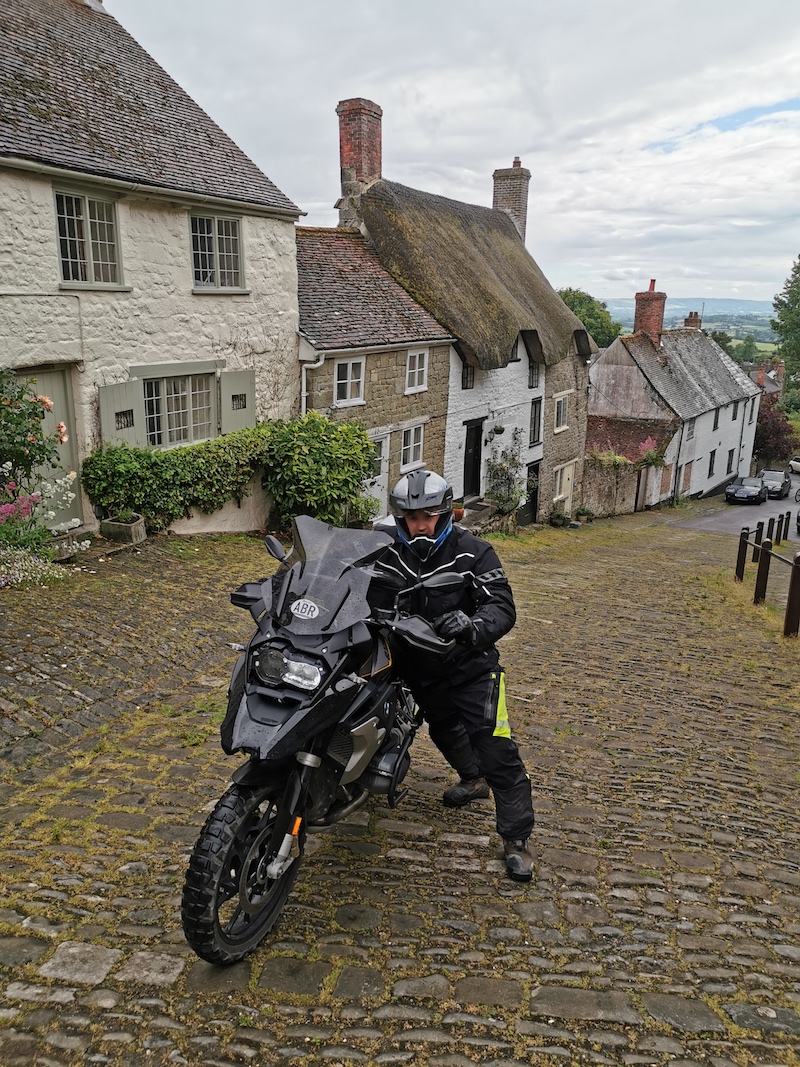 Another famous hill awaits you in nearby Shaftesbury. Gold Hill, or as it is more commonly known Hovis Hill, is a picturesque cobbled street that shot to fame in 1973 when director Ridley Scott used it as the location for a Hovis television advert. It featured a boy pushing a bicycle laden with bread up the steep street.
The advert struck a chord with the nation and has since become an iconic piece of British television history. With this in mind, we had no choice but to recreate the famous ad, replacing the vintage bicycle with a BMW R 1250 GS of course.
From Shaftesbury, our Bridgestone Coast to Coast route takes us through more leafy country lanes amid rolling countryside. We then jump onto the A303 for a short stretch and head to Wiltshire to one of the ancient wonders of the world, Stonehenge.
An unsolved mystery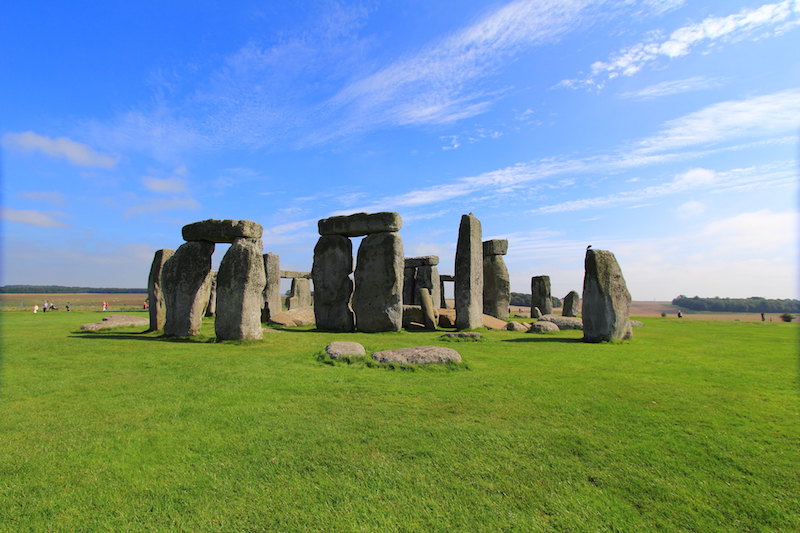 Photo: akool1511
Mystery surrounds the 5,000-year-old collection of standing stones because no-one has ever figured out why our pre-historic ancestors went to the mammoth effort of putting them there. It's an impressive site and worth a stop to stretch your legs and have a closer look at one of the most famous monuments in the world.
Handily for us adventure bikers, Stonehenge was erected a stone's throw away from Salisbury Plain. Its 300-square-miles of chalk plateau is owned by the military and features hundreds of miles of green lanes to explore.
Unfortunately, when we visited the plain, live firing exercises were taking place which barred our entry. You can find out when the military is in action at the 'Salisbury Plain Training Area (SPTA) firing times' section of the gov.uk website.
Panoramic views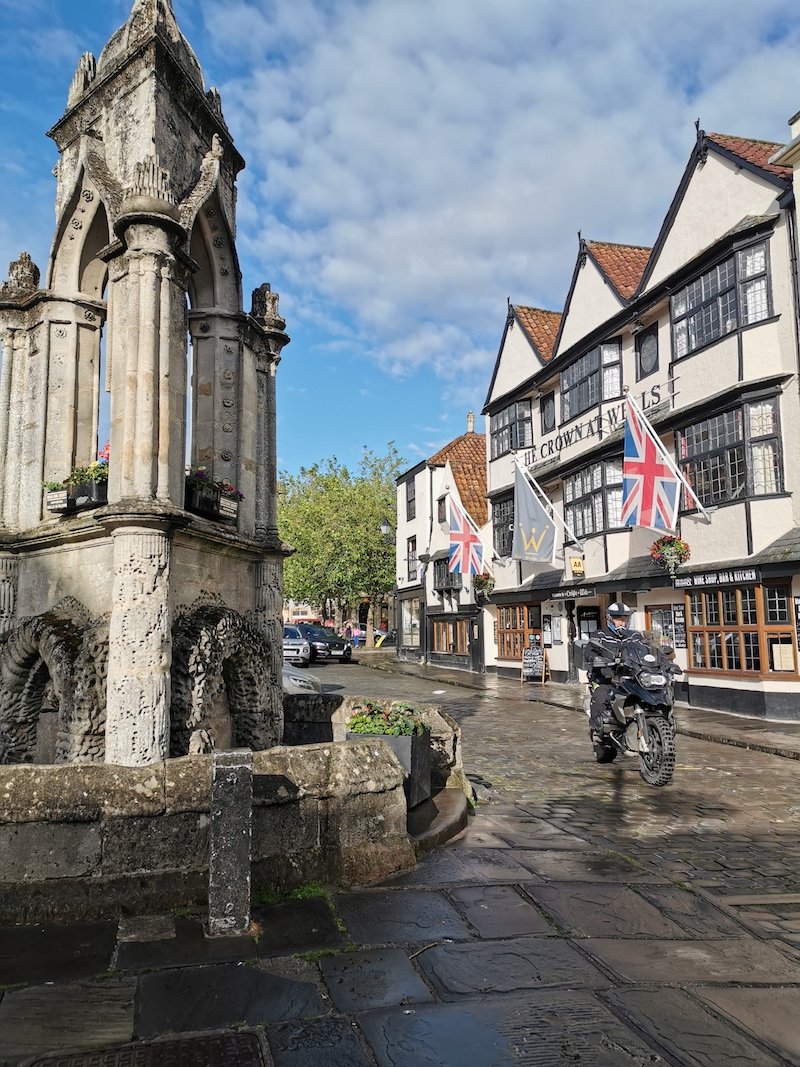 Riding through Wells.
From Stonehenge, our journey travels west along narrow and often empty country lanes with panoramic views of the landscape. Some of the roads feature no road markings and are overgrown, giving you the feeling you're exploring well off the beaten track.
The route then snakes its way into Somerset to the cathedral city of Wells, its collection of cafes and restaurants making it a great spot to grab a bite to eat. Movie fans will also get a kick out of exploring some of the filming locations from British police comedy Hot Fuzz, directed by local boy Edgar Wright. These include the Market Square, the Swan Hotel and the Crown Inn.
After you've taken a look around Wells and its impressive cathedral, about 10 miles down the road is Cheddar Gorge. This is one of the most awe-inspiring landscapes in England and one of the best roads the south of the country has to offer. Our route passes through the tourist town of Cheddar before plunging into the gorge, which is almost 400ft deep and three-miles long.
One million years in the making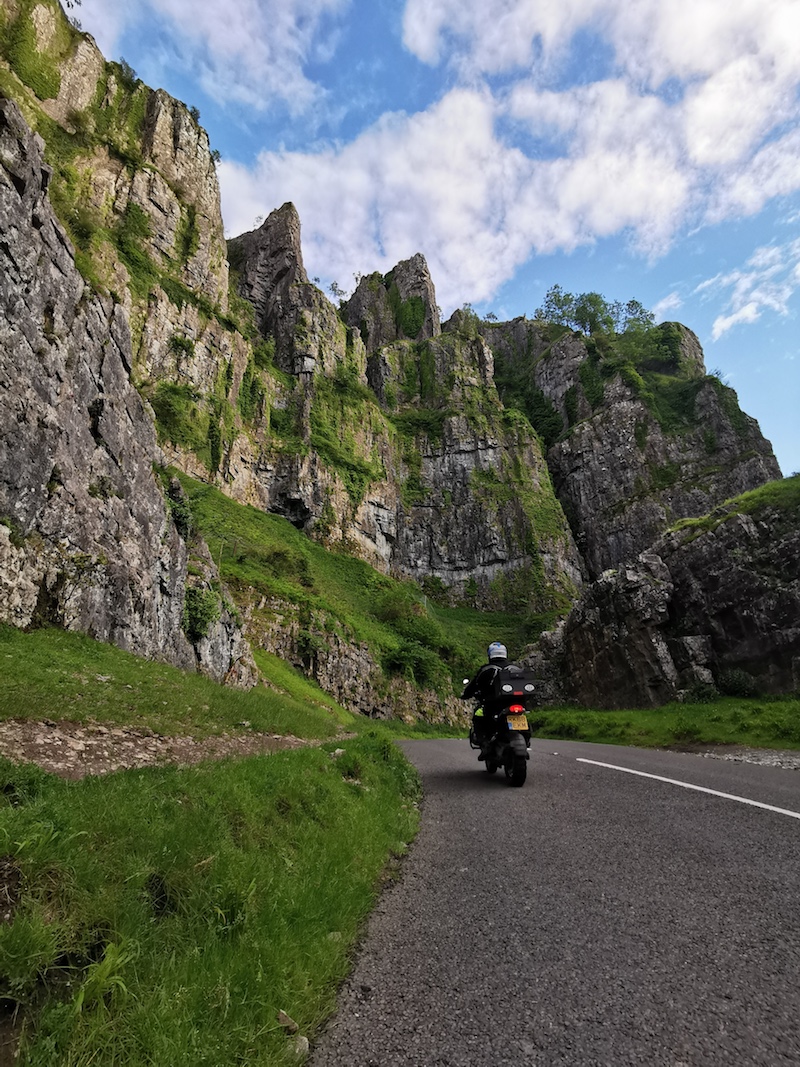 Slicing through Cheddar Gorge
It began forming more than one million years ago and over time water has carved the gorge out of the limestone rock, eventually flowing underground creating a system of caves below. In 1903, Cheddar Man was discovered in a cave in Cheddar Gorge. His 10,000-year-old remains are the oldest almost complete Homo sapien skeleton ever found in Britain.
Riding through the gorge is a hugely pleasurable experience as you follow the twisting and winding road nestled at the foot of near vertical cliff faces. Cheddar Gorge may only be three miles long but it has got to be among the most incredible rides in Britain thanks to those cliffs towering above you.
Leaving Cheddar behind, this motorcycle route in England heads north east into the Mendip Hills Area of Outstanding Natural Beauty. The landscape and the villages you pass through are noticeably different than earlier today. They seem less chocolate box and a little more rugged as you climb and fall, taking in vast views of the Somerset countryside.
Reaching the coast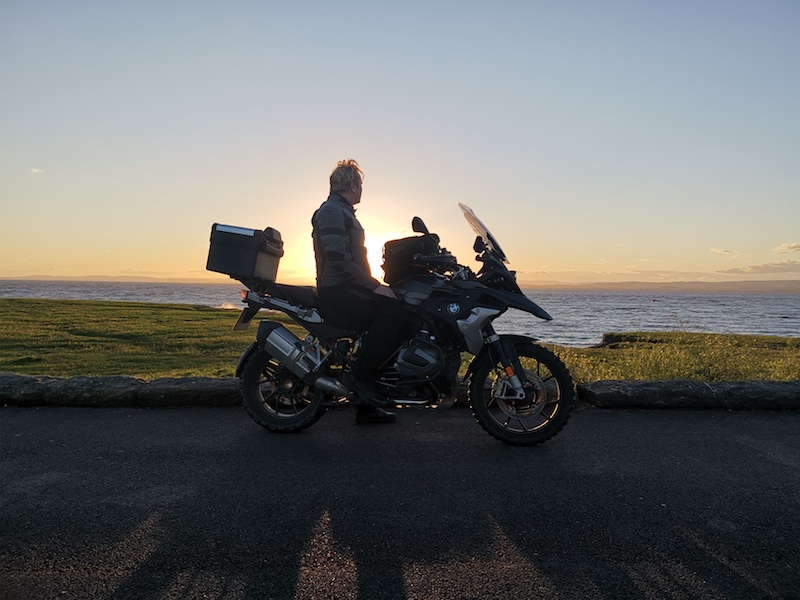 Watching the sunset at Portishead
The riding is superb and you'll find yourself propelled along a network of meandering B-roads cutting their way across the landscape.
Soon enough you'll crest a hill and be met with a magnificent view of Bristol laid out before you. You'll also see planes coming into land at the city's airport which is a sign you are on the last stretch of this coast to coast route.
We wind our way through yet more country B roads until we finally reach Portishead on the Bristol Channel, our finishing point on this coast to coast motorcycle route in England. I'd recommend sitting on the seafront with a well-earned bag of chips before setting off on your ride home.
The tyres we used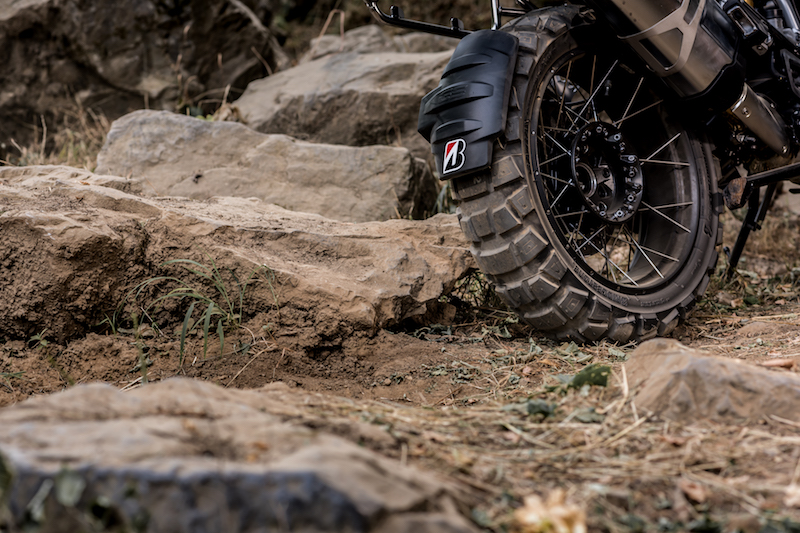 We rode this route on Bridgestone's new Battlax Adventurecross AX41 tyres. The tyres have been designed to offer a great combination of on and off road performance, and they got their share of both on our England Coast to Coast ride. I was pleasantly surprised by just how well the knobblies perform on the tarmac, offering a reassuring amount of grip, and they felt sure-footed on the green lanes as well.
We've put around 3,000 miles on one set, and you can read our full review of the tyres on page 138 of this issue of Adventure Bike Rider magazine. To sum them up in a few words though, we'd say they're excellent off-road biased tyres that are spot on for adventure touring.
Competition time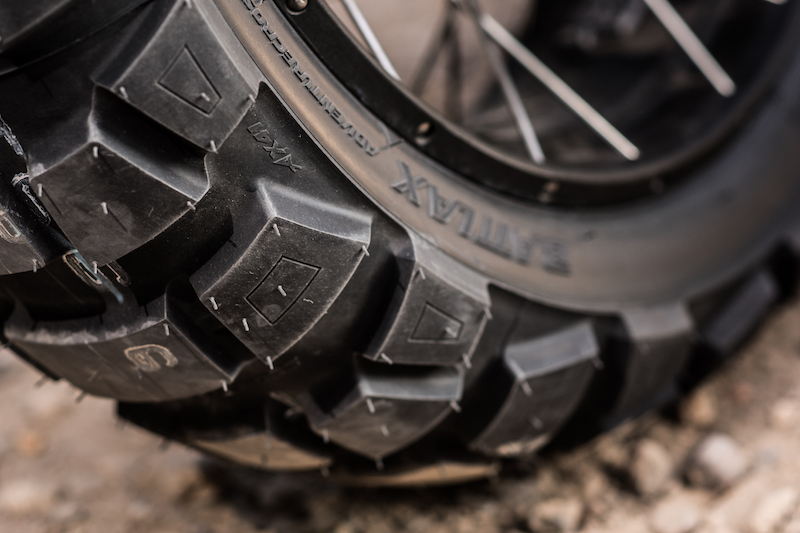 We've created these coast to coast routes in order to celebrate the launch of Bridgestone's new Battlax Adventurecross AX41 tyres, which were revealed earlier this year. Throughout the series, which finished with this issue's coast to coast ride in England, we teamed up with Bridgestone to offer you the chance to get your hands on some truly incredible prizes worth up to £1,500!
After each of our coast to coast routes have been posted, we've provide you with the gpx. files (head to www.bit./ly/ABRroutesEng and enter the thread titled 'ABR and Bridgestone England Coast to Coast route files) so that you can go and ride them yourself.
Once you're riding, make sure you take some pictures, because it is these that will enter you into the competition. Simply send us your best snaps from your Scotland, Ireland, Wales, or England Coast to Coast ride, and you'll be in with a chance of winning some excellent prizes. The breakdown of prizes looks like this:
With Bridgestone tyres fitted:
1st: Full, head to toe RST kit, including an AGV helmet – approximate value £1,500
2nd: Overnight stay for two at the Lake Vyrnwy Hotel, followed by a day at the Mick Extance Off Road Experience – approximate value £1,000
3rd: AGV adventure helmet – approximate value £500
Without Bridgestone tyres fitted:
1st: AGV adventure helmet – approximate value £500
2nd: A day at the Mick Extance Off Road Experience – approximate value £250
3rd: Pair of RST Adventure Boots – approximate value £125
How to enter:
Get yourself over to www.bit.ly/ABRroutesEng and enter the thread titled 'ABR and Bridgestone England Coast to Coast route files' to download your gpx. file and get riding. Once you've got your pictures of your bike on the route, send them to [email protected] with the subject line of 'Bridgestone Coast to Coast competition'. Good luck!