It's a hot topic across Facebook pages and forums dedicated to adventure biking. What are the items you couldn't do without on a motorcycle trip? Some riders favour only the most practical of must-haves, while others clearly save space for a few luxuries on the road.
With this in mind, we asked a number of motorcycle travellers, and who are also devotees of the Exotogg lightweight, inflatable bodywarmer, what they can't do without on their two-wheeled adventures.
Sam Manicom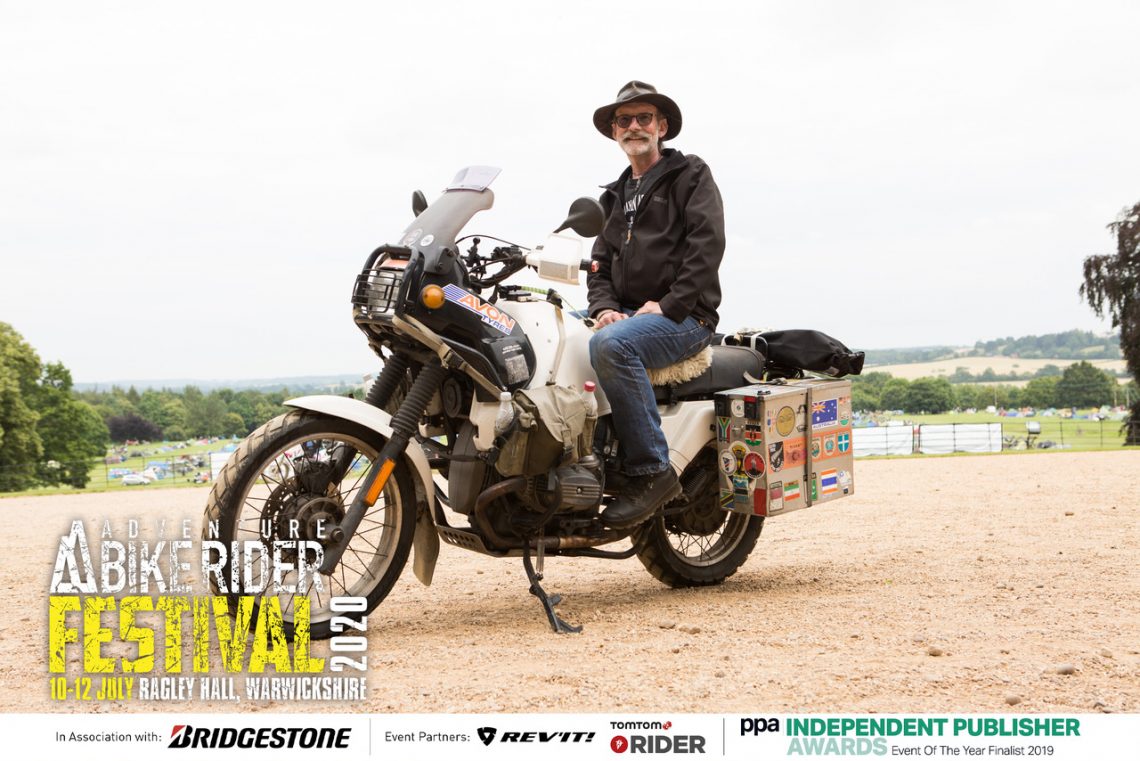 Sam Manicom has been travelling much of his life, using various forms of transport until he discovered motorcycling. Setting off as a novice, he rode for eight years around the world and has been making shorter trips across Europe, South East Asia and the USA ever since. He has also authored four motorcycle travel books.
1. Altberg boots
"Excellent protection, they are waterproof and can be hiked in."
2. Shoei Neotech 2 modular helmet
"It's comfortable, quiet, has a sun visor and a flip up front that gives me the opportunity to talk with people along the way with ease. The vents work remarkably well."
3. Held Carese II jacket
"This wonderfully vented jacket with its detachable waterproof liner, which can be worn inside or outside the jacket, is incredibly versatile, making it perfect for long multi-climate journeys. The zips are top quality and there are plenty of pockets."
"A perfectly adaptable bit of kit which works surprisingly well. Cold riding days cease to be a worry. No electrics required. It's very easy to regulate the temperature. It also works as a seat and a pillow so it fits the multitasking need of travel equipment. The bonus is that it packs down small."
5. Cardo ScalaRider Packtalk Bold intercom
"After years of try various manufacturers offerings, this one was the first that fit the bill for ease of use and clarity, even through earplugs and at speed."
You can find out more about Sam and his travels here. His books are available as paperbacks, on Kindle and as audiobooks from Amazon and the BookDepository.com.
Link up with Sam on Facebook, Twitter and Instagram.
Elspeth Beard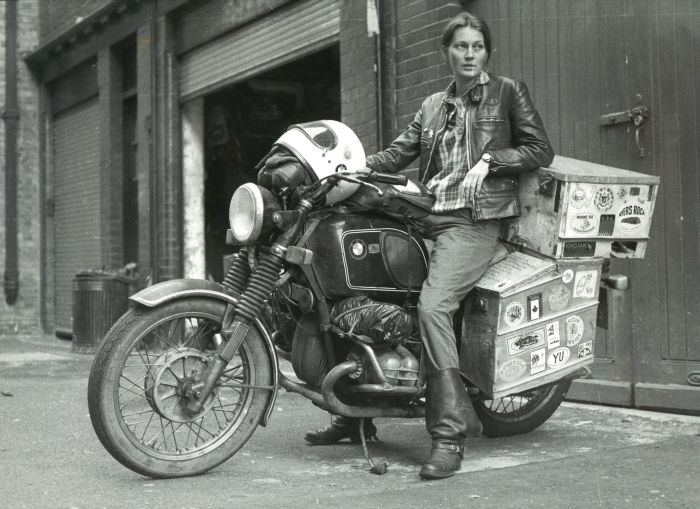 Elspeth Beard is a motorcyclist and award-winning architect. In 1982, at the age of just 23, Elspeth left London and set off on a 35,000 mile solo adventure around the world on her 1974 BMW R60/6 and became the first British woman to circumnavigate the globe.
1. Swiss Army Knife
"Choose the smallest one which includes scissors. On my round-the-world trip in the early 1980s, my knife was stolen when I was staying on a house boat in Srinagar after I had carried it for nearly two years.  It was only then I realised how many times a day I used it. My father gave me a new one on my return in 1984 which I still have and always take with me today."
2. PG Tips tea bags
"They definitely taste better!"
3. Optimus petrol stove
"Made of brass, it's not exactly lightweight but it's small, robust and I have had mine for over 35 years. With a tap I rigged up off my fuel hose from my petrol tank, I always have fuel to hand."
4. Small bottle of rose essence
"Nice smells are often hard to find when on the road!"
5. Bialetti stovetop espresso maker
"For us coffee addicts, this one needs no explanation."
Find out more about Elspeth's adventures here or see her speak live at the Adventure Bike Rider Festival (10-12 July, Ragley Hall, Warwickshire).
Alex J Jackson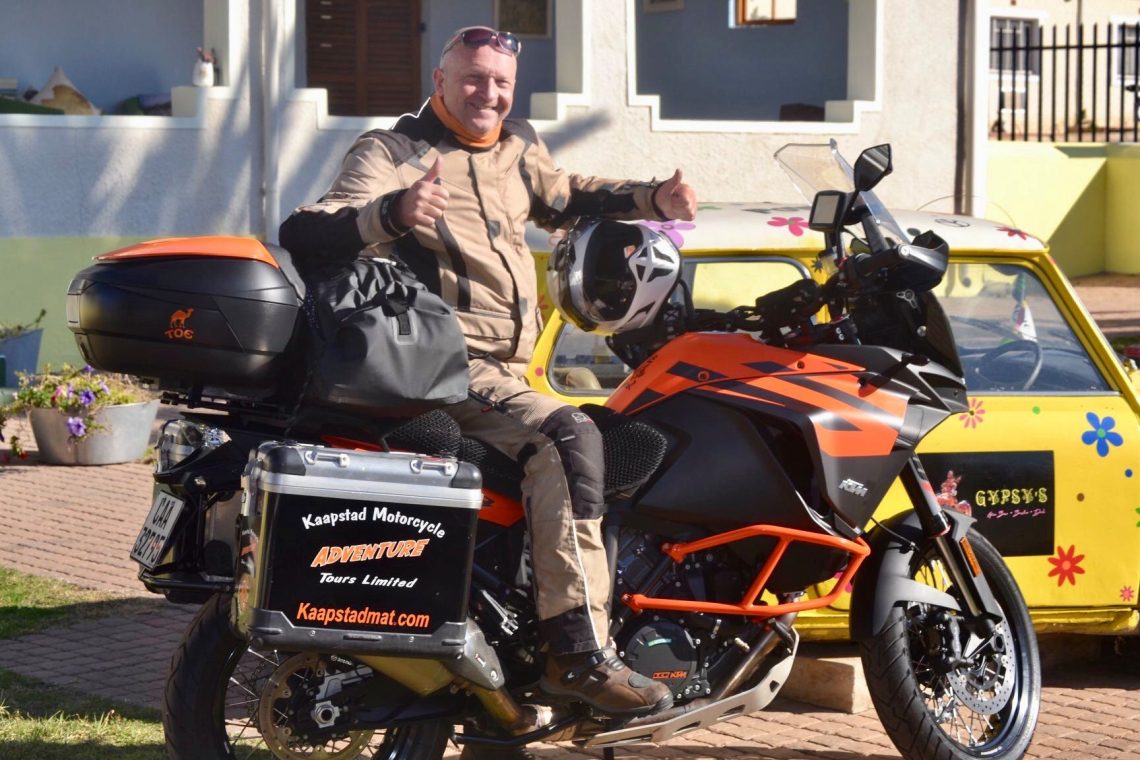 A former police officer and head of security for a global IT company, Alex first visited South Africa in 1998 when he explored the country by motorcycle. It's fair to say he's fallen in love, and has since been back 73 times.
In 2009, he started Kaapstad Motorcycle Tours, leading tours and holding events that raise funds for anti-poaching projects. In 2021, he plans to circumnavigate South Africa again and the five items below will be first into his panniers.
1. Leatherman
"A multi-use tool that was presented to me when I passed my first bush ranger course back in 2004. It has earned its place in my kit on a number of occasions, from cutting back overhanging branches on a blocked mountain pass, to pulling nails from tyres, and even carrying out electrical repairs to an old KLR 650 I used to circumnavigate South Africa back in 2013."
2. Exotogg inflatable body warmer
"I've used this on numerous occasions in the UK on breakfast runs and some night time trips when the temperature has dropped considerably. It has also been used on early morning rides on trips in South Africa, in Lesotho and Drakensberg Mountains during the winter months. The Exotogg can be slipped on in an instant and inflated easily. With just the right amount of air blown into the vest, your body heat warms it very quickly and keeps the cold away from your torso. It also doubles as a bit of seat padding."
3. CoolCovers
"Over the past three years in my current line of work, I have completed 60,000 miles in and around South Africa in the saddle, so comfort is key. Something I have been using throughout all these miles on all my bikes is a CoolCovers seat cover. It's custom-made to fit over the entire seat, allowing for airflow under the rider and thus keeping all the important bits cool and combating sweating. I'm super impressed with this bit of kit, even with all those miles the cover still functions and looks exactly the same as the day I fitted it. It also allows water to drain away from the seat which means you don't get that puddle effect in wet weather."
4. REV'IT! cooling vest
"This bit of kit is perfect if you intend travelling in very high temperatures. It's a very simple quilted vest which is soaked in water and then worn over a T-shirt. The evaporation process keeps the rider very cool for a maximum of four hours. It has limited uses, as it only really cools. but it does what it is meant for very well indeed. It packs down very flat so space is not an issue."
5. Forma Adventure Boots
"Footwear has always been a problem for me as I ride in many different types of terrain and weather conditions. I have tried most types of boot from Sidi motocross boots through to military combat boots, but I have finally settled for a pair that really do what I need. The Forma Adventure boot is easy to clip on and off, is waterproof, smart looking, and great for just walking around. I like these boots so much that I have two pairs, one for UK riding and one for Africa. I still use my motocross boots for more extreme riding days, but the Forma Adventure is the perfect all-rounder for me."
Tiffany Coates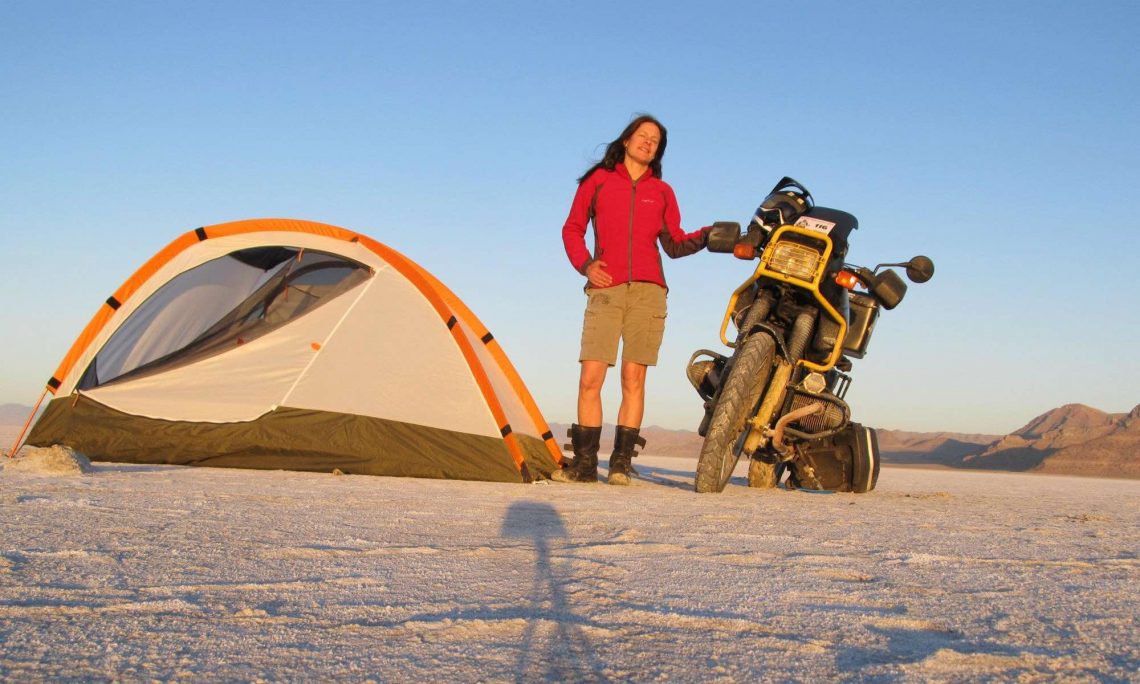 Tiffany Coates is one of the world's most well-travelled female motorcyclists, having crossed every continent, some of them several times, covering over 300,000 miles in the process. Tiffany's global riding travels continue year after year and she is also a  freelance motorcycle tour guide. These are the five items that she'd never be without on those adventures.
1. Swiss Army Knife
"Useful for cutting just about anything, and opening the odd bottle of wine."
2. Sarong
"It covers a multitude of uses, from covering up in the more modest countries, to using as a shade in sunny climates."
3. Pepper Mill
"As a vegetarian, I often have a limited diet of cheese, cheese and more cheese, so a sprinkling of freshly ground black pepper can transform any dish no matter where I am in the world."
4. Compass
"The do or die item to find my way through deserts, city centres or just about anywhere my bike can take me."
5. The Exotogg
"I've been wearing it non-stop since the autumn and, with the storms we've had this year, it has proved its worth as I've battled through high winds, heavy downpours and plummeting temperatures. And then, as a bonus, I've been able to use it as a pillow when I've been camping."
Follow Tiffany's travels here.
Duncan Gough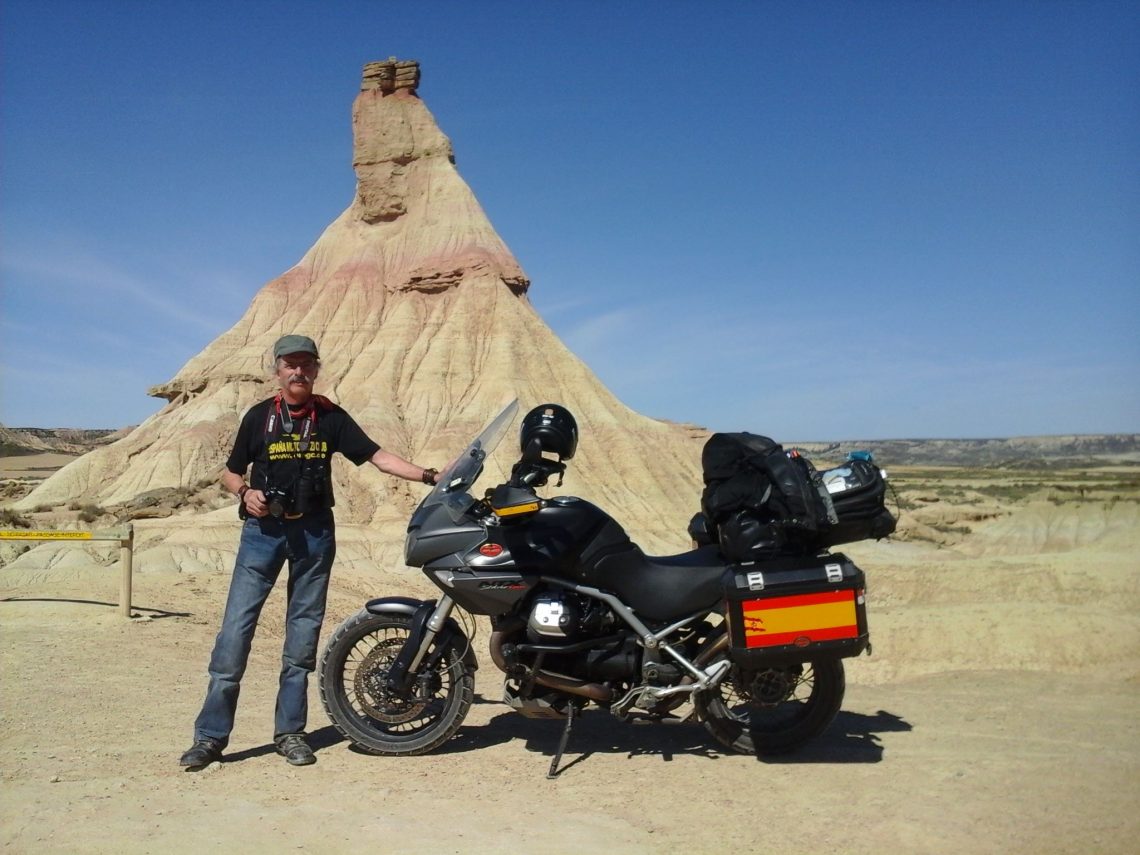 Duncan has been travelling in Spain and Portugal since the early 1980s. What started as an annual week-long break from work grew into a pilgrimage that still continues to this day. He loves to explore new back roads and hidden villages, and likes nothing better than meeting local people and striking up lasting friendships in the region.
His first book, Back Roads of Spain, was self-published in 2010 and proved a success, leading him to work as a full-time writer, starting with publishing a series of guidebooks to Iberia. He's about to publish his seventh guidebook, while also using his expertise to design and lead guided tours.
1. My Exotogg
"The Exotogg is ideal for the Iberian Peninsula where one can frequently gain 610m of altitude and lose 15C of temperature within 10 or 20 miles. It's easy to put on and off, packs up small enough to go in a pocket, and it has many other qualities. When sleeping in the UK in the back of my car, I noticed my blow-up mattress had a slow leak, so I simply blew up the Exotogg and slept on top of it. Need a pillow for your siesta under a tree? Just turn to the Exotogg."
2. Tumeric
"Turmeric, the spice powder. It's an anti-inflammatory and also has antimicrobial properties. I use it on any scrapes, cuts or sores. The powder is dry which aids scabbing and promotes quick healing. The only drawback is the bright yellow stain, so use in some visible places might cause embarrassment."
3. Decent sunblock and moisturiser
"I generally head for the sun and I ride with an open face helmet, so at every water stop I also use the break to freshen up the sunblock protection across my face and nose."
4. 1:350,000 or 1: 400,000 Michelin maps
"A SatNav can sometimes miss the scenic routes or castles a little off the most direct route. A map helps you harness that internal computer we all have, your brain, and avoid the algorithms of something getting you from A to B. And, by highlighting the route taken on the map, you have an easy and complete reference of your travels."
5. Sketchbook
"It's very important to keep a record of my trip. When I stop for a coffee or something to eat, I get out my sketchbook and draw something. Then I write something and these small actions pin moments throughout the day in my memory in a way that writing up at the end of the day ,or snapping away with a smart-phone, does not. It also provides a great source of interaction with people around me."
Follow Duncan's travels online, on Facebook, and check out his tours here.
Exotogg
The Exotogg inflatable bodywarmer has proven a hit with the riders above, but it's not just suitable for motorcyclists. The Exotogg can also be used by hikers, skiers, cavers, and anyone else venturing outdoors. You can find out more at the Exotogg website.