Elspeth Beard
Elspeth Beard is a motorcyclist and award-winning architect. In 1982, at the age of just twenty-three, Elspeth Beard left London and set off on a 35,000 mile solo adventure around the world on her 1974 BMW R60/6 and became the first British woman to motorcycle around the world.
Elspeth will be presenting a slideshow/presentation about a two and a half year solo journey around the world by motorcycle in the early 1980's reflecting on the challenges faced as a solo woman on the road. Now over four decades after her journey, this story has been brought to light in her book Lone Rider and finds new meaning within today's contemporary context recounting the journey in a different era before technology.
https://www.elspethbeard.com/

As Seen From The Sidecar – Matt Bishop and Reece Gilkes
Matt Bishop and Reece Gilkes are the first people to ever circumnavigate the globe on a scooter with a sidecar. They'll be talking on the about the North African leg of their world record breaking ride. They'll talk about the searing heat in Egypt, their run in with the wildlife in Sudan and their first major breakdown in the hills of Ethiopia. Come along and find out just what happens if you try to take a scooter and sidecar through the Sahara!
https://asseenfromthesidecar.org/

Billy Ward a.k.a Billy Biketruck
Having worked with Charley Boorman, Ross Noble, The Hairy Bikers, and Dakar legend Simon Pavey, Billy Biketruck has managed to put a fair number of adventure miles under his belt. Being a qualified African field guide, his passion is Africa and wildlife. Add motorcycles, broken rules, a touch of Irish humour and Liverpool cheek, stir well and there you have Billy Biketruck.
https://www.biketruck.com/

Austin Vince
Austin Vince is an adventure biking legend in our book. The man behind the famous Mondo Enduro and Terra Circa documentaries has inspired riders around the world with his two-wheeled escapades, and continues to do so with his annual Adventure Travel Film Festival.
http://www.austinvince.com/

2 Ride the World – Simon & Lisa Thomas
Don't miss this incredible opportunity to listen to Simon & Lisa and they share the stories behind some of their most iconic photos, in their new presentation "The Story Behind The Still".
Simon and Lisa's images have graced the pages and the cover of magazines around the world. This is your chance to listen to what went into riding into some of the most challenging landscapes on earth and how they created these powerful images.
With over 500,000 miles ridden across six continent, and through 80+. Countries, the pair have some incredible experience to share.
As self proclaimed adventure and food junkies it's not surprising that cooking on the road has become a huge part of the Thomas's journey. If you want your own copy of Lisa Thomas's best selling cookbook "DIRTY DINING – An Adventurers Cookbook", then this is your chance, as the pair will have signed copies on site. Don't miss Lisa's Cooking On The Road Master Class, where she'll be cooking up some of her favorite recipes.
For more info, check out their website: http://www.2ridetheworld.com/rider-profiles-lisa-simon-thomas
If you'd like to check out the pair's stunning photography then don't miss their online gallery: https://www.prints2ridetheworld.com/Adventure/
2ridetheworld on Instagram: https://www.instagram.com/2ridetheworld/

Sam Manicom
Sam Manicom has travelled for much of his life. He took his first solo trip aged 16, when he heading into mainland Europe on a bicycle. He has since in hitchhiked, backpacked and trekked all around the world. Wanting to do something completely different, Sam learned to ride a motorcycle and set off to travel the length of Africa.
He'd been riding a bike for just three months the day he arrived at the Sahara. This one-year trip turned into an eight-year, 200,000-mile journey across 55 countries around the world (Africa, Asia, the Middle East, Africa again, South, Central and North America). His GS is still his only means of transport in the UK and has 285,000 miles under her wheels, so far…
http://www.sam-manicom.com/

Spencer Conway
I am from eSwatini in Southern Africa. I am an Adventure Motorcyclist by profession. I have circumnavigated Africa solo over 34 countries and 55 345 kilometres. This culminated in the Travel Channel TV Series African. Motorcycle Diaries and a best selling DVD and book 'The Japanese Speaking Curtain Maker'. I have recently completed a circumnavigation of South and Central America with my partner Cathy Nel and the new series, DVD and book 'The Zimbabwean Psychiatrists Hat' will all be out this year.
At present we are preparing to cross the notorious Darien Gap which I think needs no introduction. Our aim is to circumnavigate every continent.
My one hour presentation will briefly touch on African circumnavigation, a bit more on South and Central. The main focus will be on the attempt at the Darien Gap whether we make it or not. It is mainly based on anecdotes from each continent. Questions and extreme hassle from the audience is welcomed. My talk is called 'Chase your dreams or forever regret. Sardines are underrated'
http://www.spencer-conway.com/

Chris Scott
Chris Scott has been riding in the Sahara for nearly 40 years and among other books, is the author of The Street Riding Years memoir and the widely acclaimed Adventure Motorcycling Handbook. The 8th, full-colour edition of AMH will be launched at the ABR Festival this July.
As always, endeavouring to practice what he preached, Chris recently returned from the badlands of Mauritania on the Big Twins Sahara Road Trip. Accompanied by travel-biking pros on a BMW 1200 GSA and the new XT700, the trio set out to explore some mysterious corners of the desolate Adrar plateau before heading off to the arid sand sheets of the Tiris Zemmour in the far north.
https://adventure-motorcycling.com/ | sahara-overland.com/sahara-road-trip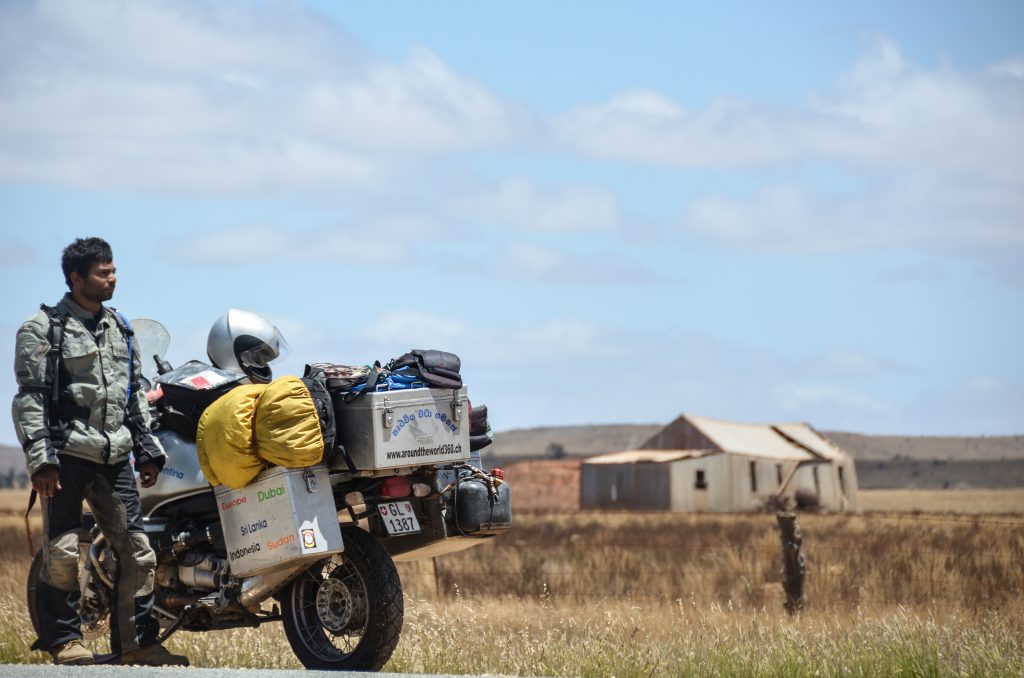 Dylan Wickrama
After riding around the world for two and half years, Dylan finds himself in Panama where all roads end. The bypassing of the Derian jungle becomes the next level challenge on this adventure tour. Undeterred by the ocean and its unpredictability, he builds a raft with ten oil barrels (which is driven forward by his GS 1150) and sets off into the horizon in search of Colombia.

Ken Mc Greevy
Influenced over the years by the inspiring antics of Austin Vince and his mates on their RTW epic TV series  "Mondo Enduro", the seed was sown in Ken for motorcycle  adventure. Like many going to this event ,  family , work  and financial pressures restricted Kens ability to really get away on prolonged motorcycle adventures. 10 years went swiftly past when Charley and Ewan, of " Long Way Round " reignited the flame of adventure which has continued to this day.
With a budget of 500e he sourced the perfect adventure bike , adventurised it to his needs , with everything from ammo boxes to halfords temperature gauges , our hero set off on his annual holidays from ,the Irish Police for the next 8 years across and around Europe and into the Stans . Depositing the bike with strangers and friends newly met along the way to return again the following year to move it further along the track.
Kens focus has always been more on those he has met on his journeys  rather than the scenery, as Ken Says , "the problem with scenery is , its always miles away.
Ken went on to wreck that perfect adventure machine in the Kazakhstan desert while racing to make a presentation to the UN. Yes really… Since then he's travelled where and when he can and his current bike, an Africa Twin, is actually waiting for him to return near the Colombian/Ecuadorian border. Ken is a copper and what you'll realise during his presentation is that it's a career that teaches you many things, like knowing how to get in and out of jail in five minutes flat. On almost every continent it seems.
This is a lighthearted presentation with tales of tears and terror that will have you searching the web for your next adventure machine.
Sure what's travel if it's not a bit of craic?