Mid-way through 2019, REV'IT! unveiled the newest pair of boots in its line-up, the Expedition H2O. While REV'IT! gear is typically found at the higher end of the price scale, the REV'IT! Expedition H2Os come in at an eye-watering £499.99, making them the most expensive adventure boots on the market by some margin.
Indeed, they're £190 more expensive than the SIDI Adventure 2s and £150 more than the Alpinestars Toucans – two models that are at the top of the adventure boot wish list. That's a fair whack and to justify this difference the Expedition H2Os have to offer something unique and a user experience that's befitting of its high price.
Upon unboxing, the early signs were good. With an attractive set up and stormtrooper-like look, they have a style that's unlike anything I've seen before. They're available in two colourways; brown or black (I've had the pleasure of wearing both, and I personally prefer the brown), and the specs list reads like a who's who of top-tier components as well. A BOA lacing system – nice. Hydratex waterproof membrane – fantastic. Vibram soles – perfect. You get the idea.
Throughout the second half of 2019 and into 2020, I've put around 6,000 miles into my pair of REV'IT! Expedition H2O boots, and in that time I've come to know them quite well. Below, you can read about my experience with them, how they performed, and whether they're worth your money. So, let's get into it.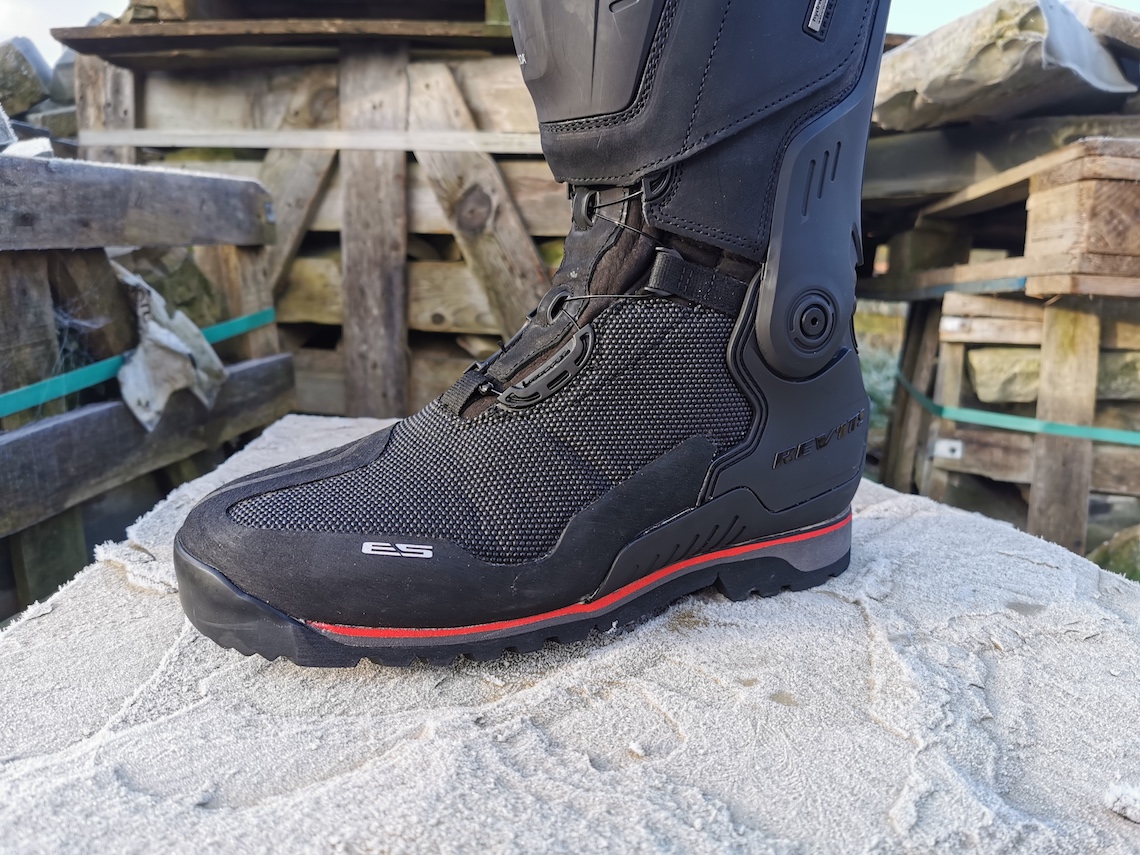 'Revolutionary' boots
REV'IT! calls the Expedition H2O revolutionary. Read the marketing blurb on the company's website and you'll see the amount of effort that has gone into creating them. 'Most adventure boots currently on the market are a compromise,' it reads. 'And we don't like compromises'.
What the company is referring to here is the fact that, in most footwear, it's generally accepted that comfort and protection are at odds with each other. Comfortable boots are usually soft, malleable and well-cushioned.
Protective boots on the other hand are sturdier, stiffer, less forgiving, with chunky armour inserts taking the place of soft padding. Put short, you can have comfort, but it'll be at the expense of protection.
REV'IT!'s set out to change that, though. The base of REV'IT!'s 'no compromise' approach to the Expedition H2O comes in the form of the Dynamic Support Frame (or DSF), which consists of three components: a calf support structure, a heel cup, and a stability frame.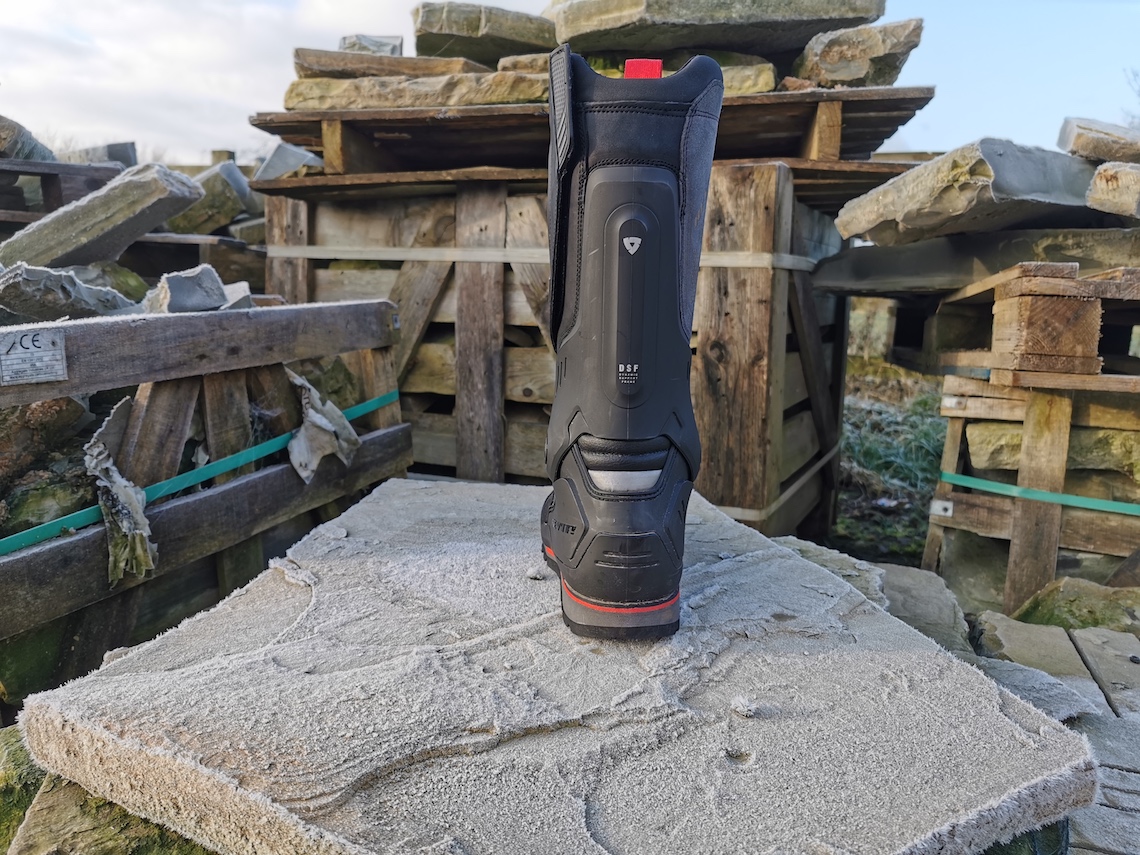 These are engineered in such a way that provides top levels of stiffness and support. At the same time, a hinged ankle allows a great deal of dorsiflexion and plantarflextion (upwards and downwards movement of the foot) while preventing excessive inversion, eversion and rotation of the ankle (side to side movements) which are typically responsible for twists, sprains, and breaks.
By providing such robustness and stiffness with just the right amount of movement, the Expedition H2O boots are able to provide serious protection and genuine comfort both on and off the bike.
I'm a huge fan of the SIDI Adventure boot and have regularly given it the top rating in ABR group tests. It's a fantastic boot that couples comfort and protection well and feature a similar hinged ankle joint, but looking at the two side by side, it's clear to see that REV'IT's Expedition H2O beats it on both fronts. That being said, the SIDI Adventure is still an incredible boot that's nearly £200 cheaper.
The amalgamation of wearability and safety doesn't stop there on the H2Os though. A huge, chunky shin guard sits over the front of the leg and gets fixed into place by a large Velcro patch. On its own, you'd think there's enough impact resistance there, but REV'IT! has coupled this with SEESOFT foam on the tongue of the boots.
SEESOFT foam is flexible, malleable and more breathable than hard armour, allowing the point of contact with your leg to be comfortable over long durations. It rises high up the leg and is genuinely comfortable to wear.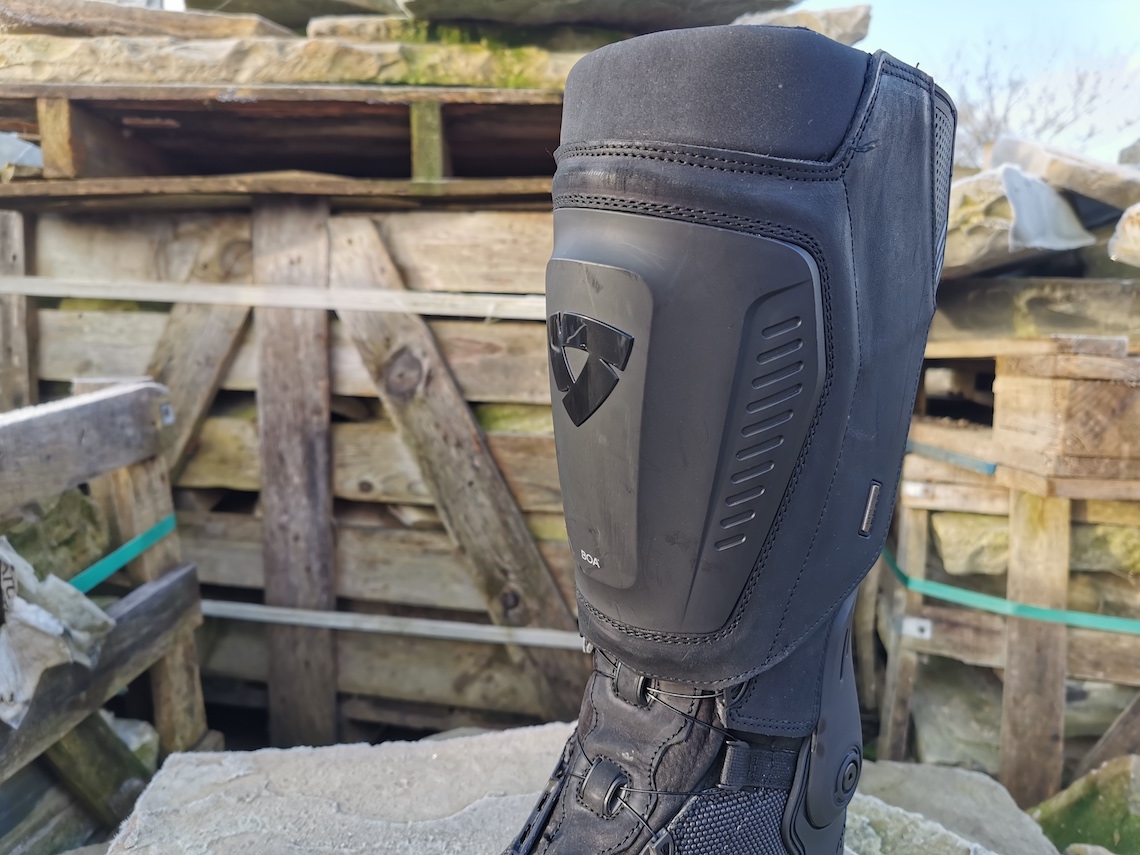 As you can tell, REV'IT! has thought outside the box with the design of the Expedition H2O and that continues into the lacing system. A BOA lacing system on a motorcycle boot isn't exactly new, but it's certainly not the norm. The closure system, which is similar to those found on snowboard boots, has been included to help you get a snug, even fit throughout.
Twist the dial and it tightens the boot with no pressure points along the aircraft-grade stainless steel lace. To undo, you simply pull the dial out and within a second you're free to take the boots off. In use, this lacing system is very well implemented, pulling the boots in evenly and comfortably from top to bottom.
If there is a limitation of the BOA system though, it's the way it makes getting boots on and off a bit of a pain. Even when undone fully, the tongue can only open so far, and I've spent plenty of time wrestling with the boots to try and get them on and off my feet.
At 28 years of age, it's not much of an issue, but I can imagine those with more grey hairs struggling a lot more. They do loosen up a bit with extended wear, and there's a well-placed grab loop to help you pull them on, making them less of a faff.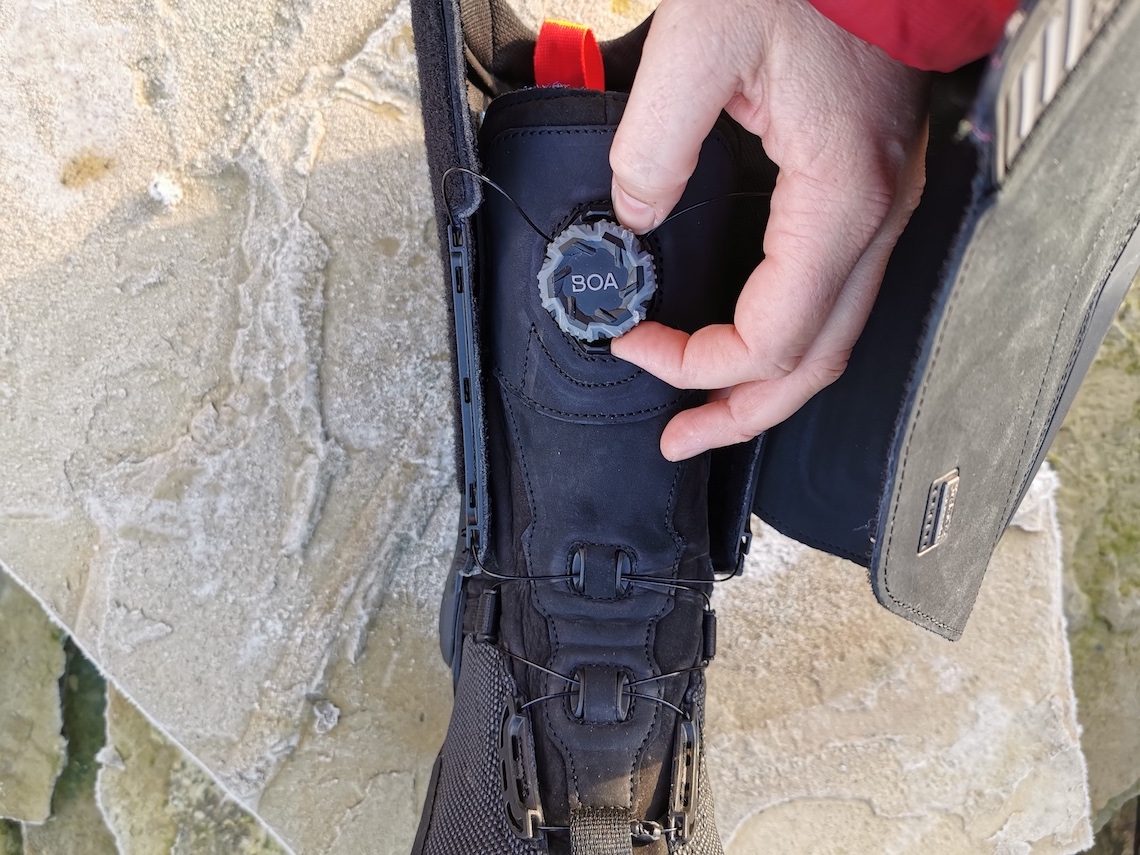 While protection and comfort are two of the most important requirements for an adventure boot, there are other things to consider. Weatherproofing is provided by a Hydratex waterproof membrane, and this does a fantastic job of keeping the wet stuff out.
I've ridden through deluges, stood in puddles and waded through rivers, and they haven't leaked a drop. You might expect a Gore-Tex membrane and the lifetime guarantee that comes with it on a boot of this price, but the Hydratex one does the job just as well.
Like any boot that comes with a waterproof membrane in it, the Expedition H2Os do get a bit stuffy in warmer weather, there's no denying that. To combat this, REV'IT! has included perforated materials around the foot and shin that help to wick sweat away from the skin and it's a solution that works well.
On the flip side, I've found the boots to be plenty warm enough for winter riding, whether in rain or not, and in temperatures around 0C and even lower (I've not had chance to go lower yet).
To keep you upright, the boots come fitted with top-quality Vibram Apex soles. The tread pattern provides good grip on both tarmac and dirt, and in 6,000 miles of use it looks almost as good as new, with minimal wear throughout.
Above the sole there's a multi-density EVA layer that's designed to absorb shock from the footpegs. On most of my rides foot fatigue was kept minimal thanks to these, though on longer days (I'm talking 12-14 hours of riding) my feet began to ache… I'm yet to find a pair of boots in which this doesn't happen though.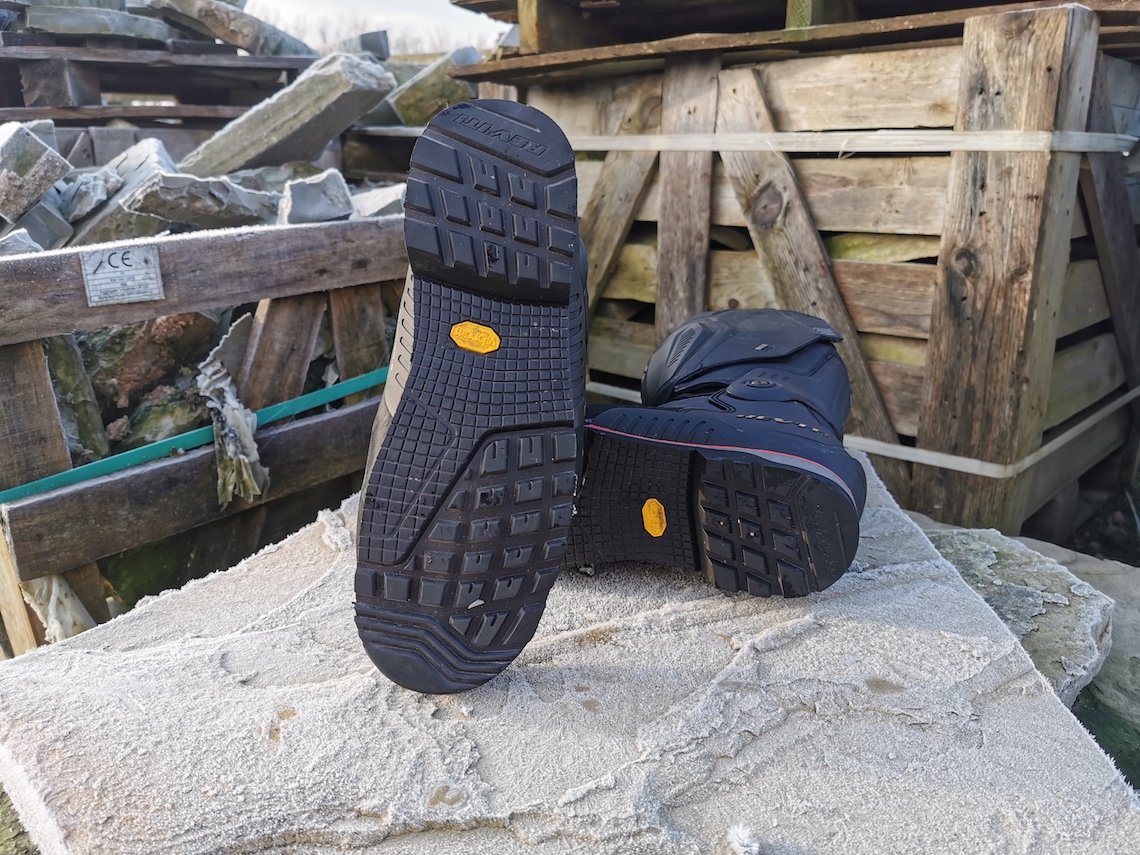 Inside the boot, REV'IT! has included an 'anatomic footbed' that's designed to aid in comfort. They work well, with one annoyance. As taking the Expedition H2Os off isn't the easiest job, you usually have to wiggle your foot around a bit before it starts to budge.
The annoying thing about this is that it tends to pull up the insole, leaving it crumpled and out of place. Putting the boots on again, the insole is then pushed down the boot, leaving an uncomfortable lump underfoot where it curls over itself.
This is avoided by being extra careful when slipping back into them, but it's something that could definitely be done better. This in mind, it'd be worth upgrading to some more substantial insoles that offer similar comfort without the movement.
So, with all that said, how do the boots perform? In honesty, almost faultlessly. On and off road they're excellent. For such a stiff boot they're remarkably supple and comfortable, making long days of road touring easy. Comfort is on par with dedicated road-biased boots and I've had no issues with the aggressive tread finding grip on slick tarmac.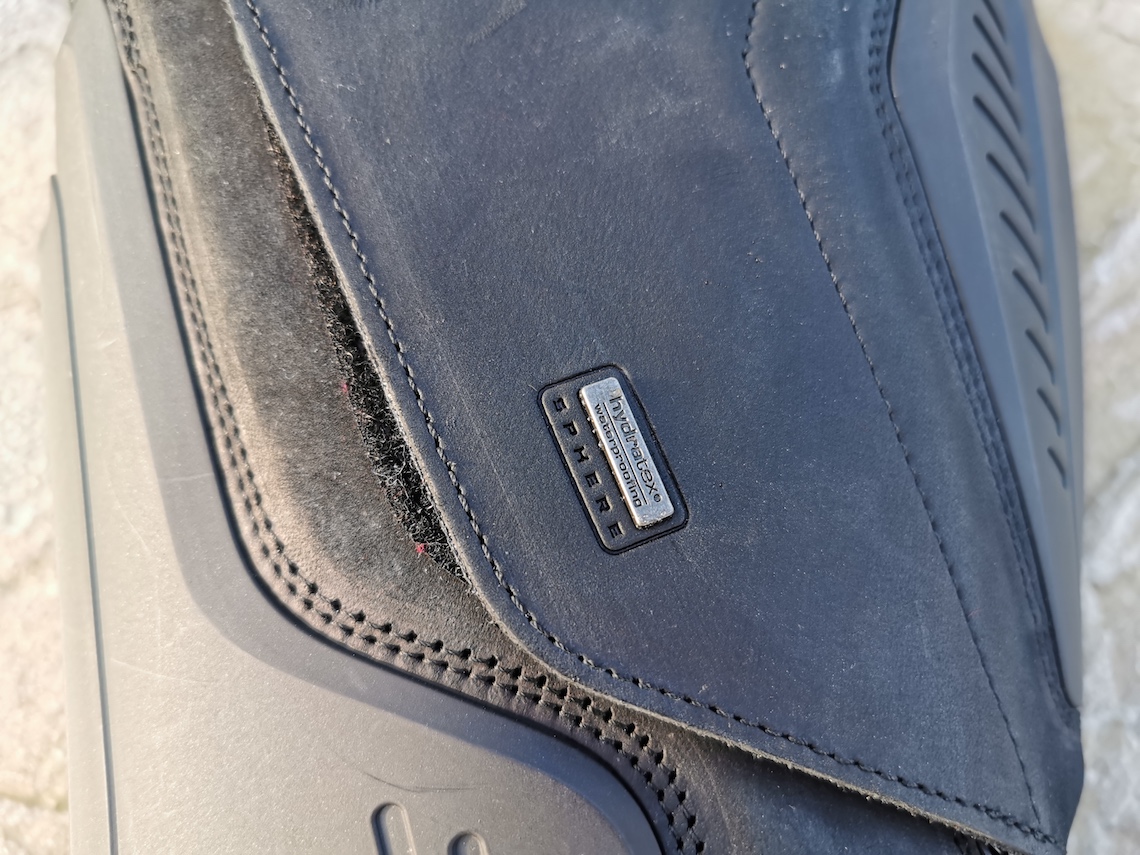 They're excellent boots for all types of road riding, though the grunt and graft you have to put in to get them on and off can make them a bit of a pain to wear on shorter trips around town and to the shops.
If you do decide to wear them around town, the boots are impressively comfortable when walking, making them ideal for jaunts off the bike when touring. It's also nice to note that they don't have the loud squeak that tends to accompany each footstep taken in hinged boots.
Off road, the Expedition H2Os shine. The reassurance you get from the Dynamic Support Frame is most welcome and, like on the road, the soles bite into the dirt to provide great grip. On moments where my eagerness outgrows my ability, they've saved my ankle on a few occasion, most notably when I dropped a GS onto my leg on a hill climb.
REV'IT! Expedition H2O boots – the ABR Verdict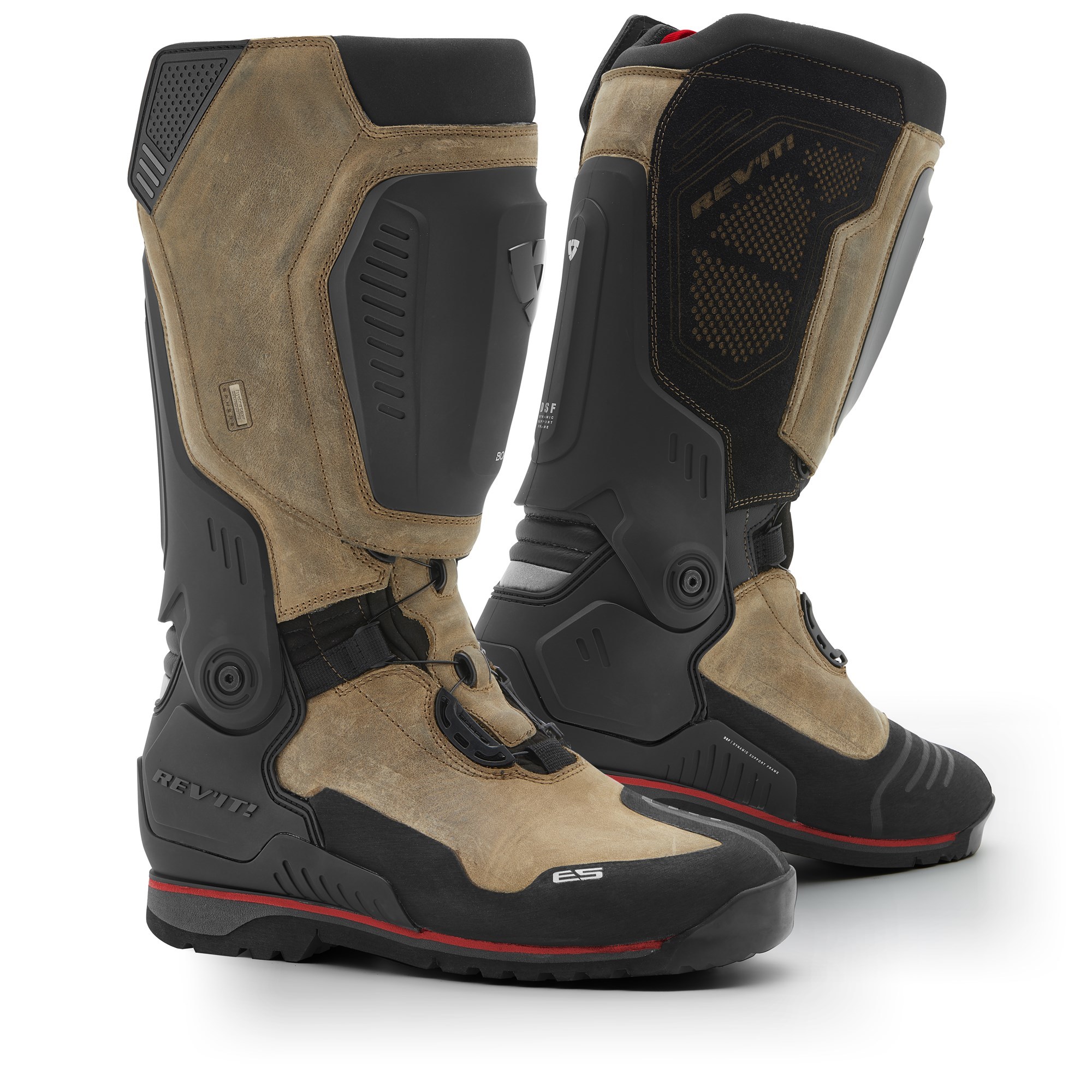 With the Expedition H2O, REV'IT! set out to create the ultimate adventure motorcycling boot. It took the company three years of product development, 100,000km of test rides, 86 adjustments to the design, 27 prototypes, and 134 comments from riders… But did they succeed?
Let me preface my conclusion by saying that, over the past five years, I've tested just about every adventure motorcycle boot on the market. Whether it's those at the budget end of the price range or the more expensive offerings from the likes of SIDI and Alpinestars, I've ridden in them.
In the Expedition H2O, I reckon REV'IT! has created one of the best, if not the best, adventure motorcycling boot on the market. The company has raised the bar with an impressive mix of style, technology and wearability coming together in what is a very comfortable yet protective boot.
They're reassuringly stiff, the amount of armour is plentiful, they're fully waterproof, and the Dynamic Support Frame offers a level of protection that's hard to find elsewhere. On top of this, the hinged ankle, adequate padding, and BOA lacing system sets up a delightfully comfortable experience both on and off the bike. The boots are a masterpiece of design in this respect – never before have I experienced protection and comfort together in such high levels.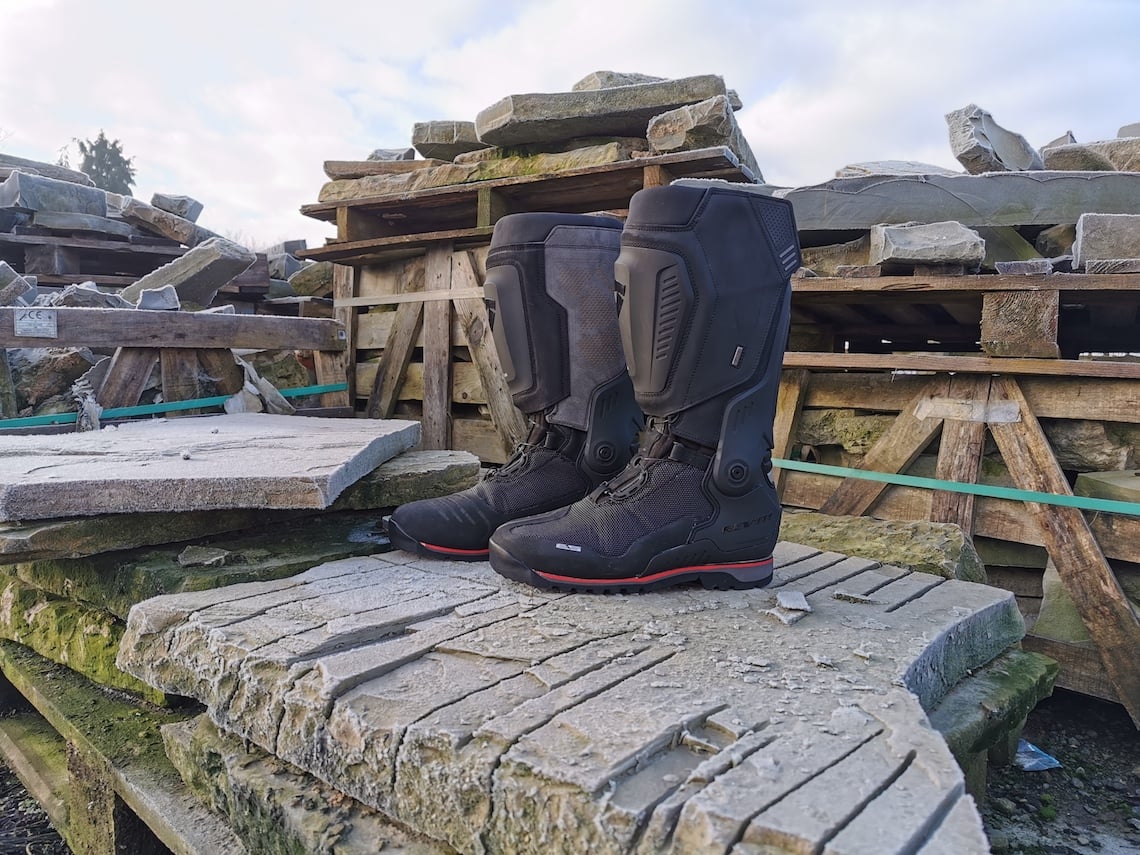 OK, they're a penny shy of £500 and that's going to put them out of the price range for many people, but if you've got the money, they are, in my view, currently the best boots on the market. I'll probably swap out the standard insole for one that doesn't bunch up every time I take the boots off, but that I can forgive.
Before I get all gooey eyed (or is it too late for that?), allow me to add that I can't yet comment on their long-term durability. That said, I put 6,000 miles on my pair through summer and winter, in both searing heat and freezing cold, and I've got no reason to doubt they'd stand the test of time. They look a little worn, but if anything, they look and feel better for it.
So, if you're in the market for a new pair of adventure boots, make sure you give these a go. If you can't afford them, you best start saving! To find out more about the REV'IT! Expedition H2O boots, head on over to the REV'IT! website.