Price: £311.99
www.sidiselect.co.uk
When it comes to dual-sport motorcycle boots, the Sidi Adventure has pretty much set the standard for the past few years. The Adventure 2 builds on the success of the first incarnation, somehow managing to make a brilliant boot even better, but failing to address one issue that almost all users report experiencing – the Sidi Squeak.
I've worn these extensively over the past year, in conditions ranging from driving rain to suffocating heat in Morocco, and they've handled everything I've thrown at them.
The Adventure 2 boots bring together just about everything you could want from dual-purpose motorcycle boots, and bundle it all into a sexy, mean looking shell. Updates for the Sidi Adventure 2 include a higher Gore-Tex gaiter (7cm higher than previous models), a more flexible shaft to accommodate a wider variety of calf sizes, and more flexibility throughout to improve out of the box comfort.
And they're worthwhile additions. For such a cumbersome boot, the Adventure 2 sure feels good on the foot, and once they're worn in there are no issues with them feeling too stiff or restrictive (though during those first few wears they'll feel a little stiff).
They're not going to be as comfortable as, say the more flexible and slipper-like Forma Adventure Boots, but I've not had any issues on long days in the saddle, and the comfort-to-protection ratio seems spot on.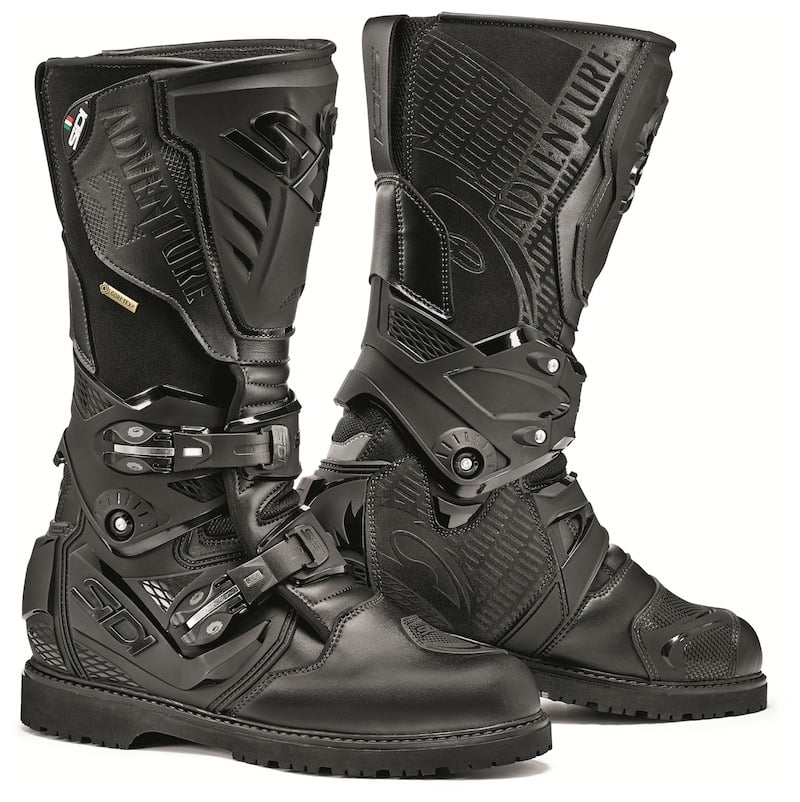 Speaking of protection, the Adventure 2 offers a serious amount of armour and support. The shin guard is one of the most protective on test, and the amount of ankle support offers a huge amount of reassurance both on and off-road.
The toe box feels bomb proof, and the heel cup isn't much different. The sole of the boots features a well-designed tread pattern that performs excellently off-road in all conditions, and just as admirably on-road.
As touched upon before, the Sidi Adventure 2 boots make use of a Gore-Tex lining to keep the wet stuff out, and in thousands of miles of use they've not leaked on me once. They can get a little stuffy in warmer climates, but I didn't feel too uncomfortable riding through temperatures of around 36C in Morocco.
The extra 7cm in height that the extended gaiter provides (new for this incarnation) is also a welcome addition, providing you with more coverage when standing in shallow rivers and puddles, or when you're being sprayed with surface water by the vehicle in front of you.
To make such a heavy and rigid boot more comfortable, Sidi has included a hinge on the ankles which allows the ankle to flex when walking and moving on the pegs.
This is a fantastic addition, but it's responsible for something that has almost become a calling card for the boots – the Sidi Squeak. You're not going to sneak up on anyone while wearing these as they squeak loudly with every single step.
Whether that's enough to put you off buying them is your call, but if you can look past it they're almost perfect. And for these reasons, in a recent group test of adventure styled motorcycle boots, I awarded the Sidi Adventure 2s the ABR Recommended award. The only other adventure boots that can touch them for all-round performance and comfort are the Alpinestars Toucans.
These may be pricey boots at £311, but the old adage of 'you get what you pay for' rings true here. All of the components, including the buckles and clasps, are top quality, and I've got a pair of original Sidi Adventure boots knocking around that have been in use for nearly five years now with no issues.
Conclusion: Premium waterproofing that keeps your feet dry, excellent protection for all types of on and off-road adventure motorcycling and brilliant comfort all make the Sidi Adventure 2 boots one of the best pairs of adventure motorcycle boots that you can buy.