The lure of Ecuador as an adventure biking destination is potent. This South American country, which is sandwiched between Colombia to its north and Peru to its south, possesses motorcycling riches to rival anywhere on Earth.
It's a bold claim I know, but those who have ridden there speak of spectacular mountain passes, sublime jungle roads, a myriad of stunning landscapes, and a seemingly endless choice of dirt trails disappearing off into the wilderness.
Named after its position on the equator, Ecuador is also cheap, safe, and welcoming to travellers, making it a must-ride destination for any motorcyclists with a thirst for adventure.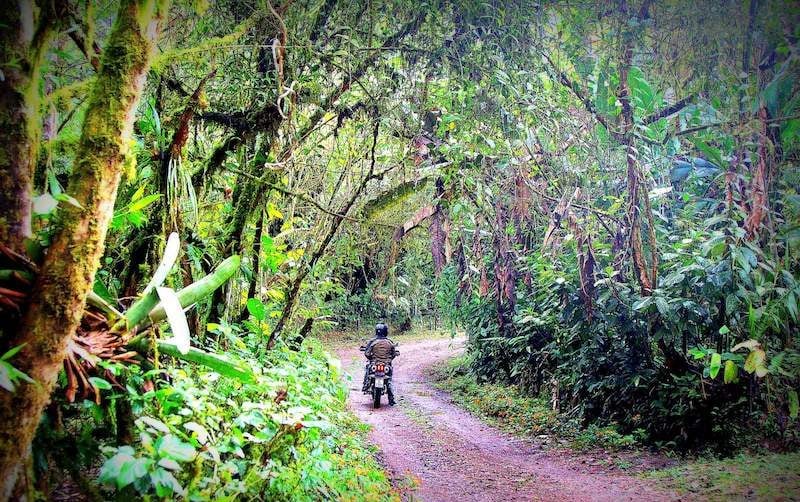 In fact, American biker Court Rand and his French pal Sylvain Gallea loved riding in Ecuador so much they decided to move there and start a motorcycle touring business called Ecuador Freedom Bike Rental.
Now, after a decade of sharing the delights of their adopted home with fellow adventure riders, the pair are among the world's leading experts on motorcycling in Ecuador. With this in mind, we asked them to name their top 10 must-ride destinations in this exotic and enchanting country.
Be warned, the list is likely to have you packing your bags and booking flights to Ecuador pronto.
1. Chimborazo National Wildlife Refuge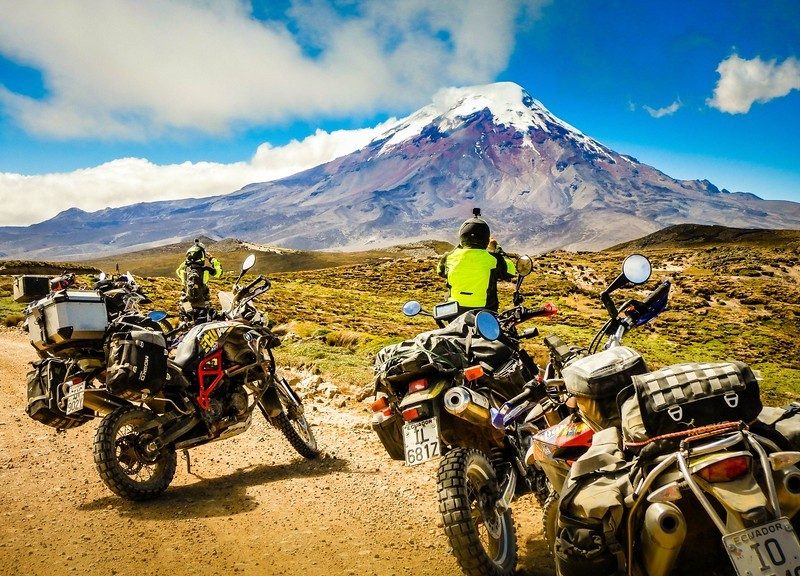 Journey through Chimborazo National Park and you'll be riding towards the moon, literally. The inactive Chimborazo volcano is closer to outer space (and the moon) than anywhere else on the planet. This is down to the fact the Earth bulges outwards at the equator, making the 6,268m-high volcano the highest place on earth.
The bewilderingly huge landscape of Chimborazo National Park is a popular attraction for adventure travellers throughout the world. Handily, for us bikers on a motorcycle tour of Ecuador there is a road that wriggles through its centre, immersing us in truly breathtaking scenery.
2. The Quilotoa Loop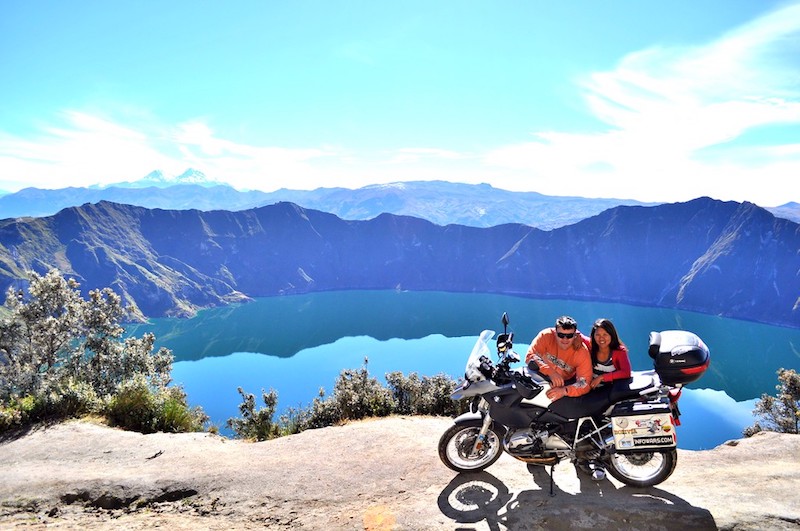 If you've scrolled through some of the stunning images of Ecuador on Instagram, chances are you're familiar with Laguna Quilotoa. This volcanic crater lake is a mesmerising sight in all its emerald green glory.
The trails and roads that loop around this volcanic landscape offer up some mind-blowing riding, making a visit to this area an unforgettable experience. And make sure you capture your own Instagram photo to make the world's armchair adventurers jealous!
3. Sangay National Park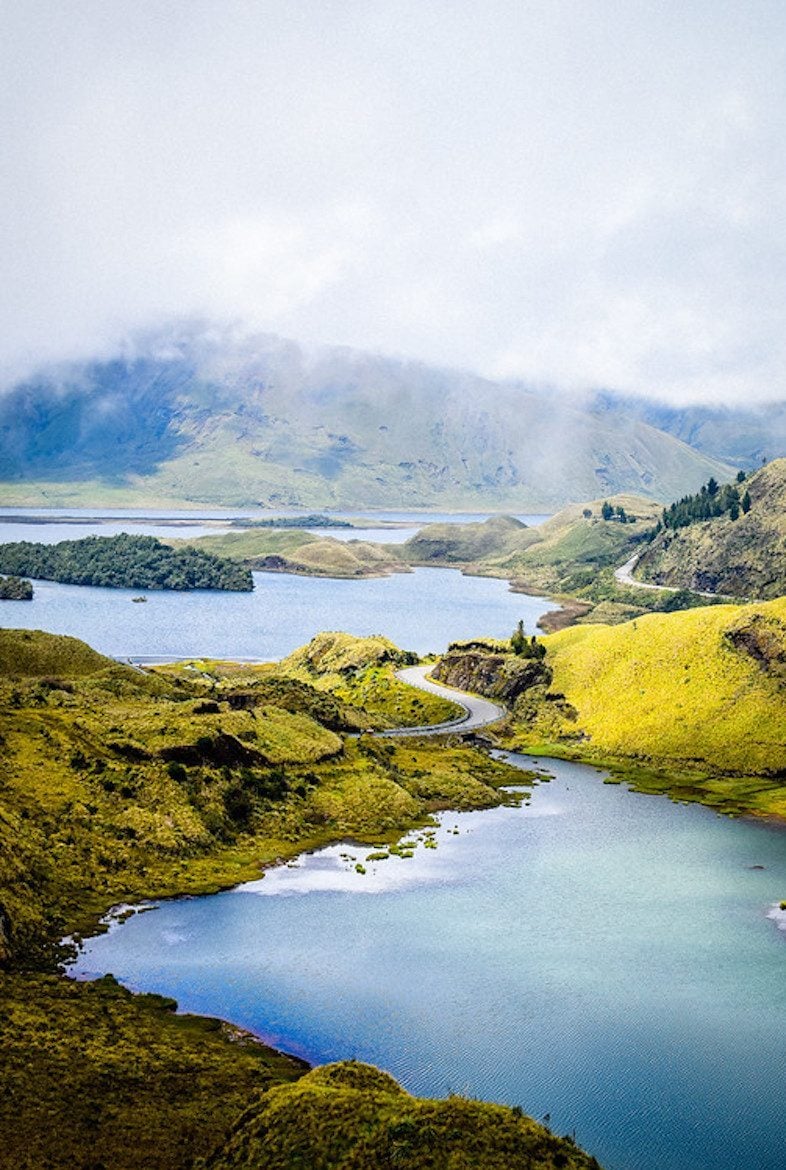 Sangay National Park is a UNESCO World Heritage Site located near to the centre of Ecuador. In this one park you'll discover tropical rainforests, glaciers, snowcapped peaks, forests and plains. It also contains active volcanos spewing ash into the air. For those of us on a motorcycle tour of Ecuador, there is a paved road that snakes its way through these ecological wonders giving you a front row seat of nature at its most sublime.
4. Ruta Spondylus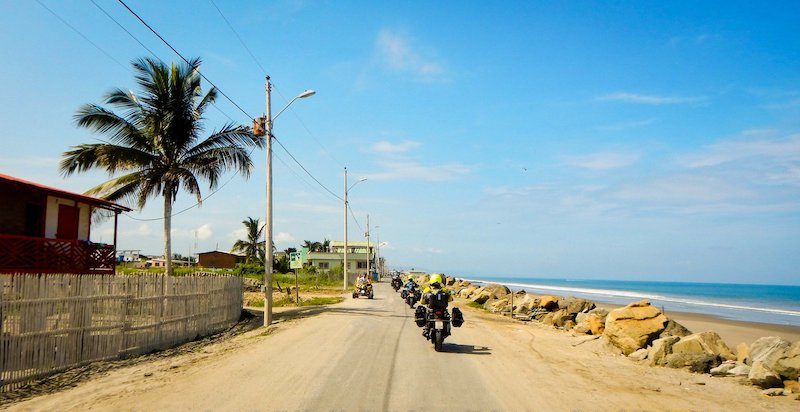 Here at ABR we love cruising along a coastal road, the sun on our faces breathing in a cool coastal breeze. Ruta Spondylus is one of the best, stretching along the Pacific coast along a paved road nestled between this beautiful land and the ocean surf. Sit back, relax and enjoy this slice of heaven on earth.
5. El Angel National Park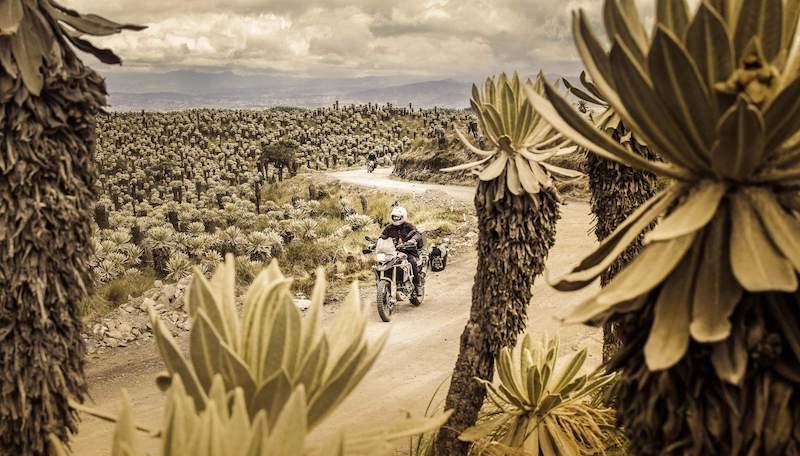 If you're extremely lucky, you may spot a puma in El Angel National Park. The big cats lead a largely secretive life in this ecological reserve located in the far north of Ecuador. Its barren yet beautiful landscape also features some magnificent dirt riding opportunities.
6. Ingapirca ruins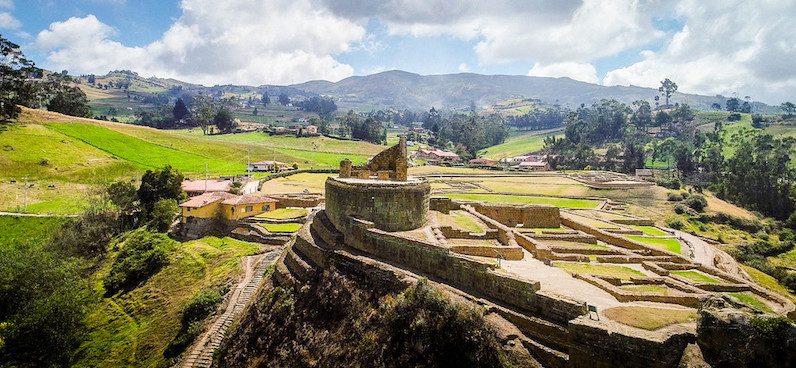 The Inca ruins at Ingapirca may not be as famous as the likes of Machu Picchu in Peru but they are certainly worth visiting during a trip to Ecuador. The ruins are the country's best preserved archaeological site and the area is still inhabited by the indigenous Cañari people.
If all that culture and history leaves you needing a biking fix, you can enjoy a fantastically twisting ride on a paved road leading to and from the ruins.
7. The Amazon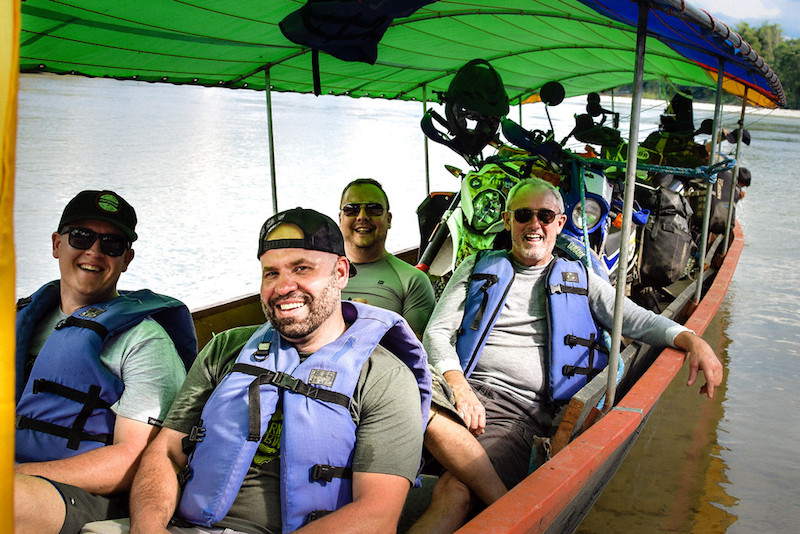 Taking some time off the bike to cruise along the mighty Amazon River is a must during a visit to Ecuador. This part of the world is one of the most bio-diverse areas on the planet, thriving with life including jaguars, river dolphins, sloths, anacondas and macaws to name a few.
We'd also recommend visiting a village to meet the local people and learn about their culture and daily life.
8. Cayambe Coca National Park
In a country blessed with so many natural wonders, the Cayambe Coca National Park turns Ecuador's breathtaking scenery up to 11. Volcanic springs and glacier lakes form part of a ruggedly beautiful landscape.
You'll be riding snaking roads clinging to cliff edges amid some of the most awe-inspiring scenery you'll ever see. Most of the area is devoid of roads, but there are highways that skirt the edge and dip into the park.
Entering the park in a vehicle requires special permission that can be tough to acquire. Ecuador Freedom Bike Rental is one of the few tour companies with guaranteed access, so travelling with them means you won't miss out on this natural wonder. They'll also show you some secret spots only known to locals.
9. Bahia de Caraquez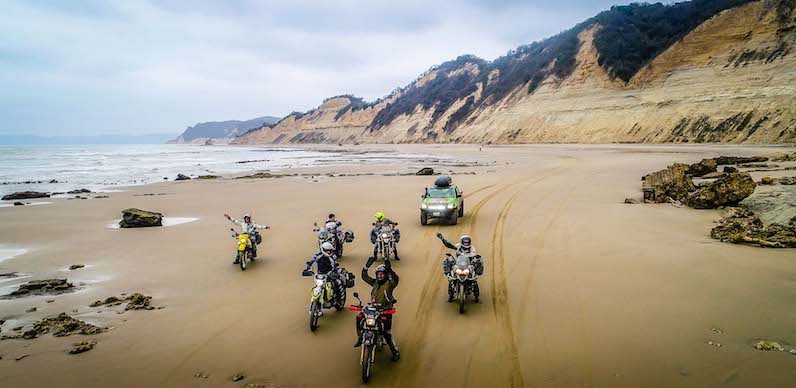 This picturesque tourist city sits on the mouth of the Chone River and boast stunning beaches stretching along its coastline. As bikers, we can ride along a 10-mile stretch of beach, feeling our tyres slithering in the sand beneath us and kicking up spray from the Pacific Ocean. Being able to roam free on the sands is an exhilarating and unforgettable experience on a motorcycle tour of Ecuador. Just make sure you wash the salt water off your bike afterwards!
10. Zumbahua, Angamarca, El Corazon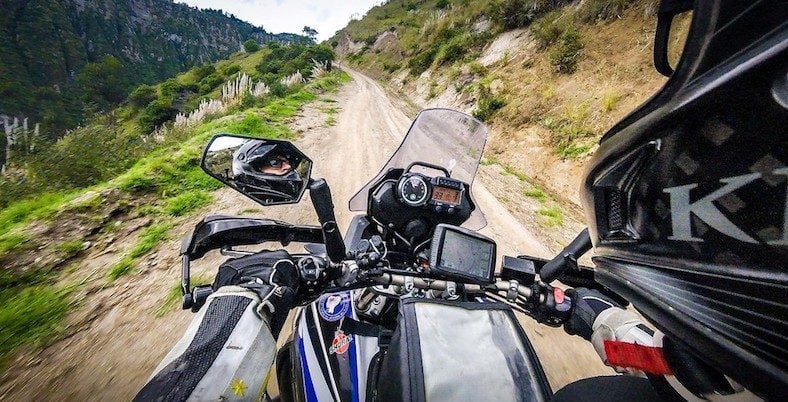 The unpaved road that links the towns of Zumbahua, Angamarcan and El Corazon is littered with steep hairpin turns on sublime mountain passes with no barriers. It's almost 60 miles of adventure riding at its very best. You'll need to keep your wits about you on its changeable surface featuring a few water crossings, but that just adds to the fun.
Ecuador Freedom Bike Rental
If these stunning riding locations have whet your appetite to explore Ecuador yourself, then get in touch with Ecuador Freedom Bike Rental and ready yourself for an unforgettable adventure.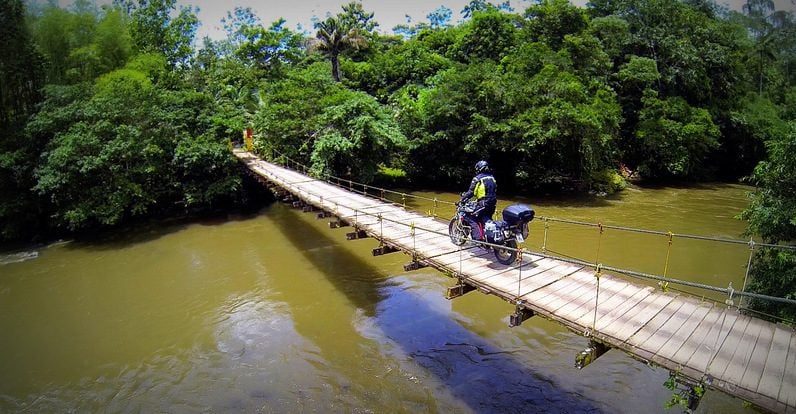 The tour company offers a selection of guided tours led by guides with intimate knowledge of the country. However, if you fancy going it alone, you can also select from a series of self-guided tours, exploring a route carefully crafted by the Ecuador Freedom Bike Rental team.
The bikes
The company also offers rental on a large selection of adventure bikes from manufacturers including Honda, BMW, Suzuki, Husqvarna, and Triumph.
The bikes come fitted with accessories such as crash bars, skid plates and luggage to ensure your motorcycle is ready for adventure.