We all want to take cracking photos of our motorcycle adventures so we can keep them in our memories forever, but sometimes, we can't quite execute the type of epic imagery that we imagine in our head, and our images come out average (at best). Especially when solo riding.
So, as part of our collaboration with motorcycle insurance specialists, Bennetts, for the company's 'Make Your Own Adventure' campaign, we've decided to take a closer look at how to capture stunning adventure motorcycling photos.
So, without further ado…
All the gear, no idea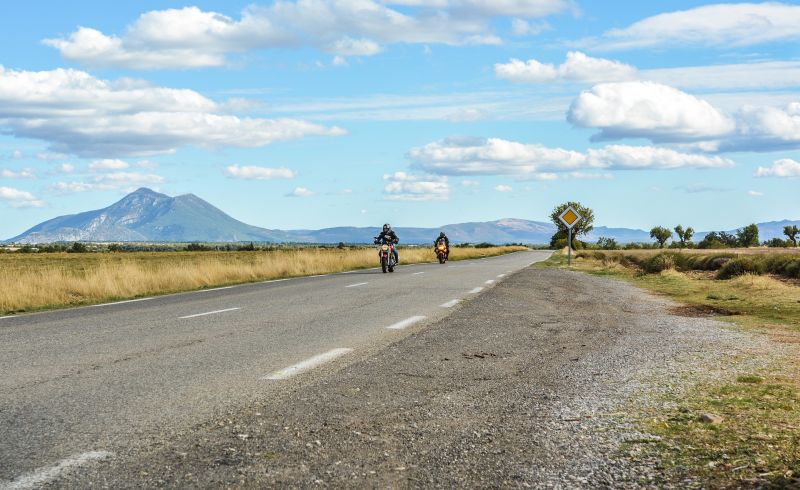 First things first, you need to think about what you want to use your photography for, and then what equipment you're going to need to achieve this.
If you're a rider who wants some memorable snaps for a social media account or to look back on in years to come, you may find that smartphones these days offer you the kind of megapixels to achieve stunning 'show off to your pals' type photographs.
However, if you're a hobbyist or a rider who wants to up their photography game in order to improve their chances of being published, then you may want to invest in a decent DSLR camera.
If you're riding solo, then a tripod is going to be your best friend. You can set up the shot you have in mind, then with the aid of self timer, a remote clicker or Bluetooth connection via your camera's smartphone app (if it has one), you can take cool landscape images where you and your bike are the subject.
The rule of thirds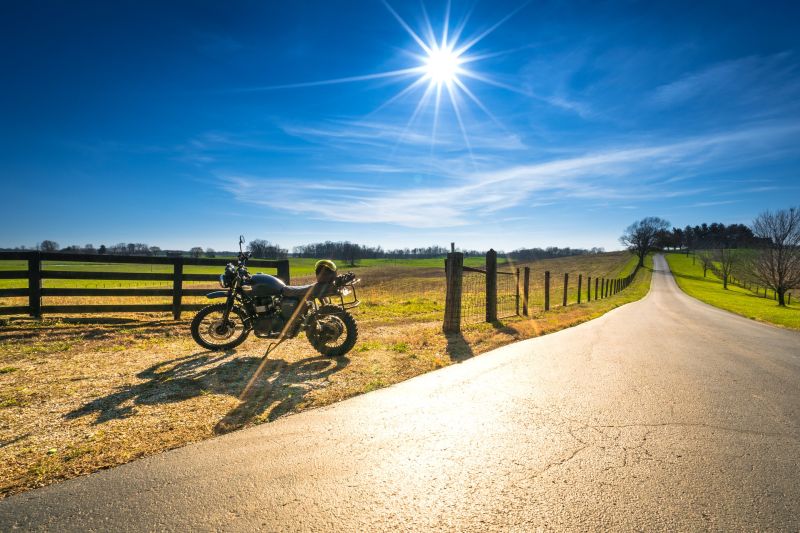 Most smartphone and DSLR cameras have a grid reference function, this is a really helpful tool for you to be able to nail the rule of thirds. But what is the rule of thirds?
Well, using the rule of thirds means the subject isn't centred in the image. It draws the eye of the viewer into the image by offering a balanced and harmonious composition, rather than leading them to glance at the centre. That's not to say that you have to use this method every time you take a photo, but it's a good place to start.
The rule of thirds is also a very useful tool when capturing images for, for example, a double page spread in a magazine. If the subject of your image is in the centre, then it's going to be lost or distorted when the magazine goes to print – basically, you're going to lose it in the centre fold and the magazine editor probably won't use your image. Instead, you want to make sure the subject is away from the centre line and can be clearly seen in one of the other two thirds.
Angles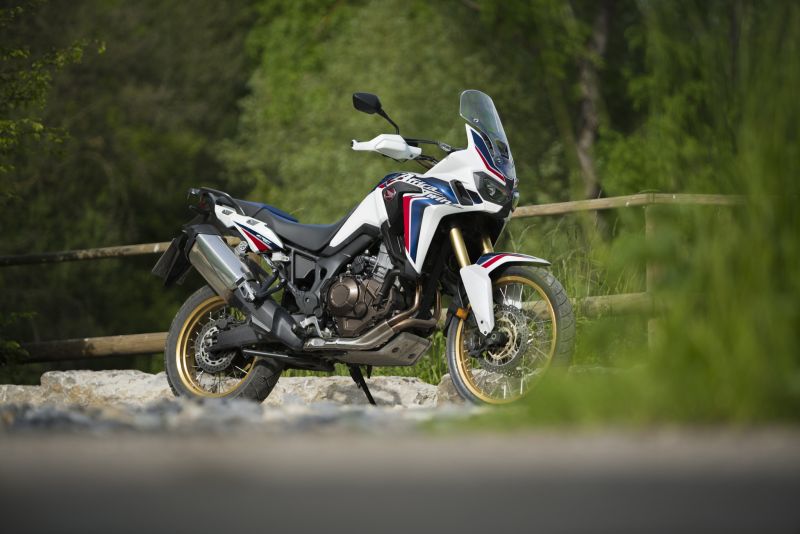 Photo: Björn
Images can get a little 'samey' if you're taking them all at similar heights and compositions. So, we challenge you to mix it up a bit – think outside the box, as they say.
When setting up your shot, take a step back or have a long look around you. Is there a different angle which would make the image more interesting or give it a new perspective?
Remember, you are telling a story with your images, so how are you going to portray your story to the viewer?
You may find that low shots, getting up high and taking a birds eyed view shot or taking a 'look through' shot where you frame your image with something like nearby foliage, may make your images more interesting to look at.
Shutter speeds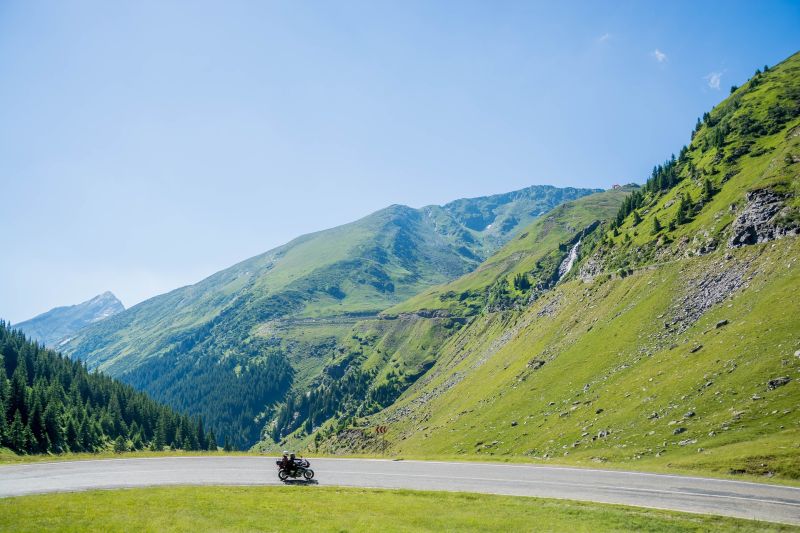 Controlling the shutter speed on your camera will manipulate how clear moving subjects will appear in your images. For example, if you want to capture a motorcyclist riding down a section of a mountain pass in the Alps, chances are you want the rider and bike to appear crisp and not blurred in your photo.
If this is the case, you need to significantly increase your camera's shutter speed to a high number such as 1/160sec, to help freeze your subject and stop motion blur.
However, it's not all about being fast. Playing around with a slow shutter speeds in low light or at night can create some truly magnificent photos. You'll need your camera to remain completely still, therefore you will need a tripod in order to create these types of images.
So, if you're out in the wilderness with your tent and motorbike, and you want to capture the clear night sky that sits above you – have a play around. Lowering your shutter speed will allow more light to come into the lens of your camera, therefore it will capture the stars in the sky. Depending on the light conditions, you may need to leave your shutter open for over a minute.
High resolution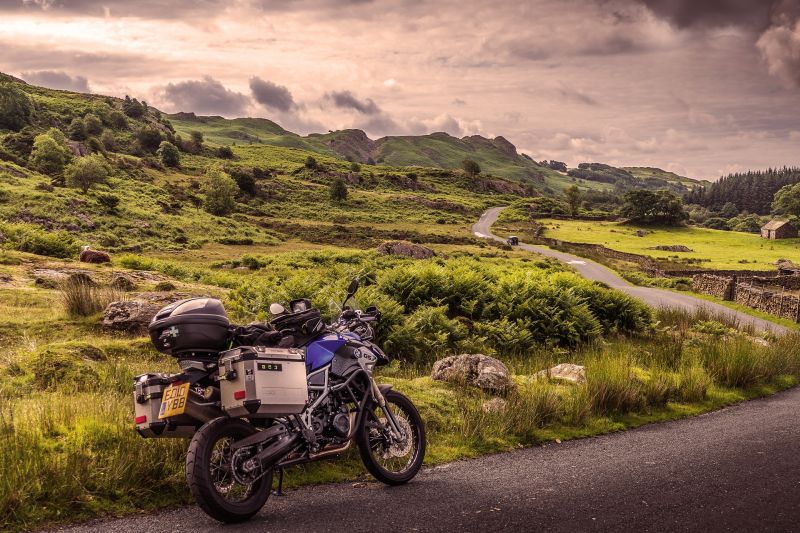 If you're going to be editing or professionally printing your photos, then you need to take the images in the highest resolution possible. So, before you start snapping, make sure your camera is set to produce the largest image or file size, and to the minimum compression setting (you'll often find this is offered in the menu as fine or superfine).
Many cameras these days also offer a RAW setting. Now, this is the best setting for you to use if you're going to be delving into post production editing with software such as Photoshop or Lightroom, as this allows your camera to capture images with no compression at all.
Just keep in mind that RAW images take up a heck of a lot of storage on your memory card, so if you're going to be shooting RAW images, make sure you have a card which has plenty of storage.
Shooting times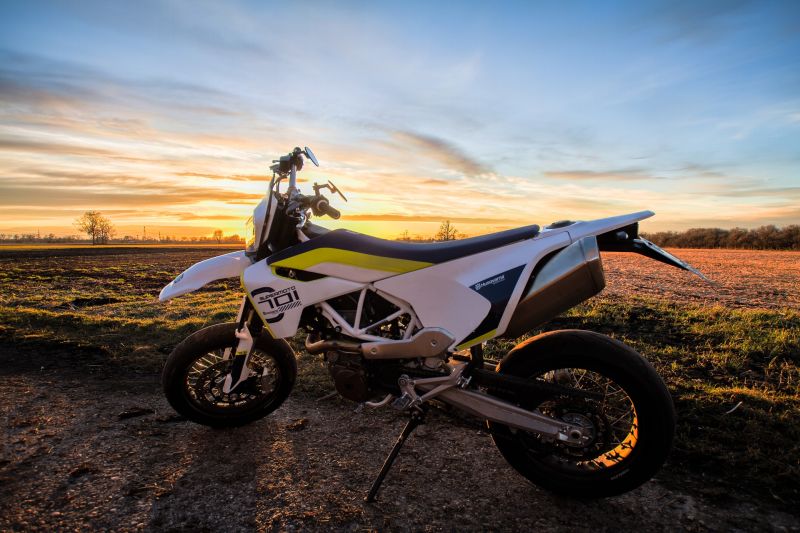 Generally speaking, if you want to capture breathtaking landscape images which feature your bike, you'll want to around the golden hour (the period shortly after sunrise or before sunset) at each end of the day when the sun is low.
The light is softer, there is usually rich colour in the sky, and lots of shadows to add texture to your images. You'll often find your images can become too washed out if you're shooting around midday because the sun is too bright.
Enter the ABR Photograph of the Year Competition
There's nothing that gets us in the mood for riding more than seeing photos of ABR readers riding in stunning locations. Whether you're travelling through far-flung landscapes or finding that picture perfect spot two minutes down the road, we love seeing your images.
That's why we're holding the Adventure Bike Rider Photograph of the Year competition. The competition runs until 30 September, when eleven finalists will be chosen to have their images exhibited in the Adventure Bike Rider 2021 Calendar, and an overall winner will also be chosen and their image crowned Adventure Bike Rider Photograph of the Year and given a double-page spread in the November/December issue of ABR.
Find out how to enter HERE.
No matter how big or small your adventure, you need bike insurance you can rely on. Bennetts is a motorcycle insurance specialist which has been trusted by bikers for 85 years, and from the gnarly off-roader to the touring mile-muncher, the company currently provides cover for more than 230,000 motorcyclists. With a UK call centre, EU riding cover as standard, and a whole heap of excellent extras, Bennetts is an insurance company that'll have your back.
To find out more about the company or to get a quote, head over to the Bennetts website.