There's no better way to kick off a weekend ride than with a hearty fry up. Eggs, bacon, beans, hash browns, mushrooms… delicious!
This is why you'll find biker cafes up and down the UK heaving on any given weekend, with an impressive collection of motorcycles parked outside for good measure.
So, to celebrate that tradition, we've teamed up with Moto Corsa Motorcycles, in Dorset, one of our favourite biker haunts in the south west of England, to put together a series of cracking weekend rides for you to enjoy over the next few months, with one tasty thing in common.
This route is designed to start with a slap-up breakfast at its on-site, award-winning Café Corsa (you'll get 25% off a breakfast if you quote 'ABR68' when you order), while also taking in some of the best roads in the area during a morning or afternoon blast.
So, without further ado, let's take a look at our first route, which heads south via England's answer to an alpine pass before visiting the stunning Jurassic Coast.
England's answer to an alpine pass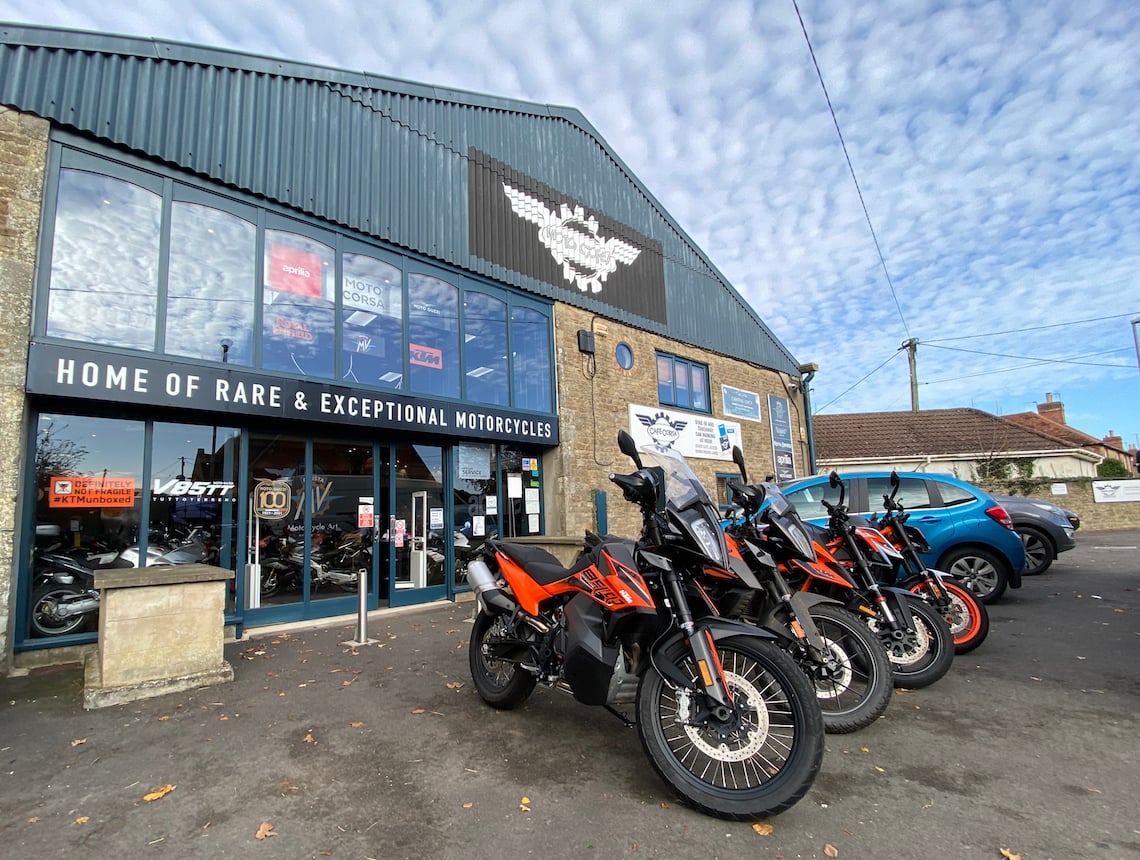 After filling your belly, you hit the road in the direction of the south coast. The riding impresses early on as you arrive at Zig Zag Hill, a road famous with local bikers.
It's the South West's answer to the switchbacks of a classic alpine pass. And while it may only last for a mile, it packs a lot of punch into short distance, before the road continues onto a series of flowing bends.
From here, we follow country lanes to our first stop of the ride, Clouds Hill. It's also known as Lawrence of Arabia's Cottage, and was home to the man himself who is famed for his exploits in the Middle East during WWI.
He was also keen a biker and, somewhat morbidly, he actually died crashing his Brough Superior on this very road. If you continue a little further past the cottage, you'll come across the Lawrence of Arabia memorial.
Lawrence wasn't wearing a helmet at the time of his crash, and his death sparked a process that ended in the House of Commons making it compulsory for bikers to wear lids when riding, some 38 years down the line.
Onto the Jurassic Coast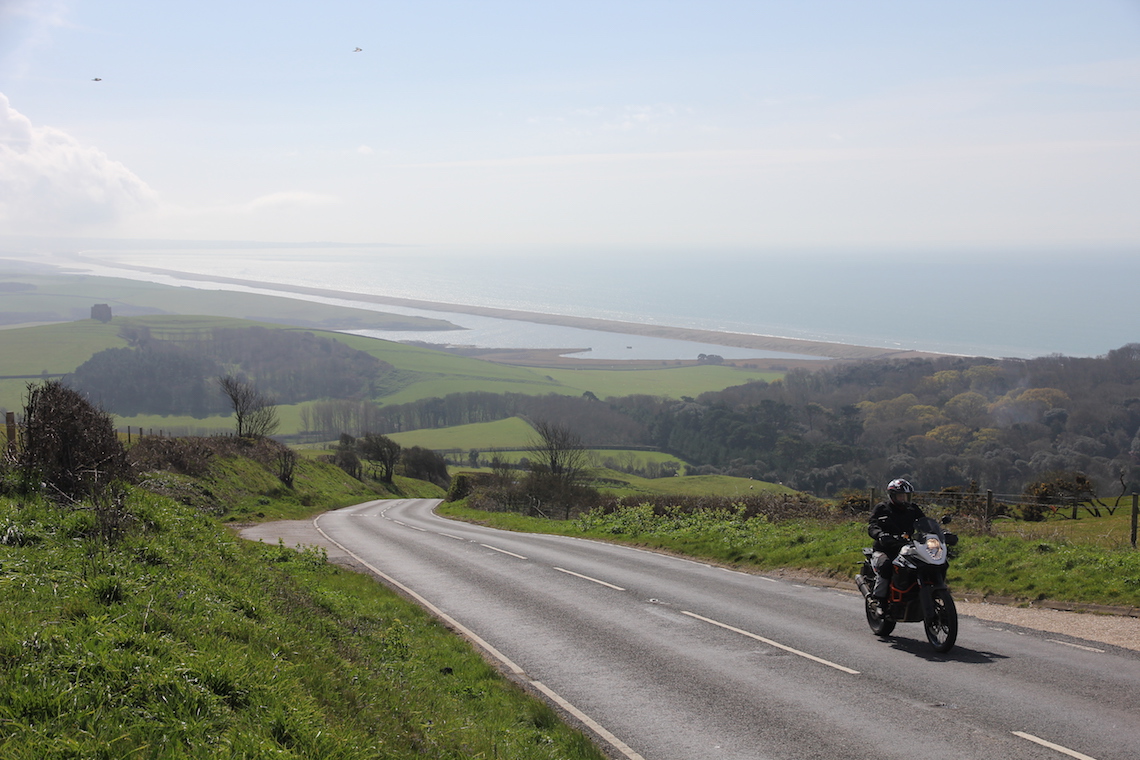 Moving on, we pass the Hardy Monument, a tribute to Vice Admiral Sir Thomas Hardy, who captained HMS Victory in the battle of Trafalgar (1803), and famously held Lord Nelson as he lay dying.
Then we meet the Jurassic Coast, famous for the number of fossils found in the local vicinity, and ride a magnificent stretch of road that rises above the crashing waves to our left and rolling hills off to our right.
We follow this road all the way to Lyme Regis, a quaint harbour town that makes for the perfect mid-ride break. Be sure to park up and take a stroll, or visit The Cobb, the town's famous picturesque harbour arm, before you hit the road again.
Once we've stretched our legs, we hop back in the saddle and ride a collection of snaking country lanes back to Café Corsa, ending this perfect half-day blast.
We've covered around 130 miles in four hours, satisfied our hunger, ridden some terrific roads, and seen our fair share of sights for good measure. Weekend rides don't get much better.
Want to ride this motorcycle route on the south west coast?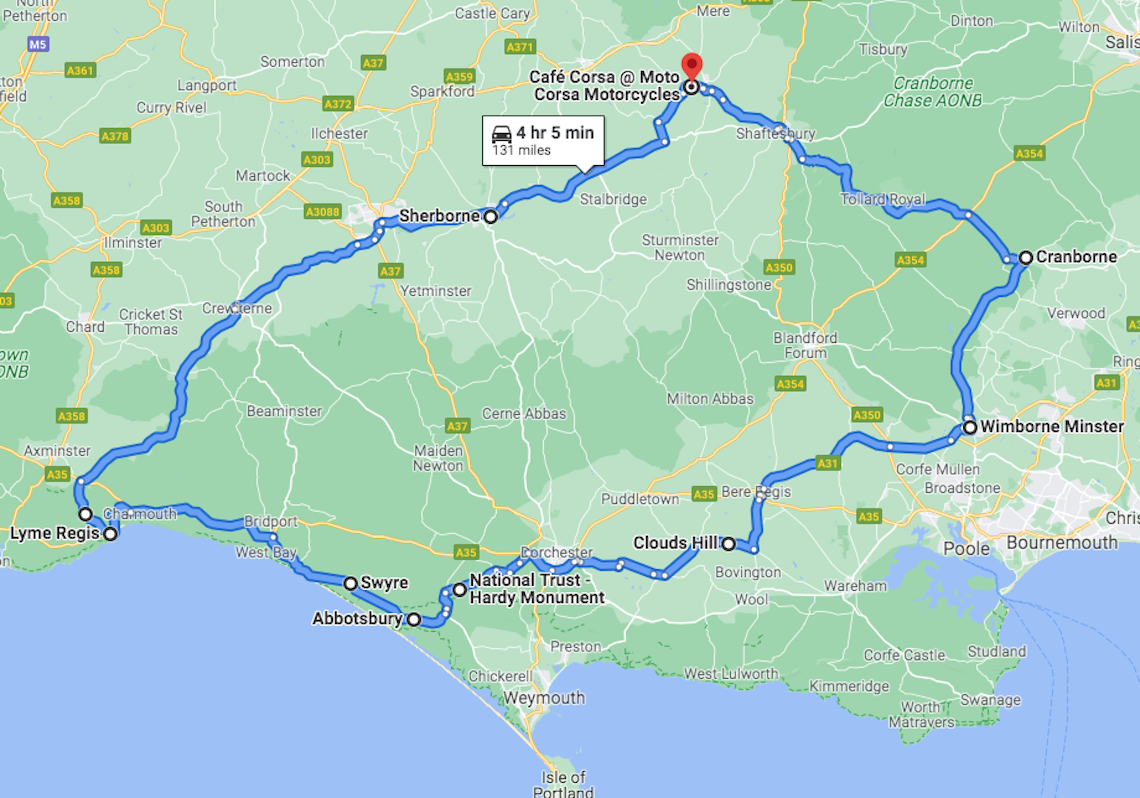 Plug the waypoints below into your SatNav device to follow as near as dammit the ride on the south west coast.
Alternatively, you can also find the route on TomTom MyDrive, where you can also download the route as a GPX file. Head here to download it.
And don't forget, quote ABR68 at Café Corsa for 25% off your breakfast.
Start – Café Corsa
Cranborne
Wimborne Minster
Clouds Hill
Hardy Monument
Abbotsbury
Swyre
Lyme Regis
Sherborne
Finish – Café Corsa
Total mileage: 131 miles