One thing that keeps us amazed in the ABR office is the amount of new technology constantly being developed for the motorcycle audience. From gadgets that turn your helmet into a full-on sound system, to visors that darken at the touch of a button, we can't wait to see what the future holds for the biking industry.
One big topic that has always been a concern is biker safety. In April 2018, eCall systems were made mandatory for all new cars sold within the EU, and dguard looks to bring a similar technology to motorbikes.
What would happen if you were riding solo with no vehicles around, came off your motorbike, were seriously injured, unconscious and needed urgent medical attention? You'd be unable to call the emergency services and be pretty buggered. This is always a frightening situation for bikers and one we need to be prepared for incase of the worst.
Enter the dguard eCall System. This nifty gadget detects crash situations and automatically triggers that vital message, detailing your GPS co-ordinates to the emergency services via its mobile network. The emergency service team then receives a voice message (automatically in the language of the country you're riding in), which sends three repetitions of your current location, or if signal is poor, your last known location. Clever stuff.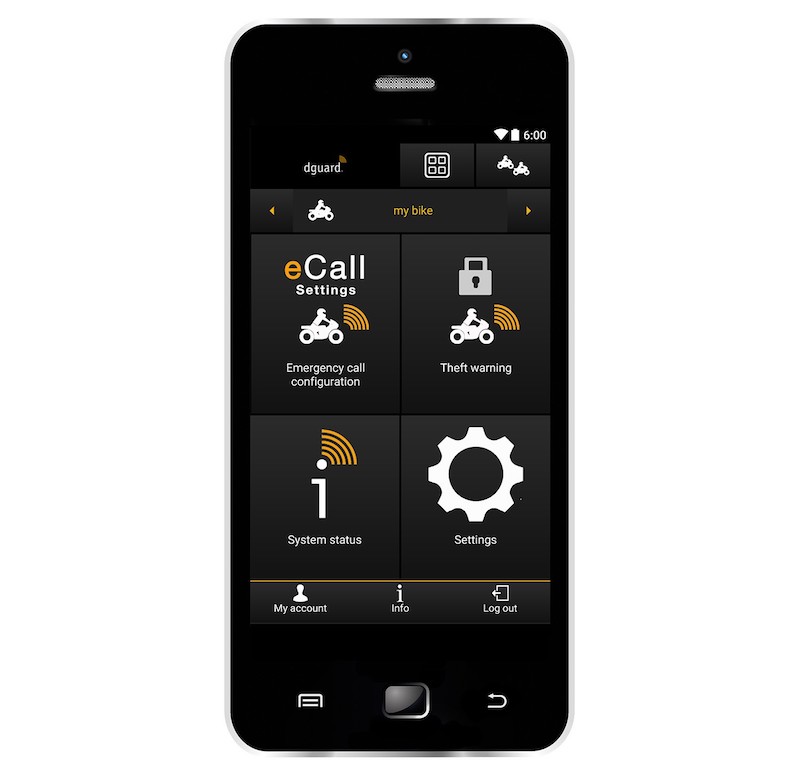 Not only this, but the dguard eCall System will also detect movement of your motorbike when a key is not present, triggering a theft alert directly to your smartphone. All the while, the system will track your bike's whereabouts, so you can alert the police of the situation.
The technology can only be installed at specific retailers (however, they're easy to come by) and is only available in Europe for the meantime, with expansion into further countries expected in the near-future.
Included in the setup is an SOS button that attaches directly to your handlebars. The idea with this, is that you can quickly contact the emergency services if you witness another rider in a collision. If pressed by mistake, the SOS button can be deactivated by pressing the button two more times.
New for 2018, the system now features a 'Touring Roadbook', which captures your riding routes and tours in detail, so you can access them on your smartphone via the dedicated app. What's more, you can personalise your tours, add comments and share them with your mates on social media. Created in Germany, the product is available for £499.99.
With us motorcyclists addicted to the thrill of the open road, it can sometimes be dangerous – especially when riding by yourself. This new safety product looks to potentially save hundreds of motorcyclists lives. For more information surrounding the eCall system and what other specialist features it comes with, head over to the official dguard website.