As we all know, it's against the law to use your mobile phone while riding a motorcycle which is perfectly understandable and acceptable. The issue comes when you are using your phone as a satelite navigation system or you have a hands free headset on but wish to take a call. Well, the Daytona Smartphone Controller has been designed to bridge the gap in these situations. The question is, what does it do and how does it help?
Daytona is a global manufacturer based in Japan and its well-known for gauges and digital speedometers. The Smartphone Controller is a new addition to the range and it's a waterproof, wireless smartphone controller that fits onto your handlebars and allows easy control of your device while in the saddle.
Now you can receive calls, texts, control music and use mapping software all without having to take your hands off the handlebars. You may think that smartphone operation is easy, but put a pair of gloves on and the screen functions will no longer work, even when the device is in its 'glove mode'. The smartphone controller can easily be used with gloves.
The unit can be directly mounted onto 22.2mm and 25.4mm handlebars ‒ or directly onto a 38mm handlebar grip. The standalone unit has a battery life of approximately 40 hours and can be easily recharged via micro USB when needed.
It is very simple to use with only four buttons (on/off, enter, exit and home) and a small joystick for navigation. It can connect to many different smartphones using iOS (iPhone) or Android operating systems (see www.digital-speedos.co.uk for the full list of compatible devices).
The controller is easy to mount, although I suggest you place it as close as possible to your left hand to save excessive movement while riding and it's even more accessible if you mount it on your grips. The instructions supplied are very clear and you can be up and running in a matter of minutes. Once Bluetooth connection has been made, each time you return to your bike connection automatically occurs.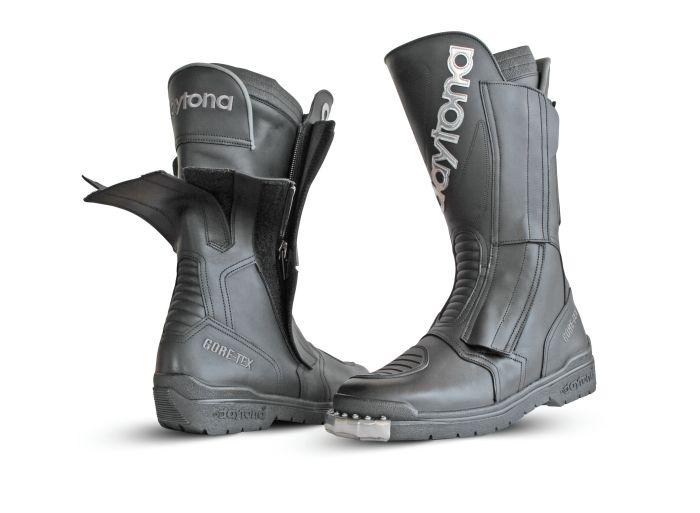 The password functionality on your phone has to be disabled as the controller has no way to unlock passwords, or whatever other security mechanism you may have setup.
I used the controller on a recent ten-day Euro trip and it performed very well, and was still working after hundreds of miles on the trails, several bike drops, rain and excessive heat. The only downside I found was that the 'enter' button is a bit tricky to hit and would be far better positioned next to the joystick controller.
For anyone that wants to use their smartphone whilst on the bike this product is definitely for you.
Head to www.digital-speedos.co.uk to find out more about the Daytona Smartphone Controller (RRP: £59.95) or to make a purchase.