Bryn Davies heads to Malaga for the launch of the hotly anticipated Honda CRF1000L Africa Twin Adventure Sports…
Cast your mind back to 2016, when Honda brought the iconic Africa Twin back from the grave. It was possibly the most anticipated adventure motorcycle of the decade, with internet forums and social media pages abuzz with excitement and desire for the machine that connected with so many peoples' nostalgia. The Africa Twins of old were thought of with very fond memories, and while production was ceased in 2003, they were still very desirable bikes to own.
It's not very often that a remake is better than the original (The Italian Job, anyone?), but the 2016 model was one heck of a bike that made a lot of customers very happy with their purchases, despite a few niggles here and there. Building on this, at the tail end of 2017 Honda unveiled a new, beefier Africa Twin, the Adventure Sports, with the promise that it will 'go anywhere and go further'.
The new machine certainly looked hunkier than the standard model, and when we put out a poll on Facebook asking our followers which bike they were most excited to see in 2018, the Africa Twin Adventure Sports came out clear winner. With 20% of the votes, the Adventure Sports beat the Yamaha Tenere 700 World Raid Prototype (14%), BMW F850GS (11%) and Tiger 1200 (11%), amongst others. It wasn't long after we ran this poll that I found myself on a flight to Malaga in southern Spain to attend the European press launch of the bike.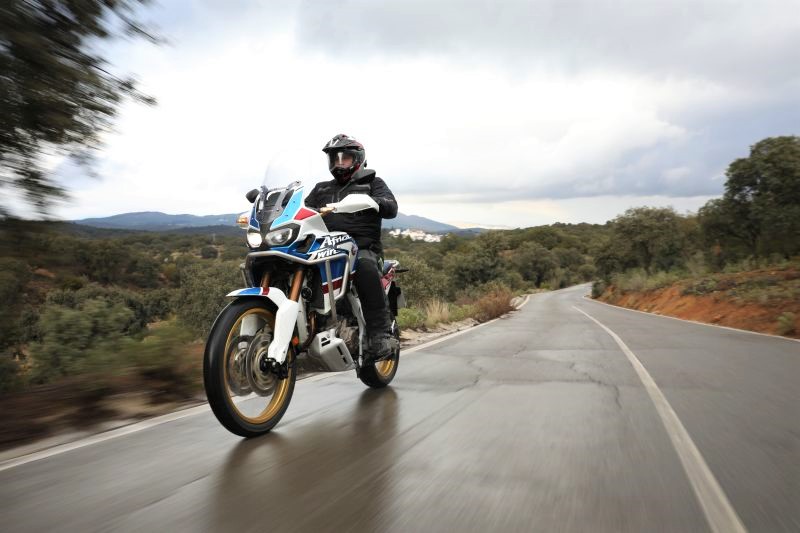 Typically, motorcycle launches are held here in the winter as you're almost guaranteed sun, and the temperatures are more than agreeable. On these three days in February however, the mercury had plummeted, and I was greeted by snow and ice instead of the sunshine and sangria that I'd expected. Nonetheless, my excitement to ride the bike, which was largely fuelled by the excitement of those who voted in our poll, meant that it was pretty easy to overlook the fact that I'd forgotten to pack thermals.
Before I get down to business, it's worth me telling you what's new on the Africa Twin Adventure Sports, and how it differs from the standard model. All Africa Twins have received a few upgrades for 2018, and these are carried throughout the range, including: a redesigned instrument panel, the introduction of throttle by wire, a few changes to the exhaust, new indicators and brake lights, a wider range of selectable torque control, new rider modes, redesigned rear footpegs, and an overall weight reduction of 2kg, which mainly comes from the addition of a new battery.
On top of that, the Adventure Sports offers: a higher touring screen, crash bars as standard, 20mm more suspension travel (which also results in more ground clearance), a beefed-up bash plate, a 24.2-litre fuel tank (over five litres larger than the standard model), an enduro-style seat, a more upright riding position and a more vibrant XRV colour scheme, which really pops and makes the bike stand out.
While visually it's still very much 'Africa Twin', the Adventure Sports model has more to it; it looks more imposing, fiercer and has a more premium air about it. The new tri-colour scheme, which is pretty similar to that found on the standard Africa Twin, is just beautiful, and it makes that paint job of 2016 look muted and out of date. As far as looks are concerned, and I know this is subjective, as I stood admiring the bike in the flesh, I found myself thinking that this is one of the most beautiful adventure motorcycles on the market.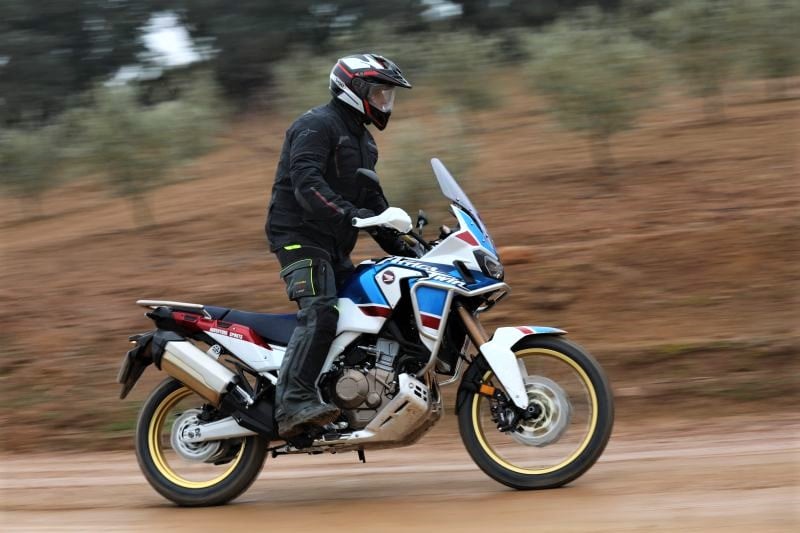 Even before you consider the quality of the ride, the emotional pull of this machine is strong. The looks draw you in and you'll want to be seen riding it, but when you press the ignition button is when the real magic happens. With an exhaust that's been redesigned for improved sound and 'throb', the growl of the bike kicking into life is enough to bring a wry smile to your face, which quickly turns into a grin as you twist the throttle and hear the seductive roar.
Throwing your leg over the saddle, the first thing you'll notice is just how high the machine is. As I mentioned, suspension travel has been increased by 20mm, and the seat height of the bike now sits at a mighty 920mm – 30mm higher than the KTM 1090 Adventure R, which I would class as a very tall bike. Being 6'2, I was tip-toeing around, and a member of our group who was 5'7 had no chance. Fortunately for him, the standard seat can be lowered to 900mm, while even lower options are available, which take it down to 890mm or 860mm.
The larger tank is also immediately noticeable, adding significant girth to the machine between your legs (no sniggering). Extra fuel range isn't the only benefit of this change though; weather protection on offer is improved significantly from the standard model.
Before we took off, I had a little play with the new and improved dash. The screen angle has been adjusted to make it easier to see when standing (and it is), and there are less areas for dust to accumulate when you're riding off-road – both welcome additions. You'll also notice that there's a wealth of information displayed on the screen, and there's no need to fiddle with buttons to show the information that you want to see. It was a case of information overload at first, but you get used to knowing where you need to look for certain figures, like which gear you're currently in.
So, I was fully accustomed with the bike and it was time to go riding. The sound of 18 Africa Twins leaving the hotel compound was a formidable one, and riding in such a large group made me notice the impressive road presence of the bike behind me. The Adventure Sports looks menacing on the road, almost as battleship-esque as the monstrous BMW GS Adventure.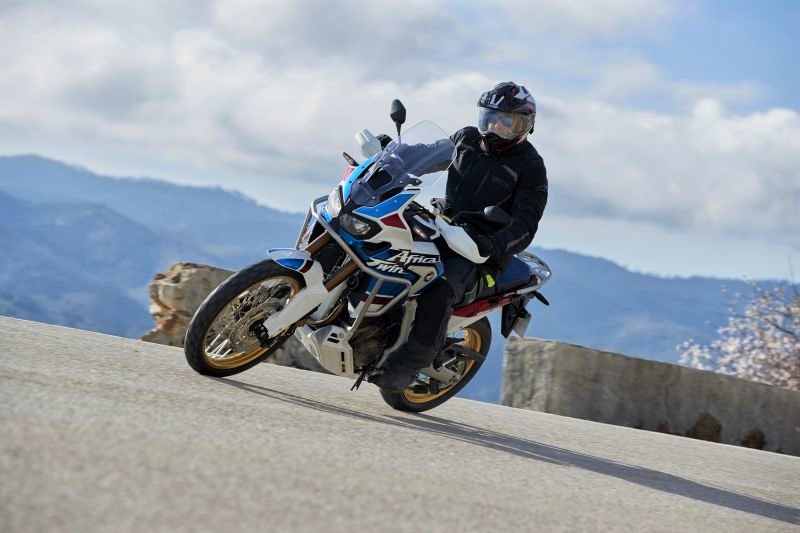 As I mentioned, it was pretty chilly, so I decided to see how well the heated grips, which come as standard, worked. They're easily operable via a dedicated button on the left grip, and there are five heat settings to flip between. In honesty, they weren't great, and I was very thankful that the standard handguards do such a good job of deflecting wind away from your digits. Further weather and wind protection is provided by the inclusion of a taller touring screen, though it's non-adjustable and I found it directed wind right at my forehead.
A few miles in and I was getting used to the machine – the flat seat felt comfortable, and pretty squishy (though admittedly, by the end of the day, I did have noticeable arse ache), and the upright riding position was spot on. With the increased seat height, Honda has made it so there's less of a knee bend when you're sat down, and this translates into better comfort over long distances and less need to stretch your legs, and within a few miles the benefit of this was already apparent.
Honda has added an extra 20mm to the front and rear suspension, while also adjusting the damping and compression for stronger bump absorption. On the road, this translates to a plush ride and a feeling that you're riding a magic carpet, with the Adventure Sports soaking up the uneven mountain roads in a very gentle and comfortable manner. Off-road, and I'll talk more about the bike's off-road performance later, this'll allow competent riders to get more from the bike when riding it to its limits.
The mountain roads of Andalucia provide the perfect testing grounds for motorcycles, and as our route took in a number of motorways and slower sections through towns, I was able to see how the bike and its four rider modes (Touring, Urban, Gravel and User) react in different environments.
The first three can be switched on the fly, with Touring offering a smooth ride that's most suitable for when you're riding two-up or with luggage, Urban is the bike's sports mode (and it does give the bike a noticeably sportier boost), and Gravel is the off-road mode, with a gentler power delivery. Each of these modes tinker with the machine's power, engine braking and traction control. While the power and engine braking isn't customisable on the standard rider modes, in 'User' it's fully customisable, and the great thing is that when you turn the bike off and on again, the system will revert back to your last used mode. None of the modes adjust the ABS setting, though you can turn it off at the front only, or off entirely, with a simple press of a button.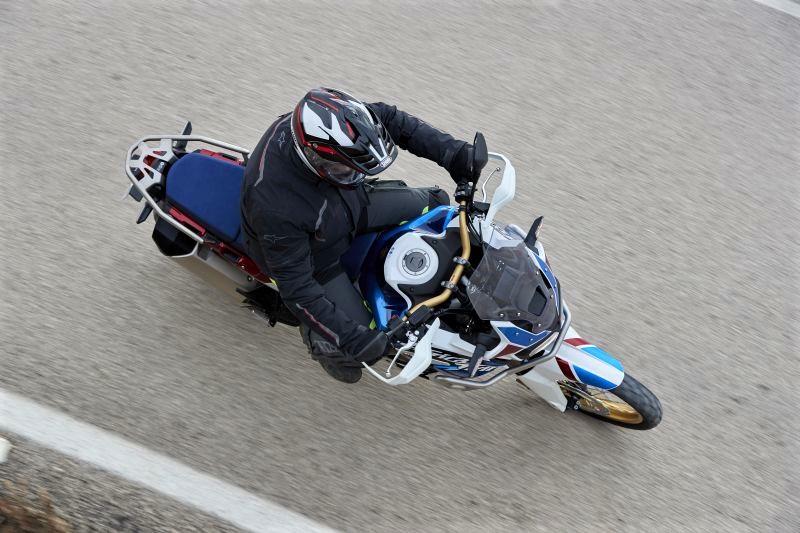 It was at a quick lunch stop that I discovered a really handy little stowaway compartment on the fairing above the exhaust. It was apparently placed there in homage to the original Africa Twins, and is waterproof and large enough to hold a standard phone (though my Samsung Galaxy Note 8 wouldn't fit) and could be really useful when on the road. Oddly, though, Honda has decided that the best way to secure this compartment shut is with screws, which means you'll need an Allen key to get in and out of it. Of course, you'll find one under your seat, but it's a hassle, and the compartment went from being a really useful extra, to something I'll probably never use.
New for the Adventure Sports is the inclusion of self-cancelling indicators. They're a welcome addition, as I've lost count of the amount of times I've accidentally left my indicators on after making a turn, but they can be a bit frustrating at times. Rather than being on a timer, these monitor the speed of the wheels to decide when it's time to turn off, the result is that you'll often find them cancelling before you've even made your turn. Couple this with the fact that there's no way to override the automatic switch-off (such as a long press), and I often found myself cursing them.
The next day afforded us the chance to test the Adventure Sports on some Spanish trails. It's here that you'll appreciate the brilliance of the bike's traction control (TC) settings. With seven levels of adjustability (as opposed to three on older versions of the bike), you can get just the right amount of TC to suit your riding style and ability. Levels four to seven were a bit too intrusive for me, but three and below were perfect, and allowed a great amount of back wheel slide until the TC kicked in.
Like the standard Africa Twin, the Adventure Sports is a heavy bike at 243kg, though when you're in the saddle it handles and feels like a much smaller and more manageable machine. Of course, if you drop it you're going to need the help of your mates or a few months of gym training behind you to get it upright again. There's a lot more to say about the bike as an off-roader, and we'll be covering it from that angle in the next issue of the magazine.
Conclusion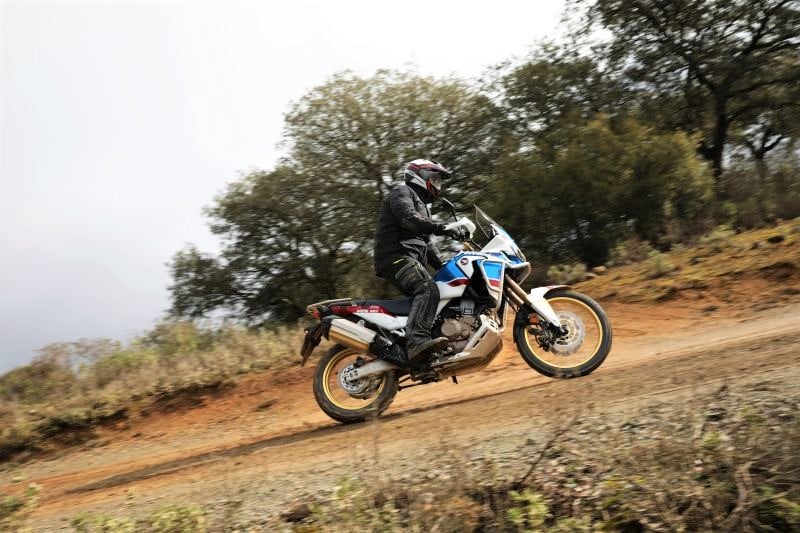 The Honda CRF1000L Africa Twin Adventure Sports is a motorcycle that satisfies both the emotional and practical reasons for buying a bike. It looks, sounds and feels incredible, and the larger tank gives it a much-desired long tank range. The seat height may put some off, but consider that, with the lowest seat available, you can take it down from 920mm to 860mm, and it becomes far more manageable. On-road it's great fun, and I personally thought there was more than enough get-up-and-go to have a fun, engaging ride.
ABR Verdict
As a commuter: If your morning commute has you nipping through inter-city traffic, then there are more suitable bikes; it's a large machine and the seat height could make for some nervy situations as you tip-toe around vehicles. If it involves any distance, then you'll arrive at work with a smile on your face and looking forward to the ride home.
As a weekend tourer: When fitted with luggage, the Africa Twin Adventure Sports is a perfect weekend tourer. The 24.2-litre tank size means you'll have to worry less about fuel stops, and the seating position is comfortable enough to allow you to make the most of your precious two days.
As an off-roader: For a bike of this size and weight, you'll be surprised with how sure-footed and manageable the Africa Twin Adventure Sports is in the dirt. Technical riding would be reserved for only the most talented, but the high ground clearance, excellent levels of traction control, and improved suspension mean the bike can do it as long as you can.
As a continental road tourer: I would rather the seat comfort provided by the standard Africa Twin, but the increased fuel tank size, taller touring screen and great riding position make the Adventure Sports one to consider for those forays over to the Alps.
As an RTW overlander: Any bike can be a round the world overlander, but the Africa Twin Adventure Sports would allow you to take the roads less travelled… to an extent. You're not going to want to drop this beast in the wilderness of Siberia, but with the increased fuel capacity and Honda reliability, it should get you round with no issues.
As a pillion carrier: I've yet to test the bike with a pillion on board, though I'll be getting my hands on one soon and will be sure to give it a shot. There's plenty of seat room though, so I don't forsee there being any issues in this department.
What's next for the Africa Twin?
Eight months after Honda teased the Adventure Sports concept in 2016, the internet was drooling over a new concept that was revealed by the Japanese manufacturer – this time it was the Enduro Sports, an aggressive, sexy-looking machine that appeared to offer yet another variant of the hugely popular bike. You can read more about the bike by heading to this address: www.bit.ly/ATEnduroSports, and when I asked the team at Honda about the machine and whether we can expect to see it in production following the launch of the Adventure Sports, my question was met with a wry smile that might as well have said 'wait and see'.
Honda CRF1000L Africa Twin Adventure Sports specs
Price (manual): £12,599 OTR. DCT; £13,549 OTR
Engine: Liquid-cooled 4-stroke 8-valve parallel twin with 270° crank and uni-cam
Power: 998cc
Torque: 99Nm/6,000rpm
Gearbox constant: mesh 6-speed MT / 6-speed DCT with on and off-road riding modes
Suspension front: Showa 45mm inverted telescopic fork with hydraulic dial-style preload and damping adjuster, 252mm stroke, 224mm travel. Rear; Pro-Link with gas-charged damper, hydraulic dial-style preload adjuster and rebound damping adjustment, 240mm travel, 101mm stroke
Brakes front: twin 310mm floating hydraulic disc, 4-piston calipers, sintered metal pads. Rear; single 256mm hydraulic disc 1-piston caliper, lever-lock brake system on DCT models
Wheels front: wire spoke with aluminium rim, tubed 90/90 21". Rear; wire spoke with aluminium rim, tubed 150/70 18"
Seat height: 900/920mm (low position/standard)
Weight: 243kg (manual transmission), 253kg (DCT)
Tank capacity: 24.2 litres
Fuel consumption: 21.7 km/l (claimed)