Previously we took a look at what you should consider when picking up a four-season motorcycle suit.
Now, when I refer to a four-season suit, I'm talking about a jacket and trousers combination that will perform in the fourth season – winter. Ideally it will be waterproof, windproof, fit comfortably, and protect you if you have an accident. It should also be stylish and sold at a price that provides good value for money.
However, if like me you tend to wear the same jacket and trousers for most of the year, you should ideally be able to wear a four-season suit comfortably when the weather improves. This means it needs to have plenty of vents to allow cool air to flow around your body on those balmy summer rides.
Below are the five best-performing four-season suits from a recent group test for Issue 56 of ABR.
Read this and all our other group tests in full on the ABR digital library, where you'll have access to all 57 issues of ABR and the newest issues as they're released. And now, for a limited time, save 50% on your subscription by entering the discount code SPRING50 at check-out.
RST Pro Series Adventure X
Jacket – £299.99, Trousers – £219.99
In a line: Exceptional value for money and a great suit with the addition of a waterproof oversuit.
The RST Pro Series Adventure X suit is brand-new for 2020, taking over from the RST Pro Series Adventure III. The Adventure III was a fine piece of kit indeed, particularly at its price point, and it's one of the most fully-featured textile suits I've come across. The Adventure X builds on that, adding a handful of improvements in an attempt to create the ultimate adventure suit.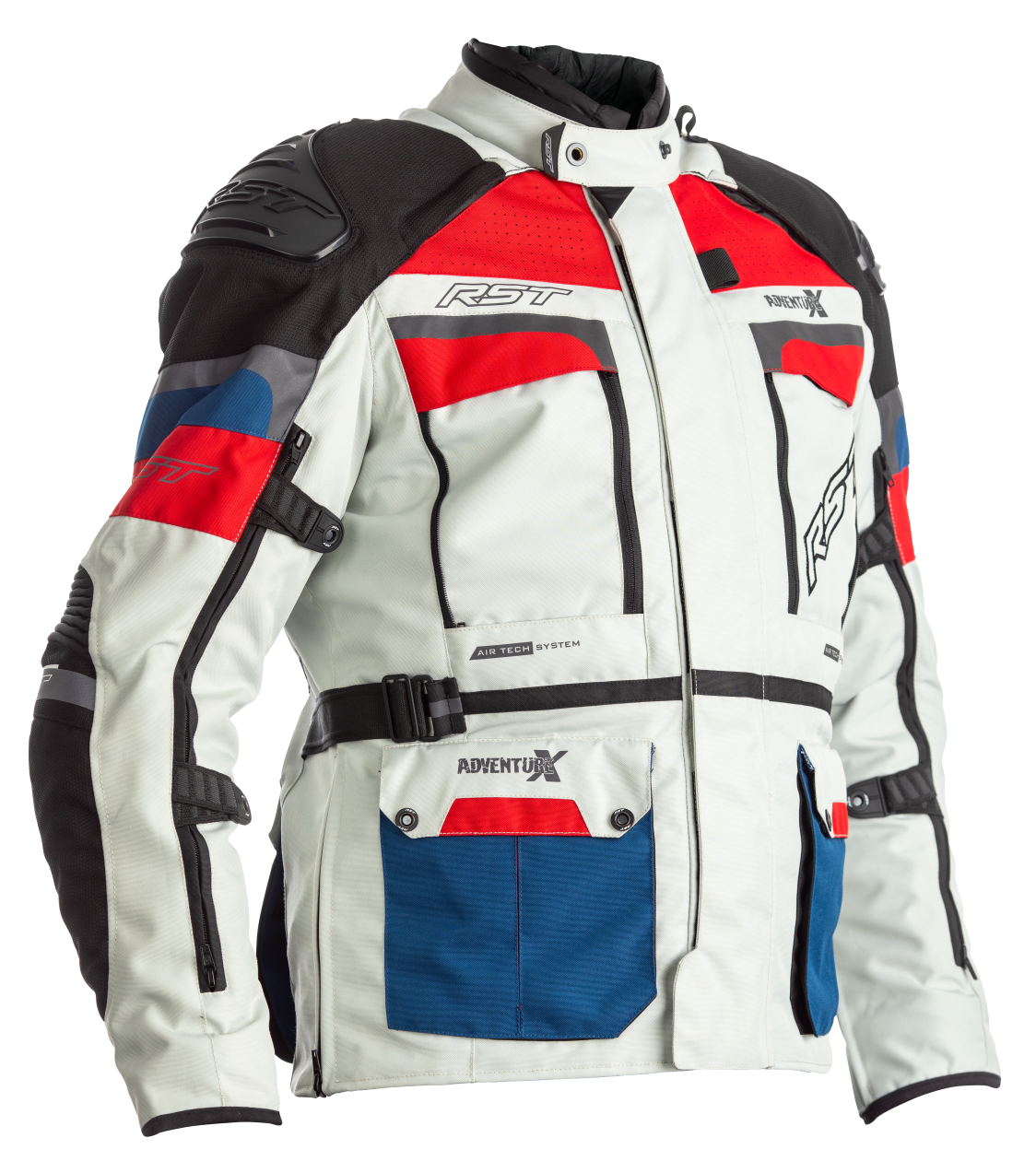 The jacket – 8/10
When you take a close look at the Pro Series Adventure X jacket, the amount of features and attention to detail is remarkable. It feels like RST has taken a textile jacket wish-list and thrown it at the suit.
Protection is well thought out, with CE level 2 armour inserts on the shoulders and elbows and also the back (a great inclusion for this price point), while you also get large external TPU shoulder protectors. Hard-wearing areas, like the elbows and shoulders, are reinforced to help fight back against abrasion if you're unlucky enough to take a slide down the road.
Weatherproofing is provided by a removable insulated liner that's also bonded with a SinAqua Pro membrane. I must admit, I'm not the biggest fan of this set up. The thermal liner is warm enough for autumn and spring riding, but get to the depths of winter and you'll want to swap it out for a jacket with better insulation. Do that, and you'll lose the waterproof lining as well.
While a laminated jacket is preferred for wet-weather riding, a three-layer set up would work better (as was offered with the Adventure III) than a combined thermal and waterproof lining. It's the only change from the old model to the new that I can't get my head around.
Venting is exceptional. The large chest vents are well placed and suck in a lot of air. They can also be zipped away so there's no flapping material. These vents are complimented by perforated panels on the upper chest, two vents on the shoulders, large zipped vents on the forearms, and two exhaust vents.
Other useful features include a water bladder pouch on the rear (with routing for a hose), a large pocket on the rear that can be detached and used as a bum bag, a delightfully soft and insulated removable collar, adjustment points on the arms and waist, two large hand-warmer pockets, and an internal chest pocket.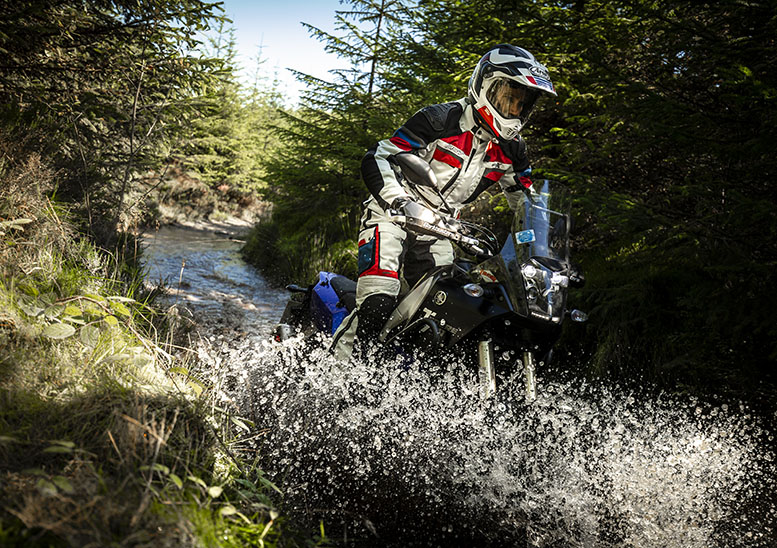 The trousers – 8/10
The trousers of the Pro Series Adventure X (called jeans by RST) follow the same ethos as the jacket. They're well-featured and designed for adventurous riding throughout the year. The ventilation is exceptional, thanks to four well placed and sized vents and perforated upper thighs, and the thermal lining is soft next to skin. Take it out and the inner of the trousers is still a joy to wear.
In terms of pockets you get two large cargo pouches on the thigh, and two zippable hip pockets. CE level 2 armour is provided at the knees, and there are hip pouches should you want to add your own protection here. There's plenty of adjustment in the waist belt, the ankle cuffs are large enough for adventure boots, and the knees have stretch panels for a better range of movement.
Conclusion
The RST Adventure X suit is, for this price, an exceptional piece of kit. It's overloaded with features and each one has a genuine use. It's comfortable to wear, looks great in black, and offers incredible value for money.
It'll excel when in good weather thanks to its ample ventilation, great fit, and added features. For mid-winter riding it would need to be paired with a set of waterproof overalls, but do this and you've got a great piece of kit. For 2020, there's also an airbag option for £499.99.
KTM Adventure S
Jacket – £428.16, Trousers – £331.86
In a line: Style and performance at an affordable price.
My first thought when I unpacked the KTM Adventure S was 'thank God it's not bright orange'. On closer inspection the Adventure S, which forms part of the Austrian manufacturer's line of PowerWear clothing, proved to be a rather stylish piece of clothing which uses a combination of goatskin leather and textile material. And, at £760 for the jacket and trousers, it's also reasonably priced.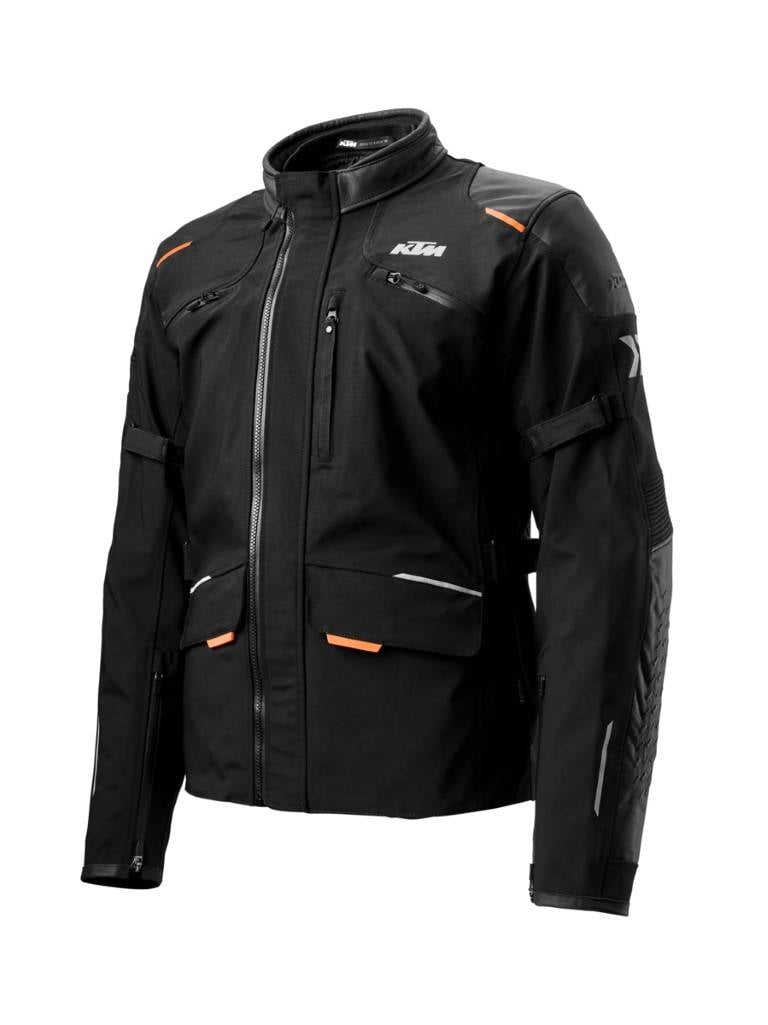 The jacket – 8/10
The KTM branding on the jacket is restricted to small logos on the shoulders, chest, and collar, with a larger reflective logo on the back which blends into the background by day. The result is I've been more than happy to wear it on the Ducati Multistrada I've been riding lately, as well as around town when I'm off the bike without feeling like a bit of plonker.
The Adventure S is made from a combination of abrasion and tear resistant nylon and leather. The use of leather on the elbows, arms, collar and shoulders is a stylish touch and also a good safety feature. CE level 2 armour can be found in the shoulders and elbows, and there is a pocket for a back protector which, disappointingly, needs to be bought as an extra.
Overall, the Adventure S feels like a quality item of motorcycle clothing with neat stitching and seams, and a good attention to detail. Little touches like the addition of rubber tabs to help you open the pockets while wearing gloves reveal plenty of thought has gone into designing the jacket.
Inside is a removable thermal lining featuring two pockets. The liner feels a little thinner than some of the others in this test, and I found myself using a good thermal base layer to ensure I stayed warm while riding on cold evenings. However, it does make for a rather stylish standalone jacket.
There are two ample-sized pockets on the front of the jacket, along with a smaller one at the chest. However, there is no map pouch at the rear which may or may not be an issue for you.
There are two small vents on the front of the jacket and these are complimented by large vents on each sleeve and an innovative double zipping system at the front. Basically, there are two ways you can close the jacket. The first is for cold weather riding and seals out wind and rain, while the second features a vent running the full length of the jacket, allowing cooling air to reach your body. It's a nice touch and makes me think the Adventure S could be a genuine contender as a year-round jacket.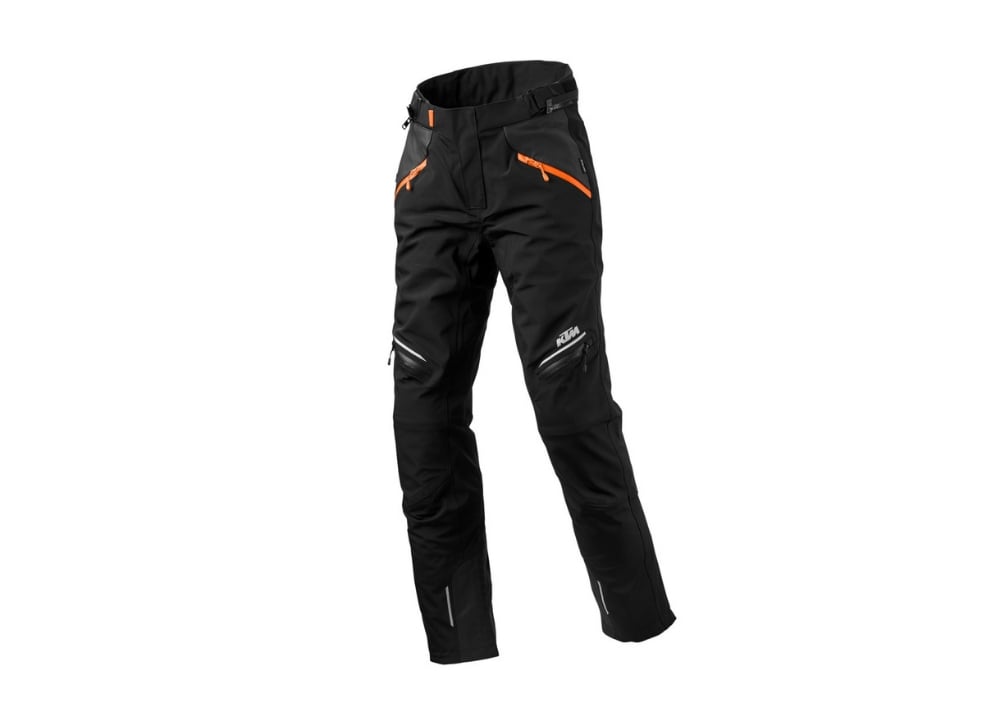 The trousers – 8/10
The Adventure S trousers offer more of the same. They're made from the same mix of goatskin leather and nylon, with leather position on the backside and inner calf, as well as on the hips. There is also CE-level 1 armour on the hips and level 2 on the knees.
Comfort and warmth are aided by the presence of a removable thermal liner, with the fit of the trousers allowing for a good range of movement. That fit can be tailored at the waist with the use of a Velcro adjuster. Venting is bit limited with only two small vents above the knee. I have to admit I'm not sure about having the words 'ready to race' written across my backside, but if you already ride a KTM, you may not mind.
Conclusion
Overall, the KTM Adventure S is a very well made, stylish and high performing jacket and trousers combination available at a reasonable price. If I was to ride in freezing temperatures regularly, I would replace the thermal mid-layer with something warmer.
The innovative venting system also means it will perform all year round. If you're looking for a touring suit and you ride KTM, it would make a good buy. And the relatively subtle branding could make it worth a serious look even if you don't ride for team orange.
REV'IT! Poseiden 2 GTX
Jacket – £679.99, Trousers – £499.99
In a line: A true all-season touring jacket and trousers.
REV'IT! has built a reputation for producing high-quality motorcycle clothing that looks and feels great. The Poseidon 2 GTX jacket and trousers are yet another example of this. It's clear these are very well-made pieces of kit, with every stitch, seam and join finished neatly. However, this premium quality is reflected in the price, with the jacket and trousers setting you back almost £1,200 between them.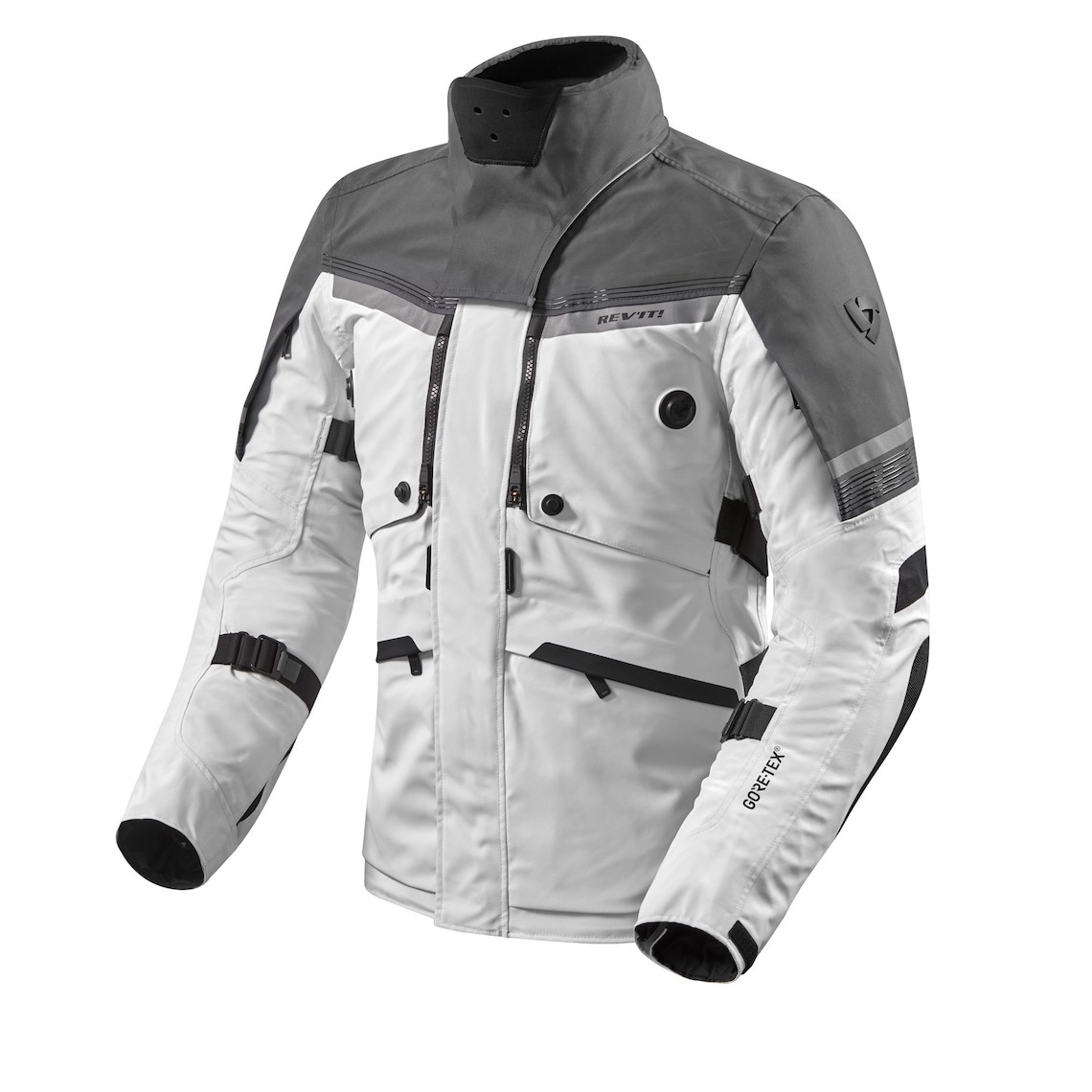 The jacket – 9/10
The jacket is made from high-tenacity abrasion-and-tear-resistant nylon, which is reinforced in high-impact areas, such as the elbows, arms and shoulders, to provide extra tear and abrasion resistance.
Armour comes in the form of REV'IT!'s flexible and comfortable SEEFLEX CE-level 2 inserts in the elbows and shoulders. There is also a pocket provided for a back protector but you'll have to buy this as an extra. I'd like to see one included in a jacket at this price.
The Poseidon 2 GTX has been designed to be a lightweight, flexible, yet durable suit. It features a laminated three-layer and two-layer Gore-Tex membrane in different areas which is bonded to the material to make the suit waterproof. This means the jacket won't get saturated with rain and become heavy and cold when wet.
All the outer zips are water resistant and feature a storm flap which prevents rain seeping inside. The jacket also comes with a removable storm collar, fastened with a zip, which covers your neck. A nice touch is the use of neoprene around the chin and neck to prevent chaffing
The Poseidon 2 GTX is warm thanks to a removable insulated layer, so much so I've only been wearing a T-shirt underneath during my commute to work on chilly mornings here in the UK.
But, as well as being warm and waterproof, there's plenty to suggest the Poseidon 2 GTX will perform when the mercury rises, with ample venting on offer. This includes two large vents on the chest and thighs that allow direct ventilation to your body. They can be unzipped and pinned to a neat-looking Fidlock fastener featuring a magnet, which is easy to use while wearing riding gloves. There are also two additional vents at the upper arm and exhausts on the back, which should all provide plenty of airflow on hot days.
The Poseidon 2 GTX has a touring fit, so it's long enough to cover my torso without riding up and exposing my back when I'm in the saddle and it's flexible enough not to feel at all restrictive. Overall, it's a comfortable jacket to wear.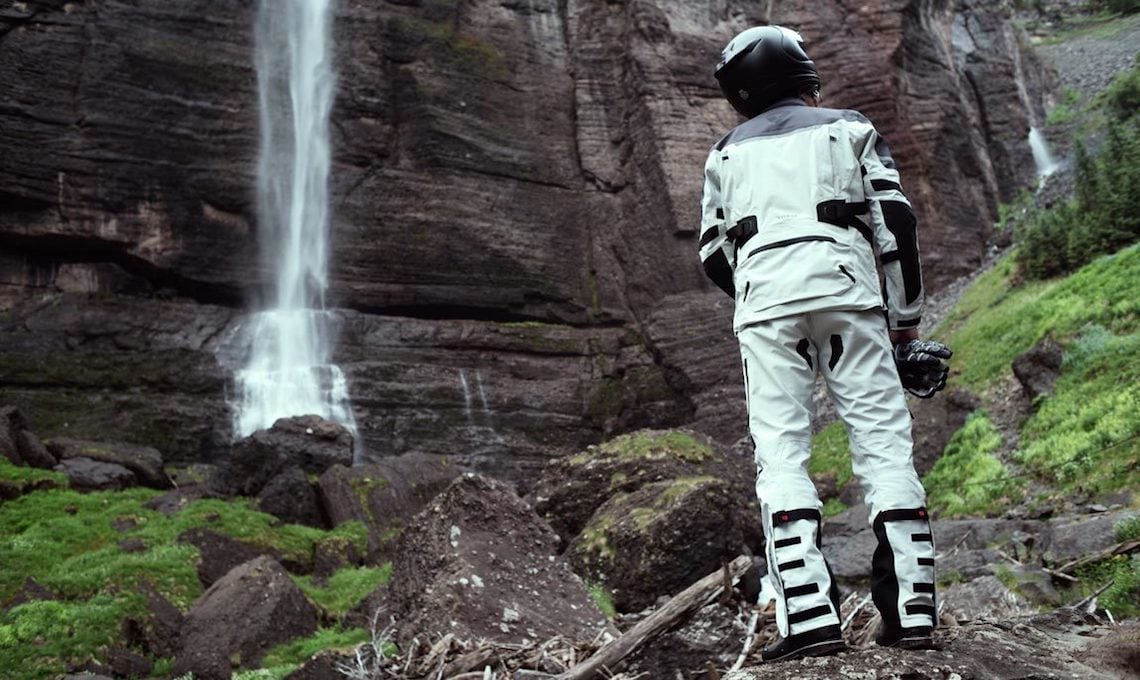 The trousers – 8/10
The Poseidon 2 GTX trousers feature the same excellent design and build quality of the jacket. Legs are kept warm and dry by a comfy, removable, insulated liner, along with the water and windproof properties of the two and three-layer Gore-tex laminate. Protection comes in the form of CE-level 2 armour at the knees and level 1 at the hips.
The trousers fit naturally around my waist and legs with little restriction of movement. Adjustments can be made by tightening or loosening straps on the legs and waist. There are two pockets at the hips featuring waterproof zips that are big enough to fit a wallet or phone. The trousers also have large direct vents that can be pinned back to provide cooling airflow in summer.
Conclusion
Overall, the Poseidon 2 GTX suit is a thoughtfully designed, well-made, comfortable and stylish piece of motorcycle clothing. It's a premium piece of kit with a price to match, but for the money you will get a four-season suit you can genuinely wear all year around in style and comfort.
BMW
StreetGuard Suit
Jacket – £699, Trousers – £535
In a line:  A superb riding suit with subtle BMW branding. If you have the money, you'll love it.
As part of BMW's 11-strong range of riding suits, the StreetGuard sits itself amongst the most expensive of the company's offerings. With a combined price of £1,234, the StreetGuard is a significant investment but, having worn it in some terrible weather, it's one you won't be disappointed with if you ride in all seasons.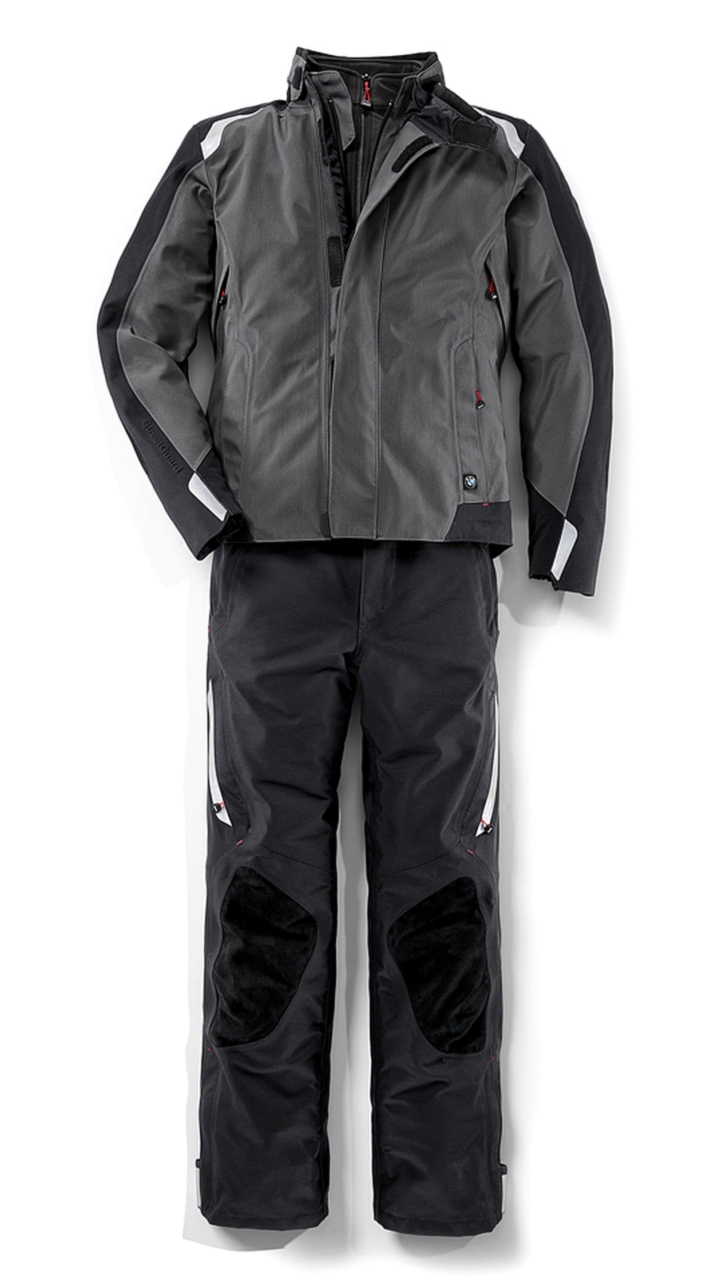 The jacket – 9/10
The StreetGuard jacket is a highly-specced piece of kit. The fit is just about perfect for adventure bike touring, with the torso offering a good amount of length to prevent riding up.
Protection comes in the form of substantial CE Level 2 BMW NP2 protectors on the elbows and shoulders, while a level 2 back protector is also included. All of this armour is well-placed and is comfortable all day long. On the outside, areas that are more likely to scrape against the road are double-lined with ProtectionGuard material to provide abrasion resistance.
Weatherproofing is provided by a laminated BMW climate membrane and, in my testing,  this did a great job of keeping rain at bay. The main zip of the garment is protected by a very substantial double storm flap which is effective. The StreetGuard also comes with an excellent protective collar system that consists of two collars. One, called the storm collar, is removable and contains an superb hood that'll stop rain from seeping in through the neck, while the other is luxuriously soft against the skin, with no chafe points.
Inside, you get a removable thermal liner which is made of a Thinsulate fill to keep you warm. While my usual stance on manufacturer-provided thermal linings is to kick 'em to the curb and replace them with a warmer offering, this one is of very good quality. It's attractive enough to be worn by itself when you're off the bike, and when worn with the jacket it offers exceptional comfort, particularly where the stretchy cuffs are concerned. While I rate the liner highly, it is not the warmest, so if you're planning on riding regularly in the depth of winter, you might want to make sure you swap it out for something more substantial.
For storage, you get two delightfully-lined handwarmer pockets (which are protected by water-resistant zips), two zipped internal chest pockets, and an internal pouch that'll fit a phone. Ventilation is where the StreetGuard has its limitations. You get two large pit zips paired with exhaust vents, which are better than nothing, but if you're going to be heading out on a baking summer's day, you'll get very warm.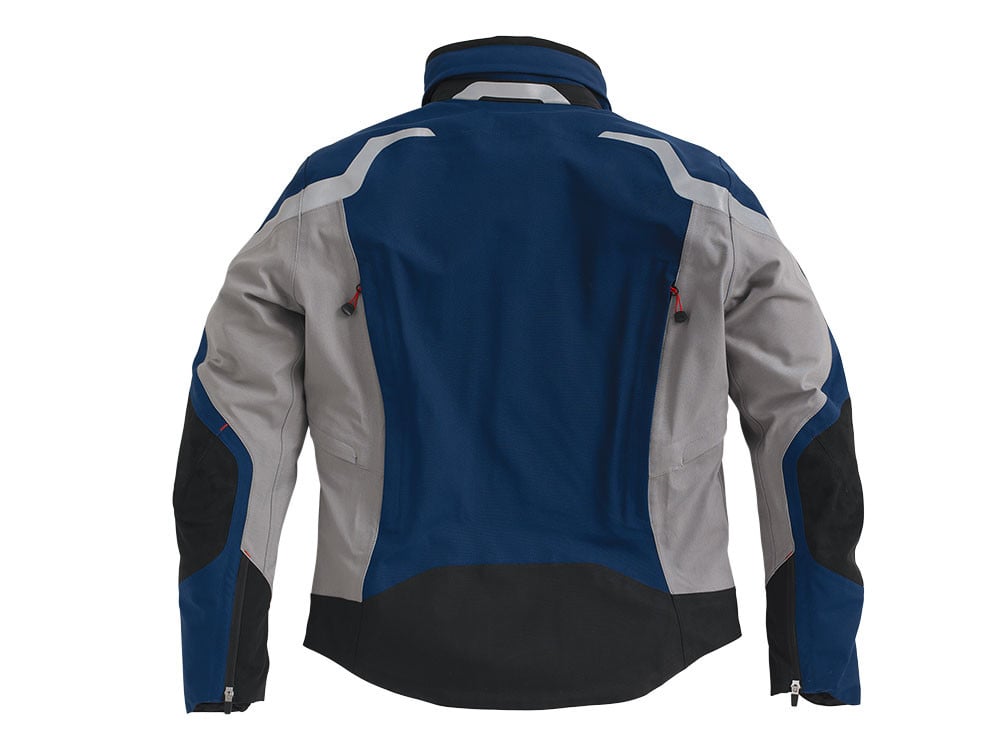 The trousers – 8/10
The StreetGuard trousers are amongst the best I've worn. They're supremely comfortable and the included removable bib and adjustable bracers help provide an incredible level of weather protection. You'll love the secure fit it provides. The bib can, of course, be removed when weather conditions allow, leaving you with standard riding trousers.
Protection is provided by removable CE level 2 BMW NP2 protectors on the knees and hips and, like in the jacket, they're all-day comfortable. High-wear areas are also reinforced with ProtectionGuard.
The thermal liner provides a good amount of warmth and great comfort, and you get two well-sized hip pockets which are closable with water-resistant zips. I would have liked more storage options here and the trousers could do with more venting options.
Conclusion
All in all, the BMW StreetGuard suit is a superb four-season riding suit. It performs excellently in bad weather, is comfortable to wear, and offers high levels of protection.
Alpinestars
Big Sur
Jacket – £899.99, Trousers – £599.99
In a line: Top-tier weather protection that comes at a high price.
At £1,499 for the jacket and trousers combo, the Alpinestars Big Sur is the most expensive suit in this group test by quite some margin. Throw in the airbag technology that the jacket's been built to support, and you're up to a staggering £2,500. For this sort of money you'd be right to expect perfection, and while the Big Sur does have a few niggles, it's certainly a very good suit.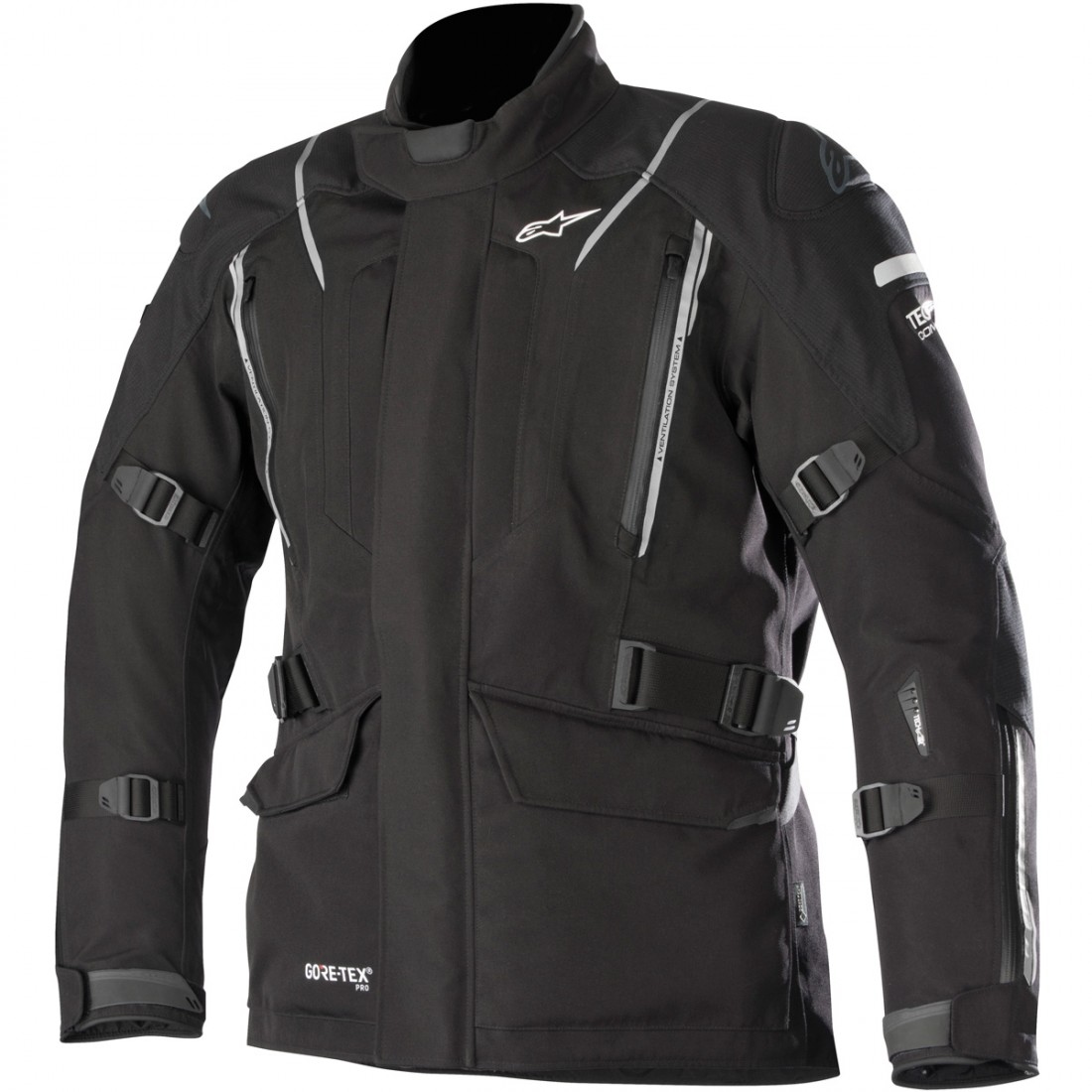 The jacket – 8/10
The Big Sur comes Tech-Air Airbag system-ready, so it's got all of the connection points, switches and LED lighting that's needed to use the technology seamlessly. I tried the jacket without the Tech-Air, but having used the system in the past, I would recommend it if you can put up with the added weight and bulk that comes with it.
That being said, the Big Sur is a big 'ol bulky jacket by itself. Slip your arms into this and it feels like you're suiting up in plate armour. CE level 2 inserts on the shoulders and arms provide impact resistance while there are also TPU inserts on the shoulders and Armacor reinforcements on areas likely to see abrasion. The jacket itself feels stiff and rigid, adding to that protective feel, but this comes at a cost to comfort and wearability.
The Big Sur jacket is so bulky that moving around becomes difficult, to the point where raising my arms and performing life saver checks was an effort. The cut is also quite restrictive, particularly around the chest and shoulders, so if you're broad you'll find the Italian cut a bit off-putting. That said, after nearly 1,000 miles of riding, the suit has started to loosen up a bit, to the point where it's becoming more comfortable with every ride.
Waterproofing is provided by a laminated Gore-Tex Pro membrane that provides genuine all-over waterproofing. To keep you warm, you get a removable thermal liner that's warm enough for most uses, though extended rides in the cold will need to be supplemented by an extra insulated layer.
In terms of storage you get two huge handwarmer pockets, two zipped chest pockets and two nicely-sized internal pouches. The two main pockets are marketed as waterproof, but take it from my soggy wallet that they're not. You also get a large pocket on the rear. Ventilation comes in the form of two large chest vents that are coupled with rear exhaust vents. They're not the most effective and in the summer this jacket will get very warm.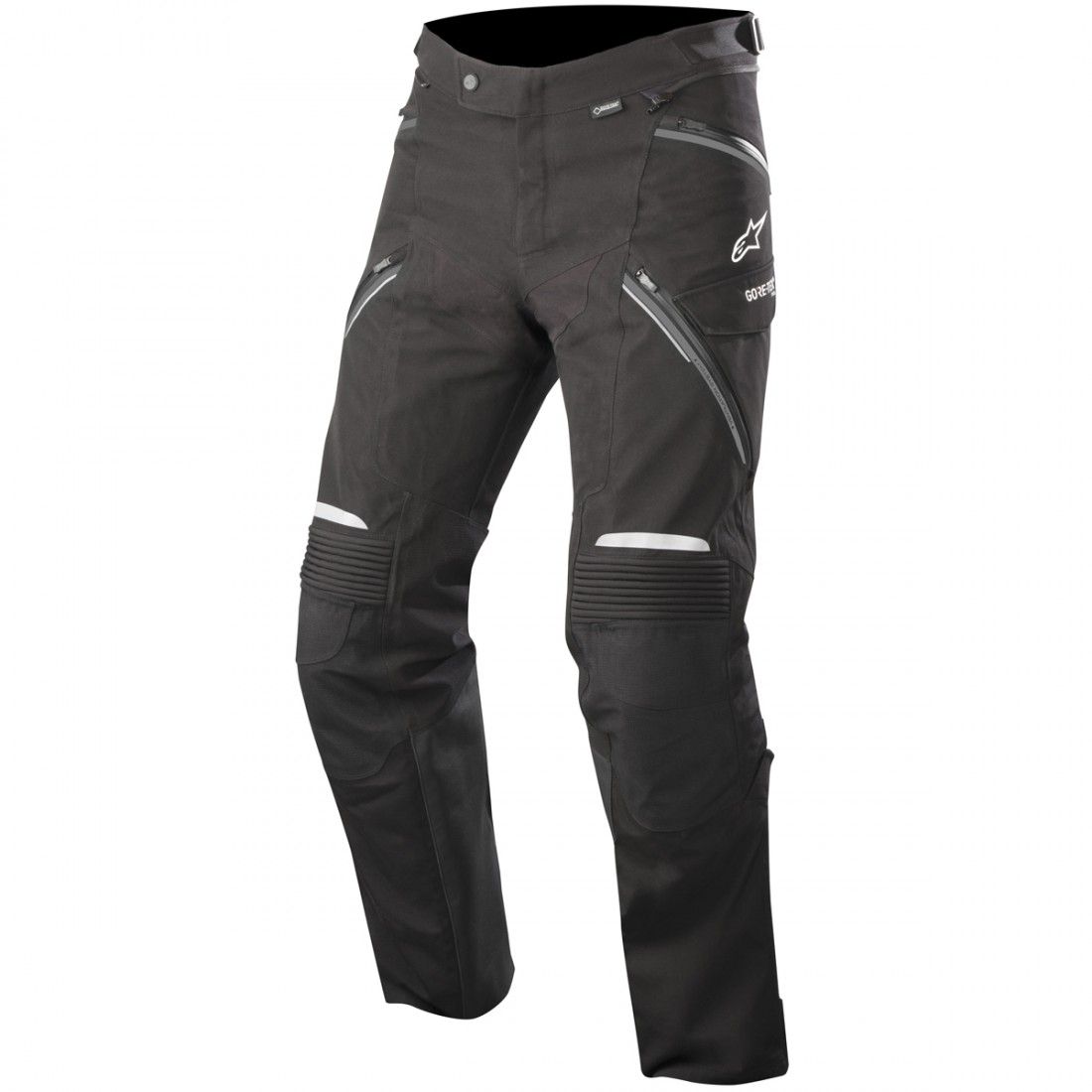 The trousers – 8/10
Like the Big Sur jacket, the trousers feel substantial and protective, but also quite restrictive in their fit. They do loosen up with wear and the accordion stretch inserts on the knees do go some way to combating the restrictive fit.
They're fully waterproof thanks to the Gore-Tex Pro membrane, and the removable insulated lining is plenty warm enough for cold weather riding. Ventilation is decent, with the two large, zipped vents running across the top of the thigh to allow good air intake, and you get a good amount of storage from the hip pockets and the single cargo-style pocket on the left thigh.
Protection comes from CE level 2 knee armour, though you'll need to spend extra to get the hip inserts, which is a bit of a shame when the trousers cost £599.99.  The trousers also come with useful bracers that'll help pull them up to provide weather protection.
Conclusion
The Big Sur suit is an expensive piece of kit that provides exceptional weather protection. It's the jacket and trousers that I wore on our Three Pubs Challenge, which saw us ride for 16 hours through almost nonstop rain. It was cold, wet, and it would have been pretty miserable if I was in a less-good suit.